Reviews, customer feedback, testimonials. You can name it differently, but they all mean the same thing. These are the opinions of your customers about your business that they share online. Clients can leave their comments on your website, social media, or other platforms, such as Yelp. It's all about sharing experiences with others.
This article will cover product reviews and how eCommerce websites present their feedback sections. Even if you're already using customer reviews, the examples on this page can help you evoke some ideas on improving what you currently have.
Are Customer Reviews Worth Your Attention?
If you think that you can substitute reviews with strong ad campaigns, let me disappoint you. Product reviews influence prospects much more than your marketing team. Almost everyone reads online reviews, which is 91% of people, according to studies. 84% trust them as much as personal recommendations.
Encouraging testimonials link indicate:
that you work with dependable suppliers;
deliver high-quality goods;
prioritize customer experience;
etc.
But what should you do with unfavorable feedback? You may think deleting negative reviews is a nice escape. Here's the truth: it's not. Negative feedback is better than nothing. It can increase conversion rates by up to 85%, and one review, regardless of its emotional tone, can effectively inspire individuals to buy 10% more.
Five Successful Product Review Sections to Consider
1. Charlotte Tilbury
A British cosmetics brand, Charlotte Tilbury, offers skincare and makeup products for everyone as passionate about creativity and beauty as its founder.
What does this online store do to stand out from the competition? When you open product pages, you can see numerous visuals. There are tutorials, complementary goods, matching recommendations from Charlotte Tilbury, and most importantly, reviews.
The reviews section has:
a search bar to look for keywords in other comments;
ratings in the form of stars and average scores (you can compare them using various criteria, such as quality, value, sensitive skin-friendliness, etc.);
authenticity certification.
The system picks one most helpful favorable review and its most helpful critical alternative. The reviews provide a title, the author's name, location, skin tone and type, and the text itself. To the right, you can also see an indicator of how well the product performs. Some customers prefer to leave comments without photos, while others attach their files.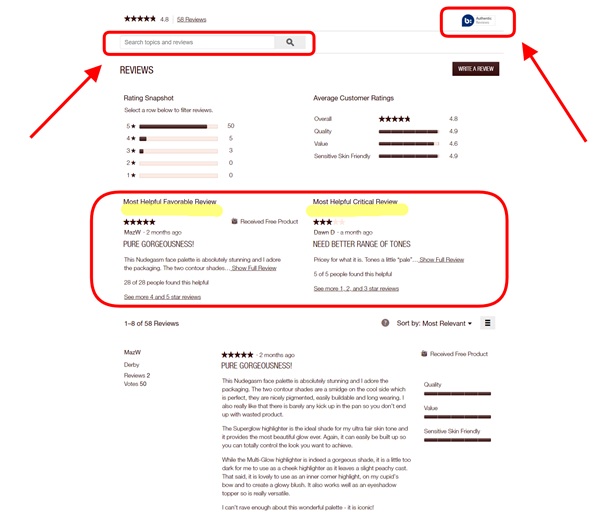 2. Converse
Another example is the Converse feedback representation. The brand needs no introduction and provides solutions for their numerous global customers to leave their thoughts. What sets the section apart is how it looks. It reminds a chain of cards with the most self-explanatory review quotation, stars, and sometimes images.
The first card is the general overview of what people write about the product:
average rating based on all the reviews;
an "average fit" slider indicating whether shoes run small or big;
a perfectly mixed call to action to leave your review.
You can click "See All Reviews" and see a pop-up with comments following the pattern of the overall rating box.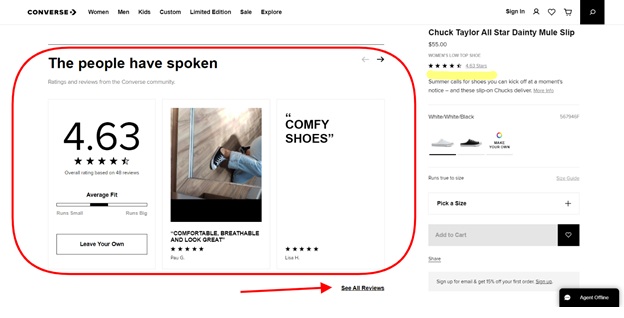 3. MAC Cosmetics
The third brand under discussion is MAC Cosmetics. The review section contains:
a list with the number of reviews for each mark;
frequent keywords clients mention in their feedback;
the total number of reviews and average ratings;
shades and sorting filters;
search string.
The structure of the reviews area is similar to what most online stores have. Yet, I'd like to talk about how the brand approaches such force majeure as negative reviews.
Suppose a customer wants to buy lipstick. They scroll down the page and see that the product doesn't last long and isn't worth the money. Such poor feedback is unlikely to encourage someone to order anything from this website.
What happens when you take time to handle the issue? That's what MAC does (see the screenshot below). It apologizes for the poor experience and suggests other products a customer may like. It allows the company representatives to resolve the issue with the unhappy buyer, sell more, and show others their dedication to pleasing clients.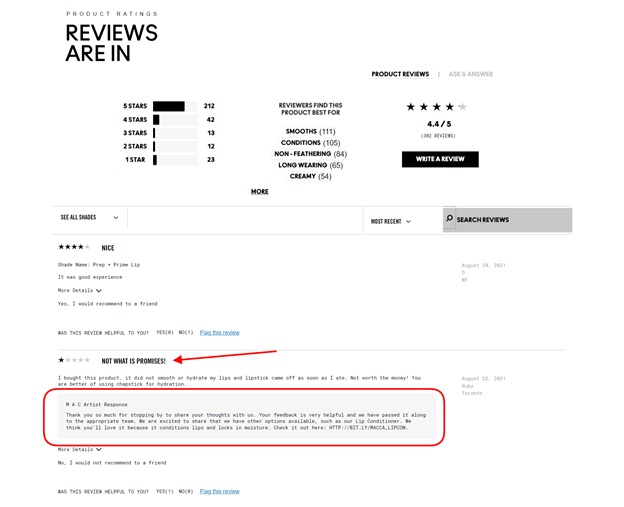 4. Floyd

Floyd is an online furniture store providing highly visualized product pages to its potential clients. You can find videos, photos, customization options, customer stories, and user-generated content from social media. Everything is correctly interlinked with product pages. For example, you can click on someone's Instagram photo and shop the look.

Speaking of their product review section, it's also easy to navigate. For example, you can see:
average ratings;
a search bar;
clickable keywords to get to the needed information;
a rating filter;
a dedicated filter of whether the review contains some visuals.

You can sort the positive or negative reviews, browse their date and votes. Each comment has the author's name, verification confirmation, date, and title.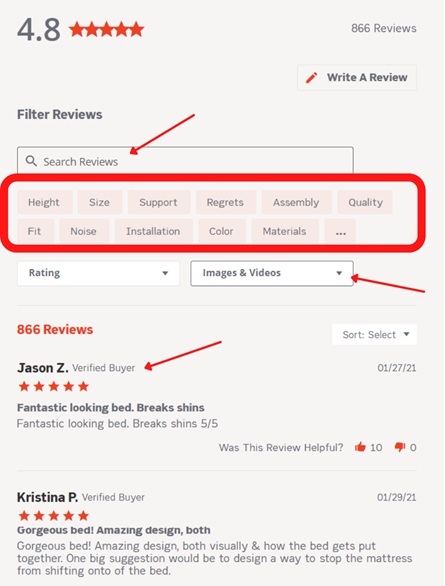 5. Petsmart

A website isn't the only place to show off customer reviews. Boost your eCommerce store's social media marketing with their help, as social networks allow you to talk directly to your customers in comments and direct messages.

Here are the five most common ways to employ social media for reviews:
Incorporate testimonials into your Instagram Stories. You can increase conversions if you include shoppable links for each reviewed product.
Arrange such Stories in Instagram Highlights.
Include customer feedback in your social media posts.
Spread positive words through advertisements.
Encourage users to leave comments on their experience with your store. Here is one of Petsmart's posts. A customer left a positive note, and the store responded to it.

Over to You

You can't touch, try on, or taste goods when you buy things online. How can you trust a store? You read what others write. And even if the store is reliable, what about the product? It may differ from the photos published on the website. This is where client feedback is useful as well.

Client reviews give you what even cutting-edge solutions, such as virtual try-on, can't offer. It's honesty. Potential buyers look at customer stories, what they liked, what disappointed them, and understand whether they can trust your brand or not.

That's what makes customer reviews a must-have for any eCommerce store. It provides genuine content, can boost your business performance, and improves sales.