When it comes to online marketing, it's no surprise that businesses are using videos as part of their marketing strategy. Whether you're selling a product or service and need to grab potential customers' attention, an engaging and meaningful video can help do just this. They are ideally suited for both grabbing attention and delivering a message, making them a powerful asset for businesses of all sizes.
Creating videos has always been a struggle for many business owners. It can be difficult to find the right voice and tone, and even more challenging to make sure the video is memorable and effective. But these struggles can be alleviated with the help of Veed's online video editor. Veed was born out of a need for an easier and more accessible video editing software. This video editor makes it easy for small business owners and marketers to create videos.
What is VEED?
VEED is a simple yet highly efficient video editing tool that allows you to produce incredible videos. You can create engaging content to build up trust and confidence with your potential customers, such as selling points and product reviews, etc. These are all easily achievable through this program's easy drag & drop interface.
With VEED, you can create videos in a matter of minutes that would take hours or days with other tools. You don't need to be an expert because it's also made for beginners who just want their content edited quickly without having too much trouble.
In what ways did we enjoy VEED?
1. Easy to use UI
UI is an integral part of any video-editing tool. The more complicated it becomes, the less likely users can find what they're looking for and get back into their workflow quickly--which means that Veed's clean design might just save you hours in repainting over mistakes.
Veed's simple and easy-to-navigate interface is what sets it apart from other video editing tools on the market. The developers of this software seem to have paid attention when designing the user interface because it is very easy to navigate.
2. Video editing tools
VEED has emerged as an essential tool for content creators in a world where the video is king. The free editing software can be used right in your browser and does not require any prior experience with other programs. With the wide range of editing tools in Veed, you can create short video clips or cut a certain part from one video and merge it with another. It is a powerful video editing tool for creators looking to seamlessly integrate high-quality content creation into their social media marketing strategy. It can be done effortlessly.
3. Add subtitles to the video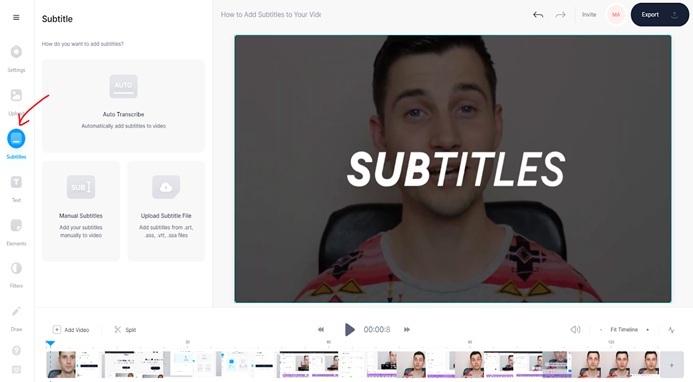 Adding subtitles to your videos is a helpful way to make them more accessible to a wider audience. You can easily add subtitles to your videos with Veed's easy-to-use subtitle editor. You can even use the automatic translation feature to translate your subtitles into multiple languages. This makes it possible for more people to enjoy your videos, regardless of what language they speak.
With Veed, you can auto-sync subtitles based on audio or upload a .srt file. This makes it perfect for video editing since most videos nowadays require captions to be uploaded with their respective videos.
4. Offers a free subscription plan
Veed is a suitable option for beginners and even those who need more complex editing. It offers a free plan that allows you to create videos from start to finish. You can use it for any social media platform for your marketing materials. The free plan covers almost every feature you will ever need, making this tool very convenient if your budget isn't as big but still desired amazing results.
Is it worth checking out?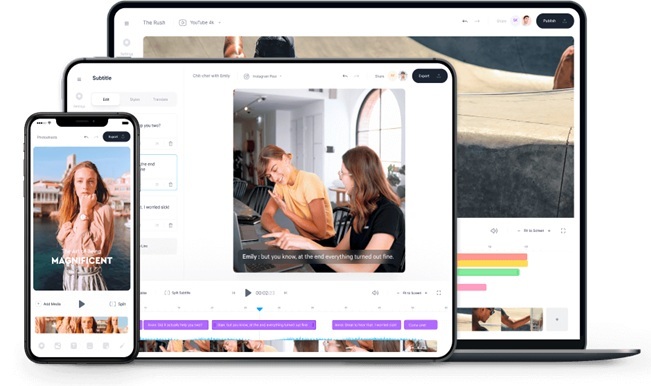 This video editing software has a lot of potential for improvement. For instance, the subtitle translation feature is only available in paid plans. It would be helpful if this service was made available on an unpaid basis so more people can use them.
A subscription to Veed cannot be cheap, especially when you consider that top-notch programs such as Adobe Premiere Pro cost about $20 per month. Nevertheless, its intuitive interface and interesting subtitle functionality make video editing a breeze. However, before you decide whether or not Veed is worth its cost there's the free plan. This will allow users to test out this service and see if it suits their needs. The online video editor offers many essential features without interrupting your browsing experience, so there won't be any need for converting or upgrading immediately.
Seeing what the future will bring for this tool is exciting, and we're eager to find out what more they have to offer. This program has been generating a lot of attention from those looking for an affordable way into video editing. And if you're a small business owner who needs power without breaking your budget, then look no further than Veed online video editor.