With Google launching new rules and parameters, the whole equation of content marketing has changed. Gone are the days when writing anything could fetch you positive results. Today, the content is the king.
You have to be really picky while choosing to publish content online. Now the standards for personalized content experience have been established. Today's customers live in a digital world. They can be won over by those who provide personalized experiences based on their unique interests, behaviors, and needs.
Whether you believe it or not, your content plays a vital role in this era of digital marketing. Not only should you provide insightful but also meaningful and valuable content to your readers. The better the content, the more the reachability it will have – it's that simple!
Here we have rolled out 6 ways to boost your content ROI using a personalized content experience. Take a look...
BUT, before that, we will know what a personalized content experience is….
Let's get started…
What is Personalized Content Experience?
Personalized content experience is the latest digital marketing trend that marketers use to boost content ROI. It's the science of crafting your content into a complete package to meet your audiences' expectations.
It's not only how you deliver it; it's actually how your target audience consumes your content and interacts with it.
Such content utilizes audience and data analytics to create a distinctive experience between a person and your brand. Remember, everybody likes personal touch, including your customers. They know what exactly they want, and they expect to get the same.
According to a survey, 66% of consumers avoid purchasing from the site if the content doesn't interest them.

Meeting customer expectations through your content is a personalized content experience. To meet their expectations, you must curate extremely personal and concise communications, experiences, and offers — while remaining non-intrusive.
Now let's see what are the different ways to boost your content ROI using personalized content experience.
Here we go….
1. Quality matters
It's not the quantity that your customers are looking for. Instead, they look for high-quality, innovative, and newfangled content.
Research says that more than 60% of consumers immediately leave the site if they don't find anything interesting. It's fatuous to invest your time, effort, and money in poor content; it's as good as wasting your resources.
Invest your resources in crafting meaningful, valuable, and high-quality content that accelerates website traffic and engages your customers.
Put the right content strategies, best ideas, and an intended purpose into practice while creating content.
Here is what consumers want in a content according to Adobe Consumer Content Survey: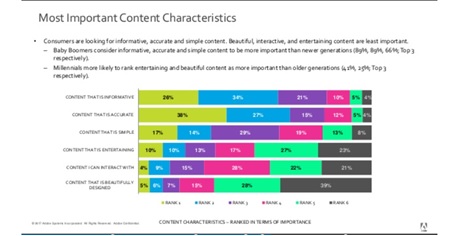 2. Consistency is the key to success
Do you know why most marketers fail to boost content ROI?
It's not because they lack knowledge; it's because they lack consistency!
Believe it or not, consistency is crucial to stand out amidst millions of websites in this era of cut-throat competition. If you're not consistently publishing content on your website, your audience will gradually forget you!
Whether yours is a personal blog or you're into business blogging – if you want your audience not to forget you, be consistent and be unique. Give them something that they can relate to and interact with. It should be an act your customers can engage with frequently.
For consistent content, the best is to use content calendars. It will help you become more organized, customer-centric, and connect organizational silos effectively.
There are a plethora of content calendar templates available on the internet. You can use any type of content calendar template that suits your needs, such as this one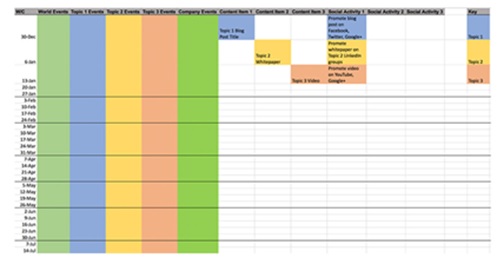 3. Align your content with your customers
No matter how diligent your content creator is. If your content doesn't align with your customers, all your endeavors to create a unique brand are ineffectual.
The simplest way to FAIL is to overlook your customers' expectations. If you don't give your audience what they expect, they make you nonexistent in no time.
Hence, it is crucial to keep your customers' needs, behaviors, expectations, and interests in mind while creating the content. Doing so will help you have brand visibility and brand loyalty.
If all of this seems overwhelming, there are special tools you can incorporate into your writing process. The best part is that the majority of these tools are free. You can improve your content and make it more engaging by using these tools.
For Example Hemingway, a fantastic tool for improving the clarity of your content.
4. Focus on topics that interest your customers
Another great way to provide an excellent personalized content experience is to have content topics that customers are interested in. In addition to being creative and informative, your topic should be captivating.
For that, focus on topics that are:
Extremely useful and cater to the needs of your target audience.
Linked to low-competition keywords with SERPs that you can squeak into.
How can you do that?
Here is how…
Understand your target audience and accordingly strategize your content to their needs.
Finding unique topics is undeniably tricky; you need to be sharp-witted for that. However, indulging in activities that help improve mental skills, such as Zen meditation, solving puzzles, playing games, can be helpful.
Over and above, you can also try online tools for finding enchanting topics.
For Example: HubSpot. This is an excellent tool for obtaining as many unique topics as you desire.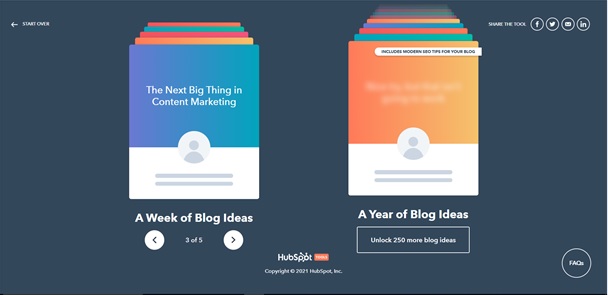 Remember that a unique topic won't only help you increase traffic, but it will also help you monetize your blogs.
5. Revamp your website
How user-friendly your website is that also plays a significant role! Remember, your website is your first impression to your customers, and there's no second chance for a first impression.
If your website consumes a lot of your customer's time to load, your customer won't return to your site. Have no doubt about it!
As said earlier, a personalized content experience is all about your audiences' needs, interests, and expectations. If you cannot give them what they want, there is no dearth of websites on the internet. You search for one, and you'll get thousands of them on the internet.
One of the beautiful websites is "Simply Chocolate," a platform to buy your favorite chocolate. It's easy to access, loads in no time, and is visually appealing.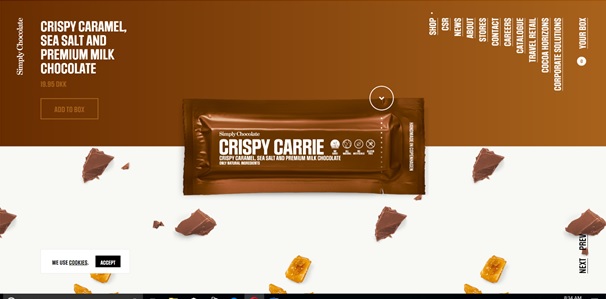 Another factor that impacts consumer behavior is the look and feel of your website. If your website is confusing or has too many ads or is not responsive, your customer will lose interest immediately.
That's why it is crucial to revamp your website to your customer needs for a great personalized content experience. Reduce distractions, improve page load time and site speed, incorporate easy page navigations to enhance user experience.
Your website should be neat, clean, to the point, and self-explanatory. Your audience should be able to access your website without frustration.
For example, take Solitaired, a site with hundreds of classic games like Solitaire and FreeCell. Its landing page is neat, clean and to the point, stowed with relevant information and immediately navigates users to relevant games.
6. Add high domain authority links
Lastly, to increase the ROI of your content, add high domain authority links on your website. The process of adding or getting other websites to link back to yours is called link building.
Link building is one of the most effective SEO strategies that significantly impact search engine rankings. However, it is vital to add only high domain authority links to your website.
Having some redundant or obsolete backlinks to your website is as good as having trash on your site. Adding high-quality links to your website, on the other hand, provides numerous benefits, including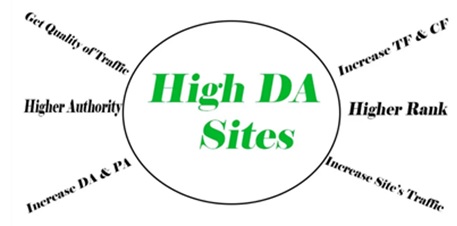 So, don't underestimate the power of link building; make the best use of it!!
Wrapping it up…
A personalized content experience is one of the best ways to connect to your customers and build brand loyalty. Utilize the aforementioned 6 ways to boost your content ROI using a personalized content experience. Apart from these, there are sundry ways to increase content ROI.
Remember, your content should act as a resource to your customers. Besides being engaging, innovative, and informative, your content should be useful to your audience. Your audience should feel being assisted upon viewing your content.