Online quizzes are a fun way to engage your target audience, whether they're your customers or your students. With a good quiz maker, you can create a quiz that grabs their attention, connects them to your brand or learning material, and helps you achieve your goals.
Here are some of our favorite online quiz makers that are dominating 2021 and can drive excellent long-term results.
ProProfs Quiz Maker

ProProfs Quiz Maker is a user-friendly quiz creator for businesses and educators. It has a library of 100,000+ ready-to-use questions, 100+ professionally-designed quiz templates, and 10+ question types with branching scenarios. It can help you create a quiz in minutes.

Customize and brand your quizzes, choose from 100+ themes and backgrounds, upload engaging videos, presentations, and images, and create effective lead forms.

Track your users with auto-generated reports and analytics, automate lead capture, and transfer leads to your CRM.

Suppose you create quizzes, tests, and online exams for students. In that case, you can upload them to any LMS, monitor your learners' real-time performance, leverage analytics to help them improve, automate grading, and provide instant feedback.
Jotform Quiz Maker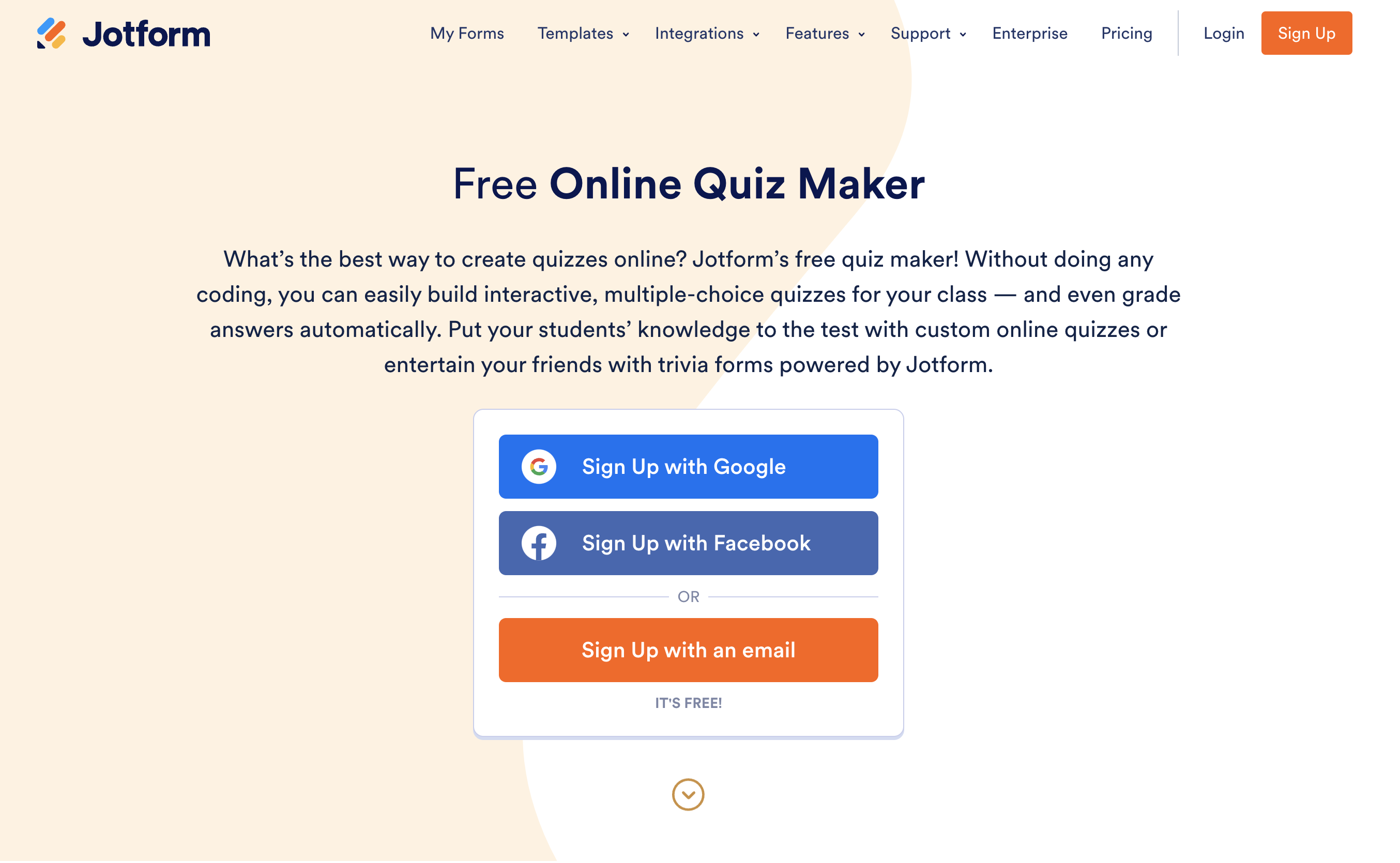 Jotform Quiz Maker is an online tool that features tons of free templates and integrations to help with creating your quizzes.

Use their custom conditional logic to make your quizzes different for every user and share them with a link, QR code, or just embed them in your website. See your submissions on well-crafted spreadsheets and keep track of your data using form analytics.

You can do all this without writing any code. Get access to all its features for free. Make your online quiz stand out and work great at the same time.
TryInteract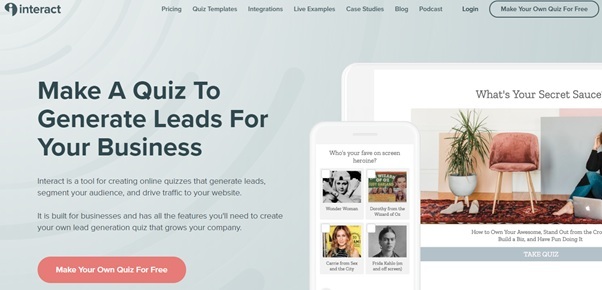 If you're looking for a quiz maker for generating leads, TryInteract might be just what you need. It's ideal for segmenting your audience and boosting conversions, too.

It comes with 800+ quiz templates that you can customize to your business needs. It lets you create lead captures, redirect quiz takers to your landing pages, leverage analytics to learn more about them, and follow up to build relationships based on their responses.

You can integrate it with most marketing tools and create quiz pop-ups and bars for your website with just a little coding.
iSpring

iSpring quiz maker is excellent for building interactive quizzes and tests for employee training. It features customization templates but also lets you create a quiz from scratch.

Once you choose from 14 question types, you can assign points to questions, add branching scenarios, set the passing score, and create slides for each answer to help employees master all the concepts.

This tool even supports audio-based questions and quizzes with equations. It can also automatically send quiz results to a host of integrated tools, such as your LMS or email client.
Survey Sparrow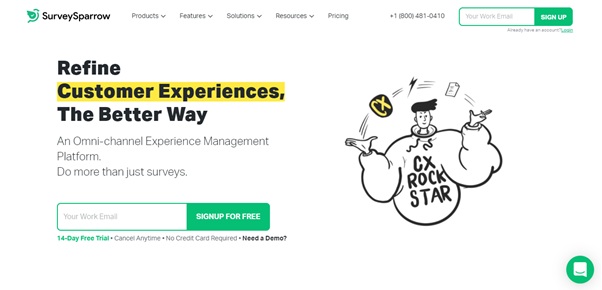 Survey sparrow is another great tool for lead generation, audience segmentation, and maximizing conversions. It comes with step-by-step instructions for creating attention-grabbing quizzes that you can customize to match your corporate style.

You can create text-based or image questions with branching logic, create lead forms and dynamic quiz results, redirect quiz takers to landing pages, and segment them according to their answers. You can even A/B test your quizzes to optimize them for maximum conversions.

This quiz maker is part of Thrive Suite, but you can also get it separately.
Woorise



Woorise is a powerful marketing platform for creating quizzes, surveys, multi-page forms, checkout pages, giveaways, contests, and high-converting landing pages.

Its intuitive drag-and-drop interface can help you design beautiful quizzes with conditional logic. It lets you create bio link pages, use geo-targeting, manage leads in one place, send personalized email follow-ups, export data in a CSV file, and leverage advanced analytics.

It has conversion-optimized templates, supports referral marketing, and allows CSS customization.
LeadQuizzes


LeadQuizzes is an online quiz maker designed to empower marketers by increasing their website lead capture and helping them learn more about their audience. You can use it to create quizzes, lead forms, and surveys with images and videos for better engagement.

Pick from 75+ templates, choose your targeting options, add URL redirects, and promote quizzes on your site, via email, or through paid ads. Integrate the software with marketing tools and enjoy in-depth reports to analyze your audience, enhance your marketing efforts, and grow your business.
Riddle



Riddle quiz maker is an easy-to-use tool for gathering, qualifying, and segmenting leads and boosting conversions.

It comes with 15 different formats for quizzes, polls, and surveys that you can create and customize with a drag-and-drop builder. You can save all your custom styles as templates to ensure consistent branding.

You can make quizzes more engaging with videos, images, GIFs and create custom lead forms that you can save as templates.

This tool integrates with any marketing software and automates custom email follow-ups.


Quiz Maker



With Quiz Maker, you can create a quiz, poll, or survey in minutes, either from scratch or pre-built templates.

Choose from 38 question types, pick a customizable theme, upload your own, set the scoring, create a lead-capture form, add images and URL redirects, and set automated email follow-ups. It's all pretty straightforward.

The reports will delight you, especially all the detailed tables and charts. You can learn a lot about your audience and fuel your business growth.
ClassMarker



ClassMarker is a feature-rich online quiz maker for businesses and educators. It can help you train employees, generate leads, and assess students.

It supports audio-based questions, videos, images, documents, info slides, time limits, URL redirects, multiple languages, customizations, and many third-party integrations. It has excellent real-time reporting features and lets you test thousandsocials of users simultaneously.

The learning curve is a bit steep, but it pays off, as this is a sophisticated platform with loads of valuable functionalities and outstanding security features.
Wondershare



Wondershare quiz creator is another user-friendly tool for building quizzes and surveys for employee training and academic assessments.

It supports 18 question types, images, videos, audio files, and equations. It offers customizable Word and Excel templates and lets you set time limits, randomize questions, and automate grading.

It lets you track users in real-time and provides comprehensive reports for analyzing the results and helping users improve knowledge and skills. You can integrate it with any LMS or email software for seamless user management.

Have you used any of these online quiz makers yet? They may seem quite similar, but each is unique and suitable for different users. Try them for free to play around with their features and find your go-to quiz creator.