You have probably heard over a million times that using ads is the quickest way to drive clicks and revenue.
But with 42.7% of online users using ad blockers and 90% saying targeted ads are annoying, it means that the amount businesses spend on ads ($634 billion) annually isn't generating the much needed ROI.
So, what's the solution for businesses that want to continue using ads to drive clicks or increase conversion? Native ads.
Native ads are a unique, less-intrusive group of ad that imitates or easily integrates with the look, feel, function, and style of the website or platform that they appear in. They mostly appear as organic content, even though stated as ads.
You can find them on social media feeds, search engines, and blog posts. An example would be sponsored articles, content recommendations, and search and promoted/sponsored listing, like in the example below on Amazon.

But why are native ads better than other types of ads?
Consumers love them. They look at these ads 53% more compared to display ads.
Apart from generating an increase in visual engagement, native ads affect purchase behavior. They lead to an increase in purchase intent (18%).
Fights ad fatigue by easily engaging with the audience.
As you can see, the benefits of using native ads are immense, and much as they look like regular content, they are still ads. That means how you craft them is important if you want your audience to listen to what you are saying. With that said, let's jump into the specifics of writing click-worthy native ads.
1. Have an objective
Different businesses have different objectives. So depending on where you are on your online marketing journey and how your customers know you, your reasons for running a campaign may range from brand awareness, driving traffic to your site, or improving conversions.
The first step is to come up with your native ad objectives. Once you have singled out the response you expect from people when they see your ad, you can now create copy and visuals that correlate to that objective. If you have two or more objectives, then you may need to create different native ads.
That means a copy you create to drive more app installs should not be also used to drive clicks or more traffic to your site. Different objectives will require different copies and visuals. By taking care of your objective, you are ready for the next step.
2. Use numbers
People love empirical evidence, and when you incorporate facts, hard data, stats, and numbers into your copy, it can make your audience easily trust you. Incorporating numbers in ads make them more credible.
Studies show that as little as 2 out of 10 people that read headline copy will read the rest of the copy. If you want to register more engagement in your ad, numbers must be your friend.
For example, this ad is very effective. The headline tells us what to expect before we even click on it.

There could be other factors or things involved, but displaying the figures first keeps it ahead of other ads as it gets to the point quickly and shows some positive connection between what is offered and what is expected.
3. Incorporate CTAs
The number one reason for creating ads is to make people convert. Similar to any other content, once consumers have been hooked by the valuable content in it, they need to know the next cause of action to take. This is why you should incorporate CTAs in your native ads.
In your CTA, ensure you offer something that your competitors don't. Alternatively, you can tweak your CTAs by rephrasing your words or changing the position of the arrow in your CTA buttons. For example, Micheal Aagaard, when working with Unbounce, registered a 90% improvement in click-through rates when they used first-person phrasing in their CTAs.
Here is an example of a well-written CTA on an ad.
This bit has to generate a positive effect. Remember that you are creating the ad to lead people to your CTA and eventually convert.
4. Create curiosity
Humans are curious individuals, and in marketing, feelings play a critical role in influencing consumers' purchase decisions. To quench consumers' thirst for knowledge, tapping into the curiosity gap in your ad is an exciting way to drive clicks and grow sales.
Let's look at this ad from LinkedIn.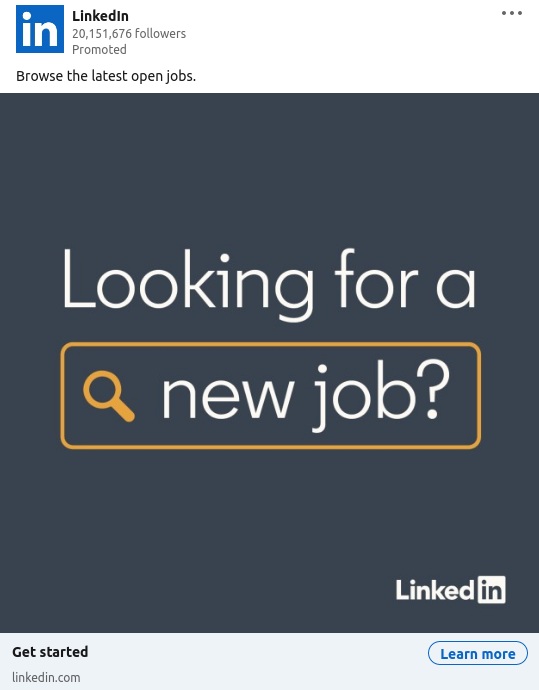 Do you see how it is asking a burning question facing most people visiting LinkedIn? Besides, the statement "browse the latest open jobs" helps viewers connect the dots (discover the answer). Looking at this ad, it is hard for a reader not to click through it.
Leveraging curiosity has several advantages.
It increases the likelihood of your content being shared
Increase brand awareness and credibility
Improve ad engagements
Creating curiosity calls for you to go beyond what your audience expects. You can achieve this by starting a story but not finishing, talking about the future, or writing a mind-blowing conclusion.
5. Be concise
There is too much distraction online. If you want to capture and even keep your prospect's attention, ensure your copy gets to the point quickly. Good writing skills are important here.
Some factors to consider when writing your native ad copy are
Avoiding inappropriate phrases, industry jargon, words, or images, that might throw off consumers.
Writing short and snappy sentences. Remember, you have less than eight seconds to capture the attention of your visitors.
Breaking up your text using bullet points and images so that they are easier to read and less distractive.
Back-up any claims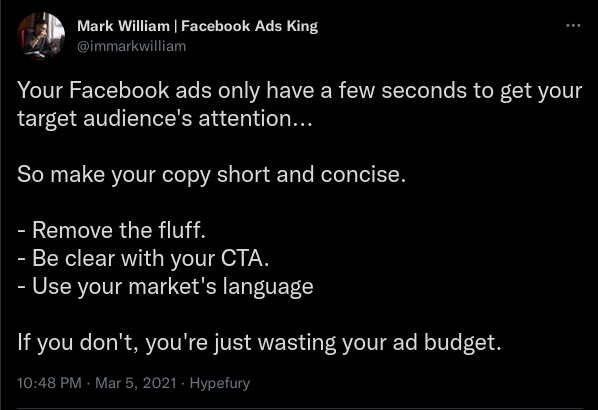 Conciseness makes your ad more persuasive. As a result, every word should count. Besides, remember to convey a sense of urgency. Implementing these will make consumers easily commit to engaging with your content and take action.
6. Offer value
When writing an ad copy, you may be tempted to talk about your business, what it does, and its functions. However, consumers don't care about that even if they have engaged with your company a million times. They only want their problems solved, as Daniel Bustamante says: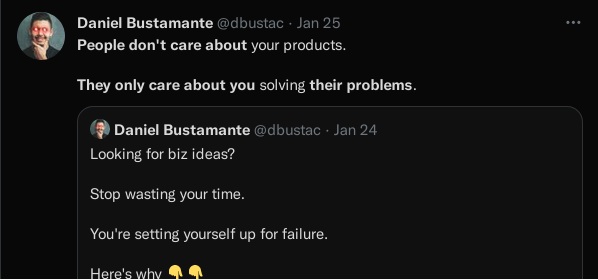 Nobody is going to click on your ad because they want to learn about your company. Nobody is going to click on your ad because you worked for several years to build your product or service. They will click on it because you have a solution to their problem.
That is why your message has to be about them. Avoid hard selling. Try to show the customer how using your service will take away their problem or make them a better version of themselves.
Here are the things to include in your copy.
Impacting visuals
Discounts and promotions
Only show benefits in your copy
Your goal is to sell to the customer what they are looking for, not how great your product is, and that requires you to include the most appealing things that consumers want to see and the action you would want the consumer to take.
Conclusion
Marketing to modern-day consumers is an uphill task. Consumers today have become sophisticated. Many loathe seeing ads. Their attention span has diminished. On top of that, there is way too much noise as the market is flooded with a plethora of ads.
To drive sales or click, you must be extra smart. The best way is to use native ads to promote your offers. Be it on social media, websites, or search engines, native ads can help you increase the number of clicks on your ads without being intrusive. Use the tips above to easily create native ads that can drive clicks and results.