Content marketing offers ample opportunities to reach your target audience, increase website traffic, build a community, and grow sales. It can also help you enhance your online reputation and establish yourself as a thought leader in your industry.
According to recent statistics, content marketing can help you generate:
55% more traffic
5X more leads
97% more backlinks
Moreover, it can cost 62% less than traditional marketing strategies.
But you need to use it effectively to achieve the desired results.
Let's find out how you can boost your content marketing ROI and generate more conversions for your business.
1. Audit Your Existing Content
Creating content without understanding what works for your audience and what doesn't can be a waste of time and resources.
You should conduct a thorough content audit to find out:
Which topics attract your target audience?
Which content gets maximum likes and shares?
Which content brings you the best results in terms of conversions?
What can you improve?
Which content formats can you experiment with?
What type of content is generating maximum results for your competitors?
Regardless of the content topic ideas and formats you choose, ensure that the content you create is relevant and valuable to your audience, error-free, and engaging enough to encourage action.
You can use content tools such as Grammarly, CoSchedule's Headline Analyzer, and Surfer to optimize your content for search engines and readers.
2. Create More Video Content
In 2021, an average person will spend about 100 minutes every day watching videos online. That's because people find videos more engaging, more memorable, and more popular than other content formats.
Therefore, you should ensure that videos are an important part of your 2021 content marketing strategy.
Now the question is: What kind of video content can you create for your audience?
You can leverage explainer videos, vlogs, tutorials, educational webinars, customer testimonials, interviews, and product demo videos to capture the attention of your prospects and existing customers.
Nowadays, you don't even need a professional setup to shoot videos. You can start with something as easy as recording videos for Instagram Reels and posting video Stories on various social media channels.
For example:
Dollar Shave Club's on-brand, humorous, and entertaining video content went viral and generated huge engagement for the brand. One of their videos on YouTube received over 27 million views.
Using online video content has helped Dollar Shave Club build impressive brand recognition and drive significant business' growth.
3. Leverage Consistent Blogging and Guest Posting Opportunities

Your blog is the centerpiece of an effective content marketing strategy but you shouldn't neglect guest posting opportunities as well. Together, they can help you reach wider audiences and build immense readership for your content.

One great example of successful blogging is Copyblogger.com.

Instead of promoting their content writing and content marketing services using ad campaigns, they consistently create content that is valuable to their audience.

Their blog is a resource base for the top online marketing tips and content writing hacks. They focus on providing value more than pitching their services.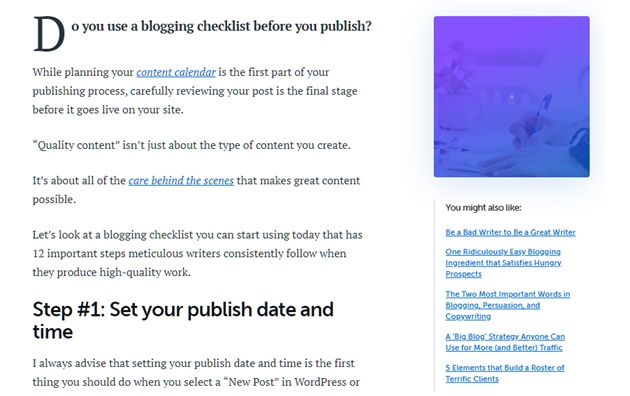 The majority of their marketing results come from content.

Key points to remember when blogging and guest posting:
Choose topics that your audience wants to learn about.
Guest post on high-authority websites in your niche and link back to one of your relevant blog posts. This will help you build readership, gain backlinks, and redirect traffic to your blog.
Engage with readers who comment on your posts both on your blog and third-party sites.
Write content that is readable, engaging, and provides value to readers.
Use statistics and examples to grab readers' attention.
Provide actionable tips that people can actually implement to achieve their goals or do something better.


Wondering where to start your blog?
You can pick any of the top blogging platforms such as WordPress, Medium, and LinkedIn to write and syndicate your blog content.
4. Promote Your Content
Content marketing is not just about publishing great content but also about amplifying its reach. Don't forget to extract more value from every piece of content you create.
That's where content syndication strategies come into the picture.
50% of companies cited content distribution and amplification as their top priority for inbound marketing projects. You should value it, too.
Some of the most popular content syndication and distribution channels you can use include:
Medium
LinkedIn
Quora answers
Syndication websites
Other social media channels
Email marketing
Focus on creating content that is easier to syndicate and that people are more likely to share and re-publish. One such content format is infographics. Case studies, industry reports, and how-to guides can also work well.
For example:
HubSpot regularly publishes insightful blog posts, industry reports and statistics, ebooks, and downloadable free templates for their audience.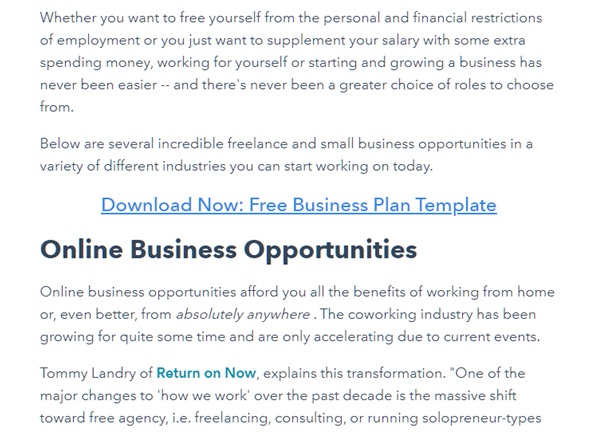 People are more likely to re-publish and share useful content such as templates and link back to important statistics and case studies. Therefore, publishing such content helps HubSpot generate more traffic, engagement, shares, backlinks, and, ultimately, more conversion opportunities.

Along with content syndication, you should also repurpose existing content to reduce the effort required and generate more engagement. You can easily turn your blog posts into Carousel posts and short videos to capture attention.

Similarly, you can break your educational videos into shorter parts and publish them on social media as video posts, IGTV videos, and Instagram Reels.

However, there is one essential point to remember. All of your content marketing and syndication efforts will only pay off if you write good content.


Ready to Grow Your Business Using Content Marketing?


While the mediums to deliver your brand's messages to consumers are constantly changing, the core principles remain the same. To create an effective content marketing plan, you need to prioritize content relevance, usefulness, and quality.

Make sure that you hop on to the latest content marketing trends, hot topics, and useful tips to attract, engage, and convert your target audience.

Do you need help creating great content for your target audience? Get in touch with my team of content marketing experts to plan, create, and distribute your content.