By now, most marketers know that content marketing offers huge opportunities for companies in their efforts to meet business goals and achieve greater success. It's an ideal way to deliver valuable and relevant content to users, boost online reputation, create a network around your company, attract new customers and strengthen your brand trust. When it comes to business goals, most companies also use an OKR template which helps plan everything more smoothly.
Content marketing, however, isn't just about creating and distributing content. It's a strategic approach that allows you to attract and engage with your target group and ultimately create profitable customer action.
By following the guide below, you'll get an overall picture of what's needed to develop and launch a successful content marketing strategy.
Do Your Research
To position your business as a credible source of content, you first need to define your media channels. Then, you'll need to figure out what unique value do you offer to your target audience with your content. How do you stand out from the crowd and why should readers follow your content channels?
Start researching your target audience to identify the type of information they are looking for and where they get that information. Then analyze your competitors' content strategies to find your niche.
Too often, companies focus on their market rivals and don't pay enough attention to other content creators. When deciding to develop your content strategy, you should view everyone in your field of expertise as potential competitors.
Review Existing Content
A content revision can help you stand out in a time of mass content production. Given that there are approximately 1.7 billion websites and more than 70 million posts published each month, there is an incredible amount of information for customers to check out. Creating content without having a proper understanding of what works for your target audience and your business is a waste of time and resources.
Ask yourself what type of content attracts your target audience, which content gives you the best results, and what do you need to improve?
Also, make sure to focus on quality as it's key for a successful content marketing strategy. Readers will evaluate every aspect of your content and you can get a bad rep even for poor grammar skills and mistakes in the written content. So, establish a control process and prevent making mistakes. Simple spell checks and using a plagiarism checker can be excellent tools for more consistent processes and avoiding making costly mistakes.
Identify Target Audience
Identifying your target audience and including them in your content is the key to success in content marketing. To do this, you need to understand their lifestyle, concerns, problems, and needs.
Creating buyer personas is essential for content marketing, but remember to also include people who are at the beginning of their buying process and those who have just started interacting with your company.
It's important to create content that attracts your potential customers before they enter the buying process, then follow up with content that shows how your company can be helpful when they're ready to take action.
Plan Content Production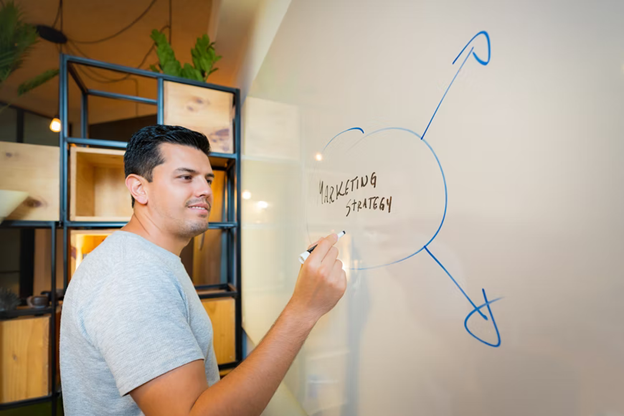 Before starting the content process, think about the purpose of what you want to create. Make sure the content covers every part of the customer journey to support your future customers in every step and finally develop a long-term relationship between your customer and your company.
Awareness Stage. The content is often centered around questions that your leads may have at the beginning of the buying process when they become more aware of their problem or need. This can also be content that tells about your company's story, educates, informs, or entertains your audience.
Consideration Stage. As they continue through the consideration phase, the prospect will want to know more. Help them understand why they need help. Guide them through how others have solved similar problems in the past, and discuss what steps they might take.
Decision Stage. The content is designed to help potential leads determine why you are the best choice to help them. Case studies, customer reviews, and analysis of the work you've done in the past can be helpful at this stage, as users compare you directly with others.
Retention Stage. Highlight different ways to get the most out of your product or service, as well as ways to solve common problems and new features.
Advocacy Stage. Content that highlights the parts of your business that will turn clients into devoted followers. These could be things that demonstrate your business values, efforts, or outstanding employees.
Final Thoughts
While most companies already know they should engage in content marketing, many of them still face problems as they don't know where to begin. With these tips, you'll be well on your path to developing a truly valuable marketing strategy and achieving long-term, sustainable growth.