From startups to large enterprises, there are a vast number of companies that are leveraging their eCommerce site. And as it becomes easier for everyone to build their website, e-commerce stores are becoming a popular way for more people to earn money online.
What does stat say?
According to a recent survey, eCommerce sales are expected to hit $4.9 trillion by 2021. In India alone, the market value of the eCommerce industry is estimated to reach 200 billion U.S. dollars by 2027.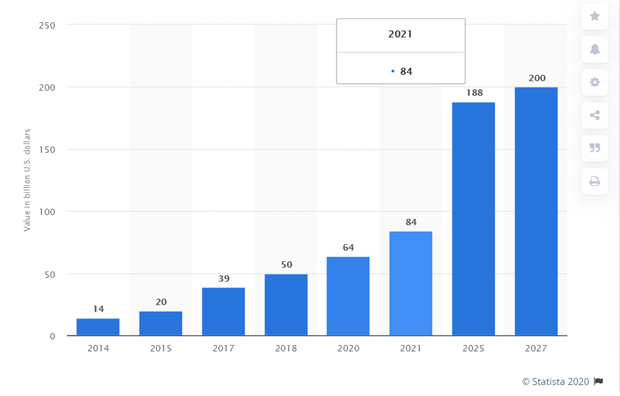 I am sure the stats have an idea of the size of the eCommerce industry. Are you planning to start your eCommerce business but wondering what could be the right POS for your startup? Then, this is the right page you've landed as through this write-up, you will get the answer to this question.

Although the market offers two most popular eCommerce platforms that are Shopify and Square, the question arises, how would you compare them?

Fortunately! I have compiled everything you want to know about Shopify Vs. Square Comparison in this article. Follow the blog until the end to get answers to all your queries. So, without wasting any more time, let's start!

Shopify vs Square: An Overview
Let's take a glance at what precisely these eCommerce solutions are.

What is Shopify?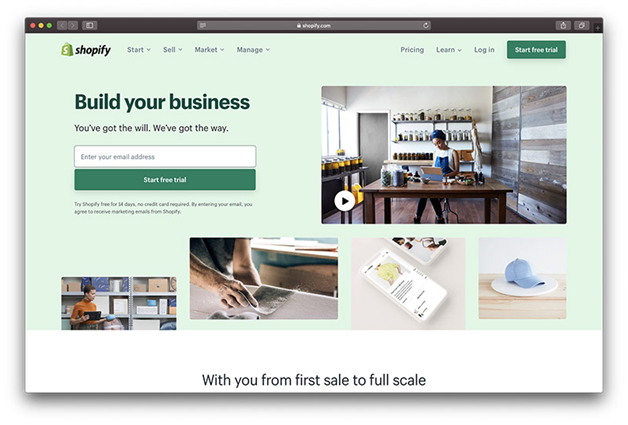 Shopify is one of the best e-commerce solutions as it provides everything you need for setting up an online store. Shopify empowers you to categorise your products, accept credit card payments, and respond to shopper orders, all with just a few clicks of the mouse.

It provides an intuitive resource that is designed to guide you in creating a web presence. When it is fully used, shopify can swiftly lead the way for small businesses to make their mark in the digital market.

What Shopify offers?
Shopify's POS solution is designed to sync with its e-commerce platform and is also used as a standalone utility.
The solution provides an array of impressive features, including:
Inventory management
Sales analytics
Employee management
Customer management
Multi-location management
Offline mode (does not support credit card payments)
Virtual terminal
Square: A Brief Introduction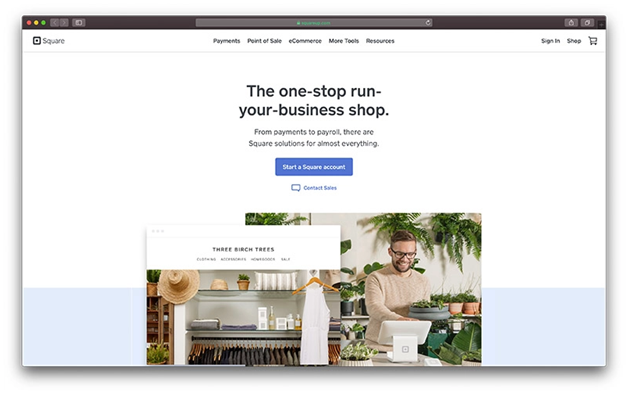 It is an excellent option for small scale industries that carry out one-to-one transactions. Square has a sophisticated POS app known as Square Point of Sale. Apart from this, it also gives you an array of attractive templates to suit your site.

The most significant advantage of Square is that it's POS and payment processing is free to use. It is a reasonable solution for startups that allows users to set plans and add paid features for free of cost.

What does Square offer?
Square's free POS app provides an extensive list of robust features:
Inventory management
Customizable dashboard
Sales analytics
Offline payments mode
Advanced reporting
Multi-location management
Virtual terminal
Customer management
Although the Square inventory management feature may not prove powerful enough for those working with high-volume inventory operations, the solution offers enough features for a free app.
Merchants who want to grow their shop can also upgrade to more advanced POS features.
What to Look for Before Selecting a POS?
Getting the right POS for your startup is quite a difficult task, and it is evident that you want the best. Both Shopify and Square are worth considering; however, you need to choose only one of the two. Take a look at the below parameters:
1. Process Payments
Currently, it is the need of the hour that the payment processing should be done within a few taps. And to fulfill this need many eCommerce companies have integrated contactless payment methods such as Apple Pay.
To maximize profit, the POS must process payments made through major credit card networks such as Visa, American Express, MasterCard, etc.
2. Checkout
For buyers, the checkout followed by the payment process should be very smooth. Whatever your POS, Shopify or Square, it should manage all logistics, including delivery of receipts, shipping options and the ability to place discounts and gift cards.
3. Employee Management
POS needs to be able to manage your employees easily so that you can track the number of hours they have worked, including tip reconciliation.
4. Inventory Management
The eCommerce business demands that POS should be fully integrated with the inventory management system to keep track of the inventory.
5. Mobile Applications
Your business can thrive these days when mobile application usage is at its peak. The POS, you will choose should provide a mobile application so that you can manage your business anytime and from anywhere.
Shopify Vs Square: Who Offers the Better POS?
Shopify and Square gives each other a tough competition because both come with strong POS features. Let's take a more in-depth look at both of them and see which would be a better buy.
Shopify
Previously, Shopify only supported POS on iOS. Then realizing the massive size of the Android market, the company launched an additional app in early 2016. Also, Shopify's POS app supports both iOS and Android devices, including tablets.
Sounds amazing! But, the exciting thing here is that with all these devices, Shopify's POS app is not the same. The best approach has always been to adopt the iPad version because it has better functionality than the rest.
Moreover, Shopify offers:
Discounts to its customers at regular intervals.
Custom sales, portable registers and custom receipts.
Offers discounts, automated tax calculation, store management, inventory management and more.
Now, you'll see that the app can process all types of payments, Shopify is offering even contactless payments.
Do your customers mainly prefer credit and debit cards? Or does the shop deal with checks and cash? No worries! Shopify can handle that too. Besides, Shopify POS is compatible with custom payment options also.
Shopify goes further to the convenience of split tender, where customers can play through two or more methods in a single transaction.
The default method here is Shopify Payments. However, you are free to opt for other external payment processors with better capabilities. Unfortunately, you are going to be forced to send additional fees to Shopify for every transaction.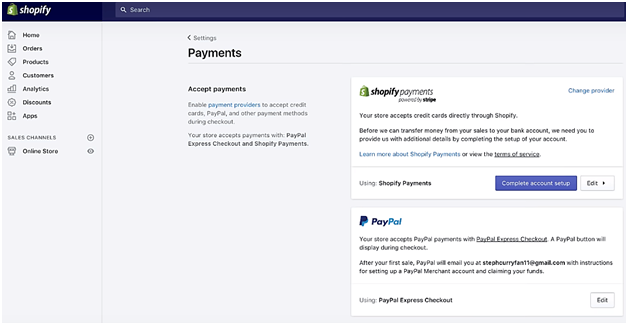 Nevertheless, some features on Shopify POS are so flexible that international orders can also be accommodated. But, only the iPad version of Shopify is compatible with this functionality.
Square
Square is surprisingly effective in handling sales in offline stores. The free Point of Sale app is available in Android and iOS versions, which runs smoothly on smartphones and tablets.
On the other hand, Square for Retail, a premium version made specifically for retailers, is only compatible with the iPad. And it is well adapted to that specific demographic.
For beginners, it is quite supple in terms of payment options. Other than credit and debit card payments, it facilitates check plus cash transactions. But Square, sadly, fails to match Shopifys' advanced payment provisions.
Square can be a bit weak on that, but it makes up for the damage in other ways. For example, its split tender function, supports check and card, cash and check, or cash and card transactions.
This is especially useful when you are trying to convince customers to spend more through cross-selling or up-selling.
If that strategy fails to work effectively, you can rely on Square's discount feature to trigger additional sales and customer retention. Like Shopify, you can offer discounts on both single and bundled products - on a percentage or fixed deduction basis.
It turns out that Square POS can easily handle credit card payments when it is offline. You need to make sure that the outage is resolved within 72 hours to regain full functionality.
Therefore, if credit card payment fails, you can also issue refunds - both partial and full. And you know what? Square will also refund you the processing cost.
If we talk about successfully processed transactions, Square POS produces receipts that can either be physically printed, sent via email, or forwarded to SMS.
Square POS allows you to set pricing, styles and colours for all your products separately. If you need extra features, you can either upscale Square for Retail or embed third-party inventory solutions such as Shopventory.
Unfortunately, you do not get customization capabilities and advanced filters as we have seen with Shopify.
Verdict
Both Shopify and Square POS provide extensive inventory management features that can be tracked and synced in real-time across all stores.
When it comes to payment, they both support multiple payment modes, split tender and tax fees. However, Shopify is more flexible, thanks to its custom payment options.
But then, when it comes to offline transactions, Square makes a comeback. Although Shopify provides this too, it cannot process credit cards. Square, on the other hand, proceeds to facilitate credit cards even during an outage.
Overall, I say that both of these are incredibly effective to facilitate in-store sales. While Shopify is better for customization, Square comes with more POS features.
Shopify vs Square: Pricing
There are three legal expenses when it comes to POS systems:
Processing fees are a small portion of the payment, which includes an additional flat-rate charge.
Software payment is a cost for using POS software.
The hardware fee is what one required to pay to get the hardware from the POS provider, which enables you to process the amounts.
The more hardware options your POS provider gives you, the more flexibility it allows you to decide an option that makes sense for your business. To get best consultation you can hire
Shopify
Shopify has four significant plans, which are based on functionalities. The higher you go, the more functionalities you will have to power your business. To increase your business visibility and ROI entrepreneurs are hiring developers in india to save their shopify development cost by 60%.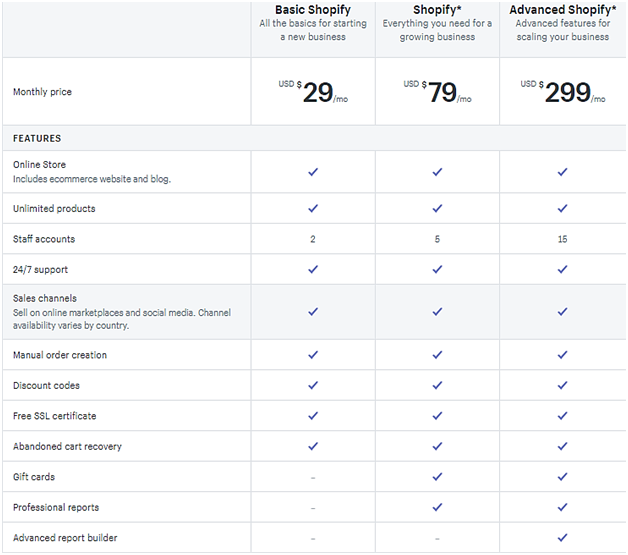 Square
Square's price structure is straightforward. First of all, there is no monthly subscription fee for eCommerce and POS here. You are not required to even pay for PCI compliance.

Well, here's the deal - as long as you have adopted Square POS on your tablet or smartphone, there are only credit card transaction fees for you.

Unless, of course, you choose to complement your framework with secondary hardware solutions such as Square Register, Square Reader, and Square Stand.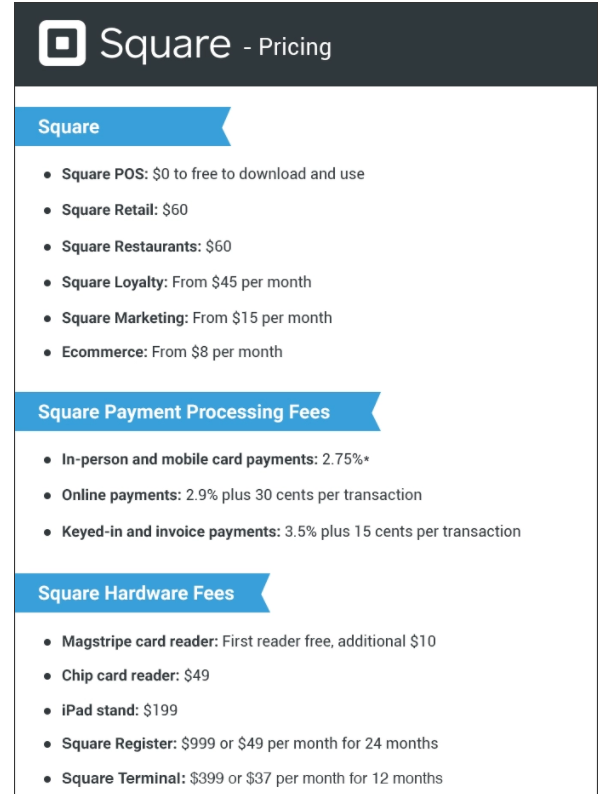 Verdict
Shopify and Square have more or less the same transaction fees for in-person and online card payments. Shopify is more expensive when we consider its extra monthly fees.

Square vs Shopify: Which one is better?
It is not easy to choose a clear winner because it depends on your requirements and what works best for your business model. One thing we know for sure is that both have broad e-commerce features and benefits.

If you want the most straightforward online store creation process, select Square. On the other hand, Shopify is ideal for a dynamic e-commerce vendor as it has a deep pool of applications and talent to pull on for customer support.

Also, Shopify's POS has a lot of customization capabilities, while Square POS has much more features.


Wrapping Up
Through this blog, I have put together all the pros and cons of Shopify and Square. Shopify is an eCommerce platform, while Square is a cost-effective POS app.

Who wins the battle here? Well, it all depends upon you, your budget and requirements. And, if you are still struggling to conclude, you can consult ecommerce web developers india who will surely guide you to choose the right POS for your business.

So, go ahead and consult them today if you want to create and open an online store.