User-generated content is a powerful asset for any brand. It speaks of loyalty, trust and satisfaction with product quality. Essentially, user generated content is ecommerce recommendation marketing. It strongly influences the purchasing decision of 79% of people.
Therefore, we have made a short comprehensive guide to using it. Wondering how to promote your brand on Instagram effectively? Read the rest of the article to find out how to do this through the content your customers create.
Marketing with Instagram User-generated content: a quick guide
Step 1: planning your user-generated content marketing strategy
Customer posts are a great addition to your content strategy. However, it is part of it. Therefore, it is important to decide in advance when and how often you plan to post user content.
Also determine how it should be. This should be decided based on the business goals of the company. For example, a brand sells sustainable tableware. Publishing awareness-raising content is a great option.
In addition, if the product is expensive, an alternative cost of such campaigns can be imagined. For example, an eco-cup costs five times more than a regular cup, but taking it to a coffee shop will get a discount on drinks. Next, you can provide a list of such establishments.
Step 2: create incentives for users
People won't create content just because the company has a presence on Instagram. This happens very rarely. So come up with motivation for your users. This can be done in several ways:
Step 3: ask permission
Legal requirements for confidentiality are becoming more stringent. Therefore, it is worth playing it safe. Marking a brand in a post does not constitute consent to post content. So it's better to ask. By simply asking a question, you eliminate the possibility of unpleasant situations. This can be done, for example, by commenting on the publication.
It is also recommended to take care of the precautions. Take a screenshot of the post in which the person gives permission to post the post. Some brands use disclaimers. It is added to messages. However, the best option is to ask a legal advisor for advice.
Step 4: use user-generated content correctly
First, it's important to keep aesthetics in mind. In order to use your content to bring great results, stick to your style. This refers to the color scheme, fonts and brand voice.
A great example of user-generated content integration is the Frank Bod brand. Take a look at their profile picture. Can you tell at a glance where the user's content is? Hint: this is the second and ninth post.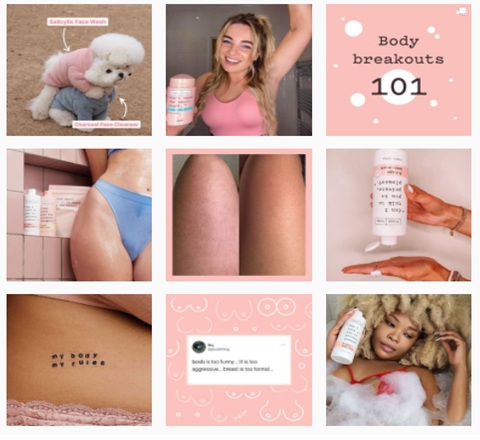 Themes for user-generated content can help ensure consistency in style. Include in your brand identity the specific styling of the client photos you re-post. This will make publications more aesthetic and attractive.
This is how the Fella Swim brand has brought this idea to life.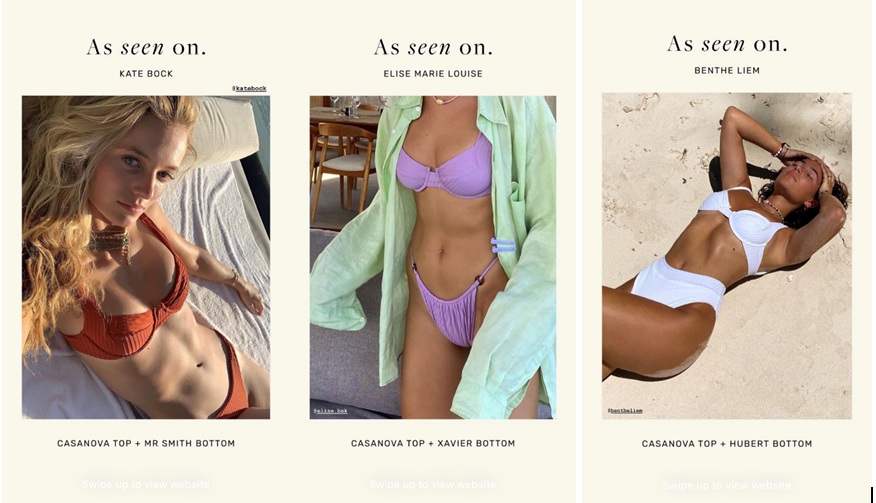 It is also recommended to collect user-generated content in one place. Saved stories are great. They will ensure that all publications are organized. New users will be able to navigate through the reviews quickly and choose the product they like. The big advantage of the solution is the presentation of the product in real life. People trust such photos more.
Check how to create a podcast merch as an example for inspiration
Step 5: Influential persons
Influencers often practice fashion affiliate marketing that goes well with user generated content. Build a community of brand ambassadors and influencers will advertise to you. All you need is to provide each blogger with a promotional code. The best part here is that the cost of such campaigns is only restricted to the commissions you pay the affiliates.
Conclusion
User generated content is a tool that can become a powerful weapon for a company. However, only with the right approach. As a complete strategy, it requires thoughtfulness and organization. Decide how, when, and why to post your custom content (many companies even post user-generated content in their websites) Encourage customers to create it, respect the right to privacy, and get one of the most powerful competitive advantages.