Magento or Shopify often turns out to be the final choice when planning to launch an eCommerce website over a ready-made platform. Both Magento and Shopify hold a significant share of the eCommerce market, and choosing one over the other without dedicated research may prove fatal in the long run.
Whether you are the owner of an established SME or looking forward to starting your business, the ultimate choice will depend upon a series of factors. This blog covers the following topics to help you find which of the two will be an ideal fit for your ambitious Ecommerce project.
Magento-Pros and Cons.
Shopify-Pros and Cons.
A comparative study of the two platforms.
Level of customization offered on the tww platforms.
Let us begin with our first point
Magento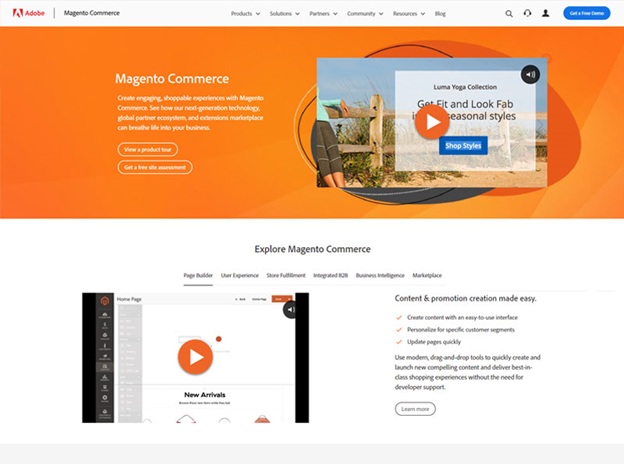 As per Software Outsourcing stats, Magento has a market share of 4.8% among the leading eCommerce platforms. Unlike Shopify, an entirely paid platform, Magento is available in both open source and paid versions to the clients.
Pros of investing in Magento
Availability of free version.
Significant levels of customization are feasible.
A mature community of developers is available to resolve any issue.
Availability of a wide range of themes.
SEO-friendly tags, URLs, descriptions, etc., are available.
Cons of investing in Magento
Beginners may find it tough to learn the platform.
Hidden cost requires significant investment.
Shopify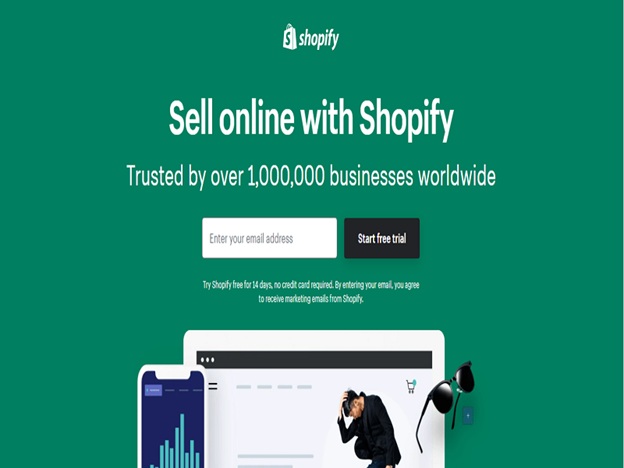 As per Statista, Shopify holds a significant percentage of the eCommerce market which stands at 10.98%. It is available in multiple versions to suit simple as well as hefty billion enterprises. Businesses can also use the Shopify ADA compliance which allows accessibility to everyone who has a disability.
Pros of investing in Shopify
It offers multiple themes to choose from.
You can upload and sell an unlimited number of products.
Every version comes with a smooth-running website and a blog.
Free SSL certifications to ensure greater security.
Proper customer support to provide zero issues with the chosen version.
Cons of investing in Shopify
It does not offer a free version to the consumers.
Unless opted for Shopify Payments, users are charged on every transaction.
That was a concise brush-up of Magento and Shopify. Let us now look at the detailed comparison of the two platforms.
Magento v/s Shopify
| | | | |
| --- | --- | --- | --- |
| Feature | Magento | Shopify | Winner |
| Cost | Both open-source and paid versions are available. | Entirely paid edition. | Magento wins |
| Hosting | Requires you to buy hosting | It is a hosted solution. | Shopify wins |
| Simplicity of store setup | Requires users to set up and configure everything. | It offers a simple user interface that is convenient to use. | Shopify wins |
| Simple eCommerce functionalities like shopping cart, collections, checkout module, product pages, etc. | Along with basic features, it offers advanced functionalities. | Basic functionalities are available but advanced features require extensions. | Magento wins |
| Inventory management including whether you can sell an unlimited number of products | Available but smooth functioning depends upon the chosen hosting. | Inventory apps ensure direct integration. | Shopify wins |
| Shipping charges calculation whether flexible and powerful. | Available | Available | Tie |
| Developing discount coupons and codes | Available | Available on higher plans and not in Shopify lite edition. | Magento wins |
| Payment Gateways | Third-party add-ons are available to integrate more payment gateways. | More than 70 available, but third-party gateways are chargeable. | You decide |
| Multiple Themes and Templates availability | Tons of free themes and templates available, and even the paid ones are available at a cheaper rate. | Free themes and templates are less in numbers but more contemporary in nature, while the paid ones are significantly costlier. | Magento wins |
| Multilingual Support to reach a diverse audience of buyers. | Comparatively higher support for multiple languages. | Third-party paid apps have to be downloaded to experience multilingual support in Shopify. | Magento wins |
| Search Engine Optimization | SEO-friendly tags, URLs, description, are available. | SEO friendly platform to help you rank well over the search engine. | Tie |
| Blogging | Available | Available | Tie |
I hope the above table proves helpful to you all. But we are not over yet; there's an important parameter left to discuss; in fact, it's so crucial that integrating it in the main table didn't deem fit. Read the rest of it.
Level of Customization
An ecommerce platform that looks just like one among the multiple options without any innovative features and designs fails to appeal to the users. Moreover, it lacks business-centric features that are necessary to stay ahead of the game. However, with significant levels of customization, you can ensure to offer unique and special features that set you apart from the rest.
It must be noted that both platforms do not support 100% customization. However, a significant level of customization is feasible in both Magento and Shopify.
Magento: A magento web development company can ensure customization based on your business needs, core products, target audience, etc. The HTML/CSS code can be manipulated to bring a fresh and elegant feel for the users. Being an open-source platform expert can easily modify the codes to develop the website of your dream.
Shopify: Unlike Magento, Shopify offers convenient customization with its drag and drop features, and the need to hire Shopify developers arises mainly for high levels of customization.
Overall, it can be considered a tie as advanced levels of customization requires the help of experts in both cases. It's worth noting that both platforms are pretty limited in terms of web accessibility features. If you're looking to ensure your online store is ADA-compliant, you'll need to integrate with a third party, like accessiBe. The latter integrates with both platforms ensuring for Magento and Shopify accessibility.
Final Words
Based on the pros and cons and comparison table, both Magento and Shopify prove helpful to different business needs and organizations. You can weigh your compatibility with features to find the best out of the two.
You can choose ecommerce development companies in India to deliver your project in no time. You can connect with them for a free consultation.