Customer relationship management (CRM) is crucial to the growth of your business. The popularity of CRM software applications has increased rapidly worldwide in the past few years. If you are a startup owner who wants to build connections with target customers and clients, using a robust CRM will help you organize customer data and analyze it efficiently.
Besides improving your customer service, a CRM helps you manage business processes effectively. Moreover, it boosts sales and conversion rates. Many businesses have experienced massive growth in revenues and overall productivity after implementing CRM systems.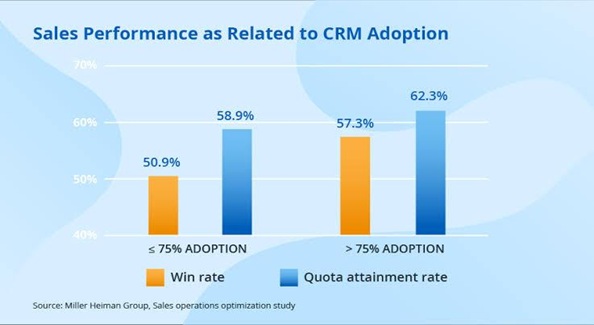 Whether your business is a one-person operation or has hundreds of dedicated sales personnel, you may implement and use a CRM to meet your targets and enjoy its benefits, including better data organization and analysis. Keep reading to learn how CRM data analysis helps boost sales.

How can CRM data boost sales growth?

CRM software helps you gather customer data and analyze it to identify ways to strengthen your relationships with customers and increase your revenue. Here are the ways CRM data can boost your sales growth:

1. Find the right customers

As a business owner, you need to spend time and resources on attracting prospects and generating leads. Once your marketing campaigns have reeled them in, you need to check whether they are getting transferred to your sales team and your representatives are aware of these opportunities to sell.

You can connect your CRM system to different marketing platforms, such as email and social, and use customer data to send customized marketing materials. Video marketing tools can be integrated into CRMs so that you can automate your marketing campaigns and offer personalized videos according to different market segments. This will allow you to send the right marketing campaigns to the right customers at the right moment.

2. Reduces Cost of Sales
Winning over new customers is essential to the growth of your business. However, as any salesperson will tell you, it is not an easy task. You are more likely to sell to existing customers than find new ones, and it is more costly to find new markets for your products.
This isn't a reason to abandon your customer acquisition efforts, though. Using CRM data, you can increase the revenue generated by your existing clients and acquire new customers at the same time in a manner that's cost-efficient. Here are some ways you can leverage CRM data to reduce the cost of sales:
Discovering cross-sells and upsell opportunities: You can analyze CRM data to identify customers who are more likely to purchase additional products or services from you. For instance, if you offer tiered pricing for a SaaS product, you can target customers who have subscribed to the lowest tier and offer them preferential rates on subscription upgrades.


Unveil referral business possibilities: Cold calling has a relatively low success rate. On the other hand, people tend to trust their friends and colleagues. Your CRM has a wealth of data that you can use to discover existing customers who might be in a position to influence purchase decisions among their contacts.


Decrease closure time: Analyzing your CRM data will help you identify choke points in the sales process. By eliminating these bottlenecks, you can decrease closure time and generate more profit in the process.


Upgrade sales competence: Your CRM is a repository of information that will help you pinpoint customer needs and sales opportunities. Knowing your customers closely will help you develop products that address their needs as well as marketing campaigns that answer their questions.
3. Boosts Productivity
A quick look at your sales team's timesheet will reveal that they spend 66% of their time on tasks that have little to do with actual sales. These activities include entering customer information into a tracker, generating quotes, and researching prospects. As a result, they have less time for revenue-generating tasks: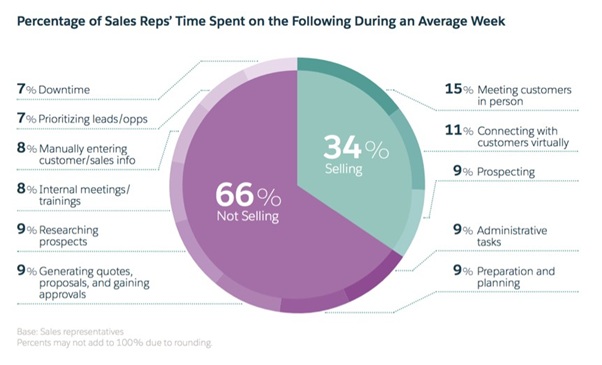 This is why it's so important to increase team productivity. Implementing the right CRM software and teaching your sales team how to use it will help reduce tasks that add very little value to the business. An effective sales team knows how to automate manual activities or eliminate them altogether. CRM data will cut the time your team spends on entering customer information and market research.

According to the Harvard Business Review, 52% of high-performing salespeople identified themselves as power users who take full advantage of their companies' CRM technology. If your salespeople know how to use your CRM, it gives them a significant advantage over competitors that don't know how to maximize the use of CRM data.

4. Targeted Email Marketing

Email marketing is an excellent medium for reaching target customers. Sending customized offers, discounts, and business proposal ideas can help increase conversion rates.

Whether you have ten customers or ten thousand, CRM software will help you recognize patterns across your customer base and allow you to create targeted email marketing campaigns based on their personal information and transaction history. You may offer discounts based on how long they've been using your product or create special bundles for the holidays they observe.

Using CRM data will allow you to create personalized email campaigns that increase the chances of repeat business.

Use CRM software to distinguish your customers and present offers and promotions to your database to make a relevant offer available to every customer. If you can do it successfully, it escalates the recurrence of sales.

5. Better Customer Service

It's no longer enough to satisfy a customer with your products. Customers now tend to consider their entire experience with your brand, from the moment they sign up for your email newsletters or make a purchase to the moment they contact your user support team. Even if your product has all the features they need, it doesn't mean anything if your customer service isn't up to par.

Customer service plays a major role in building your brand identity. You want to be known as a brand that pulls out all the stops when it comes to delighting your customers. Your relationship with your customer doesn't end when they make a purchase. In fact, if you do customer service right, a purchase is just the beginning of a long and fruitful relationship.

Using customer data from the CRM the right way will help you create a better experience for your customers. For example, your CRM can reflect the number of times they've called about a certain issue they've encountered with your product, which in turn helps you build a service strategy that addresses that specific concern. Additionally, most CRM tools have an option to integrate them with many other business automation tools and databases, from Google sheets to proposal software tools.

Wrapping up

Running a business, from product development to marketing to customer service, can seem utterly complicated. Fortunately, using CRM data, you can optimize multiple aspects of your operations.

Your product marketing team, for instance, can benefit from CRM data analysis to determine what your customers are looking for in a product and create marketing campaigns that emphasize your product's features. CRM data can also help your customer service team identify the most common concerns your customers encounter with your product, which allows them to come up with process workflows that revolve around resolving these issues.

Your CRM is a vast, yet a largely-untapped source of actionable business intelligence. Once you learn how to read CRM data, the potential for your business will be limitless.