Want to monetize your Instagram account?
If you've got a good following and influence, it can be a great opportunity to earn extra money. After all, most brands are always looking for influencers who can bring them more engagement, traffic, and customers.
In fact, by 2022, businesses are expected to spend $15 billion on influencer marketing.
However, before the dollars start flowing in, you need to tick a few checkboxes to optimize your Instagram profile. In this post, let's take a look at what you need to monetize your Instagram account and the different monetization strategies you can use.
Let's jump right in.
What Are the Main Requirements to Monetize Your Instagram Account?
Here are some of the prerequisites to monetize your Instagram account:
The number of followers: You need at least 1000 followers on Instagram to start monetizing your account. The larger the follower count, the more money you can earn from brand partnerships.


Engagement: The number of likes, shares, saves, and comments your content gets indicates how engaged your Instagram audience is. With more engagement, you can attract high-value brand collaboration projects.


Influence: Does your audience look up to you as an authority in your field? Once you have had a few sponsored deals, measuring the engagement and conversions you bring can give you a better idea of your level of influence.
Before monetizing your account, find ways to get more Instagram followers and boost your engagement rate.
5 Different Ways to Monetize Your Instagram Account
If you meet all of the criteria listed above, it's time to monetize your Instagram account. Here are different ways you can start making money on Instagram:
1. Create Sponsored Content
This is the most common way to monetize your Instagram account.
For this, you can send your media kit to brands in your niche that are likely to be interested in collaborating with you.
To promote them, you can create sponsored content including photo posts, videos, Reels, Stories, or even Instagram live videos. You could create tutorials, how-to videos, unboxing videos, or run giveaways.
When it comes to compensation, there is no definitive answer to how much you can charge. It's a grey area.
It totally depends on factors such as your follower count, the amount of social traffic and engagement you get, and how perfectly your audience demographics meet that of the brand's target audience.
If you are just starting out, you can also consider taking free products, access to exclusive events, and shoutouts as compensation.
2. Add Affiliate Links
Another way to monetize your Instagram account is to leverage affiliate marketing. You can add a custom promo code in your Instagram captions to promote affiliate products. Every time someone buys a product using your code, you will earn a commission.
Here is an example of how Instagram influencer, Janni Olsson Delér, shared a unique discount code while promoting an affiliate product on her Instagram account: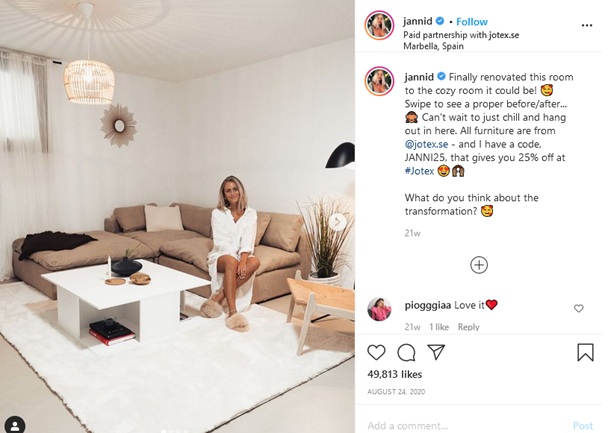 Alternatively, you can also group all of your affiliate products under one link and include that link in your Instagram bio. Here is an example of how you can use this strategy:



3. Teach Some Skills to Others
Teaching skills to your audience is another way to make money on Instagram. You can do this by promoting your ebooks or offering online courses. To market them on Instagram, you can add a link to the course or ebook in your Instagram bio.
Here is an example of how an influencer advertised her upcoming workshops on Instagram:

If you need professional help, you can also consult with an Instagram expert to attract the right audience for your courses, workshops, ebooks, and other resources.
4. Promote Your Own Products
If you've got influence, why not use it to promote your own products. You can launch a new line of products and sell them on Instagram. It's like being an influencer for your own products.
Beauty influencer, Huda Kattan, leverages her influence on Instagram to sell her own brand's makeup products.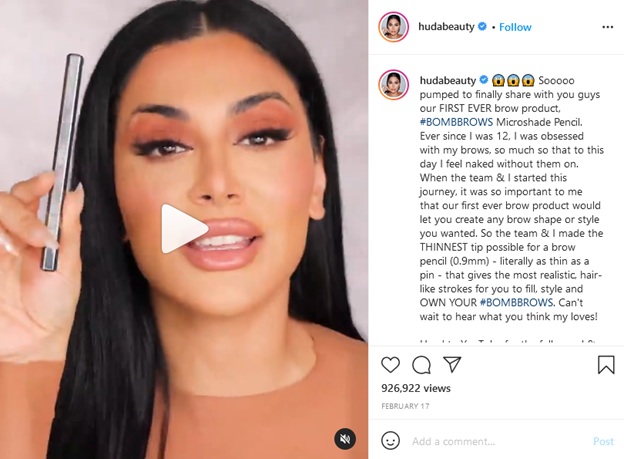 5. Product Placement Videos
IGTV videos, Timeline Stories, Reels, and video posts on Instagram can be used to create product placement videos. It's a tried-and-tested way to promote products.
If you choose a product that is related to your niche and content, the placement will appear more natural. You can either place the product ad at the beginning of your video or somewhere in the middle.
Conclusion
If you want to monetize your Instagram account, you need to first work on building an engaged audience.
When you're ready, you can reach out to brands to create sponsored posts or to promote affiliate links. You can also teach some skills to your audience or launch your own product line.
Are you ready to start monetizing your Instagram account now? Then, get started.