The e-commerce and retail industry is constantly evolving, with new trends emerging every day. One of the most recent ones combines marketing directly with shopping, called social commerce. Total annual social commerce sales will reach over $50 billion by the end of 2023, data by eMarketer.
Which leads us to TikTok, a popular social media platform for posting short-form video clips and creative content. TikTok is launching new features and collaborations favorable for e-commerce brands wanting to promote their business through social shopping, live commerce, and influencer marketing.
The platform, launched initially as a social app, appeals to creators and viewers as well as e-commerce businesses worldwide. After all, promoting a wide variety of products through highly engaging content sounds like an excellent idea, doesn't it?
TikTok investing heavily in marketing features
TikTok is investing heavily in its new marketing avenues. According to a report by the media outlet LatePost in China, TikTok's marketing revenue was $4 billion in 2021, with a goal to nearly triple this to $12 billion revenue share by the end of 2022. What is more, TikTok nearly doubled its size in terms of its advertising and product teams in 2021.
With the increasing popularity of influencer marketing, social commerce, and live commerce, TikTok offers limitless opportunities to creative e-commerce marketers and shouldn't be ignored in 2022 and going forward. Let's have a brief look at what TikTok is, then dive into some tips and best practices for marketing your brand on the platform.
What is TikTok?
TikTok app, launched by ByteDance in China in 2016, is a social platform that allows posting short-form videos ranging from 15 seconds to 3 minutes, enabling easy video editing and adding filters and music.
The video-sharing social platform has been especially appealing to Gen-Z and Millennials. As of September 2021, nearly 50% of users were below 30 and fell into the 10-29 age range, according to Statista.
TikTok app is where e-commerce businesses, content creators, and influencers merge and come together to express their style, trends, share experiences, or promote brand awareness. That is a significant reason why, similarly to Instagram and Facebook, TikTok is starting to emphasize its e-commerce marketing features and activities.
While these features are similar to other major social platforms, several differentiating factors make TikTok marketing unique and have its advantages.
Unlike other apps and platforms, TikTok has a specific discovery algorithm that gives each clip an equal chance for virality, whether the brand or person is new to the platform or how popular the creator is. Of course, it does help to have already amassed a wide following or opt for paid campaigns, but it doesn't only account for that; all users have a chance to go viral if their content is good.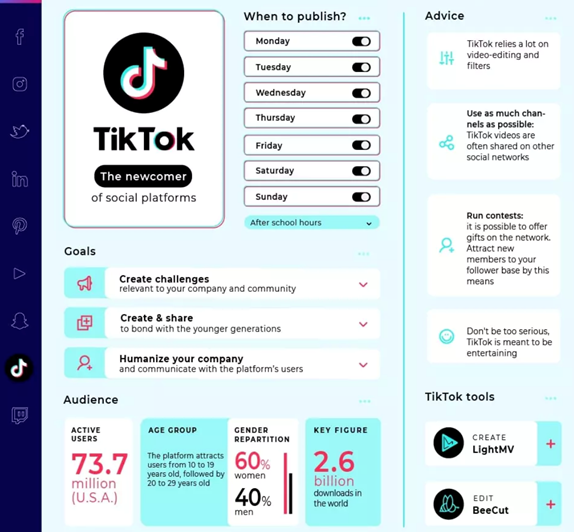 TikTok and Shopify integration

In 2021, TikTok launched a Shopify integration that allows sellers on the Shopify e-commerce platform to sync their products directly with the TikTok Business account. It creates a separate "storefront" on TikTok and displays all product catalogs sold on the brand's online store directly
to their online shop and allows a direct check-out without ever leaving the app.

They realized the potential of social commerce and the growing live commerce trend. TikTok is the perfect platform for that. TikTok and Shopify revealed their partnership in October 2021 and is currently available for the US, Canada, and UK merchants; it has announced that it will be launched in other countries soon.

Their e-commerce strategy partnership allows merchants to create and manage campaigns directly on TikTok business accounts. TikTok hopes to attract brands and new users with its new features and e-commerce capabilities.

TikTok generates revenue primarily through: advertising, in-app purchases, and e-commerce features and comes with four different ad types: in-feed ads, brand takeovers, top views, branded hashtags, and branded effects.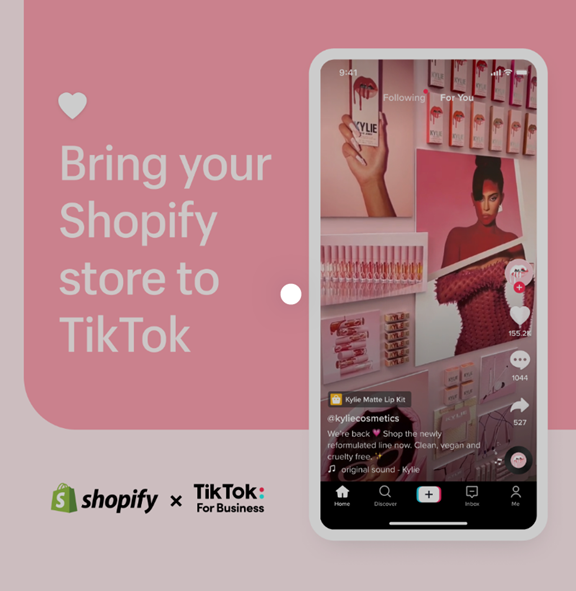 TikTok e-commerce marketing tips

Even though the social media landscape is changing, with tweaks in algorithms, marketing campaign types, and rising costs, it is the place for brands and retailers to showcase their products, create more awareness, and increase sales.

What is more, brand storytelling is becoming increasingly important. Storytelling can have a tremendous and direct impact on the increase in sales and conversions. One survey found that 55% of consumers are more likely to buy if the brand has a story behind it. Social commerce is the perfect way to create and promote brand stories and directly engage with customers.

Even though TikTok has changed its algorithms over the years, one thing remains constant - TikTok is and will remain a go-to marketing platform for the years to come. TikTok is an excellent platform for brands to create trust and connect with their customers, increase loyalty, grow sales, and actively show their brand story through high-quality and engaging content.

So, how to market your e-commerce brand on TikTok? Here are some tips to incorporate to your TikTok marketing strategy::

1. Don't sell, entertain

As the whole concept of TikTok is entertaining its users, keeping them engaged and on the platform as long as possible, brands and retailers should think about ways to engage the consumer rather than directly sell to them.

As an example, let's take the sportswear brand GymShark. They regularly post entertaining content revolving around gym and training with a twist of humor on TikTok using relevant influencers in the sports community and encourage user-generated content (USG) through various hashtag challenges.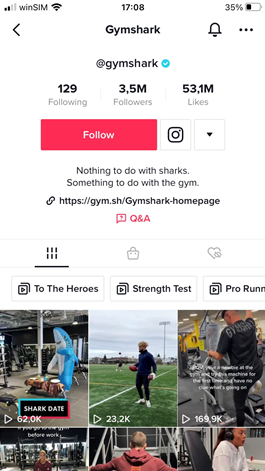 It isn't about posting and pushing one paid ad. It is about creating the whole story around your brand so customers can follow your story. Having loyal fans on TikTok who love the store is a great way to build trust, loyalty, and engagement and grow sales simultaneously.
2. Be your authentic self

Even though TikTok's algorithm isn't only to favor the accounts and creators with the most followers but also great content, it is crucial to get it right. And to create good content, it is important to stay authentic on the platform.

With so much competition and noise, it is crucial to know how to relate to the audience to stand out. Content that comes across strongly like a sales pitch or is just another paid product ad won't get you far.

For example, let's take a look at an independent accessories label XXL Scrunchie from Canada, active on TikTok. They regularly post authentic content about their family production process, "how-to" videos, and general business day-to-day business that brings their customers in and makes them feel like a part of the brand, which increases trust and loyalty.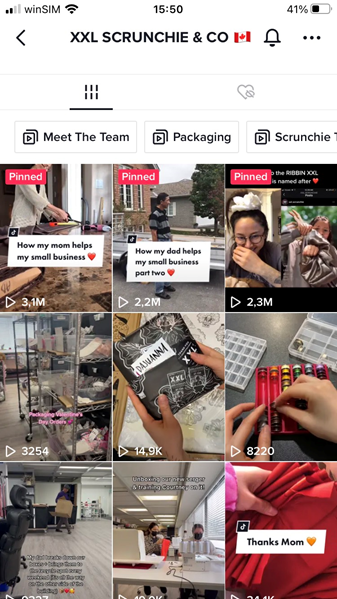 Figure out how your ideal customer and target audience would want to see and engage them. For example, test the algorithm on what else (other content) comes up in the feed by scrolling through the feeds from your brand's point of view; this can give more insights into what kind of content appeals to the target users.
3. Live commerce - use TikTok Live feature

In 2016, China's e-commerce behemoth Alibaba launched Taobao Live on their online shopping app Taobao, where influencers or key opinion leaders (KOLs) present various products on live-stream videos, marking a new chapter for social commerce.

Live commerce connects online broadcasts directly to e-commerce stores, allowing customers to purchase products in the videos while watching the stream, either through SMS messages or in-app messaging services. These live streams are hosted through specialized livestream shopping platforms such as ShopShops or Talkshoplive or, in this case, social media platforms Instagram, Facebook, and TikTok.

TikTok launched their first live-stream event called "Holiday Shop-Along Spectacular" in December 2021, a collaboration between Walmart and TikTok.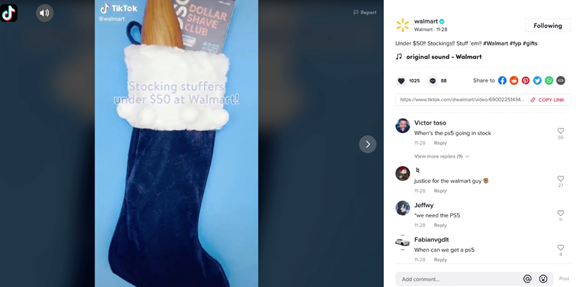 Ever since, the live stream shopping feature has been favored by several other e-commerce brands, including beauty brands such as E.l.f, Too Faced, and Milk Makeup, or luxury designers including Saint Laurent, JW Anderson, and Louis Vuitton.

4. Engage in conversations with your customers

To truly connect and engage with your audience, consider participating in conversations with them by replying to the comments and questions underneath your posts, as it can grow loyalty and brand trust. TikTok comments are a great place to answer any questions, have an open conversation, or explain how your products and services work.

As your responses are tagged with a "Creator badge" next to your username, it is quite clear when you, an expert in the field, have responded, liked the comment, or engaged in the conversation. When you engage with a viewer's comments, they automatically get a notification "Liked by Creator" pop up on the app, instantly giving it a personal touch and making them feel acknowledged.

5. Follow the hashtag challenge trends

Checking the trending hashtags section is a great way to get a feel for what is popular at the time. Of course, not all trends, or perhaps none, will match one-on-one to your brands' target audience. However, it could act as an inspiration to your TikTok content marketing strategy.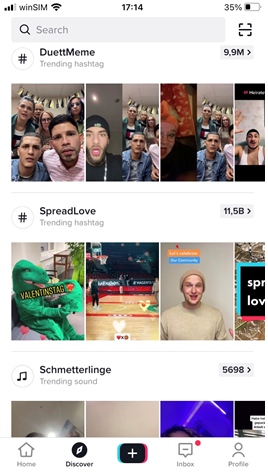 While drafting new posts, keep an eye on what is trending and use trending hashtags to appear in front of a larger audience. However, don't use a popular hashtag or hashtags with your content just because they are trending; always make sure they are also relevant to the content you post; otherwise, it might appear irrelevant and not interesting for the viewing audience.

6. Monitor and implement new features

A recent news post on Techcrunch from January 2022 announced that TikTok is launching several new features. These include Bitmoji-like avatars, keyword filtering on the "For You" page, group chats, audio-only live streaming, screen sharing during live streams, and subscription features, allowing subscriber-only comment sections.

TikTok is coming up with new features to keep users engaged, and e-commerce brands can leverage these to do the same. While the algorithm is kept a secret, tracking what's new in terms of possibilities and new features can enhance the user experience to keep your feed fresh and engaging, attract new followers, and maintain existing ones. Implementing new features helps to stay ahead of the competition.

7. Post regularly

Like other major social media platforms with several commerce features, Instagram and Facebook, TikTok has perfect posting times for maximum performance results and ROI.

Following a comprehensive study conducted by Influencer Marketing Hub, who analyzed over 100,000 TikTok posts to see a pattern for best posting times:

Monday: 6.00 am, 10.00 am, or 10.00 pm
Tuesday: 2 am, 4 am, or 9 am
Wednesday: 7 am, 8 am, or 11 pm
Thursday: 9 am, 12 am, or 7 pm
Friday: 5 am, 1 pm, or 3 pm
Saturday: 11 am, 7 pm, or 8 pm
Sunday: 7 am, 8 am, or 4 pm

Consider that TikTok often swallows users to their feeds, so users are more active before or after work hours, as we can also see from the pattern above. And most importantly, also check and consider when your followers engage most with your content, it is a trial and error process.
Grow your e-commerce with social and live commerce

Social commerce is exploding, and it seems like the next big thing in the US, and Europe is live commerce. TikTok, among other social media platforms, offers both of these features and possibilities for brands and retailers to grow their sales and customer base.

TikTok's expansion to several new online shopping features comes when e-commerce trends continue to explore new areas. Whereas Instagram and Facebook have been among the first to jump on the social media shopping bandwagon, TikTok is catching up to incorporate these new features into business accounts.

In 2021, Gen-Z represented a collective purchasing power of $150 billion, leaving brands to understand their unique shopping behaviors. TikTok can offer the right audience, analytical capabilities to see what they like, and excellent features such as in-app purchases and live stream shopping to catch the customers at the right time.