For any business to be relevant in today's world, a strong digital presence is a must-have. Our phones are the portals through which we access information about everything and everyone around us, including our favorite brands. How will you get your audience involved in this world of likes, shares, and follows? The answer is content creation.
Why is content creation important for your business?
Content creation is not only the cornerstone of any successful marketing strategy; it's also a way to drive traffic to your website. It's not a secret that many people shy away from blogs and websites that don't have regular updates posted on them. Regularly posting a blog on your website can increase search engine rankings and improve user experience. Plus, you can use content to help attract new customers, convert current ones into repeat buyers and keep your brand at the top of people's hearts and minds. According to recent statistics, over 57% of marketers have turned into content creation as the primary strategy of promoting their businesses, mainly through engaging material with a unique identity. Content is the lifeline of your social media presence. It's what keeps people coming back and engaging with your brand. Without it, you're just another business in a sea of brands clamoring for attention. The most important part of content creation is defining your brand's voice. It's important to remember that while you want to be conversational and friendly, no one wants to talk to a chatty intruding person.
Why should you use tools?
Content creation tools are becoming more accessible to businesses across all industries.
Businesses that rely on content marketing can now create compelling visuals, such as infographics and video, with a few clicks of the mouse. We are in a world where content is king. So, as a business owner, you should be creating blog posts regularly to draw a web presence. But if you have other work to do, it's not always easy to find time to create content. That's where content creation tools come into play! When you automate your content creation, you can focus on more strategic tasks like social media marketing and SEO. Budget restrictions also come into play, especially when you can't afford to produce physical advertising materials such as flyers, tarpaulins, billboards, or hire professional graphic designers.
This article will help you find content creation tools that will help you improve your efficiency and effectiveness in producing advertising materials that are unique to your business. Here are the ten best content creation software perfect for startups and thriving businesses.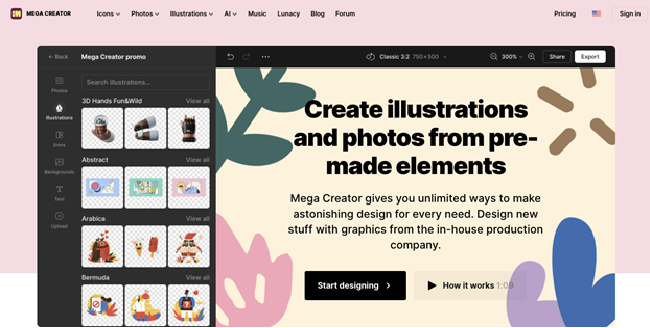 Icons 8 is one of the top software tools in creating any kind of graphical content that you need. It features a whole set of templates, tools, and customizing features that can really help in making your content unique and faithful to the identity of your business. You can use this tool to create quick-cut, efficient, and easily-digestible content in your social media accounts as there are several templates for you to choose from in creating the content you need. This is especially useful in social media stories, wherein people need popping graphical content and in-a-nutshell presentation to stick in their minds, for these stories pass through their feeds real quick. Icons8 Mega Creator has a whole host of templates to choose from and customize for your social media story to pop out and display the uniqueness of your company.
Removal.ai offers the best solution for a very specific yet troublesome problem of removing image background. It automatically identifies the subject of your photo and impeccably extracts it from the background in less than 5 seconds. Whether you want foreground or background removal, this tool has got it covered, and with all the editing tools to boot! You can add text, even more design, and, of course, new backgrounds. If you think the spoils stop there, then you may be even more into the fact that Removal.ai can process up to a thousand pictures and images at the same time. It is a no-brainer that you employ Removal.ai in your work scheme if you plan to improve your productivity and save valuable energy.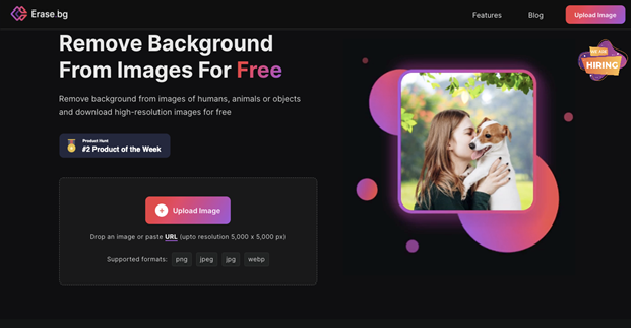 If you are an inspiring e-commerce salesman or are planning to shift your business' prospects to include digital channels, you will be faced with many graphic design duties. Everything from profile pictures, E-signatures, social media posts, and your company's logo, if you are not design-savvy when you start out, then your business will flop indefinitely. Yet you do not have to scour for a designer or illustrator and pay them to do the work for you. With Erase.bg, do all the work yourself and expand your creativity in the process! Erase.bg offers a photo editor, versatile exporting tools, and a slick background remover that will accurately do the tedious process of pasting the same subjects and logos onto different documents for you. It is great for developers, business owners, and designers alike, and you can be assured of quality results with Erase.bg making sure that you have the same resolution to your image that you arrived with.
Pixelixe is a great application that anyone can use. It offers all the basic editing tools you need in an image editor. It lets you easily export your images in various file types, including gif, jpeg, png, and different image sizes that best fit your every graphic content need. It makes it easy to create aesthetically pleasing images without being too complicated for the average user. Pixelixe also offers a range of digital marketing services and specializes in creating compelling imagery. They believe that every image, logo, or website is a brand and should be treated as such. Pixelixe has a team of professional graphic designers who are experts at creating visual content for any purpose that works across platforms to create custom designs that will ignite your audience's imagination and enhance their emotions towards your brand.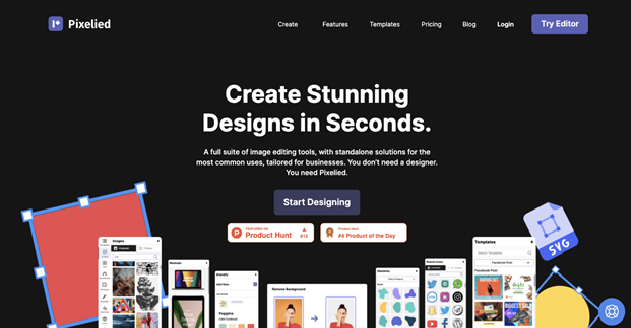 Pixelied is one of the premier websites that can provide you with an all-in-one experience for creating and curating your own content. It prides itself in creating professional-looking and aesthetically-pleasing content in just three steps: upload any photo, add any text/graphic/logo/borders, and export. This workflow convenience allows content creators to easily pump out graphical content without the tediousness of the process and the cost of hiring professionals. The software tool also boasts a simple yet engaging user interface that is friendly to a broad range of content creators; from the design newbies to the veterans, all of them can have any tool at their disposal to materialize their branding vision. Pixelied also has a wide variety of pricing options that you can choose from that correspond to your budget needs, which range from free (with limited features) to a $ 100-lifetime usage that grants you access to its myriad of functions and features.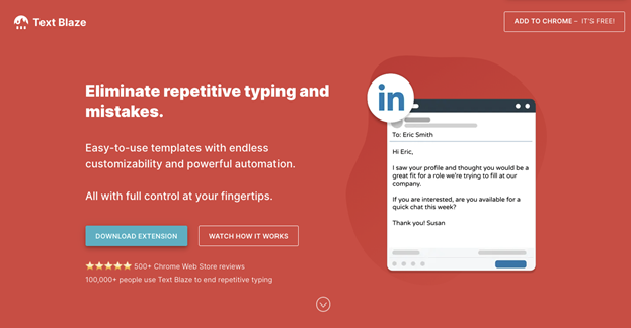 Text Blaze is one of the unique browser extensions for any content creator, as it can speed up your writing process in creating blogs/reports or make your chat response more consistent than ever. Though it may seem challenging at first due to the first programming lessons you need to take before using it, the payoff is massive as it can automatically do the work for you by filling in tedious details and automated responses that businesses use to deal with manually. Social media marketers can use this tool by allowing them to have any of their descriptions and introductory phrases at a click of a button. It can also be adjusted to any parameters that a content creator may like (time of day, promotional periods, different recipients, and the likes), making it highly flexible and easy to use once set properly.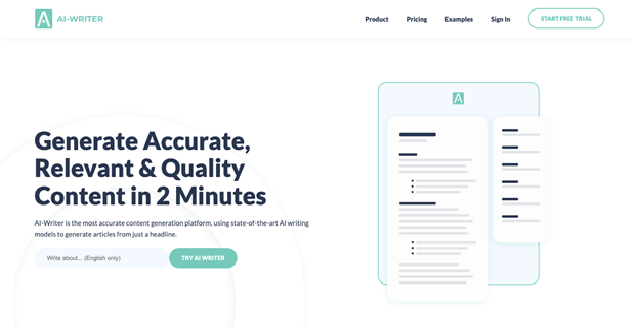 As a content creator, it is challenging to produce quality work consistently. It doesn't matter if you're an experienced copywriter or just starting—the task of coming up with new and relevant daily content is tedious and time-consuming. The emergence of AI has made it possible for companies to automate various tasks. One of the most significant developments in this field is the AI writer. It can take human-written content and replicate it, matching or exceeding the quality of its human counterpart. This technology has been used effectively in the financial industry, where readers are exposed to a massive amount of data daily. But, it also works in other areas, such as marketing. By using an AI writer, companies can automate some of their content creation processes, which will allow them to save time and money. AI Writer changes the way writers approach the art of writing. An artificial intelligence writer is a tool that can help in guiding and writing articles for you—giving you time to rest while the program is writing or rewriting your article, improving the quality of your articles and blog posts. This way, you will not need to make any changes in the text and thus save your time and efforts.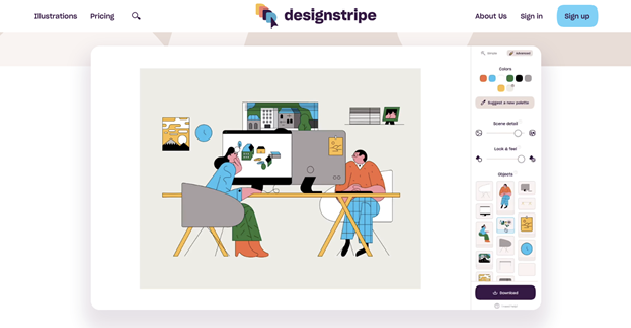 DesignStripe is one of the most innovative tools out there for content creators, as it features a unique feature in their production of graphical output for your business to use. The main draw of this tool is the simplicity of its mechanism: the interface consists of sliders that let you control various parameters of your intended design, such as how much detail shall be in the content, the variety of colors it features, the level of its complexity, and so much more. It also features tools other than the sliders that let you choose the elements found in the design, which gives you full control as to which ones to put and which ones to eliminate. DesignStripe quickly lets you produce quality, eye-catching content that is easy to create and is fully controlled by you.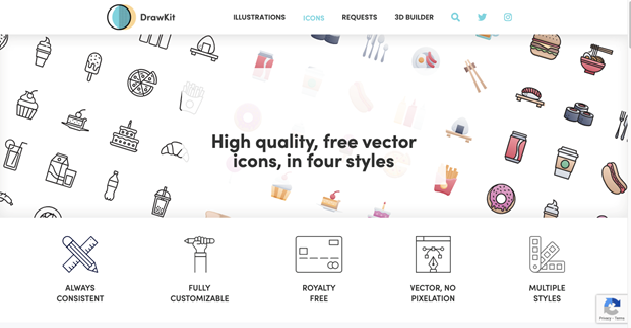 DrawKit contains an extensive database of illustrations and elements that you can use in your designs. Its library also keeps getting bigger as it is continuously updated every day. The prices range from free to use to around $10. Each can be downloaded as a specific pack to help you distinguish what the elements are for. Apart from the existing database with millions of available illustrations to get, you can also request their pool artists to create your vision into reality. This feature helps your business to be distinguished from the rest as before, as you will be the only one using your requested illustrations.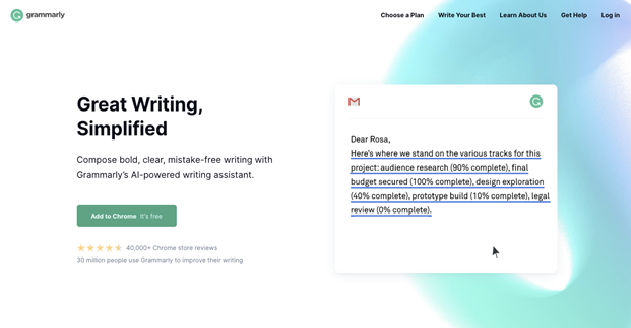 Grammarly is the world's most advanced grammar checker, helping people communicate more effectively. Grammarly runs in your web browser, and you can use it on any website (including Facebook, Instagram, Twitter, and the likes). This app is a useful tool for writers, especially those who blog regularly, as it can help them write with clarity and purpose. Grammarly is a powerful tool in your writing arsenal as it can correct more than 250 types of grammatical mistakes, including punctuation, spelling, and subject-verb agreement issues. It has an integrated artificial intelligence that underpins its proofreading technology and constantly learns and improves its ability to detect errors.
Over millions of writers worldwide have benefited from this app, and it has become a trusted name in the proofreading industry. And for a good reason; it makes everyone's writing better.
Takeaway
Content creation is a necessary part of every business. Although some require a budget to be fully utilized, it helps get the job done quickly and easily, giving content creators more time to focus on what matters – creating amazing content for their audiences. In addition to it being essential to your business, content creation can also be a daunting process. However, you'll find that it's easier than you think with the right tools and techniques. When launching a new blog or improving your existing one, these tools can help you write content more effectively and efficiently. These tools aren't just for beginners. They are also helpful for everyone interested in creating quality content without wasting time. If you want to make the most engaging content possible, these tools will help you do that.