Trusted by some world-class brands like Nike, Sigma, Cox & Cox, and many others, Magento powers 12% of all the eCommerce sites worldwide, as per the hosting tribunal. However, is choosing Magento enough for your ecommerce project?
Well, the answer is simple as ABC is No.
While Magento gives you the much-needed edge to stay ahead in the competition, choosing the most compatible theme plays a pivotal role in driving the project to success.
If you are looking to find the best Magento theme? You have landed on the right page.
Here you will find the following:
Tips for choosing the best Magento themes.


Top themes based on diverse industry verticals.
Let's begin with the tips! Because they matter the most.
Here are top things to consider for choosing the best Magento themes
1. An intuitive & user-friendly UI
A user interface that is not intuitive leads the platform to its doomsday in no time. Among all aspects, it is essential to ensure that a visitor, when entering the website, should navigate through the platform without any confusion.
The search bar placement, add to the cart icon, wishlist, etc., should be conspicuous to the users.
2. Amazing speed-enhancing conversions
For every second decrease in the website loading time, the conversion rate enhances by 2%. The optimum speed for page loading time should be less than 4 seconds and ideally 2 seconds. Don't go for heavy themes that increase the page loading time of the platform.
3. Compatibility of outlook & key-products
The eCommerce website design layout needs to go with the critical products of the enterprise. A custom hoodie selling website goes for vibrant colors and designs, while those selling medicines stick to sober colors and bold fonts.
Overall, the platform's outlook focuses on the major selling products of the brand boosts the engaging nature of the forum.
4. Level of customization
What level of customization is available with the chosen theme? Is it enough to help you develop a look that's unique and appealing? It would be best if you looked for alternative options when the answer is negative.
Select the theme that allows a significant level of personalization for your online Magento store.
5. Responsive themes to ensure zero loss of visitors
As per Web Development Stats, 79% of online sales take place via mobile devices. A responsive theme allows the user with better readability and usability of the website on a mobile device. It effectively eliminates the requirement of opening the page on a desktop or PC for the users.
So, a responsive theme that adapts to the user screen size is a critical factor in high UX.
6. SEO friendly
Find out whether the chosen theme is SEO-friendly or lacks SEO-centric features. All Magento themes are renowned for being an SEO-friendly CMS but added features on the selected template only enhance your search engine visibility.
Also, look for a separate blogging section that helps you improve SEO and keeps your audience updated with fresh and lively content.
That was all about the things to look for choosing the best Magento themes. While choosing a Magento theme it is also essential to look for a powerful admin dashboard that performs multiple tasks with convenience.
After all, an eCommerce platform requires you to perform email marketing, update personalized offers, generate coupons, seasonal offers, etc. A multifunctional dashboard facilitates all such activities and relieves you from the burden of manual calculations.
Having covered all the top tips let us now look at the top selling Magento themes.
Here are the top 10 themes based on diverse industry verticals
1. F2- Free Magento Theme: Fashion & Apparel
Catering to the Fashion and apparel business domain, F-2 is a top preferred Magento theme. The theme offers all the necessary pages and sections, including the image slider, dropdown menu, unique product pages, carousel product listing, etc.
The F-2 free Magento theme highlights cross-browser compatibility and screen responsiveness that enhances your enterprise ROI.
2. ArtFurniture - Responsive Magento 2 Theme: Home Décor & Furniture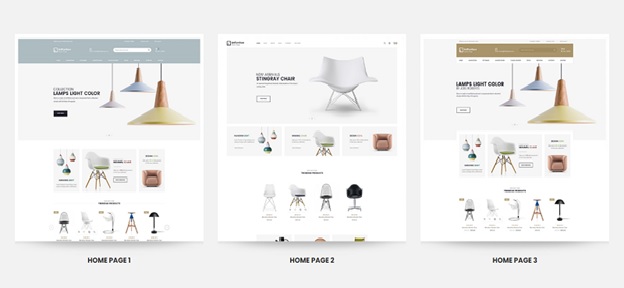 If your business enterprises deal in home décor or furniture items, you can trust ArtFurniture – Responsive Magento 2 theme. Besides offering the basic ecommerce features, the theme has tons of noticeable ones, including 100% responsive designs, brand logo slider, multicolor layout, multilingual development capability, menu customization, etc.
The theme also comes with multi currency support that accepts denominations of 200+ nations across the globe.
3. MyGym – Sports Store Magento Theme: Fitness, Gym, & Sports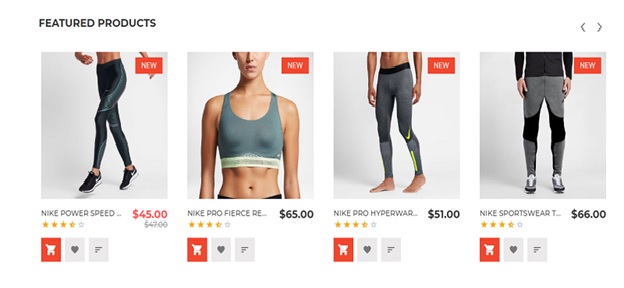 Suitable for enterprises dealing in sports and fitness equipment, MyGym is a sports store Magento theme. It comes with accelerated mobile pages and retina-ready responsive designs. The theme is also SEO friendly that facilitates ranking of the page on the search engine.
MyGym comes with a drag and drop builder that helps you redesign and customize the page flawlessly in less time. Logging in via social media profiles is also available with the MyGym Magento theme.
4. Trex- Magento Free Theme: Sports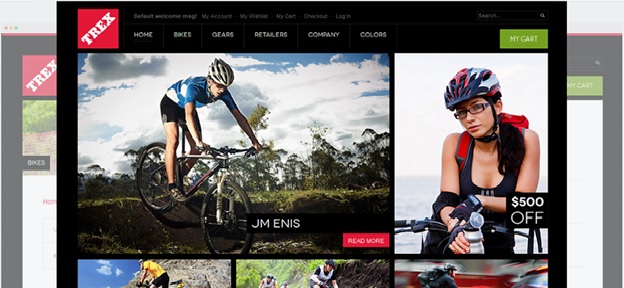 Catering exclusively to the sports niche, Trex is a Magento free theme with three powerful extensions. The website rocks on all devices with its fully responsive designs. The availability of five color themes and an off-canvas menu facilitates high-quality UI.
High-resolution pictures focusing on the essential selling products enhance the sports enterprise's conversion rate that trusts Trex themes.
5. Pizzaro – Food Responsive Magento 1 & 2 Theme: Cuisine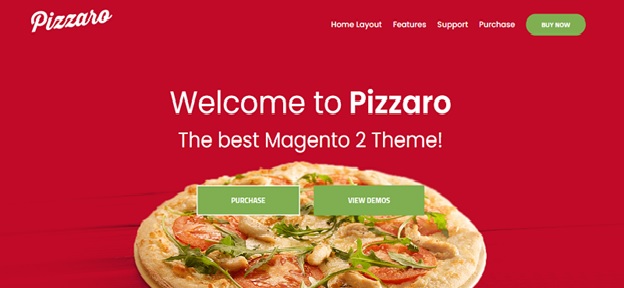 Pizzaro – Food Responsive Magento 1 & 2 Theme is a perfect fit for those catering to the food industry. The fully responsive theme comes with a five-home page layout, limitless hues, and integrated social media icons.
Creating a food-based eCommerce site gets easy with Pizzaro as your choice as it provides all that is required, including sliders, rows, tabs, grids, etc. The template offers more than ten extensions, an advanced admin panel and supports a significant customization level.
6. Luxury – Premium Fashion Magento Theme: Multipurpose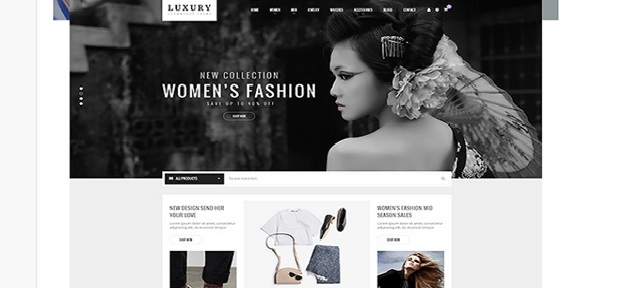 If you are looking forward to building a modern ecommerce store that suits a sophisticated outlook, then the Luxury- Premium Fashion Magento theme is an excellent option to go for. The theme offers 09 different layouts for home page creation and a powerful dashboard for the administrator.
Product listing and slider layout also come with multiple options to go for. Among several exciting features, Luxury also offers a single-click checkout that supports a high conversion rate.
You can also hire a magento developer for assistance.
7. Cosmetta – Responsive Cosmetics Magento Theme: Cosmetic & Makeup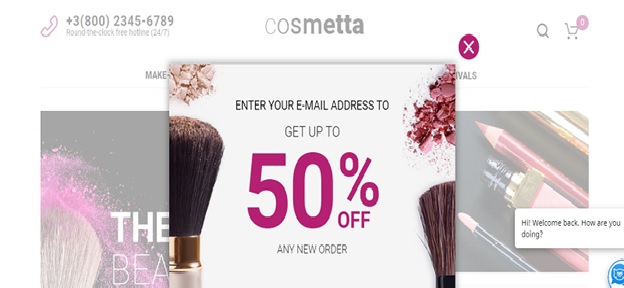 If you want to build a website that deals in cosmetics and makeup, you can trust the elegant Cosmetta – Responsive Cosmetics Magento Theme. The template allows creating beautiful menu patterns for the visitors. Tons of filters enable users to find and search products with ease and convenience.
The responsive theme also supports cross-browser compatibility and SEO-friendly capabilities. Cosmetta comes with retina-ready designs that enhance a product outlook.
8. BuzzSport - Gym Equipment Magento Theme: Fitness Centers & Sports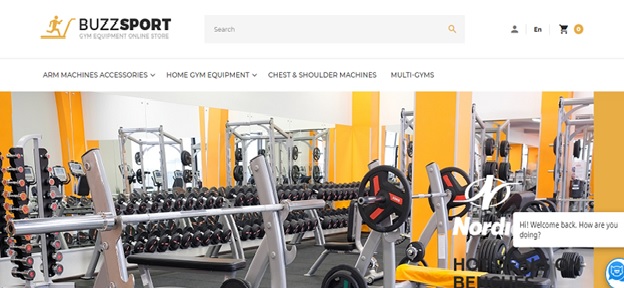 BuzzSport-Gym Equipment Magento Theme facilitates dedicated development of eCommerce websites for selling fitness-based equipment. The theme comes with a separate blogging section that can get used for SEO and for updating the audience about the latest equipment. Multiple modules support a high level of customization.
The template also offers a product wishlist, AJAX search, discount coupon generation, social media plugin, etc. Cool theme options allow you to develop a product-oriented outlook of the page.
9. Milano Responsive Fashion Theme: Apparels & Accessories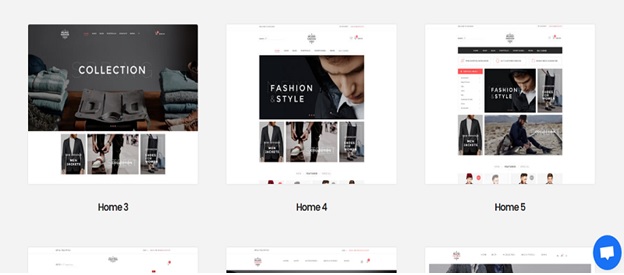 Milano is a fully responsive Magento theme suitable for selling apparel and accessories. It comes with a surprising number of options for homepage layout standing at 16 and customizable Google Fonts. Quick-view, Product zoom, AJAX search, Product slider, etc., are also available with Milano.
However, that's not all. Milano allows a more international reach of the target audience with multilingual and multi currency support.
10. Zumi Responsive Kitchen Theme: House & Kitchen appliances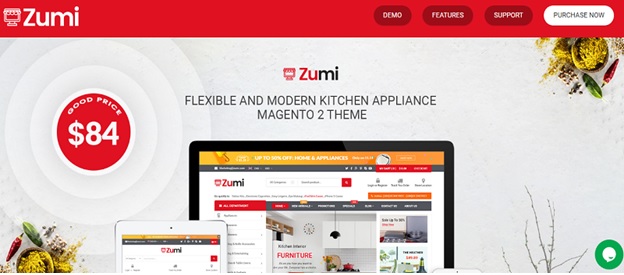 Offering multiple layouts for the product landing pages, Zumi is used for selling kitchen and home appliances. The theme is fully responsive and looks equally good on diverse screen sizes. Various color options and unlimited Google fonts allow you to customize the outlook of the page as per the target audience.
Zumi supports grid, and list view of items AJAX adds to cart & Wishlist, Cloud Zoom, SM Search Box, SM Mega Menu, etc.
Over to You
That was all about the top-selling Magento themes and templates. Based on your business type and target audience, you can choose any of them. Magento development company in India offers affordable customization rates for themes and templates.
Connect with them to experience dedicated Magento development services.