It's no secret that 2020 was an absolute whirlwind.
The global changes of the pandemic have impacted the way we work, live, and run our businesses. As a result, the process of acquiring new customers has changed.
So, you might want to rethink your approach when it comes to your 2021 customer acquisition strategy.
Although every business is different, there are some best practices that you can follow to make sure your acquisition strategy is relevant to today's market.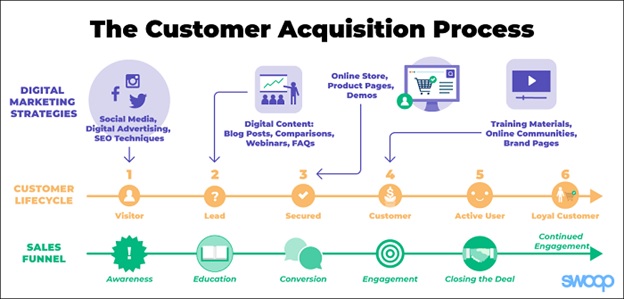 That's where we can help.

In this article, we're going to take a look at 7 best practices you can follow to make sure your customer acquisition strategy is up to snuff in 2021.

But before we get to that, let's start with the basics:

What is customer acquisition, and what is a customer acquisition strategy?
What is customer acquisition?

Put simply, customer acquisition is the process of getting new customers to buy from your business.

This process aims to create a sustainable and structured acquisition strategy that can adapt to changes and trends in the marketplace.

So why is customer acquisition important?

Good question, and there's more than one answer. Here are a few of the top-hitting reasons:
Making money: To run your business, you need money. Acquiring new customers helps you do exactly that.


Securing investments: If you want funding or partnerships from external sources, you need to show them growth. An increase in customer acquisition shows that your business is doing well and that you're worth investing in.


Growing the business: Customer acquisition helps you expand your reach, increase engagement, and bring new customers through the door. Without these new customers, it'll be pretty hard to grow your business.

What is a customer acquisition strategy?

A customer acquisition strategy is the glue that holds all your acquisition activities together.

It provides the direction and alignment you need to make sure your acquisition efforts contribute to the company's overall success.

Think of it like a cake recipe.

Your customer acquisition activities are the ingredients, and the strategy is the recipe.

The recipe shows you how to combine each ingredient, providing you with the steps you need to bake the cake. Without it, you're left with many separate ingredients that you're not sure how to combine.

And by aligning your acquisition strategy with your overall business goals, you can improve revenue acceleration, refine the customer journey, and help your business grow.

It all sounds pretty great, right?

We think so too. And that's why it's incredibly important to make sure your strategy is relevant in today's climate.

That leads us nicely onto our next section.

How to improve your customer acquisition strategy in 7 steps

Now the moment you've been waiting for: How to improve your customer acquisition strategy.

We've outlined seven simple steps that you can take to maximize your acquisition efforts in 2021. Each step can help you refine your existing strategy or form the base of an entirely new one.

Whatever stage you're at, these steps will help you create an acquisition strategy that's tailored to the environment we're all facing in 2021.

1. Review your internal processes

Our first piece of advice isn't specifically related to 2021, but it's always the best place to start regarding your acquisition strategy.

Before you make any big changes, stop for a second and take stock of how things are working for you right now.

Are your processes running as efficiently as possible? Is your team collaborating as well as they could? Is there any room for improvement internally?

Addressing these issues allows you to streamline your workflow and make sure your internal processes are up to scratch before you address your acquisition strategy.

In other words, it forces you to walk before you can run.

Having to backtrack on your strategy because your internal processes aren't up to scratch really isn't a fun job.

Whether that's upgrading to an Agile project management platform or implementing entirely new processes to improve your workflow — the real change happens when you start close to home.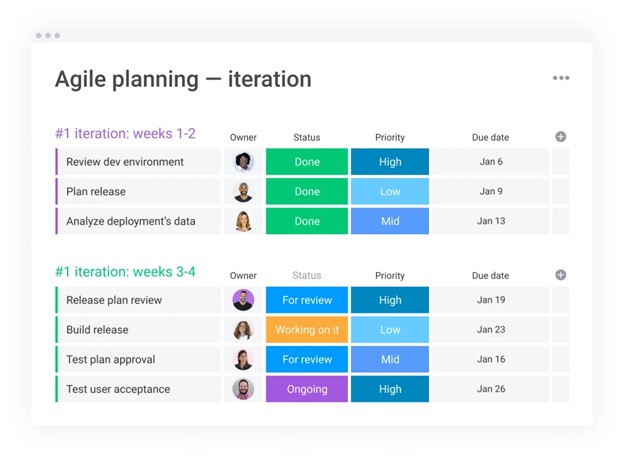 As a result, you have a solid foundation to build upon, and efficient work processes in place.

2. Optimize your CRM


CRM platforms help businesses to manage their customer acquisition and retention process. Whether that's figuring out how to keep track of client information or how to automate different stages of the customer journey, you need a CRM that allows you to be as efficient as possible.

Using an efficient and optimized CRM is incredibly important for your acquisition strategy, especially in 2021.

Why?

With face-to-face meetings limited in 2021, we expect CRM platforms to be the backbone of the sales process.

Research also shows that 53% of top-performing salespeople are confident in their CRM data and that 79% of people use a CRM to track their sales. So it's clear that your CRM plays a huge role in your acquisition efforts.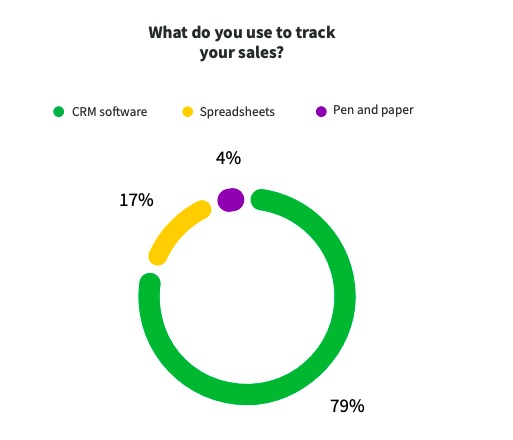 A good place to start with optimizing your CRM is by talking to the people who use it the most — your team.

Speak to them, find out where the gaps are, and use this information to refine your CRM. As a result, you'll be able to provide consumers with the best experience possible.

3. Use acquisition marketing

If you're not already using acquisition marketing, keep reading. You're definitely going to need it.

Acquisition marketing specifically targets consumers who are already aware of your brand and are considering buying from you.

Put simply, it focuses on moving the consumer through the customer acquisition funnel.

It also relies on your customer service team to provide a good experience and encourage consumers to buy.

The Motley Fool, relies on selling to customers who are already familiar with the brand and their content. They have been providing investing advice to readers for decades for free.

They also offer premium content including stock recommendations, market analysis, and portfolio consulting as a subscription service. Their strategy to acquire new customers is through targeted ads. Creating personas of their different targets allows them to personalize the ads.

And with 67% of consumers saying that brands need to provide personalized experiences, it's clear that your customer service team has an important role to play in 2021.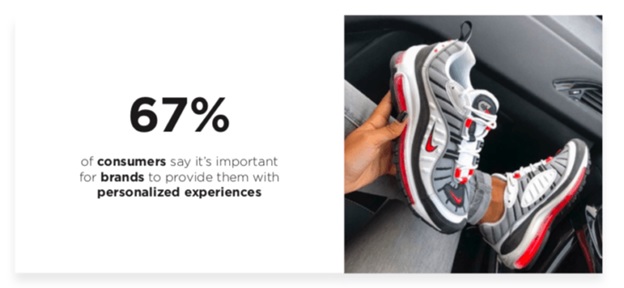 Not to mention, 84% of customers also say that the experience a company provides is just as important as its product or service.

With acquisition marketing, you can make sure that your consumers are getting the service they need to move along the funnel.

Just remember, your customer service team plays an important part in this process. They are the ones with a direct line to the customers, and it's up to them to provide consumers with a good experience.

Incorporate this into your acquisition strategy, and you're on the right track.

4. Review your acquisition channels


Customer acquisition channels are the platforms you use to reach new customers and leads.

Ranging from social media channels all the way through to your website, the list of channels is pretty long.

And chances are, you're already using a variety of channels to reach your current customers.

But when was the last time you reviewed which channels you should be using?

There are so many platforms to choose from. Sometimes it can seem overwhelming to explore what else is out there. That's especially true if the channels you're using are already working well for you.

So, how can you find the best acquisition channel for your business?

Unfortunately, there's no one answer to this question. The best channels to use will depend on the industry you're working in, the audience you want to reach, and the resources you have.

Spend some time reviewing which platforms your customers are using to determine if there's anything you're missing. You might even come across an entirely new platform you've never heard of before.

Side note: If you're finding yourself strapped for resources this year, don't worry. You can always repurpose your content for different channels.

Take a look at Nlyte, for example.

The company promotes its data center infrastructure software through product videos and demos across a variety of channels.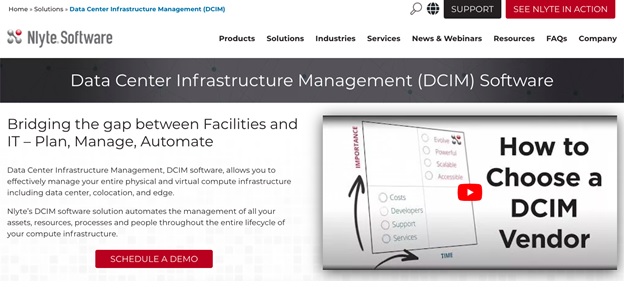 By repurposing these videos, Nlyte is reducing the use of its resources and keeping its customer acquisition costs (CAC) down.


5. Use affiliate marketing

Affiliate marketing is a pretty simple process.

A company uses an affiliate to promote its product or service. In return, the affiliate makes a commission when a consumer makes a purchase. The sales are usually tracked via specific affiliate links.

So why do we think you should be using affiliate marketing in your 2021 customer acquisition strategy?

Well, affiliate marketing spend has continued to grow from 2020 to 2021. According to Statista, it's set to increase again in 2022.

And with 79% of customers saying that user-generated content influences their purchasing decisions, it's clear that affiliate marketing resonates.


Let's take a look at some affiliate marketing in action to give you an example.

An article published by Adam Enfroy lists five of the best PEO providers that he recommends. Adam is taking part in affiliate marketing for some of the brands he talks about in this article, which is outlined in the affiliate disclaimer.
The disclaimer shows that Adam receives a small commission from the companies if readers choose to purchase from any of these sites.

That is pretty much how affiliate marketing works.

Of course, it's not always in the form of an article. It can be a post on social media or the affiliate selling the product themselves to receive a commission. For example, FantasyJocks has an affiliate program that gives commissions to websites that are mentioning them.
Find whatever works best for your business and incorporate it into your acquisition strategy for 2021.

6. Target the right audience

Is your customer acquisition strategy targeted to a specific audience?

If you answered no, then you're certainly missing a trick.

To make the most of your customer acquisition, you need to clearly understand who your target audience is.

Failing to target the right audience can lead to a waste of resources and lower conversion rates, both of which we're sure you'd rather avoid.

So part of your acquisition strategy should focus on identifying who your target audience is and how to reach them.

But how can you figure out who your target audience should be?

Well, market research is a good place to start.

Spend some time getting feedback from existing and potential customers to see what people think of your brand and figure out who you should be targeting. You might even identify a new audience you'd never considered before.

We'd also recommend creating a buyer persona for your audience. This process will prevent you from wasting time on acquisition efforts that aren't tailored toward your target audience.

Let's take a look at a quick example.

If you're targeting the 35-49 age group, you might decide to invest more resources into Twitter, given that this age group uses the platform more frequently than others.

But if you're targeting a 50+ age group, your efforts on Twitter might be a waste of time and money.



Once you've spent the time reviewing who your audience will be, you can take a step back and figure out the best way to appeal to this audience.

From here, you can create a targeted customer acquisition strategy that will help your business appeal to the audience you want to reach.


7. Find out what your customers want

You want your customer acquisition strategy to last in the long run, right?

Of course, you do. A sustainable strategy means less time and money spent creating a new one.

But to create a strategy that stands the test of time, you need to find out what your customers actually want.

For example, research from 2020 shows that consumers moved toward value-based purchasing and online shopping with a preference for buying from local businesses.

With this knowledge, you might decide to provide a special deal in an attempt to attract value-based customers. You could also promote the fact that you're a local business.

This is exactly why it's so important for you to figure out what consumers want. Without this information, you could miss an opportunity to appeal to customers. Worst of all, you could end up offering them something they're no longer looking for.

Spend some time researching how your consumers behave and what they want from the companies they buy from.

Whether that's conducting your own research or reviewing secondary sources, it's all useful. This will allow you to create an acquisition strategy built for the long haul and tailored to what your consumers want.

And don't forget to keep reviewing that information.

Consumers are a fickle bunch, and what they want often changes. To make sure your strategy keeps up with the times, it's up to you to review their constantly changing needs,

What next?

2020 was a trying year.

Our lives were upturned, and our businesses were impacted in ways that we didn't see coming.

Now in 2021, we've got to use what we've learned from the past year to inform our strategies going forward.

The question you need to ask yourself is, 'does my customer acquisition strategy take the challenges of 2020 into account?'

If the answer is no, you've got some work to do. If the answer is yes, you've probably still got some work to do.

Reviewing your strategy can't hurt, and you might even find some areas where you could improve.

Feel free to use this article as a guide to figure out how to amend your current customer acquisition strategy to appeal to the audience you want to reach.