The importance of a knowledge base for customers is undeniable--they prefer it over all other self-service channels of communication, as per research. However, knowledge bases can also bring about an umbrella of benefits internally.
First things first, let's understand what we mean by an internal knowledge base. Basically, an internal knowledge base software:
Helps team members/employees to access private or confidential knowledge about the company or about helping customers, on-the-go
Contains structured and in-depth information and documentation that can be updated/modified in real-time
Assists employees in doing their jobs with minimum distraction and maximum knowledge/data at-hand
Now that you have a basic understanding of an internal knowledge base, let's move onto the next most important question:
Why is an internal knowledge base so important?
If you are still on-the-fence about the advantages of using a knowledge base for internal purposes, look no further and consider the following statistics:
Reduced time wastage: According to McKinsey, using a searchable record of knowledge can reduce the time spent by employees to find company-centric information by up to 35%.


Enhanced collaboration, increased employee engagement, and better productivity: Further data reveals that "companies with highly effective communication practices enjoy 47% higher total returns to shareholders compared with the firms that are least effective at communicating." In other words, establishing an internal knowledge base can result in more engaged employees. This ultimately boosts productivity. Don't believe us? A study by Dale Carnegie claims that companies with engaged employees "outperform those without by up to 202%."


Saved costs: Further research claims that each engaged employee can save the company 5% or more in costs.
Clearly, investing in an internal knowledge base is a smart business move, which can offer a host of advantages. So the real question then becomes:
"How to implement an internal knowledge base?"
Here are top-5 factors to consider when implementing an internal knowledge base:
1. Choose the best knowledge base software.
A rather obvious but equally important tip, your knowledge base should not be bundled with other tools. Ideally, go for a best knowledge base software that acts as a centralized tool for knowledge sharing--one that offers reliable information and an intuitive user experience from the get-go. Plus, it should come power-packed with dynamic search engine technology, allowing employees to search for articles easily and instantly, as Wix demonstrates below: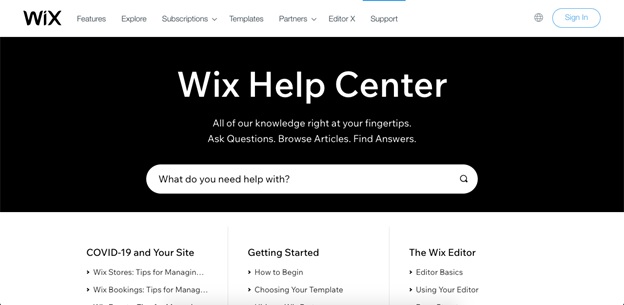 In order to build a seamless and up-to-date knowledge base, go for a provider that offers easy integration with your other business tools. More importantly, your software should offer the flexibility to meet your demands and scale (as needed). Finally, ask yourself the following questions:
How many employees will be responsible for updating the content?
Does the knowledge base software offer the ability to display content in-app?
Can you customize the design of the knowledge base pages without expert training?
What kind of reporting and analysis does the knowledge base software include?
Keep in mind that the purpose of creating a knowledge base is to boost team's productivity. So make it technically easy for your employees in a way which does not affect their sleep and creative thinking.
2. Structure it with great care (not after-thought).


Any internal knowledge base worth its salt should be organized, structured, educative, and motivational. After all, the idea is to answer all your employee's questions and save their valuable time and energy.
Asana's knowledge base does a great job of answering customer queries by organizing the content into the three most important types of inquiries: the basics, the multiple functionalities, and leadership tips on how to use the product effectively. The result? You end up with a useful, in-depth, well-designed, and comprehensive knowledge base that allows for seamless onboarding and customer acquisition: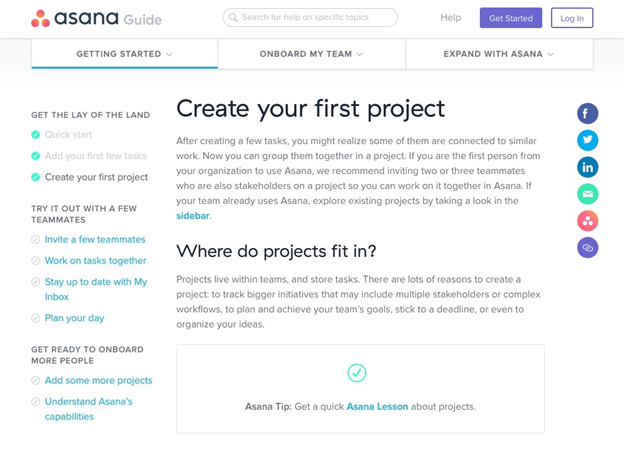 Handy tip: Within your knowledge base, capture data at the organization as well as the team levels as this allows for seamless and convenient knowledge sharing within teams and across the enterprise. At the end of the day, your employee's needs may overlap depending on which team they belong to. Hence, your internal knowledge base should be flexible and expansive--one that stems from a top-down knowledge management strategy, but guides in article creation from the bottom up.
3. Research and write content keeping your employees in mind.
Think about what kind of information your employees might find useful--from HR information and employee handbooks to how-to videos and FAQ-type content; your knowledge base contains information in a variety of learning forms and formats.
At every step of the way, think about the language your employees use and structure content that feels intuitive and employee-friendly as GreatCo does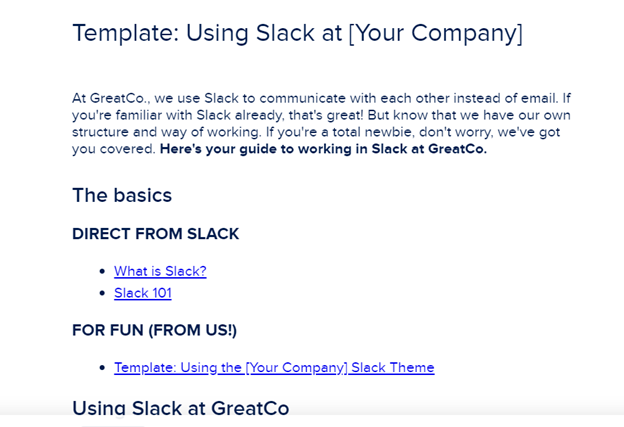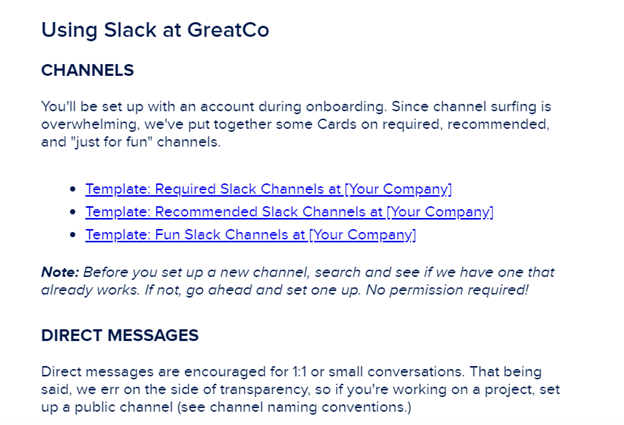 Moreover, your content should be easy to find. This is why creating a hierarchical structure becomes key. Finally, remember that related pieces of information should be connected via a hyperlink or by tagging or using both to add more context.
4. Gather feedback from your internal team.
If you wish for your knowledge base to stay relevant at all times, you'll need to gather feedback and reviews to understand what's sticking (and what's not). Here are a few best practices to follow when gathering employee feedback:
Leverage the power of data (think: employee surveys and digital reports) to optimize your knowledge base experience: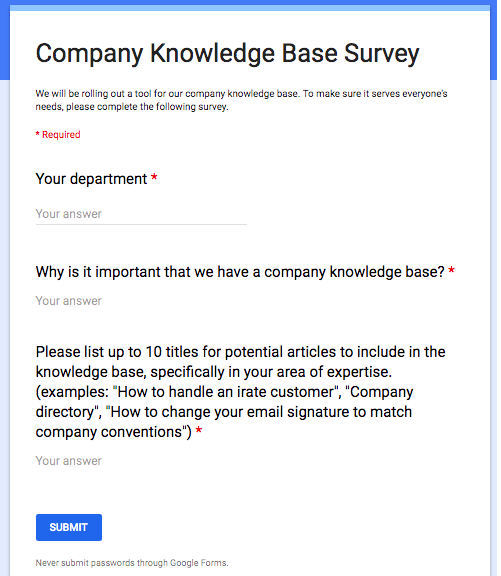 Consider integrating the knowledge base article ratings feature that empowers employees to flag content that might need rework.
All in all, capturing your employee's voice can help save a lot of time, energy, and effort in creating a rock-solid knowledge base that offers real value for your employees.
5. Upgrade and maintain it regularly.
The most important thing to remember is this: Your knowledge base should ultimately collate into an educational archive that's easily accessible. You can collate all your content in an archive and link it using a dynamic link, or you can create a QR code to the archive for omnichannel accessibility. Plus, it should have the ability to make updates in real-time with practical, user-oriented information. If it has outdated information, it might as well be defunct.
To help you get started, here are the different kinds of information that you can build on within your employee-friendly knowledge base:
Company information such as office address, contact information, website links, etc.: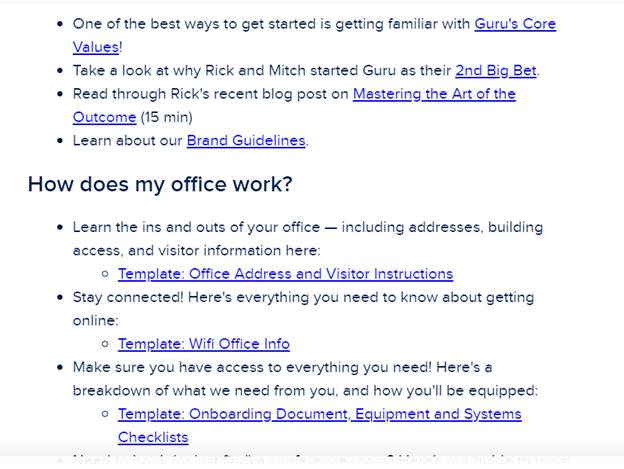 Benefits and perks available, steps to sign up, and information about enrollment periods
Onboarding data with respect to steps and tasks to undertake during the first few weeks as shown below: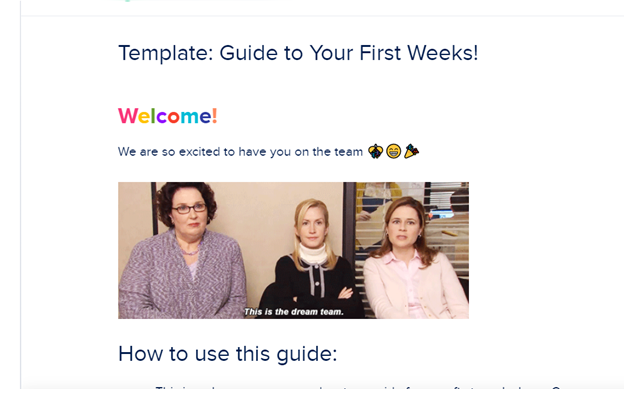 Bonus points for using a meme!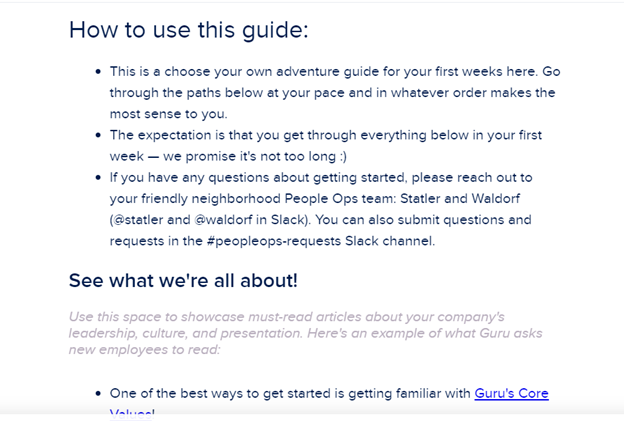 Tech assistance and self-service IT information
Organizational structure, with information on the chain of command, escalation procedures, and so on
Compensation data such as yearly review cycle, tax documents, etc.
List of company holidays in a calendar format: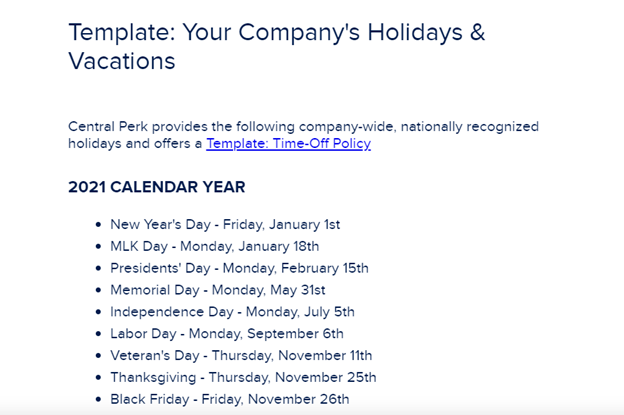 External articles and market research information
Internal process updates such as company-wide announcements
The Bottom Line
An internal knowledge base is a self-service tool that organizations--be it big or small--need, to keep up the pace, reduce internal friction, and improve collaboration as well as communication across the board. Follow these tips outlined above and supercharge your internal communications for good. Thoughts?