Professionals, entrepreneurs, owners of massive corporations – they are all equal digital entities in the online world. They all need to establish a lasting, noteworthy presence in the face of their growing competition.
In the wake of the pandemic, more companies have realized the relevance of their digital strategies. Some may have had a website, but haven't invested too much time in developing the blog, for example. Others, however, might have had to greet this health crisis with no website at all.
Knowing just how vital it is to not just be online, but be memorable online has pushed many brands to revamp their websites. That goes for businesses that don't sell anything online, as well. The sheer process of making a website isn't too complex at all, but ensuring that it stands the test of time is a whole different issue.
Although technical prowess is a perk when you're about to kickstart your very own website, you shouldn't neglect other important factors. Everything from aesthetic appeal, the chosen functionalities, the checkout process, all the way to the blogs you post can make or break your presence.
Here are a few tips to help you build a memorable website for your brand. One that will have the potential to convert visitors into buyers, and inspire loyalty in your existing customer base!
Start with your domain name
As you well know, people are creatures of habit.
Take a moment and ask yourself if you'd rather visit a .com website or one with a completely unknown extension. As legitimate as alternatives may be, the overall supremacy of .com domains is clear.
That is why you, as a business owner, need to pay close attention to such details. They will define how much your online users will trust you, and how likely they'll be to visit your site at all.
Over the years, the .com TDLs have accumulated to over 41% of all registered domains, which instantly helps your business become more trust-worthy. After all, it's a digital address for your brand, and it should live up to your desired reputation.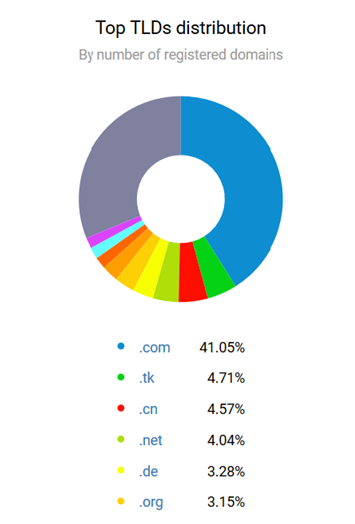 In addition to selecting a reputable extension to go with your brand website, you should also look into the domain name itself. You can choose from several options. Some like to use a branded domain name, others like to use an industry-specific name that also serves as a keyword.
You'll also find experts and professionals using their own name or nickname to represent their business online. Whatever you choose, make sure it's easy to read, spell, and that it's easy to remember.
Choose trusted website-making tools
Whether you're a fashion designer, or you run a large-scale agency, you now have access to a wide array of website-building tools. They are not just easy to use for non-IT folk, but also low-maintenance and require minimal upkeep.
Much like with so many other digital solutions, there are many website builders you can choose from nowadays, hence the need for research. Look through online reviews to choose the best match for your business. Some of the most well-known names include Wix and WordPress, while e-commerce business owners trust Shopify and BigCommerce with their stores.
Look through available themes, optimization capabilities, and seek professional advice from web developers in your industry. Their experience will come in extremely handy in these situations.
Later on in the process, you'll be able to use other digital tools to automate and manage your website with ease. Everything from social media scheduling software to Google Analytics will allow you to recognize opportunities to boost your brand presence and the quality of your website.
Make sure your site is responsive
Many of your website visitors and potential customers will drop by your site via their phones. We've become accustomed to a variety of handheld devices such as phones and tablets today, so we browse and buy on them, too.
Google and other search engines have recognized this growing trend and put a greater emphasis on mobile-friendly websites. In fact, they have introduced mobile-first indexing to make sure websites are optimized for mobile even when a user is visiting your site on a computer.
As for e-commerce businesses, all the more reason to understand that m-commerce is on the rise and that more customers will come to your site via their phones. In fact, it's expected that m-commerce will take over 45% of all e-commerce sales by 2024. That said, if mobile shopping will soon claim almost half of all online sales, it pays to invest in mobile optimization.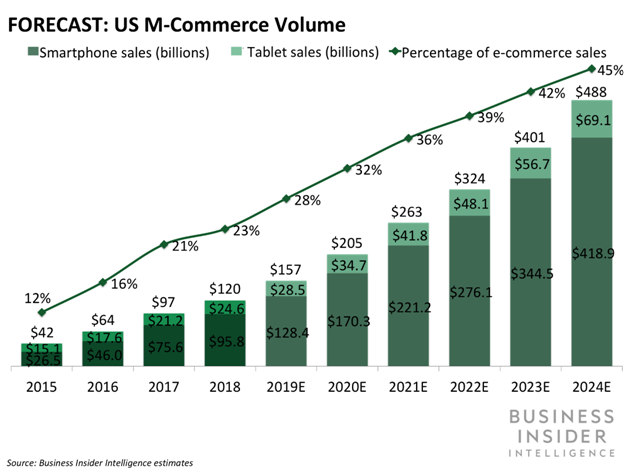 Whether they want to check out your reviews, browse, or read a blog, they should be able to do so seamlessly on a mobile device.
Infuse your site with your brand identity
It's true that it takes years to establish your brand in the eyes of your audience. However, it all begins with your website.
Make sure that the look and feel of your website, paired with storytelling, match your brand identity. Everything from the color palette, logo, to slogans and CTAs you use should be in line with your values.
No-clutter landing pages that are easy to navigate and outline your difference clearly are all the rage today. The minimalist approach in design helps customers learn more about you in less time, and with less effort. A clear example: Buffer.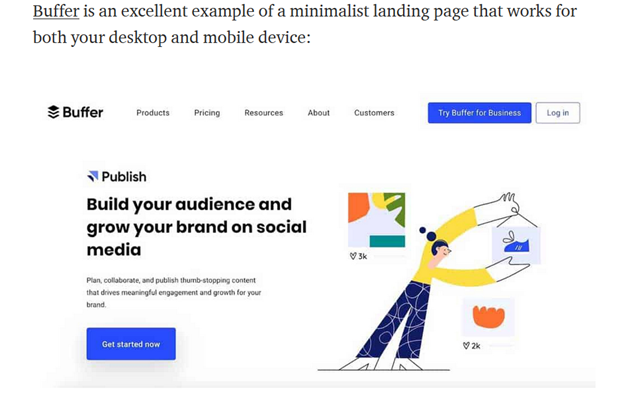 Avoid too many distractions and too much information crammed into a single page. Less truly is more when it comes to web design, and you should let your brand come to life on your website without overwhelming your visitors.
Promote via email and social media
Building a website doesn't end with the technical portion of web development, far from it. Building your brand on your site actually begins when you start pouring out relevant content. Moreover, you need a sterling social media strategy to share your website content, landing pages, and promotions.
Viral content that earns you hundreds, if not thousands of clicks, can yield dozens, if not even more conversions. It can be something as simple as an innovative animated GIF, an original image, or a contest.
Get creative with your content formats and your engagement methods on social media. Use your versatile email campaigns to get more people to your site. Craft personalized offers and content to attract more people and garner engagement.
Once you're done developing that website, you need to be consistent with how you present it and share it with the world. Your website can grow with the help of your social media audience and your email campaigns, so use them to your advantage.
There you have it! Your very own website, in all of its aesthetic and functional glory. Now it's entirely up to you to make sure that your site is engaging and active. Ongoing campaigns, content creation, link-building, all the way to influencer collaborations will all help to put you on the map.
More importantly, all of these efforts will help your brand stay relevant and thrive. Keep an eye on how search engines adapt their algorithm and if your website lives up to those latest standards. Always stay on top of the trends your target audience loves.
As a result, you'll have a lasting web presence that will have all the necessary potential to skyrocket your brand to stardom.