Software as a service model has gained immense popularity in the past few years. It offers cutting-edge solutions in a wide range of industries. SaaS application development model provides a lot of cost-effectiveness and flexibility making it an amazing option for business models and industries. Currently, there is huge competition among SaaS products. As per the latest report by DevSquad, SaaS spending across companies of all sizes will reach $500 billion by 2023.
To gain a competitive edge SaaS application development companies are adopting modern technologies. In this blog, we will discuss the top 10 SaaS application trends you need to know in 2022. But before that, it is important to understand what is SaaS and how popular it is. So let's get started.
Table of contents
◰ What is SaaS?
◰Some popular organizations that use SaaS
◰ Top 10 SaaS Application Trends
Artificial Intelligence
Machine learning
Low code popularity
Micro SaaS
Vertical Saas
SaaS analytics
Focus on Mobile
Migration to PaaS
Data Security
White labeling
◰ Conclusion
What is SaaS?
Saas or software as a service is a method of software delivery in which software is accessed through an online subscription rather than installed on individual computers. This process saves a lot of time spent on installation and maintenance. It allows us to access applications from anywhere and anytime using the internet. Some of the significant advantages of using SaaS are enhanced scalability, highly cost-effective, time-saving, fosters high security, and a lot more.
SaaS is used by top organizations like Salesforce, Zoom, Slack, GSuite, Hubspot, Shopify, and Netflix. As per the latest reports by DevSquad 80% of the businesses plan to make all their systems SaaS by 2025. Software as a service has a really promising future and it will continue to grow further. So till now, you have got a clear idea about SaaS now let's move to the next section and discuss the top 10 SaaS application trends in 2022.
Top 10 SaaS Application Trends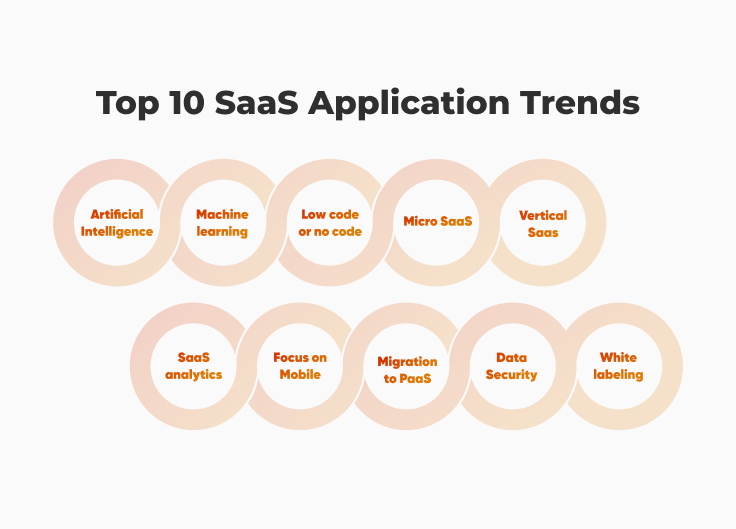 Now we have explored the key characteristics of Software as a service. Now is the time to dive deeper into the top ten SaaS application trends. So let's get started.
Artificial Intelligence: Artificial intelligence is deep-rooted in the veins of our society. As per the latest reports by Gartner that customer satisfaction is expected to grow by 25% by 2023 in an organization that uses Artificial Intelligence. AI innovations will empower organizations across industries to gain deeper insights and understand the needs of their audience. So Artificial Intelligence will boom the SaaS landscape in a variety of ways, enhancing the key characteristics of the SaaS development model across the globe. When AI is combined with SaaS it helps to obtain better value from customers, automate services and enhance security.


Machine learning: The second forecast for SaaS application trends in 2022 is Machine learning. Machine learning is a subset of Artificial intelligence that is used to automate responsiveness in applications. The latest innovations in ML will empower businesses to automate significant parts of internal operations. It will improve internal collaboration through more sophisticated models. Machine learning is currently one of the fastest growing segments and a hot SaaS trend for 2022.


Low code or no code: It is another big evolution in the software industry. These platforms put complex application development in an almost finished state. Applications that can be developed using low code frameworks vary from simple mobile applications to complex enterprise applications. It is an excellent SaaS solution for developers as they can use their unique code with drag-and-drop functions to build applications.


Micro SaaS: Micro SaaS products just focus on one type of service offered by service providers. It can be software, an extension, a bill payment system, or anything just focusing on one solution. These smaller tools can be easily managed at a low cost. With reduced cost, the profits will increase as work will be done at a lesser price. It has helped small tech industries in product development without any errors. That has led to the growth of these companies in the long run.


Vertical Saas: The fifth forecast in SaaS trends for 2022 is Vertical SaaS. It is customizable and targets customers within a specific niche. Organizations that are looking for specific customizations will find vertical-SaaS to be a very cost-effective option. It provides amazing benefits like enhancing business value, improving data governance, and helping to explore new niches.


SaaS analytics: It is the process used by industries to analyze user experience across all touch points. The analysis is used to increase customer engagement and enhance their revenue. SaaS analytics tools help you to fully understand the customer experience.


Focus on Mobile: As per the latest reports, 83.37% of people have smartphones today which accounts for 6.64 billion smartphone users in the world. This clearly manifests that mobile is promised land for SaaS development. Business owners are increasingly running their businesses from smartphones. Therefore, SaaS companies need to create and improve mobile applications for services and tools.


Migration to PaaS: PaaS stands for the platform as a service. Another fascinating SaaS trend that we can expect in 2022 is SaaS migrates further toward PaaS which empowers businesses to build custom applications. The advantages of using PaaS have enhanced scalability, security, and agility. With organizations like Salesforce and Box migrating towards PaaS we can expect to see this trend gaining more and more popularity in the coming years.


Data Security: Data breach is one of the biggest issues that companies are facing in today's era. Due to the increased use of the internet, hacking into someone's system is really easy. Data security is really crucial and companies are willing to pay a huge sum for their security. As per the reports by Fortune Business Insights the global information security market is expected to reach $366.1 billion in 2028. So SaaS development companies can create SaaS products that are aware of online threads and find a solution to overcome those issues. It will be quite challenging but it is one industry where these products will thrive more.


White labeling: Another forecast in SaaS trends for 2022 is white-label SaaS products. These products are designed to have no branding when sold to clients. The clients can further add branding to resell it to the customers. It is great for businesses that can easily sell products but lack the technical skills to build them. Another advantage of using a white-label SaaS is that businesses don't have to invest heavily in the beginning. This makes white quite appealing to small businesses.
Conclusion
These 10 trends mentioned above will shape the SaaS landscape in 2022. Many developments have evolved in past years paving the way for new concepts that will take the industries to new heights. These concepts will transform the face of business intelligence in the coming years. These SaaS development industry trends will promise a progressive future for the country. SaaS options are now regarded as really affordable and convenient options across industries. As these digital transformations will grow globally the SaaS development industry will get stronger which provides a smarter and simpler future for all. I hope that you found this helpful!!