Marketing isn't very different from great storytelling. If you want to sell your products, you need to sell the story first.
What is product-led growth marketing?
To sum up product-led marketing in one sentence, here's what it is. Product-led growth marketing is when you use the product as the main driver of growth for your business.
The product also drives retention.
The components of a product-led growth strategy
The product is the key and sometimes the only way to market
The product should be so good that people share it with others
Marketers are more involved at each stage. They collaborate on sales, onboard users, and help with retention
User experience matters most
Self-service funnels and training are key
You should understand how people use the product to upgrade the onboarding experience
You should segment users by the stage they are in the buyer's journey
Several companies have had product-led growth like Slack, and Dropbox.
Product-led growth marketing
There are far too many software products. And customers have become more demanding. If that weren't all, attention spans are decreasing. People would rather try your product than read a bunch of whitepapers on the product. They want to see if the product solves their problem, be it by making their lives easier with design tools for customizable videos or infographics, tracking vacations of employees, or scheduling appointments.
Product-led growth is more than giving away free trials of the software before purchase. It's about creating a great product and providing ways for it to sell on its own.
A marketing guy would look at a product and exclaim how to generate demand for the product. And product-led marketers like us would say how our product can generate demand. They are on opposing sides.
By being focused on the product you can avoid a bunch of problems like rising advertising costs, difficulty in getting to profitability, low retention, and longer sales cycles.
How product marketers can make the biggest impact possible
The market is competitive and product-led marketing helps lower customer acquisition costs while also improving profits.
It's not about getting people to buy a product but making it so good that people recommend it to others. It's a higher standard than your company has to aspire to. The learning curve has to be non-existent.
The role of the marketer isn't to get customers but to get those customers to recommend the product to others.
To benefit from product-led marketing, you need a complete and unwavering focus on it. Study the product well and if possible spend time talking to users.
Should you offer a free trial or a freemium version?
As a marketer, you are handed down decisions from others. Whether the product has a free trial or uses a freemium model is a decision made by the higher-ups. For example, Canva is a free graphic design tool to create social media graphics, presentations, posters, documents, and other visual content. They also have Canva Pro which includes premium features like Brand Kit, Background Remover, and more.
But, a lot depends on the pricing model you choose to go with.
The wrong pricing model can destroy all hope of profitability. A freemium model when the market isn't big enough brings plenty of uncertainty regarding when the product will become profitable, if at all.
A free trial model for a product that can be massively successful in the future can stunt its growth.
However, above all your product should share these characteristics for it to be successful.
The product must be simple and easy to use with users being able to see the value quickly
The market is large enough for the product
The product has fewer more useful features and is a scaled-down entity of enterprise-level software
There are a few conditions your product has to meet before you know if the free trial, the freemium version, or something else is more suitable.
Find out if a free trial is right for you
The free trial is right if prospects are able to understand why the product is superior to others during the free-trial period
The size of the recurring revenue with the product should be right to support sales
The market size is medium or small
The market isn't overcrowded
The business model and the pricing model should be suitable for the product and the market. Think of the single feature you need that helps potential customers differentiate between what you do and what competitors aren't able to do.
For product-led growth to happen there must be virality built around the product. Virality comes when users see the value of the product and share it with others. Meaning they're not being externally incentivized to share the product or being compensated through a referral marketing program or an affiliate marketing program.
Simple value proposition from Quickbooks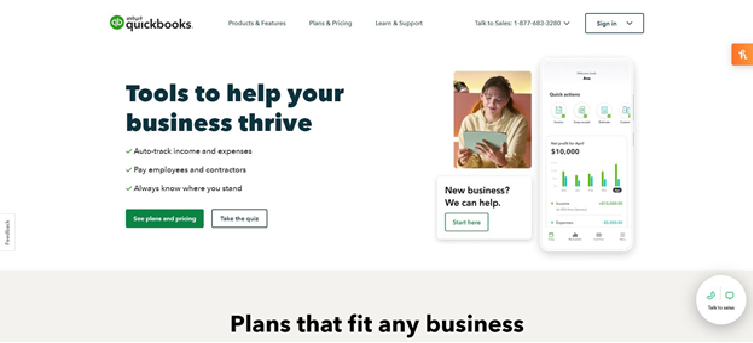 You might already know what QuickBooks is. For those who don't— QuickBooks is an accounting tool for small businesses. The homepage tells you this in simple words.
There's no attempt at pointless creativity. The text is chosen carefully to be jargon-free and present what the brand is all about to someone new to the site before they can sign up and begin the free trial.
They say this is what Quickbooks is and that now you can try it.
The difference between marketing Quickbooks and other similar products is that for a product for which you provide a demo and not a free trial, you need to study and understand your persona and speak to them in the copy. You need to educate them on the solution and share what the business can do for them. There's none of that with product-led growth. That's exemplified by Quickbooks' homepage. It's a simplified homepage that motivates people to try the product before anything else.
Product-led homepage from Slack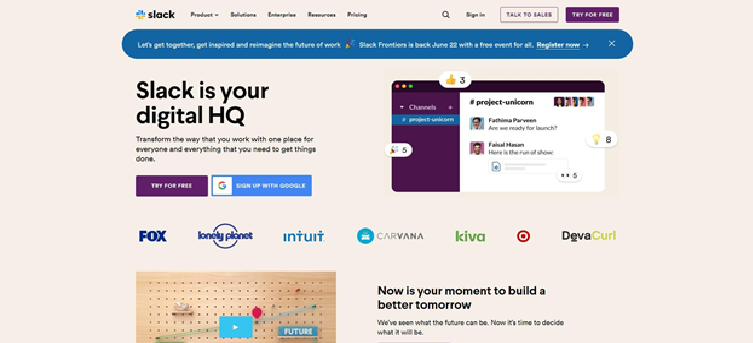 In a similar fashion to Quickbooks, Slack makes it easy to get started with nothing more than an email address. This is available in the hero section.
Above the fold, you will find a product section that lets you click through and explore a few parts of the product. It's like being allowed to use the product before signing up for it or going through the painful process of going through a demo.
The version is interactive and has many real aspects of a workspace that you can poke and play around with.
They have cleverly organized the menu bar by giving importance to the main list of tasks that you can expect to do with Slack. Plus, there's a video that helps you attain even more clarity with the tool.
Freemium versus free trial: What is it?
Your pricing page
Another important part is the pricing page
Clear plan options from Delighted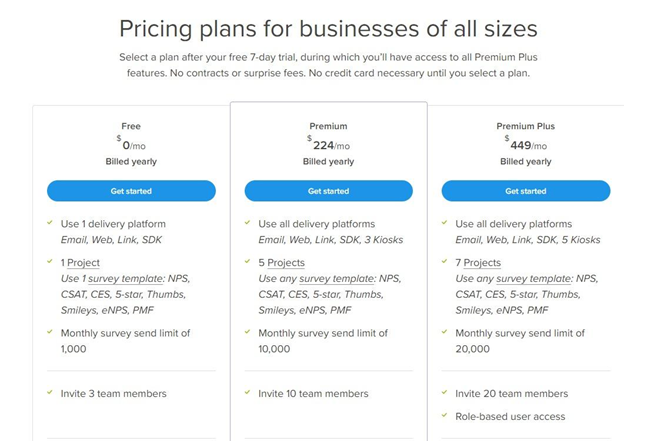 Companies that use product-led growth must use a simple pricing page. Delighted has a great pricing page. There's no complicated list of features explaining what you get and what you don't. The pricing tiers must be simple to understand. Keep the number of factors that affect pricing to a minimum.
If you can simplify your pricing structure, go for that.
Buffer's pricing page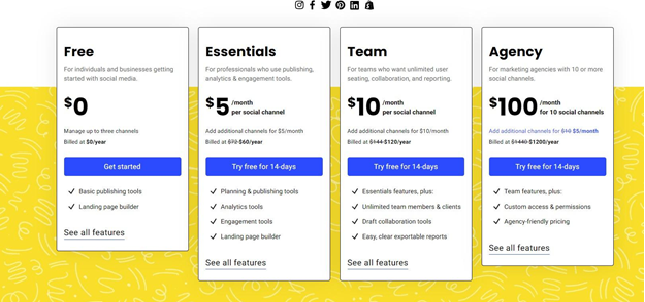 For Buffer, loading up on more free users isn't a priority anymore. That's why they show the least possible features and try and downgrade the features they do show on the free plan. They have gently titled the scales to favor the more affordably priced paid plans for their product—which start for as low as $5.
Deliver value to your customer
A challenge in the customer experience space is putting together six different tools like a survey tool, a tool for email marketing, a CRM, and analytics to finally have something that can carry out and provide you the results of a Net Promoter Score (NPS) survey.
Delighted is a product that simplified these disparate parts of a customer experience program and brought them under one single umbrella, in an easy-to-use product—Delighted. They saw the value addition they brought by making things effortless to get companies to get an NPS score from their customers.
No one needed to be an expert programmer to do something as simple as this.
Understand and simplify onboarding
The highest rates of churn appear right after signup. The reason is clear. People can't figure out how to use the product. After working on making the product the best it can be, you need to work on improving the experience, working on channels where you can distribute the tool, the dashboards you will give to customers, and so on. You need a way to get customer feedback.
The goal next is to make onboarding fast and simple. Refine your onboarding so that the customer can get what they're looking for in little to no time.
Delighted focussed on getting feedback to customers in minutes rather than waiting for several days or months. Slack makes it possible to create your own workspace with just an email address. You can start adding team members and communicate with them almost instantly. The speed with which customers get their solutions led them to sing praises about the product. The key is in seeing the value first-hand.
Build a self-service solution
A self-service solution means customers don't need hand-holding when they're signing up for the trial and they can use the product. There's no need to talk to a customer support agent or the implementation team. All they need is a credit card and upgrade the plan without assistance from anyone.
Think of simplifying these aspects:
Think of how customers are going to add their data inside the product. If they want to upload data think of all the different formats that you should be providing support for
If there are errors, make it easy for the support team to reach out to customers
These questions will help you create an improved self-service flow and create a better product.
The other choice is to get humans to solve issues that can result in confusing products and unhappy customers.
What do you think of my article on product-led marketing? Do let me know in the comments below.