As a small business owner, your priority is to build a strong online presence for your business and accelerate small business growth. With the right organic marketing strategies in place, you can not only boost brand awareness, but win over new customers, too.
As an insider, I know that digital marketing can be overwhelming if you're new to it.
The main reason is because you usually have to work around a limited budget. Figuring out the best organic marketing strategies that can give you better ROI without draining your finances is challenge number one.
But relax! I've got you covered.
Here, we'll briefly discuss 6 organic marketing strategies you can implement right away to boost your business's overall success.
Let's dig in.
Organic Marketing Strategies to Adopt for Your Business Growth
As an entrepreneur, you are constantly working on scaling your small business. From gaining a footing in the digital landscape to creating a sales funnel strategy, you have lots to take care of.
So take a look at these top 6 organic marketing strategies that can boost visibility and growth for your small business. Here you go!
1. Start a Blog
Content is still one of the most powerful organic marketing strategies for your small business. Starting a blog where you share valuable, relevant and engaging content regularly is always a fantastic idea.
Did you know, for example, that businesses who blog regularly can generate 97% more traffic to their website?
On top of that, having a blog will help you share your thoughts and values with the audience and establish your brand as an authority on the subject. Enrich your blog posts with graphics, images, and infographics to be more effective. You can even hire a professional writer for blog writing services if writing blogs is not your cup of tea.
The initial ROI of starting a blog may not be too impressive. But in the long run, the inflow of potential customers will be a lot more sustainable.
2. Create Diverse Video Content
Video content is the latest craze among netizens. People are simply in love with it. A story that would otherwise go on for pages can be effectively presented in the form of short videos. You can use a free tool and create highly engaging videos like:
Product videos
Brand story
Testimonials
Tutorials and guides
Animated videos
You can post these videos on your website and share them on your blog and social media. As one of the most effective organic marketing strategies, videos can garner unprecedented attention.
3. Optimize Google My Business Listing
Do you know that a majority of buying decisions begin with an online search? You can reach out to your target audiences by adopting this specific organic marketing strategy:
Google My Business (GMB) is a free tool to help you manage your online presence. A verified GMB listing is vital for local SEO as Google Maps and Google Knowledge Graph utilize this information to rank your business.
In the below image you can see how Google, in its search results, highlights those businesses that have complete and verified GMB listings.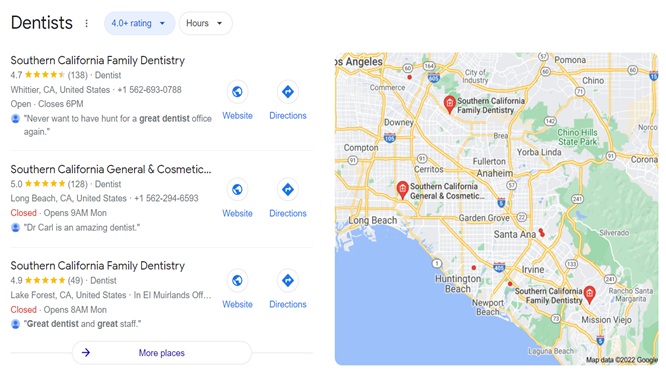 You can strengthen your business profile on Google by including user reviews and ratings, too.
4. Develop a Good Email Marketing Strategy
Email marketing is one of the top organic marketing strategies that can bring you strong ROI. You can create and distribute highly engaging email newsletters containing images, the latest offers, and a sneak peek of your team activities.
In a survey conducted by Content Marketing Institution, email newsletters ranked second among the content types that produced the best overall content marketing results.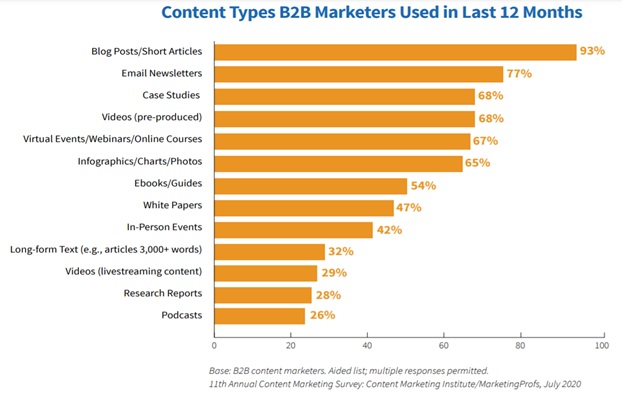 What's more, customers actually prefer email over other means of communication from brands. It's no surprise that you can leverage email marketing for lead generation and also nurture your leads through it. An advanced email marketing tool can simplify and improve the efficacy of your email marketing strategy.
5. Create a Strong Social Media Presence
This list of organic marketing strategies would of course be incomplete without discussing social media marketing. Paid ads are not the only option to build a strong social media presence. You can include organic tactics in your social media marketing plan to achieve great results, too.
Work towards building a versatile social media feed containing blogs, images, infographics, videos, and news that add value to the readers. To enhance engagement, you can run content, surveys, and giveaway campaigns to trigger conversations and gain more followers.
This Valentine's Day giveaway campaign by Plode ticks all the right boxes to grow their followers' list.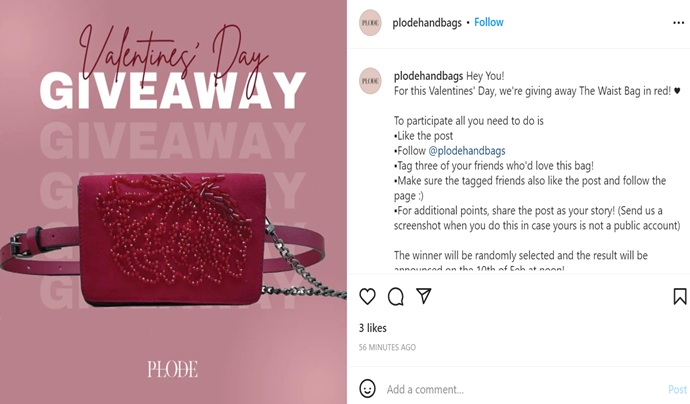 6. Use Free Tools
Your small business might very well have a small team. To boost their productivity, you can add a variety of free tools to your toolkit that can help you deliver better results without inflating your budget. Collaboration in learning techniques will ensure that your employees learn to smartly utilize these tools.
You can research to find out the best tools to manage important tasks like keyword analysis, SEO audit, social media management, CRM, and much more.
If your budget allows, you can even subscribe to a comprehensive tool like Semrush to help you meet many of your digital marketing needs.
Ready to Adopt These Organic Marketing Strategies in 2022?
So there you have it! The best organic marketing strategies you can adopt right away to trigger brand awareness and visibility. Along with these, you can incorporate measures to improve domain authority to fuel Google ranking.
As they say, well-begun is half done, and adopting organic marketing strategies is a formidable weapon to ensure business growth in the long run.
So this 2022, do not shy away from considering new marketing techniques. Give them a try and enjoy better ROI!