Are you trying to fine-tune your social media marketing plan for 2021? The social media space is always evolving and more competitive than ever before, reimagining the social media strategies for your business has become imperative.
Social media marketing is much needed for any business as social media not only advertises it but also helps in creating trustworthy and long-lasting relationships with the clients.
Therefore, a brief & crisp strategy will help your brand achieve its goals effectively.
This is why we have compiled a guide on how you can create a social media marketing strategy from scratch in 2021.
What is Social Media Marketing? Why is it important for a business?
Social media marketing is the use of social media platforms for brand or business promotion, driving traffic, enhancing audience engagement, and boosting sales.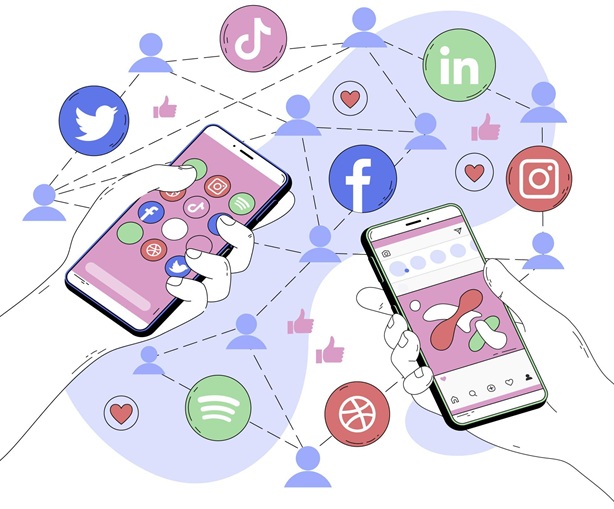 More than half of the global population, around 3.8 billion people use different social media channels such as Facebook, Instagram, Twitter, TikTok, Pinterest, LinkedIn, etc. Whether it's in the form of images or engaging explainer videos, social media is one of the simplest ways to reach a large audience.
Let's take a look at few important statistics as per Smart Insights:
As of July 2021, there are 4.48 billion active social media users worldwide
56.8% of global population use social media
99% people access social media platforms via their smartphones
2 hours 24 minutes is the average time spent by people on social media platforms
1. Raise Brand Awareness
If we talk about the fundamental uses of social media, brand awareness is the first thing that comes to our mind. As per Hootsuite, 52% of brands are discovered in social media feeds. In simple words, social media is the place where the majority of users learn about different brands.
Social media users are Brand-engaged. 54% of social network browsers use social media channels to check out products. Therefore, it is important for brands to maintain a high-quality social media profile to lure customers & keep them engaged. This is how a brand becomes a potential customer's favourite on the platform.
Besides, if people like a brand on social media, they are more likely to suggest it to others, thereby growing brand awareness.
2. Attracts website traffic
Around 11% of all mobile website traffic comes from different social media platforms. Therefore, social media is a superb way to increase website traffic.
3. Facilitates Communication with the Target Audience
As nearly half of the people across the world use social media for around three hours a day, social media marketing seems the best way to communicate with the audience. People spend most of their free time on social media, therefore using SMM will bring them closer to your brand.
Additionally, SMM becomes a channel to get feedback from your customers in the form of likes, reviews, comments, etc. Nowadays, if a customer is unsatisfied with a product or service, they usually comment on their social media posts rather than sending an email or making a phone call.
4. Simpler & Faster Content Distribution
If you advertise your brand through content marketing, it allows you to distribute your content more efficiently using SMM. When people share some exciting news with their friends & family on social media, it usually moves further than one channel and its members while leading to the growth of the target audience.
Moreover, SMM is an excellent way to inform the customers about special offers or discounts. It is the fastest way to tell people about any giveaways, though still many users prefer receiving promotional emails.
5. An insight of the marketplace and the competitor
Social media informs the marketers about the success of their brand by monitoring customer satisfaction. Besides, it provides information about your competitors activities as well as the ongoing industry trends.
You can have live discussions with your customers about the latest industry trends and get to know how they feel about it.
Once you know what your competitors are up to, you can make improvisations to your products accordingly or even change your SMM approach to achieve better results.
Whether you are doing it for the first time or just reframing your social media strategies, the below points have got you covered.
How to Devise a Social Media Marketing Plan from Scratch?
1. Fix your Business Goals
The first step towards building an effective social media plan is to define your goals and resources.
Ask yourself what goals you want to achieve? And whether you possess the resources for accomplishing them or not? What purpose do you want to fulfill through social media?
Do you want to build a community? Or increase the number of your followers? Or you wish to generate more revenue through your social media profile?
Do you aim to boost your brand awareness or drive more website traffic? Or if you wish to share your expertise with your followers?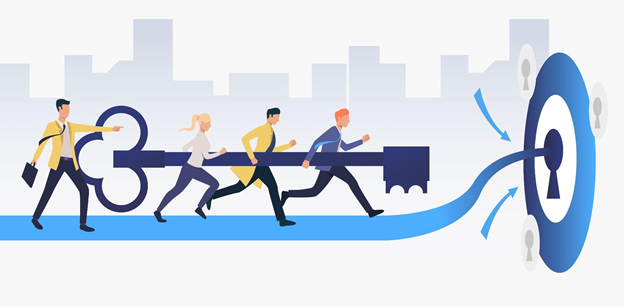 You can aim to achieve all these at once or just a few of them. In either case, your goals will determine your content strategy and how much time your campaigns need.
Next, you must set the social media goals for your brand. Few common goals are increasing brand awareness, driving more website traffic, generating leads as well as growing the target audience.
It is advisable to keep your social media strategy as subtle as possible in order to avoid any confusion as too many objectives might not let you achieve what you really need to accomplish. It's better to choose one or two goals and work on them diligently.
2. Pick your Platform
There are numerous social media platforms out there, and you don't have to necessarily be on all of them especially if you are a beginner.
You can determine the social channel through these points:
How does it help you achieve your business goals?
Who is your target audience? What platform will you find them the most?
What tools will you need to connect to your audience?
If you already have a business account on your Facebook or Instagram; you will already be knowing your audience and their preferred places of interaction.
Facebook is mostly the preferred choice for social media marketing as it's widely used by people around the globe. Here, you are more likely to find the customers for your brand.
The next most used social media platform is Instagram with around 120 million users in the US itself. Every social channel offers different tools that can also help you determine which one will suit your brand or business better.
3. Research your Audience Well
As a marketer, you must never make any assumptions regarding your target audience.
You can know your audience, since there are various social media analytics tools available to help you with this. These help in tracking, collecting and analyzing information from different social media platforms.
A lot of what you need to know about your audience for your social media marketing strategy is already available if you hit the right place.
Different social networking platforms attract different types of people -
If you consider the latest social media demographics, these tell you which social media platforms your brand should be on and what kind of content you can post.
Here are few takeaways that you must know:
YouTube and Facebook have the highest number of ads as they are quite high-earning
Most of the TikTok & Instagram users are millennials explaining the power of bold and eye-catching content
Women outnumber men on Pinterest which boasts the largest average order value social buyers
The user base on LinkedIn is well-educated which makes it a more suitable platform for industry-specific content than what you witness on Facebook or Twitter
You can focus on social networks where you already have an active audience rather than spreading your thin reach.
Do proper research on your existing social media audience -
You get an insight into each social media platform through the demographics data, but how will you know of your audience? Therefore, further analysis is needed before you actually get to know about your real-world audience.
This is the reason why a lot of brands use social media dashboard to offer an overview of the type of followers and how they communicate & interact with you on different platforms.
4. Put Forth your Valuable Metric and KPIs
Regardless of what you sell, your social media marketing plan must be data-driven. It means you must focus on social media metrics that are important. Brands are responsible for getting into the data that matches with their goals.
Following are the social media metrics to establish:
Clicks - These are the number of clicks on your social media profile or content. Tracking the number of clicks on every campaign is essential for knowing what compels people to purchase your product.
Reach - This refers to the number of users who saw your post. Reach also means how far your posts are reaching your audience's feeds.
Engagement - Engagement translates to how well your customers perceive you as well as their intention to interact with you.
Hashtags - This determines the most commonly used hashtags, and the type of hashtags that are related to your brand.
Organic & Paid Likes - It's difficult for organic engagement to gain the required attention, therefore brands switch to ads. All this helps marketers set their budget for the ads as well as the time that must be spent in various formats.
Emotions - This is the evaluation of how your audience responds to your content, hashtag or brand. Did your customers find it offensive? What kind of sentiments are your audience associating with your campaigns?
5. Curating & Creating Engaging Content
There's no denying that your social media marketing plans rely on your content. So, you must have an idea of what to post or publish depending on your brand identity and goal.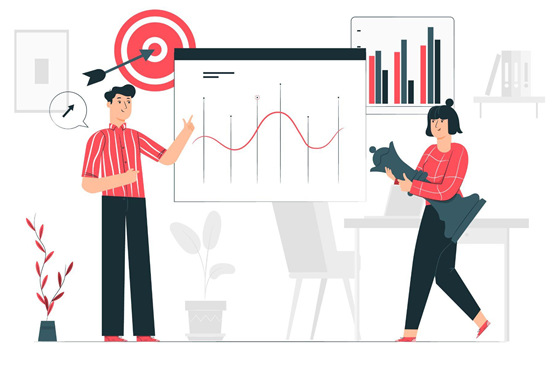 What kind of content strategy do you need? Let's discuss some ideas that can be of great help.
● The Value of Content Themes - A lot many times you must have noticed a brand post content that reflects genuinity & originality. From captions to filters, numerous brands depend on similar content format while giving creative touches from time to time. This makes the content more consistent in front of the audience.
For instance, you can juggle between product images, themes as well as user-generated content, but you may stick to a colour scheme.
If you wonder what type of content to include in your social media marketing plan for 2021, this is what you should consider.
● Short videos - Social media videos are on the rise, especially with the introduction of Instagram Reels and TikTok. Both long and short videos are constantly dominating the world of social media across different channels as these have high engagement rates. Use effective whiteboard animation video for social media.
● Stories & Time-sensitive Posts - Stories are here to stay. Stories are something that can't be missed & are interactive too. These help you stay in your audience's mind by regularly popping up on their feeds.
Stories add a personal touch to your content and take your followers on a behind-the-scenes journey of your campaigns.
● Content Showing Off Your Human Side - Content that portrays your human side must be a cornerstone of your social media marketing plan for the coming year. To be precise, don't forget to remind your audience of the humans behind your content.
An important thing to keep in mind is to thoroughly analyse your competitors' behaviour & activities before you begin creating content.
Though a lot of brands will prefer doing a competitor analysis to dive deeper into the competitor's number, you can still do this just by reviewing their social presence.
A simpler way of doing this is to perform a Google search. Search for the most valuable keywords and terms related to your industry or niche and check what your competitors are up to.
Observe your competitors' social media accounts and compare it to your own marketing strategy. The objective is not to copy their ideas but know what works for them and what you can learn from their promotion strategies.
6. Post as Timely As Possible
Timeliness is an important rule to follow for marketers. You can't expect your marketing to work well if you do not post fresh content regularly. Besides, you have to be there each day for your followers.
However, you cannot expect your audience to follow your clock. So, let's throw some light on a few ideas to optimize your time spent on social media.
● Publish at the best times to create maximum engagement
It's always better to post at a time when your brand is available to interact & engage with your audience.
At times, you will be recommended to publish late in the evening, but if you're not available to communicate or answer the queries that follow after you post, it will hardly prove beneficial to your brand.
Therefore, make sure your social media manager is available when you post and are ready to respond to any questions that your customers may have.
● Respond to your audience ASAP
Besides expecting speedier responses, customers also wish for more meaningful conversations from brands. As a marketer, you cannot ignore these key elements of networking. You must never miss an opportunity to engage with your followers.
Brands gain respect and recognition by just being there or by engaging with their audience. That's why it's important to handle customers with utmost care on social media as it increases awareness.
You should never leave your followers hanging whether it's for responding to a query or capitalizing about a positive comment. As per Statusbrew, the average response rate for brands on social media platforms is 5 hours. In simple words, customers expect a reply within one hour, but the average response rate is 5 hours.
Additionally, delegating work to all your team members will also help your social media marketing strategy to run well.
As there are continuous updates in different social algorithms, it becomes difficult to reach the maximum number of customers using the organic content.
7. Promote Your Social Media Profiles


It's really important to promote your social media accounts wherever possible to motivate users to follow your brand or business.
You can promote your brand through following mediums:
Website - Make sure you add buttons for your various social media accounts on your website footer. Besides, you can also add them on your website banner.


Email - This is another great way to spread the word about your social profiles. You can either send to your mailing list or add a footer with your social media buttons to the email templates.


Cross-publishing - This is useful when a brand has one or more social accounts. You can cross-promote your profiles through Stories, posts, your Facebook or Instagram bio, etc.
8. Analyse What Works & What Doesn't
By this time, you have a proper picture of your social media strategy in front of you. However, it's crucial that you are able to apply this strategy throughout the year.
You won't be able to know how different campaigns have worked for you until you assess your efforts thoroughly. Having a close view of your social media activities will help you put things into perspective. It means you must check your best content and adjust your campaigns accordingly.
Examining the metrics behind the campaigns allows you to make small adjustments to your social media marketing plan.
You are doing social marketing the right way, if you are being careful enough regarding your data. In order to get the best results out of your campaigns, you must be reactive and then boldly use the takeaways to tell your next big strategy.
Besides, reporting data is also necessary for sharing important information from social media with your team members or colleagues.
Conclusion
We hope that you're able to understand through this guide a good social media marketing plan involves various steps.
So, you need to make sure that your social media marketing strategy is precise and not draggy.
If all the above steps are properly addressed; you will get way ahead of the curve in terms of the social media marketing plan.
Author Bio:
Pavnendra Bahaduria is the founder and CEO of Essence Studios, India's top video production company. When not busy running the business, he loves to share his knowledge and experience in the field of digital marketing through blogs. He's an ardent cricket fan.