Are you looking for a keyword planner that can help you to figure out exact traffic?
If yes, then don't worry, I will help you find the best one for you. But I want to share a fact that there is no such perfect tool available in the market, not even Google Keyword Planner. I will tell you why, so keep reading. Still, tools like Google keyword planner, ahrefs, and Mangools are good for keyword research.
Reasons That No Tool Is Perfect or Accurate
1 - Different results by different tools.
2 - Same traffic for similar keywords. For instance, According to Ubersuggest, keywords like 'web host India', 'web host in India' and 'India web hosting' have the same traffic that is 4,400 per month. Meanwhile, there is only one keyword that has averagely this much traffic but the rest don't.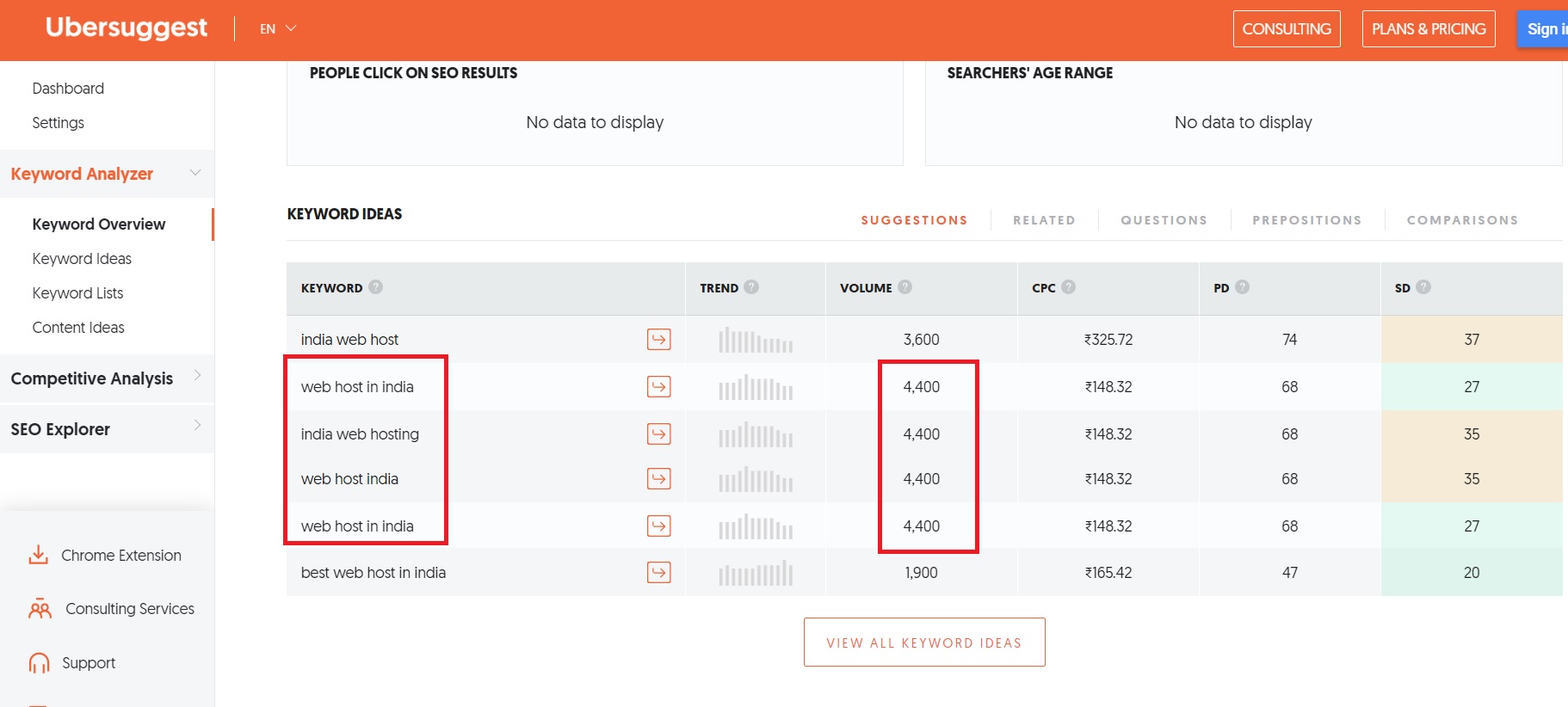 3 – Lastly, a tool barely figures out traffic on seasonal keywords like "Valentine day gifts for girlfriend". One will not search such keywords rest of the year except on valentine's week. Will you?
Have you ever wished someone 'Happy New Year in March?'.
I do not think you are a fool to wish someone in march instead of January 1st. So, do you think that you can get traffic on keywords like 'Happy new year' and 'Valentine day gifts for girlfriend' the whole year?
Following is the Google Trend's screenshot that clearly shows that traffic increased on 'Valentine Day gifts for girlfriend' from the last week of January till February end but average traffic on keyword research tools remains the same rest of the year.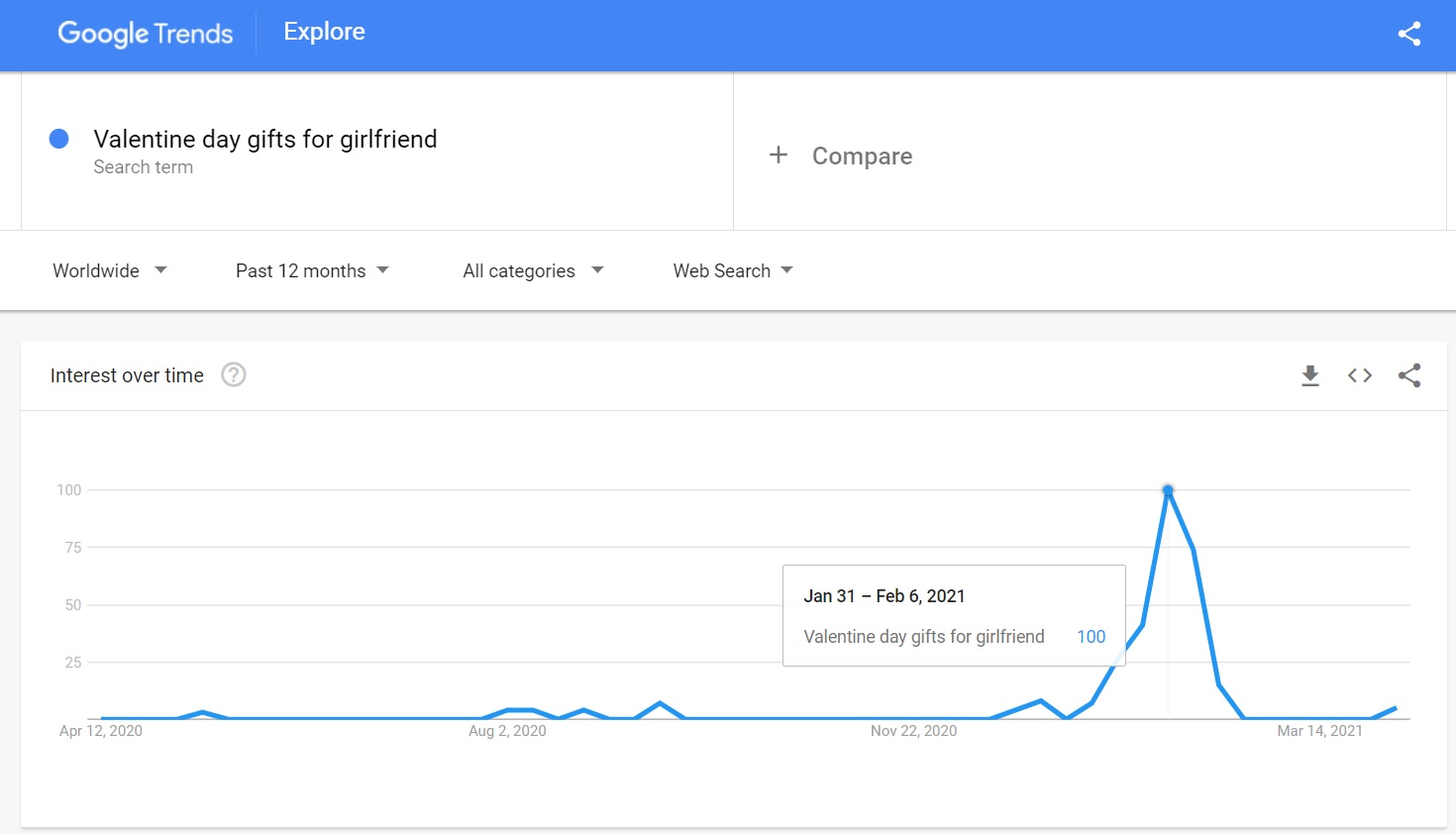 I am not cursing keyword planner tools but should know something deeper before choosing one.
Keyword Planner Tools List
Now, Let's dive into deep barrel to know top 11 best Keyword research Tools. We have listed tools that give free, trial and paid versions.
1 - Google Trend
Google trend is one of my favorite keyword research tools which tell keyword traffic in real time. You can find keywords in two ways, first, by searching in its search bar and second, through 'related queries.'
Not only this but you can also compare the traffic between two keywords.
Let's say, SEO VS PPC, you can see interest over time on both keywords.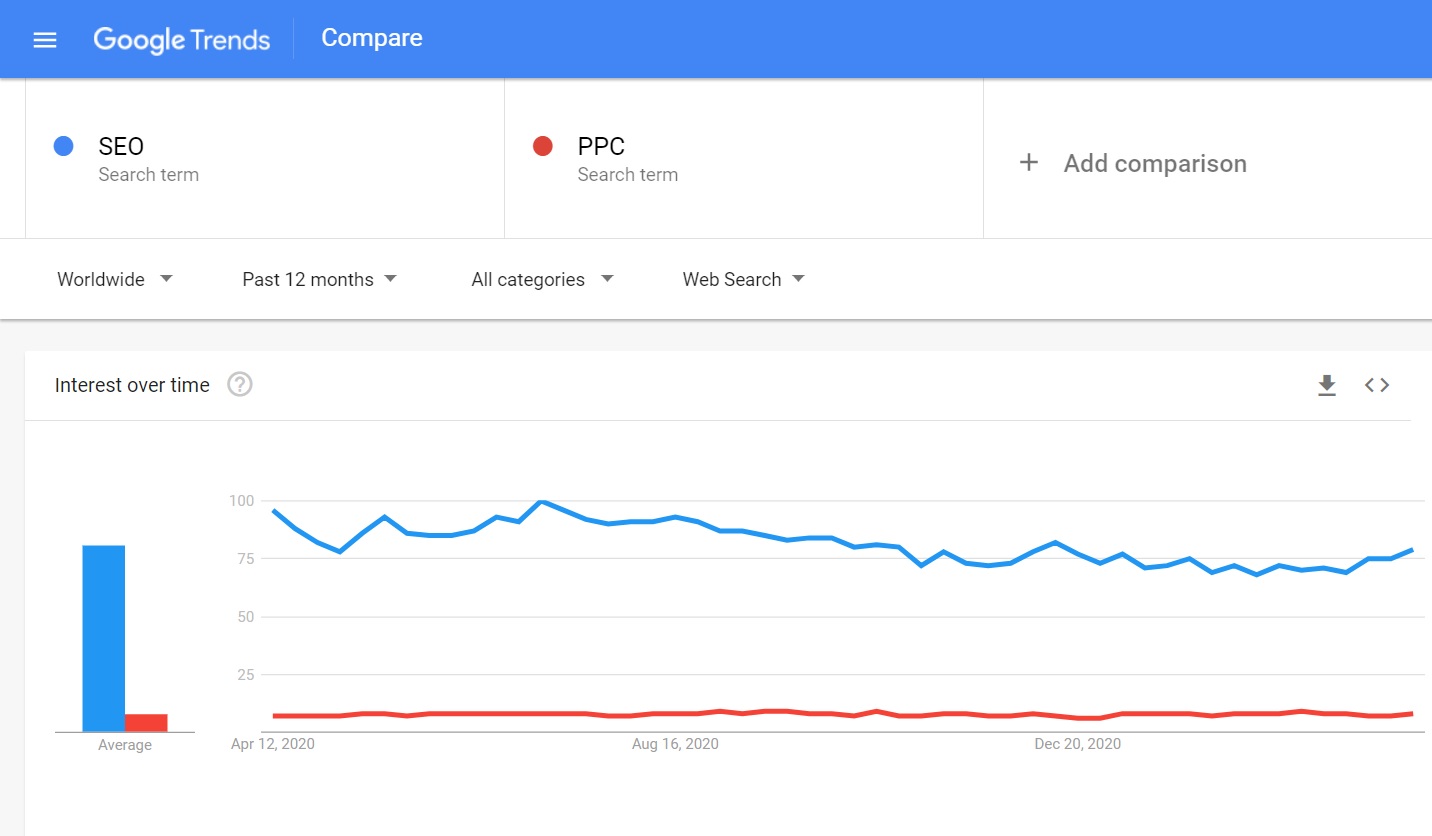 Best Feature – YouTube Search
You can check keyword traffic for YouTube.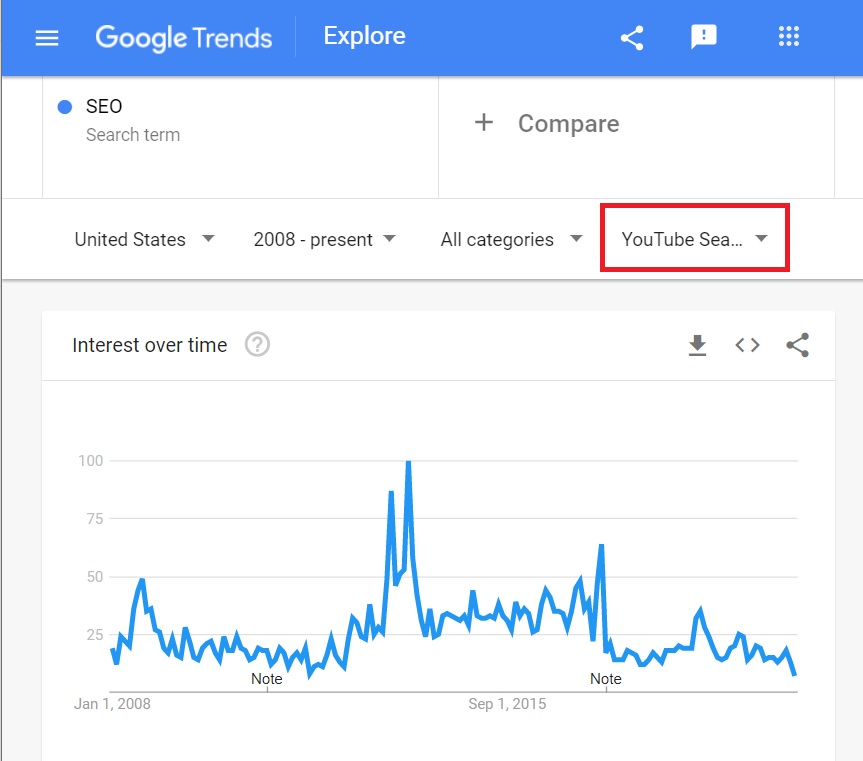 Worst Feature – No bulk searches
It is not possible to do bulk searches here.
Pricing: Free
URL: https://trends.google.com/trends/
LongtailPro is the keyword research tool that helps you find out the right set of keywords quickly. The tools aid you to find less competitive keywords that can derive high converting traffic, irrespective of your niche. Apart from unveiling the profitable keywords, you can track your ranking and assess the competition.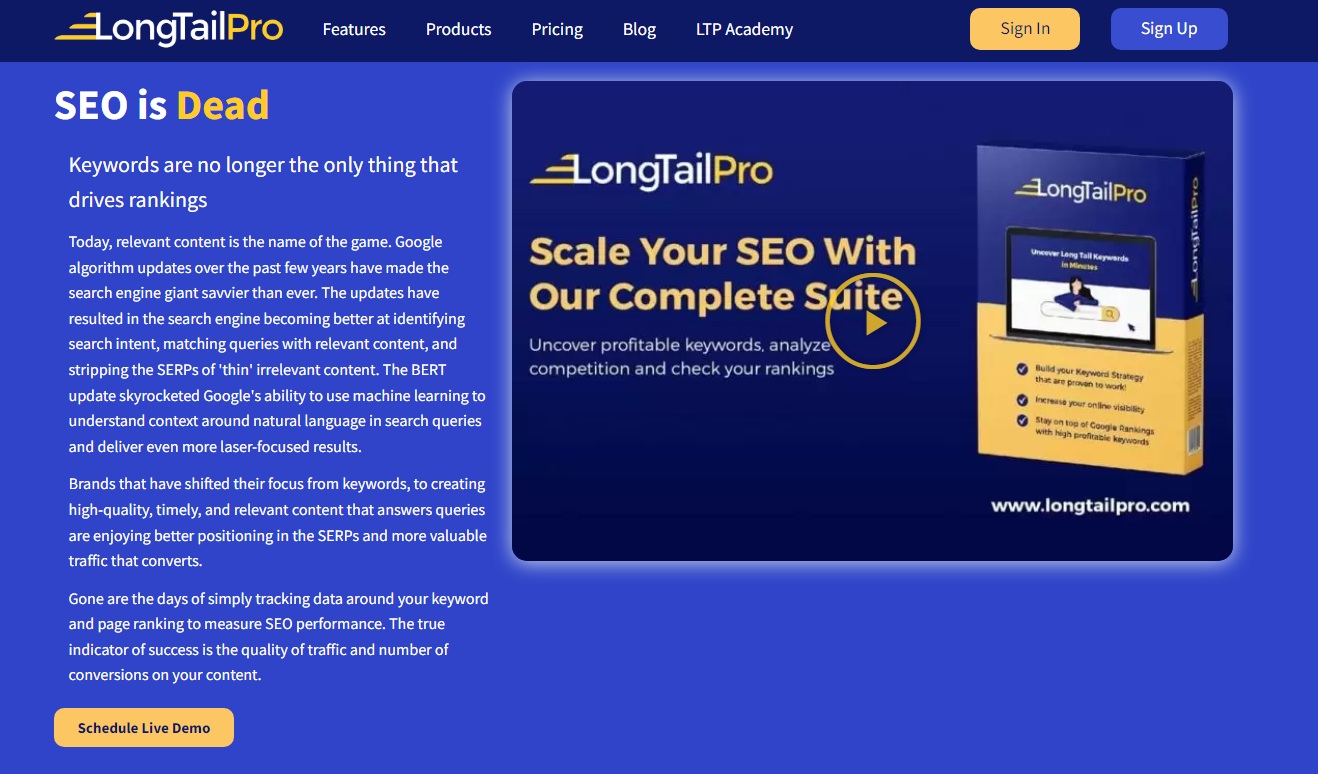 The SERP analysis assists you to gauge metrics to outperform your competitors & streamline your SEO process; the Backlink analysis helps you find out the broken site links. Further, you can analyze anchor text distribution, trust flow, citation flow, and other actionable SEO data. You can keep a tab on the inbound links. With the Site Audit feature, you can monitor site speed and performance and optimize your site to manage on-page SEO. LongtailPro's features cover all the aspects of SEO that aim to establish a successful SEO strategy.


Pricing: Monthly starter pack is $3. $8 for eight days trial

URL: https://longtailpro.com/
3 - NinajSEM



NinajSEM is the ideal tool for your business because it has a number of useful capabilities that will assist you in finding the best keywords for your website. You can prioritise keywords in NinjaSEM based on actual click rates, search volumes, competition, paid vs. organic clicks, and other factors. Furthermore, a single term concept can generate a slew of new keyword suggestions. This might help in creating the best ways to provide your content to fulfil the needs of your clients. The $14.99 price package also includes access to all of the software's premium features. This is a once-in-a-lifetime opportunity that will revolutionise your business in numerous ways.

Pricing: Get access to all 37+ apps starting from $14.99 including NinjaSEM with a 14-day free trial.


4 - AnswerThePublic
If you are looking for a handy tool to tailor your keyword research work, AnswerThePublic does the best. It may not show you in-depth states as such search volume, CPC, keyword difficulty, etc. Nevertheless, this is an ideal tool to collect long-tail keywords. It is effective in creating potential content ideas and content titles.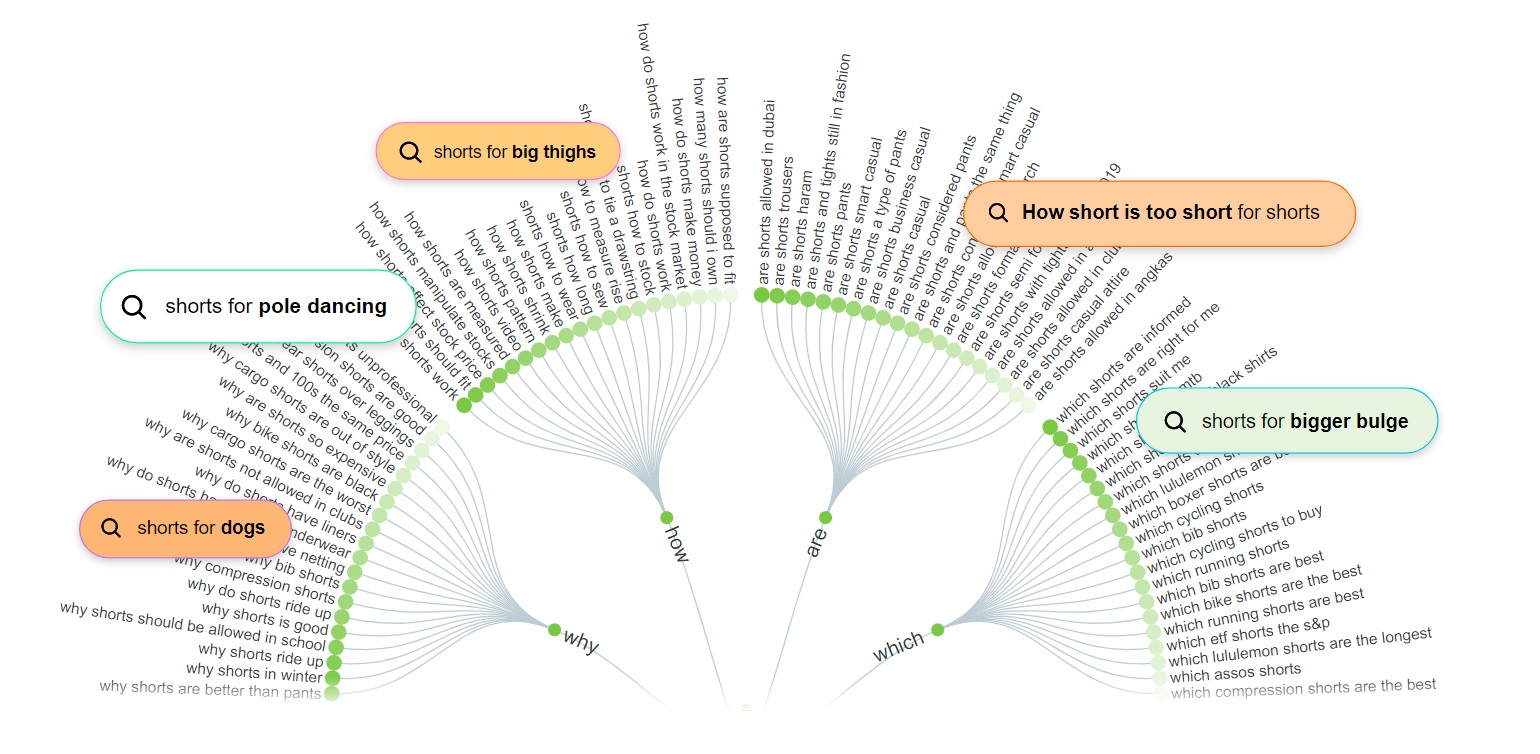 AnswerThePublic is working great to give a crystal-clear picture of most searched terms on Google and what details the viewers are interested in. If you type in even the shortest keyword on this tool, and it will provide you numerous keywords related to your searched term.
You are suggested to first collect the most ideal keywords using the tool, and then find the in-depth keyword states using another reliable keyword research tool.
Pricing: 0 – 399 USD/Month
URL: https://answerthepublic.com/
5 - Google Keyword Planner
Google Keyword Planner has been helping millions of users around the globe as a free keyword research tool. Ever since Google removed the feature that would provide monthly search volume, the tool received a bad rap. However, you can still have a good idea from the range of the average monthly search option. Other than that, the keyword research tool also provides keyword competitions and CPC.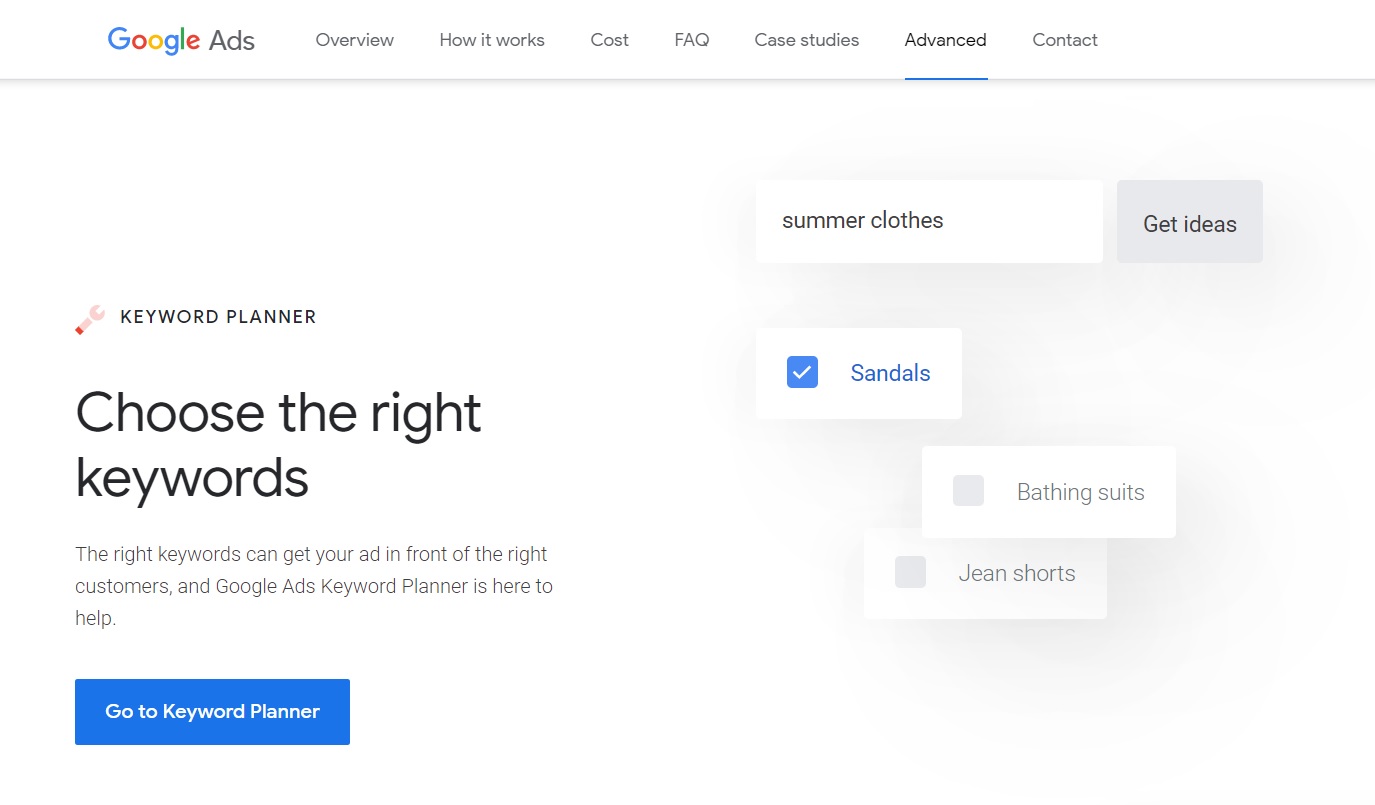 Anyways, if you have to look at the monthly search volume at exact number, running an AdWords campaign will get our job done. Here it will cost you money depending on your required ad campaign.
Pricing: Free
URL: https://ads.google.com/aw/keywordplanner/home
6 - Surfer SEO
Surfer SEO is one of the best keyword research tools that aid in your complete SEO. However, most of the features are available only in paid version. You may avail of the 7-days trial for $1 which can be canceled on a dissatisfactory outcome. When you input your main keyword, the tool gives back-related long-tail keywords, all the search volumes, keyword difficulties, so on.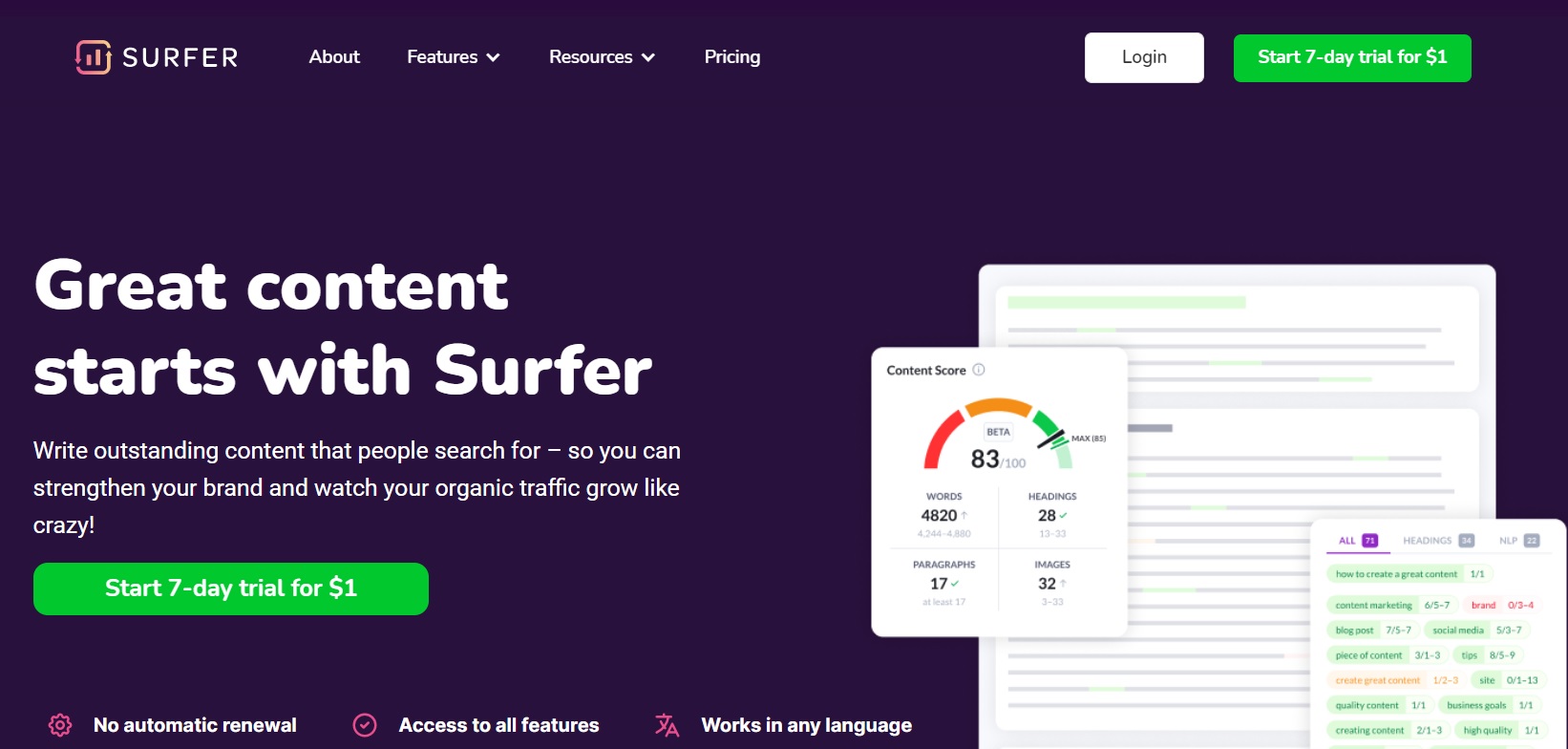 The tool also gives you direct SERP states where you can have a clear idea of which competitor is ranking on the related keywords. In short, Surfer SEO keyword research tool is a complete mechanism for the best search engine optimization.
Pricing: 1 USD For 7 Days Trial
7 - SEMrush
I have been using SEMrush for quite a long time now. It's great to research potential keywords and create content on those topics. It also helped me studying competitors to get a broader idea of how much SEO effort I have to put on a specific topic or content. Keyword search volumes, difficulties, and available PPCs are all crucial aspects of SEO. SEMrush gives you complete states of keyword research work.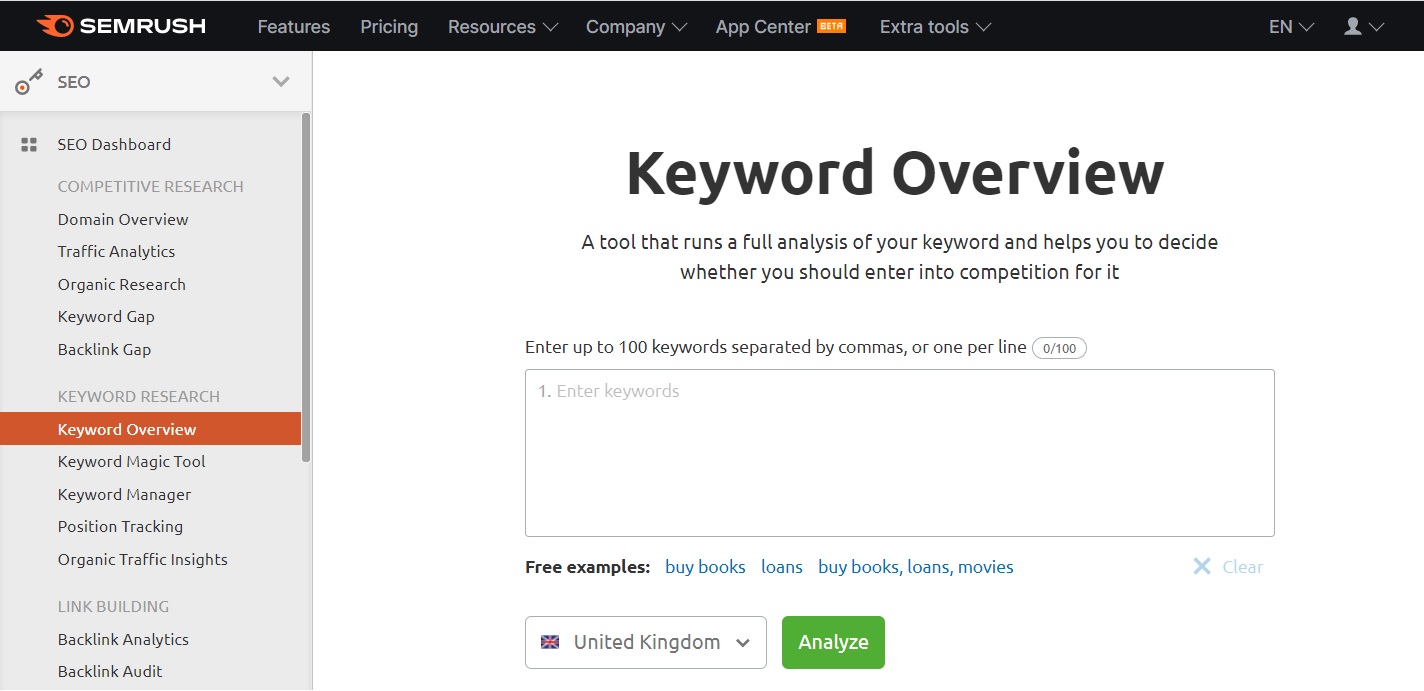 All the actionable keyword insights and data you gain from SEMrush will eventually help boost your SEO practice. While many established professionals are using the best keyword research tool, as a beginner anyone can get along with this handy tool in no time.
Pricing: 1 USD For 7 Days Trial
8 - Ubersuggest
Another free best keyword research tool you can count on is Ubersuggest. Developed by a well-acclaimed blogger Neil Patel, Ubersuggest is packed with all essential features you will need to enhance your SEO. Pro or beginner, everyone needed to look at what their competitors are working on or their advantages. The data you have from the competitor's ranking factor can be a huge factor in your SEO strategy.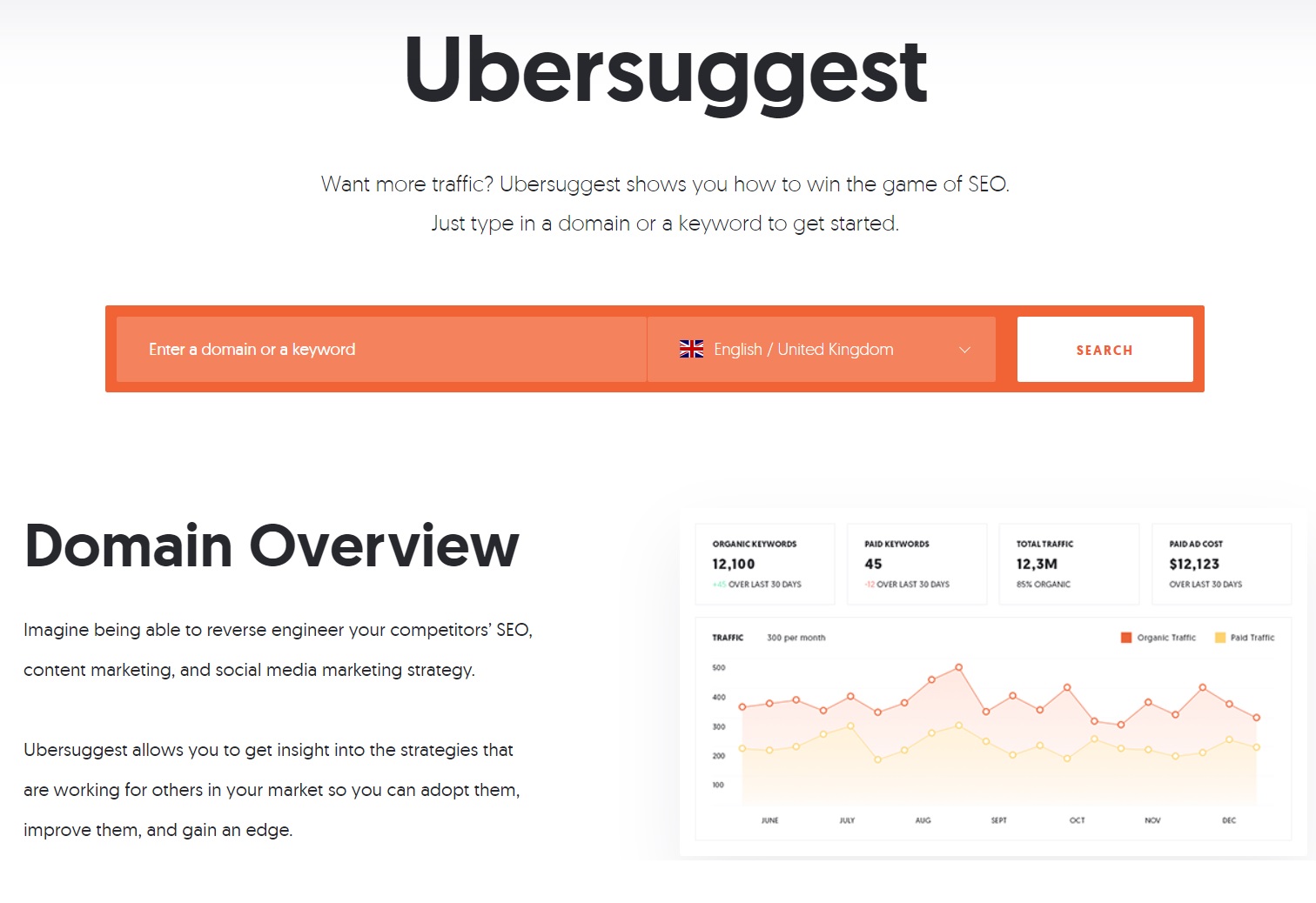 On the other hand, Ubersugest is a simple and easy tool to pick most search volume keywords, related long-tail keywords, with the best CPC, and fewer competitors.
Pricing: 7 Days Trial
URL: https://neilpatel.com/ubersuggest
9 - KWFinder
KWFinder by Mangools is a great tool when it comes to research keywords and well analyzing SERP. You can either use a certain keyword or an entire domain name to find relevant valuable keywords and their search volumes, difficulties, CPC, etc. It is a paid tool but you can get a 10-days free trial to satisfy your requirement before purchasing the complete monthly/yearly package.
You can target a special region for a certain keyword to see their potential in the area. It has a seamless user-interface with powerful features that helps newbies to get along. Veteran webmasters find it a great value of what they pay in return for keyword research work.
Pricing: 10 Days Free Trial
10 - Moz Keyword Explorer
As long as the use-interface is concerned, Moz Keyword Explorer seemed to be a little clunky. Most of the time it showcases similar states in various ways depending on if you are in Keyword List, Keyword Suggestions, or Keyword Overview. However, in terms of keyword research, the tool gives you search volume with 90% accuracy. Also, keyword difficulties and CPCs are calculated in precise detail.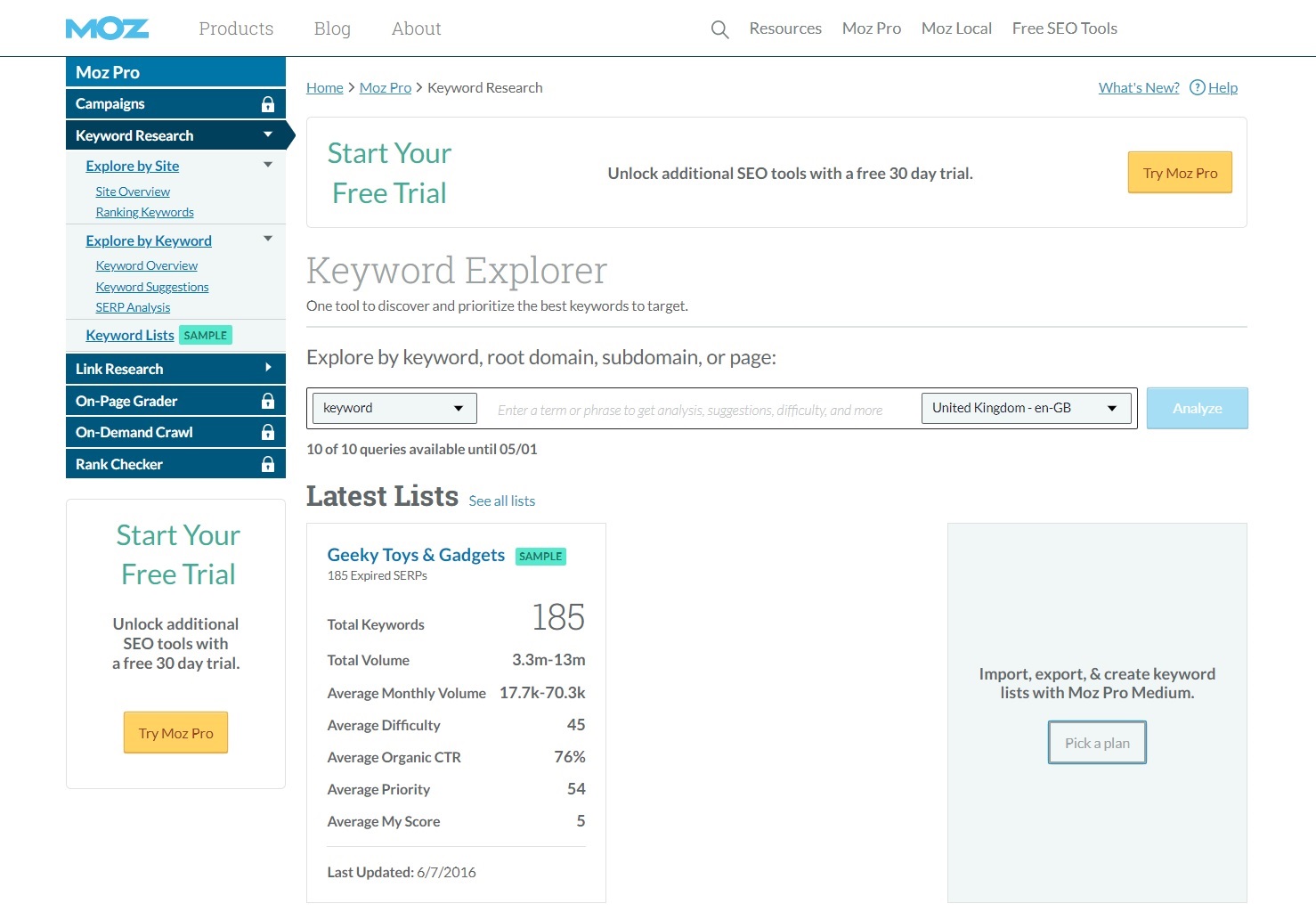 If you are an advanced researcher, the tool may not be satisfactory. For novice or intermediate users, it simply works great. Other than that, Moz Keyword Explorer is a great use for SERP analysis.
Pricing: 30 Days Trial Available
URL: https://analytics.moz.com/pro/keyword-explorer
11 - Ahrefs
Whether it's backlinks, search volume, social shares, or rankings, Ahrefs provides solid data. In its initial days, the tool only deals with link building. Over time, the tool has added enormous features to aid in SEO as well as keyword research. With their accurate search volume, keyword difficulty score, thousands of keyword suggestions, keyword lists, and many more features on hand, Ahrefs has made it one of the most reliable keyword research tools in 2021.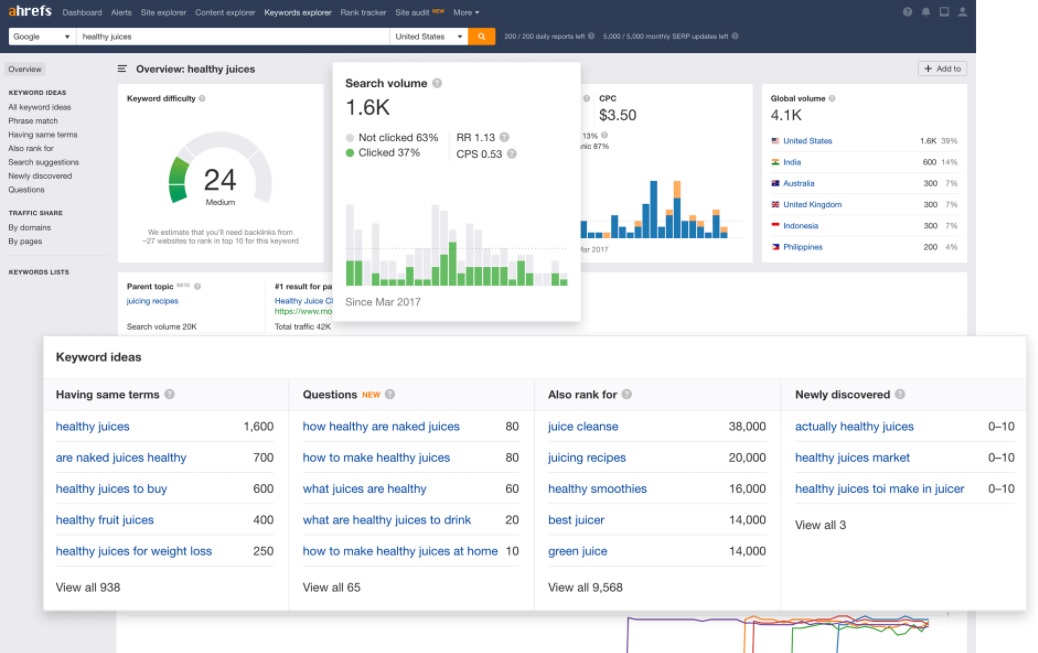 When you avail the paid version, the tool also provides more essential SEO features where you can see the parent topic for your target keywords, estimated number of clicks on your keywords, advanced SEO metrics, SERP overview, etc.
Pricing: 7 USD For 7 Days Trial
URL: https://ahrefs.com/
12 - Majestic
Majestic is one of the very few all-in-one solutions for your SEO and keyword research. The tool has all the potential to boost your search engine ranking. In their initial days, Majestic used to provide only Search Engine Features. Gradually, they have added more features to cover keyword research facilities.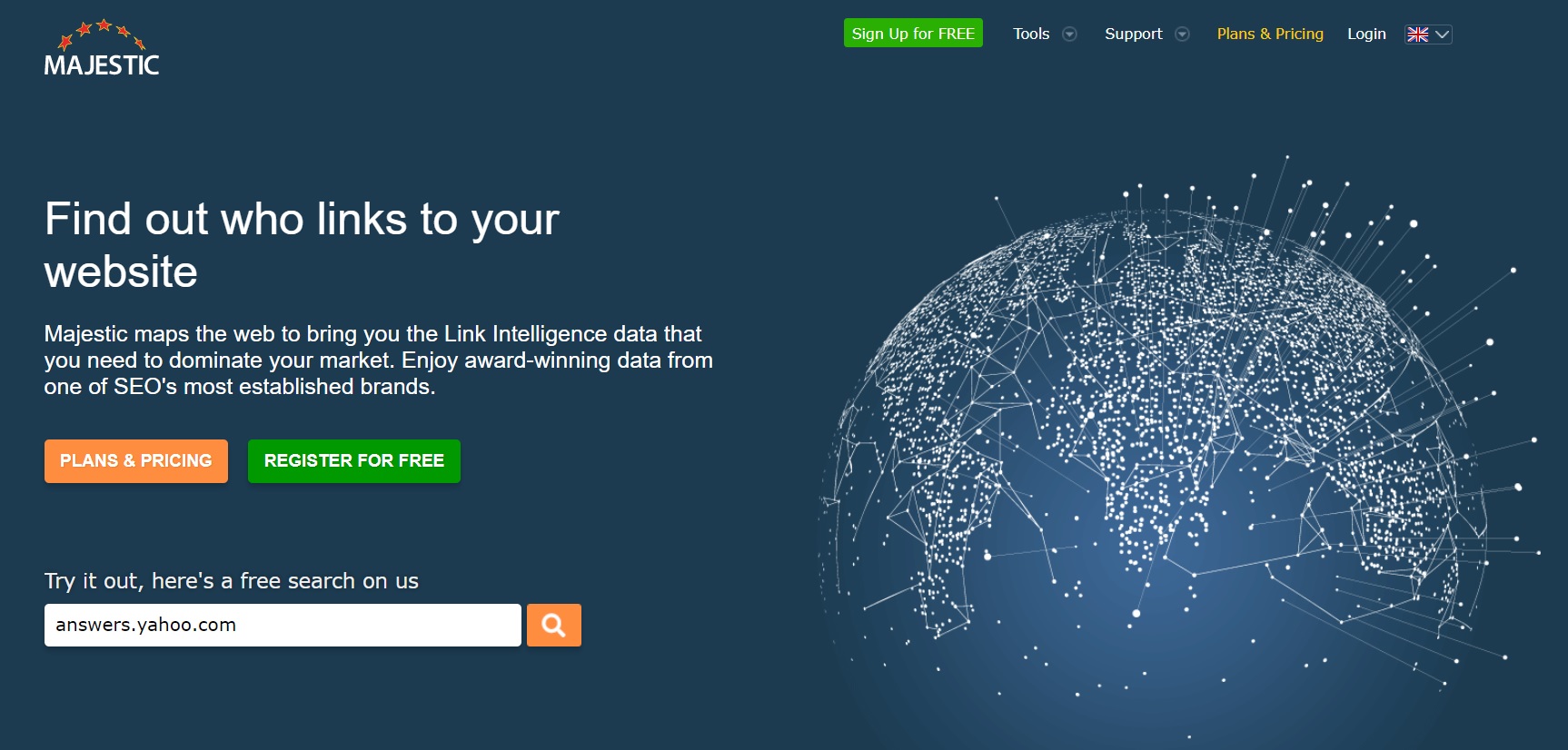 Their keyword research features allow you to either opt to type in a single keyword or a domain name. When you input the main keyword, you will get all the related keywords and their states. Search volume, keyword difficulties are accurately showcased. Entering a certain domain name will give you all the potential keywords the website is holding.
Pricing: 49 to 399 USD/Month
13 - Serpstat
Serpstat comes all-in-one and the best keyword research tool we have today. Starting from Backlink Analysis, Competitors Analysis, Site Audit, Rank Tracker, to Keyword Research, it provides all the features you need for your website SEO.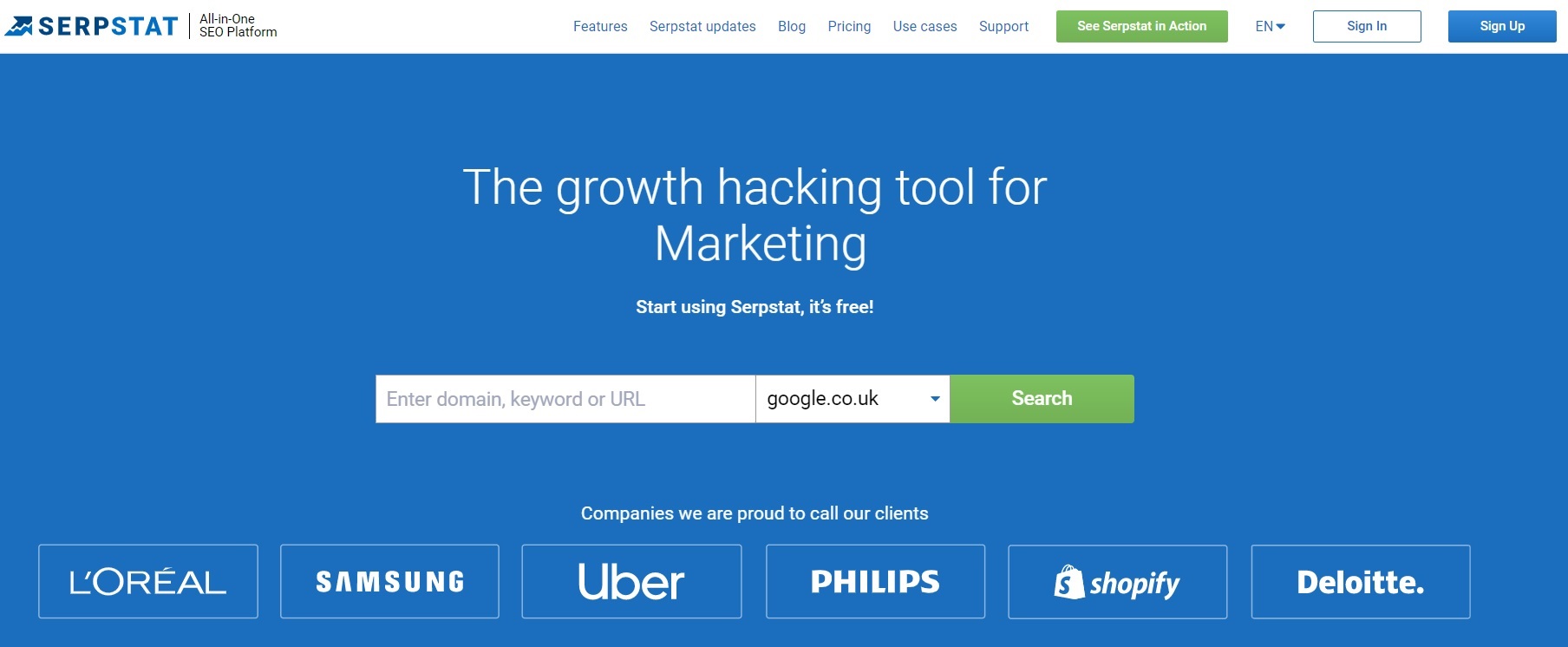 The all-in-one SEO tool manages to give comprehensive search analytics of your requirements. If you are looking for a complete machine for your site growth, Serpstat is the best pick. Using the tool, you can spy on your competitors as-well-as spot your weakness and fix it.
Pricing: 69 to 499 USD
Author Bio.: Ravi Kumar has been writing since 2017. With 6 years in the digital market place, Ravi became co-founder of an SEO company in Delhi. Ravi has worked across a variety of verticals with a focus on digital marketing, e-commerce, b2b and affiliate sites.