Learn how to make an engaging and high-converting lead-scoring quiz
Volume is king where lead generation is concerned, right?
And surely there's no such thing as too many leads?
Actually, neither of those things is true. Research from Ascend2 found that almost three in five mid-size companies see improving lead quality as their top lead gen priority, while only around one in three said the same about increasing the number of leads they generate.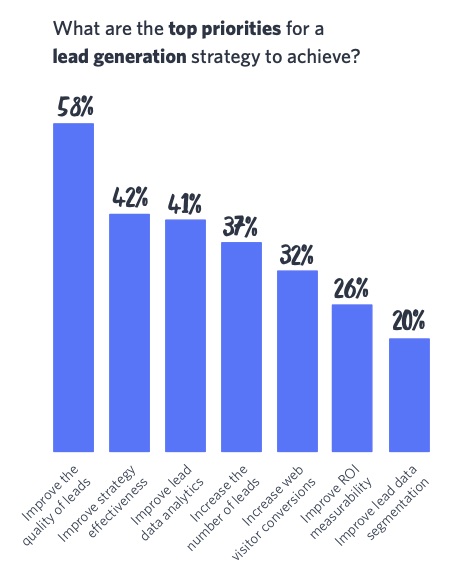 That makes sense. After all, when it comes to lead generation, you don't want your salespeople wasting their valuable time speaking to low-quality leads that were simply never going to convert. The more complicated and lengthy your sales lead time is (such as with enterprise sales or customized services), the more important it is to get quality right for your sales reps.
Which brings us neatly to lead scoring: the process of awarding "points" to each and every lead you generate. Not only does it sort the qualified leads from the tire kickers, but it improves your lead segmentation, allowing you to nurture prospective customers with personalized content that speaks to their goals and pain points.
But lead scoring takes time. Wouldn't it be great if your leads could effectively score themselves?
That's where lead quizzes come in. Some companies are seeing conversion rates of 50% – 80% from adding quizzes to their marketing mix. In this article, we're going to discuss how to use them to level up your lead scoring game whether you're hoping for more paying customers, seeking better B2B leads, or trying to attract trainable new employees.
1. Give Prospects an Incentive to Take Your Quiz
Sure, quizzes are fun. We all love a bit of Jeopardy.
But your prospective customers are busy. They're not going to take your quiz unless you give them a pretty good reason, and if no one completes your quiz, you might as well not have bothered.
That's why it pays to incentivize your quiz. You're getting something out of this (hopefully, a stream of qualified leads), so it makes sense to give away a little something in return.
NOOMA, a small energy drink company based in Cleveland, does this by offering new customers a $10 coupon to use on their first purchase if they complete its quiz.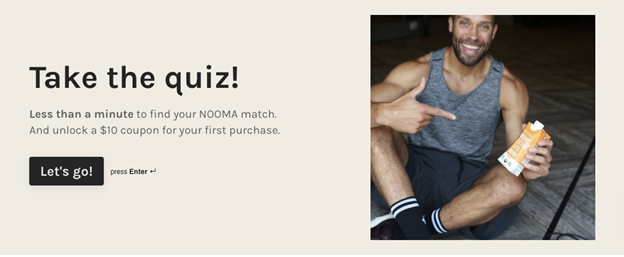 That's a smart approach, because it doesn't just help the company capture and score more leads — it also gives those leads a compelling reason to buy. NOOMA uses the quiz as part of a homepage that converts — an excellent example of fitting a quiz into their larger digital marketing approach.
2. Offer a Tangible Takeaway
However, providing an incentive (like a coupon or discount) isn't enough to persuade people to complete your quiz.
You also need to offer them some sort of tangible takeaway; a "thing" that makes their efforts worthwhile. It could:
Tell them something they didn't know about themselves
Communicate some unique information about a topic that interests them
Help them choose the right products or services for their needs
A tangible takeaway works hand in hand with an incentive to drive quiz completions. The former gives people a reason to take your quiz in the first place, while the latter offers them a "sweetener" that compels them to complete it right now.
Dollar Shave Club does this by promising to build prospective customers a personalized box of products based on the results of its quiz. (If your reward needs more than an image to work, you might consider using a dynamic QR code generator that prompts the survey taker to act.)
Here's Dollar Shave Club's customized box offer: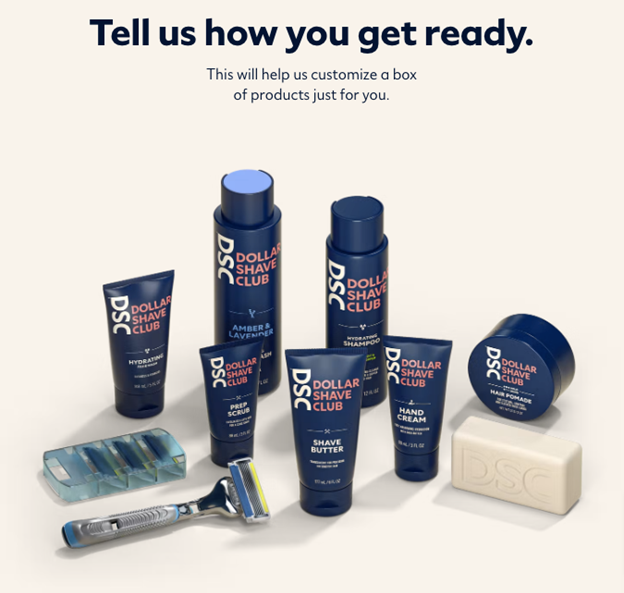 That's kind of like having your own personal shopper. But rather than paying for the privilege, you get the VIP service simply by answering a few quick questions.
3. Show People How Long the Quiz Will Take
In the WordPress Quiz plugin you will be able to set timer for the quiz and only during the given time the quiz takers will have the ability to pass it. Otherwise they will fail.
On the subject of "quick questions," never forget that time is a precious commodity.
Which goes some way toward explaining why lead form completion rates drop off when a form contains four or more fields.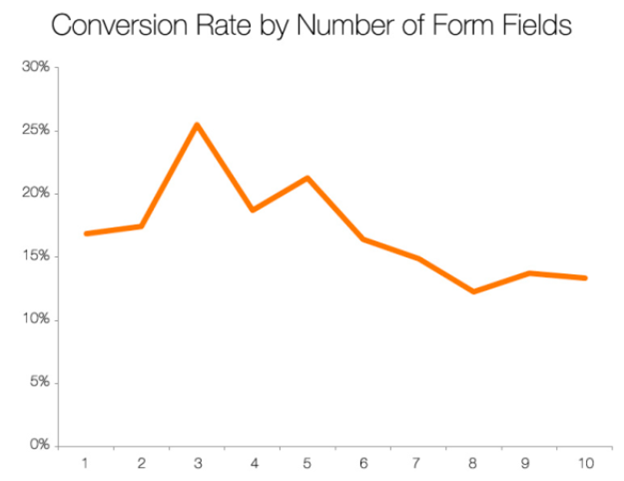 What does this tell us?
That you've got a better chance of driving a high level of quiz submissions if you give people some idea of how long it'll take to complete.
One approach is to simply explain quiz timings in the copy at the start of your quiz, or in calls-to-action that link to the quiz landing page. For instance:
Take our two-minute quiz to learn [tangible takeaway]
Answer six questions about your [pain point or product niche] needs and we'll recommend the perfect products
Find your [product niche] match and receive a $10 coupon in less than a minute
Additionally, include a progress bar in your lead scoring quiz. We've seen this in many quiz funnel examples – here is one to see how Murad does it here:

That way, prospective customers can see how close they are to completing the quiz. As long as you haven't included too many steps, that gives them a visual prompt to finish what they started.
4. Add a Second 'Hook' In the First Three Questions
Speaking of finishing what you started, have you ever heard of the fallacy of sunk costs?
It describes the innate desire of our foolish human brains to complete a task once we've started it — regardless of whether the time we've already spent on it is greater than the benefits we expect to receive.
We can see a graphic representation of this phenomenon in the world of sales. Presentation statistics show us that four-fifths of readers who make it through the first three slides of a sales deck go on to consume the full deck.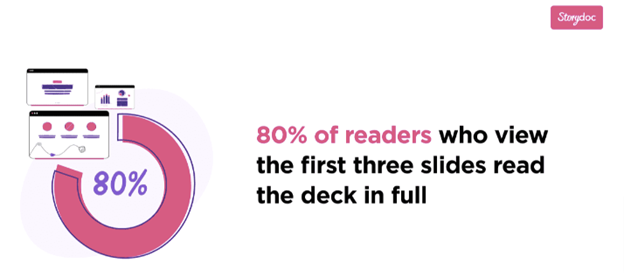 Why? Because they've already started, so their brain compels them to carry on.
Quizzes are no different. If you can persuade people to complete the first 2 – 3 questions, there's a good chance they finish your quiz in full.
To see how that works in practice, let's take another look at NOOMA here.
Its quiz isn't just a bunch of repetitive questions about the types of products you might like to purchase.. By "slide" three, NOOMA mixes it up by slipping in a general knowledge question: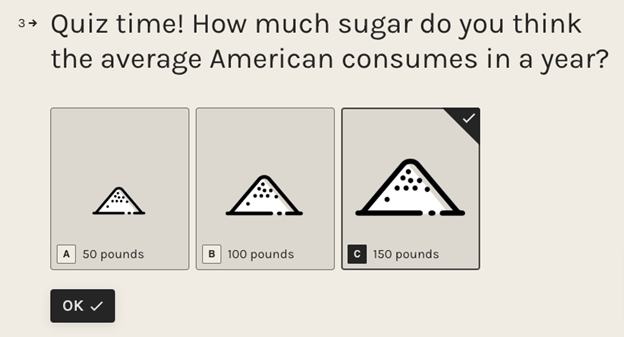 Not only does it keep the quiz feeling fresh and interesting, but it also tells you that by completing the remaining questions, you're not just going to receive a bunch of product recommendations or a discount code — you're going to learn something.
5. Include Compelling Visual Elements
It's easy to think of quizzes as just a bunch of text-based questions.
In reality, the best examples combine quiz questions with engaging visual elements that bring the content to life.
Done well, imagery acts as another hook that compels people to take, and complete, your interactive quiz. It's not about making your quiz look fancy — it's about generating better results. Indeed, Riddle found that quizzes containing images generate 56% more completions than text-only quizzes.
To be clear, "engaging visual elements" and "stock images" definitely aren't the same thing. Don't expect to turbocharge your quiz completions by simply copying and pasting a bunch of photos you found on Pixabay.
Instead, use high-quality images or illustrations that add another dimension to your quiz questions.
Function of Beauty gets it right by using visual representations of the hair types in its hair profile quiz, adding context to the written descriptions and making it easier for would-be customers to choose the option that most closely matches their own hair: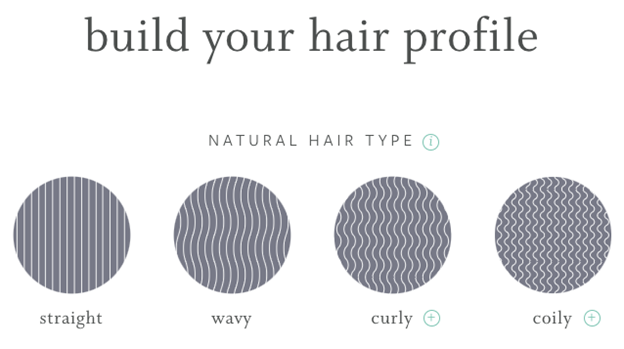 But what if your existing imagery is lacking a little wow factor?
In that case, consider using an online photo editor and an AI image enhancer tool to edit your visuals and ensure they truly stand out on the page.
6. Capture Names & Email Addresses
All your work crafting a compelling, engaging lead scoring quiz won't count for much if you don't get anything back from the people who complete it. And this is true whether you're a consumer marketer or a B2B marketer using lead scoring as a strategy.
That's why you need to add a lead capture form to the final page of your quiz.
One simple way to do that is to tell participants that you'll share the quiz results — or a discount code, coupon, or some other incentive — via email.
Marketing consultant Brittany Berger took a slightly different approach, using the end of her quiz to compel people to sign up for her mailing list and receive personalized content based on their results: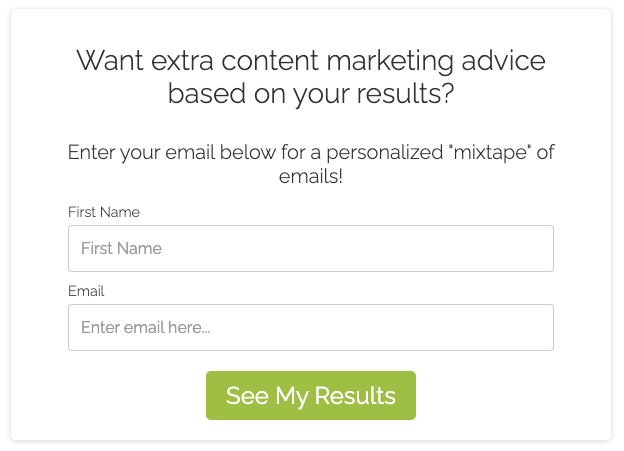 7. Use Quiz Results to Build Customer Segments
The last step in using quizzes for lead scoring is to turn your lead data into meaningful customer segments.
There are any number of ways to cut and slice your lead data. For instance, you might segment leads based on:
The products or services that most closely match their needs
Demographic information, such as their job title, company size, budget, or location
The date by which they need a solution to their "problem"
That way, once you pass all that juicy data to your sales reps or plug it into your CRM, you can be sure that you're only focusing on high-scoring leads, and are nurturing them in the most effective way.
To give a basic example, EnChroma — which sells glasses designed to alleviate symptoms of color blindness — offers a quiz in the form of a color-blindness test: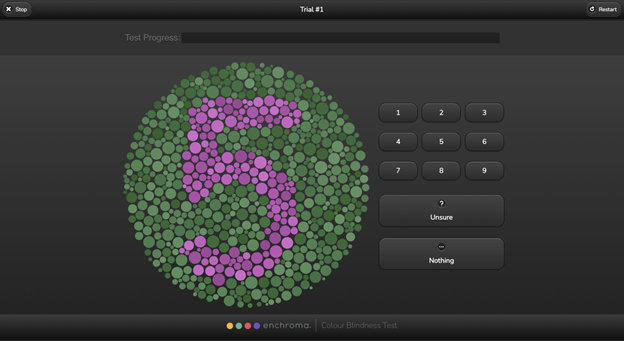 It stands to reason that if a lead takes the quiz and learns that they have symptoms of color blindness, they'd be a perfect match for EnChroma's products. That makes them an extremely "warm" customer segment.
Make sure your quiz includes a data capture element like this that is so directly tied to the profile of your ideal customer that once you find them, they can't resist taking the survey and sharing their details with you.
Finally, having segmented your customers, you can reach out to them with personalized marketing emails or sales pitches to drive conversions. Doing this will incentivize them to fill out the form and schedule a demo or book an appointment.
Now that you've seen all that quizzes can do for your lead program, why not look into some of the best quiz software options on the market? Find one that's closest to your needs and take it from there!
Conclusion
While the style and content of a lead scoring quiz will vary from one brand to another, there are a few common elements that separate the best examples from the also-rans:
They offer some sort of meaningful value to the prospect.
They incorporate a data capture element that gives quiz-takers a compelling reason to hand over their name and email address.
They have a clear purpose, whether that's to offer personalized recommendations to different product segments, or identify the leads who are most likely to buy.
Get those elements right and you've got the ingredients for a highly effective lead scoring quiz.