We will get straight to the point. Cold Calling is still 5 to 10 more effective than email campaigns. And that's the fact!
Moreover, organizations that do not include cold calling in their sales process grow at a 42 percent lower rate. According to another research, 82 percent of buyers agree to meet with sales representatives who contact them via cold calls.
The statistics presented above demonstrate that cold calls are effective. But what exactly does cold calling mean?
How Do You Explain Cold Calling?
Cold calling is when a sales professional contacts people who have previously demonstrated no interest in the items or services that the rep's company sells. Cold calling is your first telephone conversation with a prospect. But it doesn't mean your prospects are unaware of your product or of you.
They may be familiar with your brand, or you may have had a formal dialogue with them through other channels. However, your cold call would be the first call, where you learn about the prospect's business and try to offer a solution.
Many salespeople agree that cold calling is one of the most difficult outbound prospecting techniques.
It takes time and is fraught with rejection. And, if you get the correct lead, you'll only have a few minutes to effectively communicate the value of your alternative to them.
As a result, we developed a list of over 7 cold calling script templates to assist you and your team in being as productive as possible while cold calling.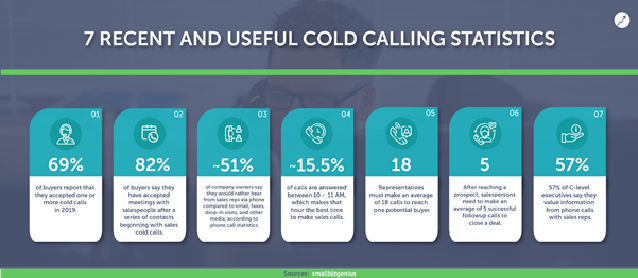 Openers to Begin Meaningful Conversations with Prospects
Nobody is waiting for a sales call to be persuaded of some great idea. When you make that unexpected call, your prospects can be preoccupied with a million other things. So if you don't grab their attention and engage them enough at the start of your call, they'll hang up and go about their business. Here's a great cold calling opener to get your prospect's attention.
Use An Event To Trigger The Conversation
Hello, this is Mike from Sky Securities.
I noticed you attended a webinar on Digital Security Solutions last Wednesday; is this a worry for you?
Because the webinar demonstrated how the surge in financial cybercrime poses a significant threat to organizations like yours, and major players like ANV are already investing millions of dollars in developing sophisticated security systems.
But wouldn't that much investment be difficult for a small business like yours?
(Pause to await the prospect's reaction.)
"Yeah, a number of our clients had the same issue." I'm interested. Would it be okay if I looked into the situation more to see where we could help you?"
"Great! Tell me, Mike..."
Now, start asking quality questions to generate interest.
Script For a Sales Software Company
Hello, [prospect].
My name is [rep], and I'm with [Company Name]. How are things going for you today?
Do you manage your company's corporate communications or phone systems?
I'm reaching out today because we'd like to set aside some time next week to discuss [short company introduction] [offers] for your organization. [Company Name] has been recognized as a leader [awards or honors].
[Short Product/Feature Description] On your desktop, mobile, and tablet, you may provide a single location for your staff to communicate with one another, clients, and suppliers. It all comes down to teamwork, increasing productivity, improving customer service, and assisting people in working smarter.
When is a good time for you to talk about how we can help you move forward with our cloud/solution?
Cold Calling Script To Jump Right In The Game
You can find the ideal conversation starter on the website of a potential customer. You can use it to assess the demands and services offered by the business. You can even tailor your offer if you can identify problems that your product can solve. For instance, use this script to easily close a deal with a potential customer.
Before Calling, Do Some Research
Hello, Mary! I found your company's website and was really pleased with its layout. However, I also noted that you don't use any electronic signature software. Is there a reason for this?
Mary: It's true that many of the instruments on the market are above our financial means, but I don't think it matters much.
You: I realize. What if I told you that there was a less expensive choice that was becoming more and more crucial?
Mary: Alright, go ahead and elaborate.
You: XYZ provides both free and premium versions of their e-signing software. Do you and your clients always prefer to sign documents by hand?
Mary: I favor manually signing paperwork. However, I do have a number of clients who primarily use e-signatures.
You: I understand. Wouldn't having both alternatives be preferable to having just one? By doing so, you can make sure that both you and your clients have the freedom to select your preferences. Particularly given that we do offer free trials and that the prices for the paid version are flexible.
Mary: That's accurate. However, before I make a choice, I'd like to learn more about your goods.
You: Sure, how about we schedule a meeting for tomorrow at 4:00?
Mary: It does work.
You: Great, I will add you to my Taggg schedule calendar and will share it with you. Talk to you then; bye, Take Care.
Scripts To Make Them Choose Their Own Adventure
Jessica Magoch, CEO of JPM Partners, takes a "choose your own adventure" approach rather than assuming which profile her prospects fit into.
Provide Your Potential Client With Multiple Options
Hello, my name is Jess. I am from the Virtual Sales Academy. How are you doing?
We're developing some solutions to assist you in recruiting and training a new generation of salespeople. Would you like to learn more about that?
(If 'yes.')
Companies can collaborate with us in two ways. We may either assist them in finding salespeople for a percentage of the base wage, or we can assist them in training new salespeople with our online, on-demand, virtual sales training programs that educate them on how to convert prospects from interested to clients. Which one do you want to know the most about?
(They select either one or the other.)
Awesome. Can I first ask you a few questions?
(I pose qualifying questions to them, so I know what to present.)
I'll give you a little bit more, and then, if it makes sense, we'll schedule a meeting before we finish our call today to go through it in further detail. Does that make sense?
From there, I tell them just enough about the program to get them to consent to an appointment, and then I move into my appointment establishing script.
This is clever because it gets the prospect to say "micro-yes" early in the conversation. Prospects will invest in you and the message you have to deliver if you give them a choice.
Scripts To Get In Touch With The Decision Maker
In many circumstances, you will not be able to speak directly with the decision-maker. You must confront the manager or the assistant. In such instances, you can form a bond with that person and persuade him to assist you in closing the sale.
For example, suppose you're attempting to sell an HR suite to a company. The HR manager is the first person you see, but he is not the decision-maker. The CEO will make the final decision on whether or not to purchase your goods. This is how the dialogue may progress.
Keep This Cold Calling Simple & Short Just Like The Script Below
You: Hello, may I speak with Mr. Wayne?
Manager: My name is Ross. I'm the human resources manager at ABC. May I inquire as to your relationship with Mr. Wayne?
You: Mr. Wayne is seeking an HR suite for his company and has inquired about our solution. You've probably heard of our ACB HR platform.
Oh, yes. Manager: That was mentioned earlier today by Mr. Wayne. I'll also be putting the platform through its paces with Mr. Wayne.
You: That's fantastic. I can set up two independent demos for both of you so that you can better grasp the product and formulate your own set of questions. Does that sound right?
Manager: That is ideal. Let me put you in touch with Mr. Wayne.
When you contact the decision-maker, he will have a compelling reason to participate because his teammate is already involved. Here is another script for you.
Get To The Decision Maker
Hello (name of gatekeeper),
I'm (your name), and I was hoping to request a favor from you. I'm seeking (Prospect's or Decision Maker's name) who is in charge of the X department.
Could you please tell me how I can make that happen?
Remember to inquire about the gatekeeper's name first if you don't already know it.
Cold Calling Scripts For Selling SaaS
The benefits of virtual phone systems are propelling the SaaS sector forward.
VoIP has altered both the nomenclature and appearance of corporate communication.
We've investigated and recorded the sales calling scripts that SaaS and SaaS marketing companies use.
Script For Increasing Sales
Hello, this is [your name] with [your company]. My name is [prospect's name]. How are things going for you today?
I realize you probably get a lot of calls, so I'll keep this brief, [prospect's name].
In [your company], we assist businesses in [stating the problem or contentious topic you address, such as lowering costs, increasing revenues, saving time, making things simpler, etc.]. By [how you handle the problem] making it [benefits for the client], we do this.
Would you be okay with the concept of just seeing how this works, [prospect's name]?
Who else participates in the decision-making process for something like this, a great short question?
And what do they often do in circumstances like this? Do you think it makes sense for them to comprehend this as well?
How will you assess whether we fit well?
Ah, [prospect's name] is great. It seems like a fit that could work. How does [day] at [time] your time appear on your calendar?
Bottom Line
Cold calling has changed significantly and will keep changing. The ideal script for cold calling doesn't exist. You must constantly assess what works for your sector, or more specifically, for your firm.
They are your prospects, and it is ultimately your call. Use these scripts as a foundation to create your own. Once your script is complete, practice it a dozen times to identify any areas where it sounds a little odd and makes the necessary adjustments. Finally, keep testing and improving your script in the actual world for the best outcomes.