Wix and Shopify are renowned for being two of the most powerful giants in the eCommerce industry. Though they are both hosted platforms, Shopify is considered to surpass Wix in some ways.
Wix is suitable for small businesses or brand-conscious entrepreneurs but when you need a more functional and spacious website, Shopify seems to be better in the long term. That's why many merchants who own a web store built with Wix tend to migrate to Shopify. This means it's high time to move from Wix to Shopify.
Before diving right into how to migrate from Wix to Shopify with a shopping cart migration expert, let's check some basic information about Shopify and Wix and find out how Shopify beats Wix in the eCommerce platform battle.
1. Wix and Shopify Overview
1.1. What is Wix?
Wix is known as a website builder for people who want to build content-based websites. Wix recently stepped up its game in eCommerce shop builders, introducing a lot of new apps and integrations. Wix is well-suited for freelancers and low-volume sellers.
Wix offers a drag-and-drop interface and a large library of free and dazzling templates, making it a great option for individuals looking to create a general-purpose website.
1.2. What is Shopify?
Shopify, a SaaS (software-as-a-service) eCommerce solution, is superb for the development of small-to-large full-featured online stores. It is favored by drop shippers and entrepreneurs. At present, there are 1,641,733 live stores running on Shopify.
In addition, individuals and small businesses wishing to sell online will find Shopify a terrific solution. And if you're a large company with a higher volume in sales, you might prefer a more personalized experience - Shopify Plus. You can take a look at the comparison between Shopify and Shopify Plus to choose which is more suitable for your business.
Let's discover why Wix users lean towards moving to Shopify!
2. Main advantages of Shopify over Wix
2.1. Robust POS service
POS, which stands for point of sale, is a place where customers execute the payment for goods or services in person or online.
Shopify POS can meet small-business owners' demands with robust features such as customizing your app's interface, checking out customers on the go, offering discounts, and delivering digital receipts. You can add and categorize as many as products you want, check inventory, and sync orders across retail locations, online stores, and other sales channels. Also, Shopify POS can help you make email and social media marketing campaigns illuminate, develop a customer loyalty program, and generate data from online and in-person sales.
Shopify eliminates other POS rivals thanks to its additional functionality, optional extra hardware, and wider availability.
2.2. Powerful functionality
Wix has some decent eCommerce options, but they are not nearly as good as Shopify's since Shopify focuses entirely on eCommerce and provides more advanced eCommerce capabilities.
Payment gateways
A payment gateway is a software that allows your website to take payments. Shopify dominates Wix as Shopify has its own payment gateways - Shopify Payments. Shopify doesn't charge you any transaction fees and supports more than 100 payment methods.
Selling in multiple currencies
If you're selling globally, it had better let your potential customers choose their own currency. In a better way, you can present your products in your site visitors' currency automatically.
Shopify supports full multi-currency transactions. Despite the fact that Wix lets you display prices in a variety of currencies via a currency converter drop-down menu, store visitors are still unable to check out in their own currency. And one of the major arguments for utilizing Shopify instead of Wix is the lack of comprehensive multi-currency support.
Inventory management
When it comes to inventory, Shopify is all you expect. You can quickly upload single or numerous products, manage your inventory, generate revenue reports, and find your way around the site.
Shipping options
From free shipping to coordinating with alternate shipping suppliers, Shopify is there for you at every stage of the difficult shipping cycle. You can configure your shipping charges (free shipping, flat rate, depending on region, etc).
2.3. Ideal loading speed
A site with a loading speed of fewer than 3 seconds is regarded as ideal for not being abandoned. There is no doubt that the longer you wait for your website to load, the more clients you'll lose to a competitor's site that is faster.
A Shopify website loads its essential details and becomes interactive in 1.3 seconds. Shopify also has the shortest load time compared to other eCommerce platforms, including Wix (3.2s).
Obviously, load time plays a vital role in determining the success of a website, especially eCommerce.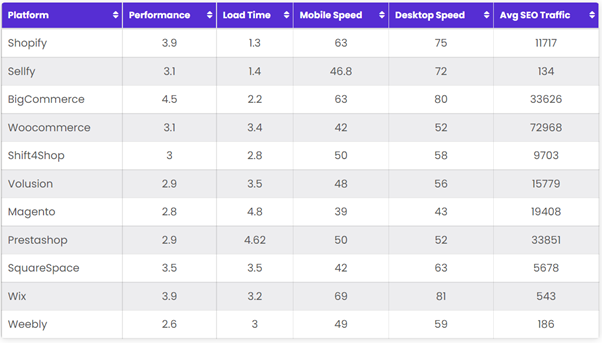 3. Migrate from Wix to Shopify - Step-by-Step Guide

You can cope with the task on your own in case you have basic technical knowledge and know unique characteristics of each platform. However, you can avoid making several mistakes that could jeopardize the security and performance of your website by using an automated migration service.

LitExtension - #1 shopping cart migration expert has already performed 160,000+ migrations around the world. They flexibly support a huge ecosystem of 120+ eCommerce platforms with the accuracy and consistency of data over the process. Besides, LitExtension supplies you with additional options such as Preserve Order IDs, Customer IDs on Target Store; Create 301 Redirects on Target Store; Migrate Customers Password, SEO URLs, etc.

So, just take a look at the detailed guide on how to move your Wix-based store to Shopify.

Pre-migration

The first step in preparing for a migration is to back up your data. This stage can be completed manually or automatically by third parties. However, when using the LitExtension tool, you don't need to back up all of the data since they will not interfere with data on your Source Store. LitExtension will transfer data only.

When you run Wix to Shopify migration, having a Shopify store is a must. Looking for a quick and easy guide to set up a Shopify store? Check out the video below :
It's unnecessary to purchase one of the Shopify paid plans immediately, you can migrate while exploiting the 14-day free trial.

After finishing laying the groundwork for re-platforming, you are set to start off!

During the migration process

Step 1: Set up Source cart and Target cart

First of all, sign in on the LitExtension website with Facebook/Google or if you are new to this site, you have to sign up to start the migration process.

Then click the "Create New Migration" button at the top right of the screen. At this stage, choose Wix as your Source cart and fill in these information: URL, Admin email, and Admin password.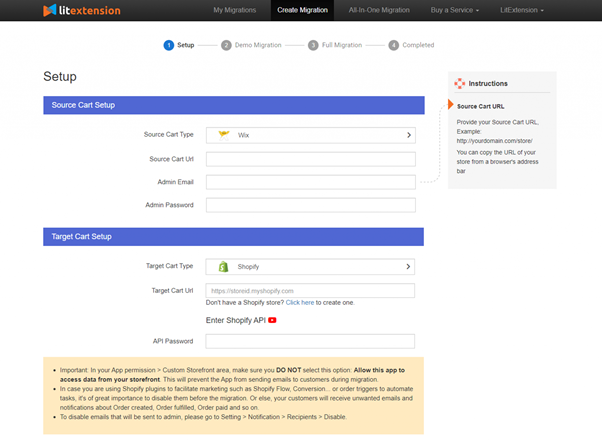 About Target cart, select Shopify and fill in the blanks with your store URL and API password. If you don't know how to acquire an API password from your Shopify store, watch this video for details.

After that, click Next: Configure your Migration to go on the migration process.

Step 2: Select data you want to migrate

In this step, you can tick the entities you intend to switch from Wix to Shopify such as customers, orders, products, product categories, etc.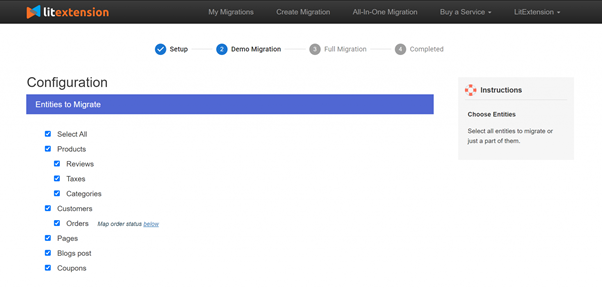 Besides, LitExtension provides Additional Options for you to extend your data import functionality. For instance, Create 301 Redirects on your Target Store enable you to redirect your previous products and categories URLs from Source Store to Target Store, and Migrate categories and products SEO URLs allows you to migrate Products and Categories URLs from your Source Store to the Target Store which help keep the SEO ranking you have built up for years.

Finally, you can try a demo first or perform an immediate Wix to Shopify migration. We can run the FREE DEMO migration first to observe how LitExtension handles the migration process. Remember that this sample only works with a small number of entities, but the technique is the same as the full migration.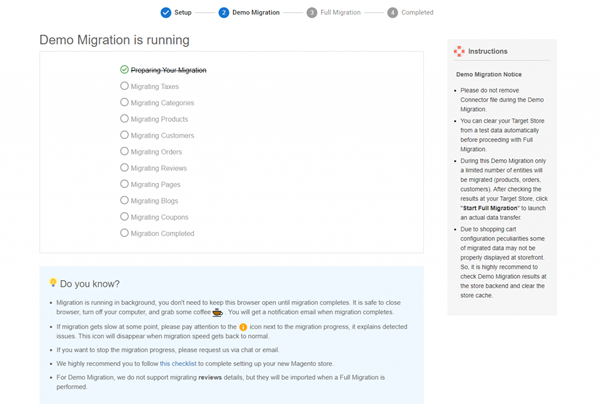 Step 3: Perform Full Migration

Let's start the migration from Wix to Shopify. Once the migration process is kicked off, it will constantly run even when you turn off your browser.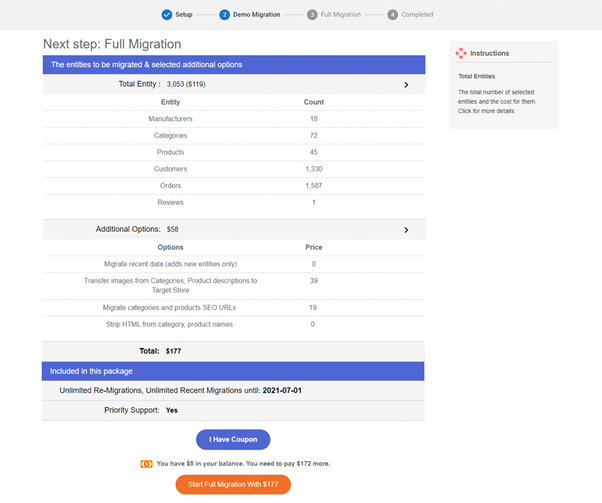 Post-migration
Here click "Check result" then you can double-check all of your data in both the backend and frontend.
After you've completed the Wix to Shopify conversion with LitExtension, you should focus on customizing your store. The following is a list of all the tasks that must be completed:
Choose a theme for your new Shopify store
Set up your shipping and payment methods
Run recent data migration
Change DNS and switch domain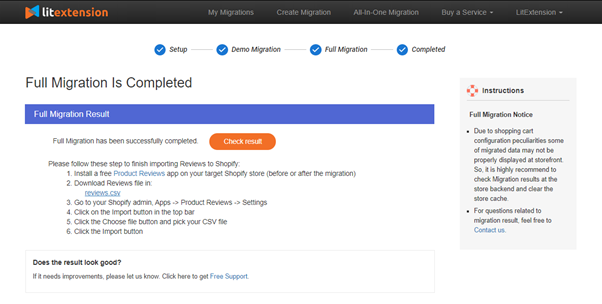 4. FAQs

1. Is it possible to transfer from Wix to Shopify?
It is possible to re-platform from Wix to Shopify. You can handle the process either manually or by using the assistance of the #1 automated shopping cart migration service - LitExtension.

2. Is Wix faster or Shopify?
No, Shopify is faster than Wix when it comes to loading speed.

3. Is Shopify good for small businesses?
Shopify is an ideal platform for small enterprises because it is easy to get started, provides you with the robust features you need such as managing products, inventory, shipping, etc.


Conclusion

Choosing a feature-rich platform is critical when creating a huge full-fledged online store with hundreds of products and many functions. Both Wix and Shopify are two well-known platforms for creating an online store.

However, if you already own Wix and want to move to the next level, switching to Shopify is a cost-effective choice that will pay off in the long run because Shopify is a specialist eCommerce platform designed for the creation of massive online hypermarkets.

Hope that the guide helps you to move to a more suitable and powerful platform in an effortless way. If you are looking forward to maximizing your store's profit, don't forget to check out these helpful actionable tactics. Happy selling!