It's not always easy to know how to use social media for your business.
After all, it takes more than growing your following or posting randomly to drive engagement and ultimately convert your passive social media audiences into paying and loyal customers.
You need to be strategic, explore the right avenues, and uncover bright ideas to ensure social media success.
You'll be better equipped to make the most of social media platforms for your customer relationship-building, marketing, and audience engagement efforts.
While there are many ways to leverage social media platforms to amplify your Business-to-Business (B2B) marketing efforts, jumpstart your initiatives with these five tips.
1. Share valuable TikTok content to connect with viewers
TikTok is an excellent platform for engaging audiences. Plus, TikTok's algorithm makes it great for boosting your reach organically, especially when your posts go viral.
Leverage TikTok for your B2B business with the following tips.
Post content on TikTok that help you build authentic connections with your audiences. Share original, simple content that provides value to your followers in fun, engaging, and relatable ways. It can help you connect with potential clients better.


Create shared experiences with your audiences and build emotional connections by encouraging User-Generated Content (UGC). For instance, you can post TikTok videos enticing your followers to share their experiences with your mobile app.
When used strategically, UGC can one of the best ways to promote your mobile app, software, and other products while encouraging constant interactions between your followers and brand for higher engagement.
Educate your audience on how to use your product. Post educational yet entertaining TikTok videos that serve as product guides for your current and potential customers.
For instance, you can share TikTok videos showcasing your product's functionalities and feature releases and share quick product demos.
Use advanced Social Media Marketing (SMM) platforms to streamline creating, managing, and posting TikTok content for your B2B marketing efforts.
For instance, Vista Social offers post scheduling, content management, engagement tracking, and analytics and reporting features.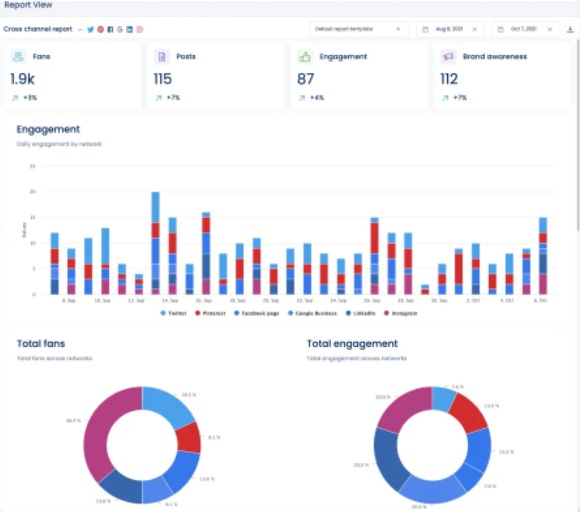 You can simplify and streamline your SMM initiatives on TikTok and other social media platforms.
Besides robust TikTok marketing tools, Vista Social offers other useful SMM features.
You can schedule your content in bulk to make auto-publishing multiple posts in one go quick and easy. You can also capture mentions of your brand across your network via a social listening functionality.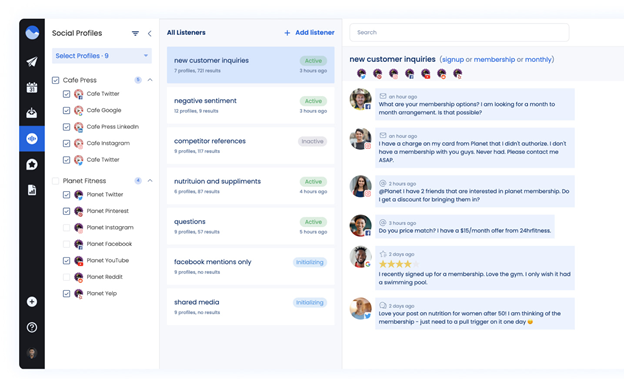 2. Post captivating visuals to engage Instagram users
Instagram is a visual-based platform, making it an excellent channel to engage your audiences through stunning images, videos, and other visual content.
Post Instagram Stories and Reels that entertain, educate, and inform your social media audiences.
Include high-quality photos or videos and funny memes, GIFs, and other compelling visual content to help draw more eyeballs to your content, brand, products, and services.
Gather your client's comments and responses using reliable user feedback software and include eye-catchy, on-brand visual elements. Then, share the visual content on your Instagram feed, Reels, or Stories.
For instance, post client success stories and feedback that share positive customer experiences with your brand in your Stories.
The customer testimonial for Slack is a classic example.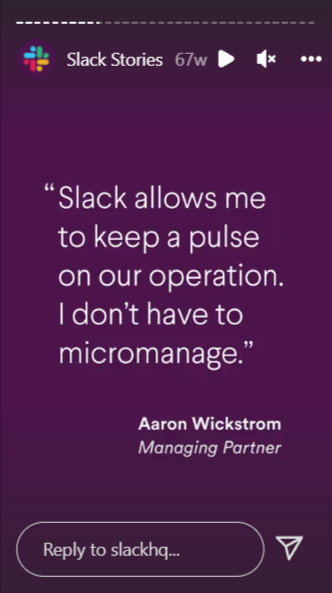 Sharing visually appealing client success stories and testimonials via IG Reels and Stories is an excellent way to capture your audience's attention and share social proof.
It can help you draw more attention to your content and brand, build trust with your potential clients, drive engagement, and increase sales on Instagram.
3. Promote your company on LinkedIn
Promoting your company on social media can be tricky since you don't want to be overly promotional.
After all, aggressively selling or promoting on channels where people come mainly to be entertained or learn new information and ideas can turn off your prospects. It can ruin your chances of engaging them.
You're better off building connections and fostering trust while presenting your brand as an excellent solution to your social media audiences' problems to drive engagement and sales.
The solution? Run employee advocacy programs on LinkedIn.
Through employee advocacy programs, your employees can serve as in-house brand ambassadors who help raise awareness about your company and boost and grow your brand on LinkedIn.
Develop an effective employee advocacy program on LinkedIn with these quick tips.
Ensure employees involved in your advocacy program regularly update their profiles to show they are associated with your company.
It can help draw more people to your LinkedIn company profile and help show your business as a company consisting of real people—humanizing your brand.
Provide templates for your employees to simplify creating content and keep everything consistent and on-brand.
Train your employees on how to talk about your company to help optimize your efforts and drive meaningful results.
You can also get insights from data collected by handy Artificial Intelligence or AI customer service software to determine the best way to frame your messaging without being overly promotional.
Show your employees' projects, work, and achievements. It's a great way to display the quality service your prospects can get working with your company while showcasing your employees' excellent attainments, boosting their morale.
4. Build communities on Facebook
Creating and joining online communities is an excellent way to expand your company's network. It can also open opportunities for future partnerships with other businesses in your industry or niche.
Join Facebook groups, start conversations, share opinions, and bring value to your online community.
For instance, if you're a company selling Software-as-a-Service, join Facebook groups such as SAAS Growth Hacks.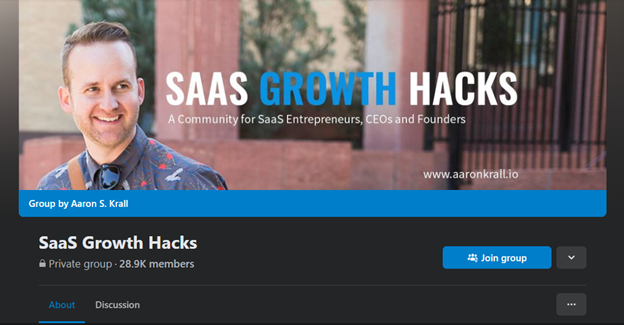 Encourage interactions by looking at previous posts, the formats used by members, and the popular posts.
Doing so can help you create or share discussions or topics the members are likely interested in, enticing them to respond and share their two cents.
Also, you can position yourself as a thought-leader and expert in your field when you share relevant, actionable information on Facebook groups. It can help build your company's credibility, allowing you to foster trust with potential clients within the group.
Joining Facebook groups can also help you learn from other experts and leaders in your industry.
You'll gain valuable learnings and tried and tested tactics you can apply to your existing approaches or integrate into your B2B marketing and sales strategies.
Make the most of social media for your B2B marketing
How you leverage social media platforms to amplify your B2B marketing efforts depends on your goals, strategies, and even your existing approaches.
Know the best ways to use social media channels for your business from the tips in this guide. Try them out and build on them to see which ones help bring your expected results.