"Social is your superpower," read this tagline on Hootsuite's homepage and couldn't agree anymore. Hootsuite - a tool that has been popular since the early days of social media helps businesses manage their accounts all across social media platforms, that too with ease and flow!
We are in 2022, and social media is more powerful than ever before. Videos, reels, posts, filters, live videos, etc make it easier for both small, and large businesses to reach the target audience with ease.
According to research, there are approximately 4.62 billion social media users today. So, how do we reach our ideal customer in such a huge influx of users? Get creative! When we say 'get creative' we mean getting creative in terms of how you put your message out there.
A great way could be to come up with unique visuals that appeal to your audience. Unique, creative content be it text, videos, images drive the audience's attention and engage them well as compared to the boring content.
Without further ado, let's get to some of the bright ideas that you must use when designing your social media strategy in 2022.
No. 1: Make the most of User Generated Content
People love online stores, they love to see and watch people doing the same thing before they could actually do it themselves. It gives them confidence. That's why people love to read reviews or watch video testimonials before they could actually buy your product or service.
User-generated content does wonders particularly if you sell a product. Personally, I never buy anything before checking the reviews. A happy customer would always share his experience on his social media, or your product page. Make sure you repurpose that and place it on your website, landing page, or store.
A way to make the most of user-generated content is by promoting the testimonials with the hashtag #testimonialtuesday across all social media channels.
Check out this testimonial Tuesday post done by a real estate investor in order to promote her services, and honestly, the post is engaging quite a lot.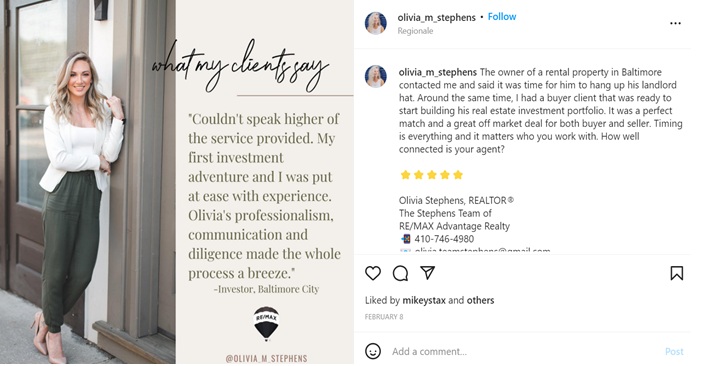 No. 2: Connect with the Audience, Emotionally
When you connect with your audience at an emotional level, you won. Know that your target audience always loves to be valued and care for. Therefore, the more personalized you get, and the better you connect with them at an emotional level, the better your social media campaigns will succeed.
Dove did it massively and had great results with its campaign to make women feel beautiful in their own skin. It won the Bronze award for its transforming the beauty conversation on social media.
So, here's what the states looked like.
The message inspired women significantly and there were more than 168,000 posts with the hashtag #SpeakBeautiful
The campaign drove 800 million social media impressions, which is huge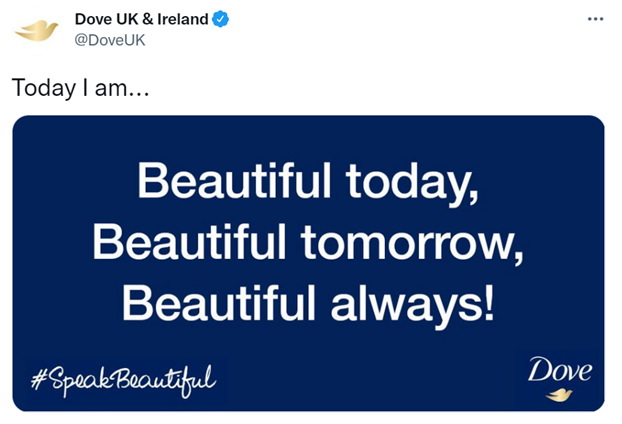 No. 3: Create Content that Leaves the Reader Wanting More
Creating content that leaves your target audience wanting more could be the best thing you can do. Don't be afraid to get a little creative and fun as you create this kind of content. If you have a food business, this formula can never get wrong.
We all snap good pictures of the delicious food before we could actually start eating it, and so does your target audience, just make use of that.
So, here's what you can do further to make it possible.
Show up on each social media platform to increase brand awareness and demonstrate your product through storytelling.
Reach out to the industry influencers including niche-specific bloggers and collaborate with them.
Ask your followers for a meet and greet session to share their experiences that will give brand recognition a little further.
Here's what Nutella did.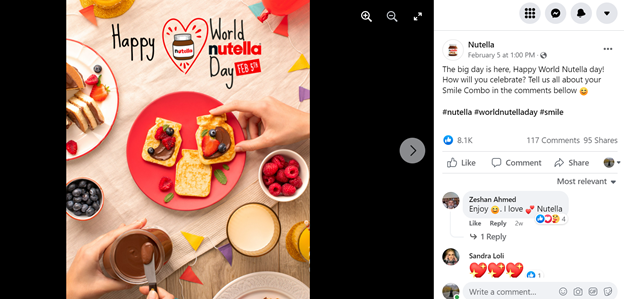 Would you love to have more? Think again…
No. 4: Choose Strong Visuals
It goes without saying that strong visuals are crucial. Need some proof?
Photo-based posts on Facebook get 53% more likes, 84% more clicks, and an astonishingly 104% more comments
Tweets with great images have 3X engagement rates than others
LinkedIn posts with images receive 98% more comments
Still not convinced?
According to Social Science Research Network, the human mind processes images 60,000 times faster than text. Now you must have a good reason to focus on visuals rather than just the text. Again, don't shy away from getting a little creative and funny when it comes to creating visuals for your brand.
You can choose to create:
Charts and graphs for data visualization
Great product photos
Videos
GIFS
Infographics
Pro tip: besides using beautiful imagery on social media, your site also has to be well designed so it appears trustworthy. If not, all that sweet social referral traffic will hit the back button as soon as they see your site. And that is a terrible message to send to Google about the quality of your website.
No. 5: Create Social Media Content around a Trending Topic
Twitter is a game-changer when it comes to trending topics. Create a post around a hot topic under discussion, and boom your tweet will reach millions of audience. Therefore, it is great to keep eye on the topics under discussion and get creative around that to design that one crispy post which will reach millions of audiences.
In the same pattern, make sure you create content on another platform as well. It shows that your brand is well-informed about what's going on in the world, and it shows you care about it.
Don't just follow the trend, see if the matter in trend meshes up with your brand well, and come up with the best idea that you have.
Pro tip: though some AI content writers (for example Jasper AI assistant) have posts templates for all major social platforms, my advice is that you write social media posts yourself, or have your VA write it.
That's because these AI tools spit out generic content that lacks fire and that won't inspire your audience to take action.
No. 6: Occasion-Specific Campaigns are a Must
It's when you have to mix and match everything you have learned so far to get the best out of your social media strategy for occasion-specific campaigns that include:
New year
Mother's Day
Father's Day
Valentines Day
Christmas
Holiday Season
Thanksgiving
Etc
Design a unique strategy for the specific occasion to promote your product/service to your audience. Use your campaign to help them celebrate the occasion in the best possible way with their loved ones.
Check out this campaign by Starbucks that smartly tries to improve social media engagement too by offering a reusable red cup for free.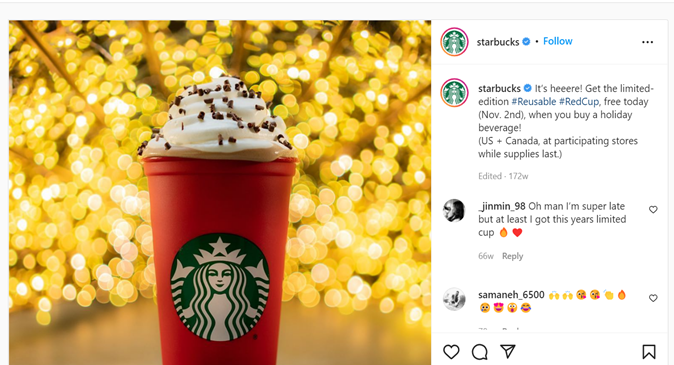 No. 7: Measure Results
Numbers never lie! And, if you create a social media plan based on this rule, you will never fail. In order to achieve results, you have to set smart goals. It is an amateur mistake to shoot blindly without first knowing where the target is.
Don't just say that you need to increase followers, however, your goal should be like, "We need to get 1000 targeted followers in one month."
So, here's what happens.
All the new followers that you will get are ideal customers, which means that you have a higher conversion rate on your social media. And, then you are a step closer to the goal i.e. to sell your product/service.
Alternatively, if you need to increase the number of sign-ups for a specific campaign. Look at how much you spent and how many sign-ups you get. And, increase your ad spending based on that.
Explore Meta Business Suite and dig deeper into the statistics for targeting and retargeting the ad campaigns. Once you do that, use a report maker to compile all the results about the social media campaign and share them with the marketing department.
Tapping into the analytics will help you,
Understand user behavior at a deeper level
Refine your strategy more effectively
Understand which platform works best for your brand
Identify the best times to post
Analyze your competitors
There you have it, some of the bright ideas to ensure social media success. Get creative as you plan your social media strategy as you work on these seven bright ideas. Together this will ensure you have a successful social media strategy.
Do you think we have missed out on adding any important things here? Let us know in the comments section below.