YouTube is one of the few social platforms of our time that doesn't need any introduction. It is the second most resourceful search engine right behind Google, and worldwide, we spend one billion hours each day watching videos on YouTube alone.
That makes posting marketing videos on the platform vital for marketers. In fact, companies use YouTube as a marketing tool all the time. However, getting views on the platform is not an easy bargain. You will need a wealth of YouTube marketing strategies and on-the-platform SEO techniques to hit the mark.
Here are eight techniques you can implement on the platform to improve your view count and ensure a solid viewership that enjoys your videos. But first, let's take a quick look at what accounts for views on the platform.
YouTube View Criteria: A Quick Overview
The first thing you need to know about YouTube views is that the platform does not count any random play as a view. The YouTube platform works on algorithms that ensure the play is organic and natural before it is counted as a view. YouTube's own definition of a view stresses that the play of a video must be initiated intentionally by a viewer to be counted as a view.
Also, the viewer needs to watch the video for a minimum of 30 seconds before it's counted as one view. Any video play lesser than 30 seconds is disregarded. That's their way of ensuring the views are coming from real people actually enjoying and engaging with the video and that there is no monkey business going on.
Interestingly, the platform also considers video replays as views. This means that every time a visitor replays your video, the platform scores you one extra view. Again, it only counts replays that appear natural. So, with that in mind, you will be considered a spammer if you keep refreshing the page in an attempt to increase your views unnaturally.
Moreover, live videos and all views that take place with embedded Youtube videos are also counted, which means that views on your embedded YouTube videos on social media platforms will also count in the total view numbers. The most important thing to remember here is to share the videos with your YouTube URL. This is how the algorithms can track the view activity outside of YouTube.
8 Surefire Ways To Increase Views On YouTube
Ensure your video is compelling
The best way to be sure your brand videos get tons of views is to ensure that they are compelling enough to drive such results. It's easy to get caught up on the SEO and video editing elements and lose sight of the value of the video itself.
So, the best way to ensure you create compelling videos is to create instructive and educational video. Your goal here is to deliver content on your customers' or potential customers' needs and wants. For example, you can identify the issues they're facing and create how-to videos to help them surmount those issues.
Your YouTube content creation strategy should be developing video content that matches your ideal client's needs or solves their problems. That's the best way to ensure you produce valuable content your audience will love. This will help you build a viewership fan base, and your view count will soar.
Post great thumbnail images
Your video thumbnail images are like your email subject lines. It is the first thing the viewer sees on your videos, and it can make or ruin your video performance. You need to make it attention-grabbing and click-worthy. If your video thumbnail is not captivating enough, it won't get people to play your video, which means zero view count terms.
So have to make sure your thumbnails are as engaging as possible. Creating thumbnails doesn't have to be complex. A good strategy is to use custom thumbnails that best represent your brand and video content. According to YouTube, 9 out of 10 of the most-viewed videos on YouTube use a custom thumbnail.
You can create a template and apply a certain font and style to keep it consistent. Here is an excellent example by Hassan from the H-Educate channel.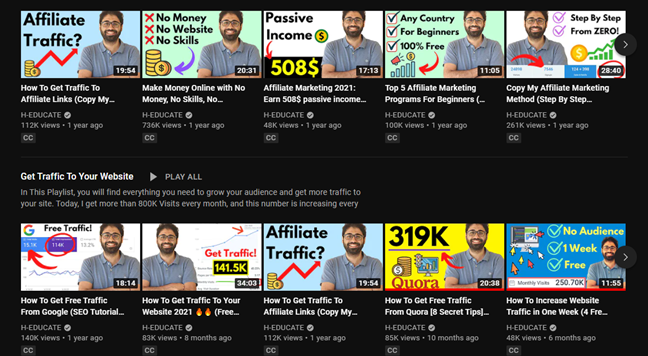 Good thumbnails can make your videos appear more engaging at a glance, and if you keep them consistent with your brand, your YouTube channel will appear more professional in the audience's eyes.

Ensure you start strong

YouTube only counts views as viewers intentionally spend a minimum of 30 seconds watching your video. That makes the first 30 seconds of your videos vital and a good reason you need to start strong. You need to ensure that your videos grab viewers' attention and reel them in to watch through right off the hook.

For instance, if you're selling something, a product, or a service, you can lead with the benefits or explain what the viewers will get from your offering. Or, if you're teaching something, you can start by stating the results they'll get from implementing your strategies. The bottom is to ensure that you start with value so that it piques viewers' interest. Here is an excellent example from Backlinko's Brian Dean.

How to Write a Blog Post That Gets MASSIVE Traffic

Empower your videos with YouTube SEO

YouTube is also a search engine and thereby also operates the same way search engines do. So, optimizing your videos for the YouTube search engine is also an essential part of the game.

Your goal here is to use a few SEO techniques that'll help you keep your videos and channel in the good graces of the YouTube search engine and guide viewers towards the most relevant videos as they search for them - same way you do for your blog articles on Google.

Write keyword-driven titles and video descriptions.

As you may have figured, you need to start by pinning down your target keywords. You'll need to target specific keywords, and there are also variations your people will use for searches. Either way, you need to balance both to achieve success with this.

As you choose the topics you want to cover, you can keyword in the search box and brainstorm from the report search prediction.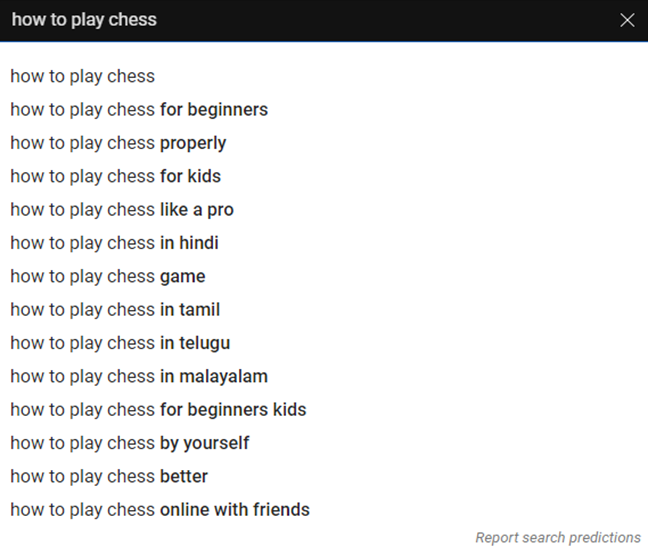 You will need to do the same for each topic you want to cover. This will help you find out the relevant keywords people search for on the platform, and therefore you can start your content optimization there.

Titles: The primary information YouTube uses to understand your videos is your tiles. So the first place you need to include your keywords is the titles. You will also need to keep the keywords at the beginning to higher rankings.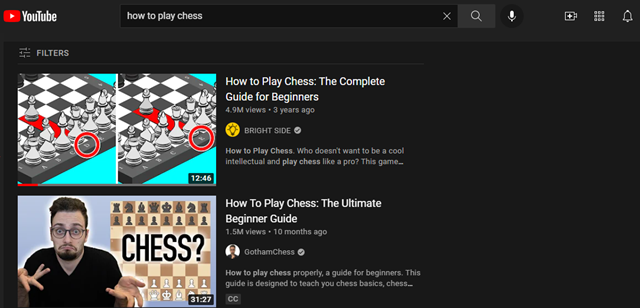 Video description: Your video description also needs to be aligned with your target keyword and potentially contain a few variations.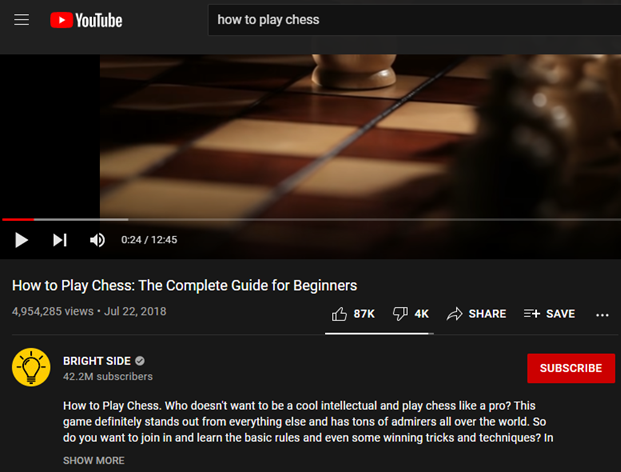 Include the right keyword tags

While the Google bots can crawl through your website and automatically understand your articles, the YouTube algorithms can watch your videos. That's why you need to take it a bit further and feed the algorithms with the right tags for each video you post. The tags will help the YouTube search engine better understand your videos and rank them for the relevant search queries.

To do this very well, we suggest you proceed with the MVC Formula videos tags, as suggested by Brian Dean from Backlinko. This is a simple but super effective tactic. In fact, it is part of his YouTube SEO strategies that help him drive 189k views per month to his channel.

The MVC stands for "Main Keyword," "Variations," and "Category." So here is this work. For each video you post on YouTube, you will first include your main keyword as the number one tag as the search engine prioritizes the tags by ranking order.

After this, you will seek variations of your main as per searchers' thinking or YouTube suggestions and include a few of the most relevant you will get.

Finally, you will also need to add a few keywords that work as umbrella keywords for your video category. Here is a template of the MVC formula you can easily implement.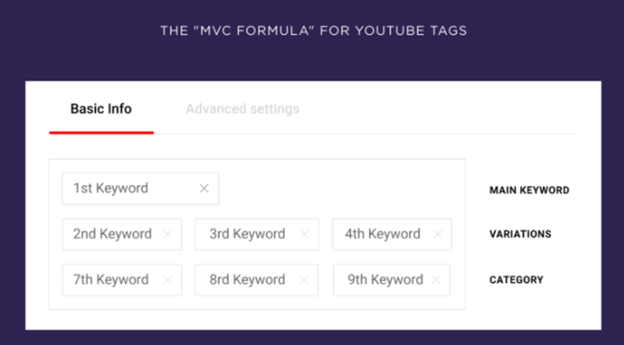 This is especially effective as you can put all the relevant keywords in your video title or description. It's a great way to ensure that your videos rank for every relevant keyword. They may not rank top for the secondary keywords, but you will still appear on the YouTube SERP.

Improve your channel's watch time

Optimize your videos to appear on Google.

Before we go any further, you should know that ranking your video on the YouTube search engine result page (SERP) doesn't guarantee the same outcome on Google. Likewise, a video ranking on Google will not necessarily rank on YouTube.

Now that we're clear on that, here is how you can do this with perfection. First things first, you need to start by adding chapters to your videos using timestamps with specific tag titles. If you do this very well, here is what it will look like: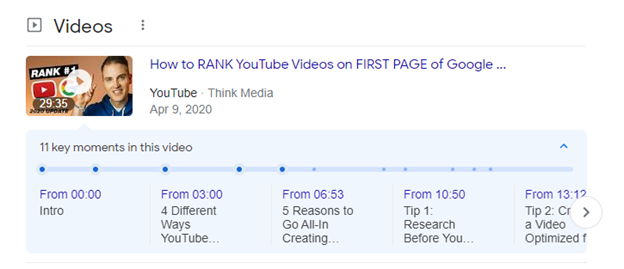 After this, you will need to add professional transcription (closed captions) of your video to YouTube. This is like adding an article behind your video to help Google understand the content of your videos.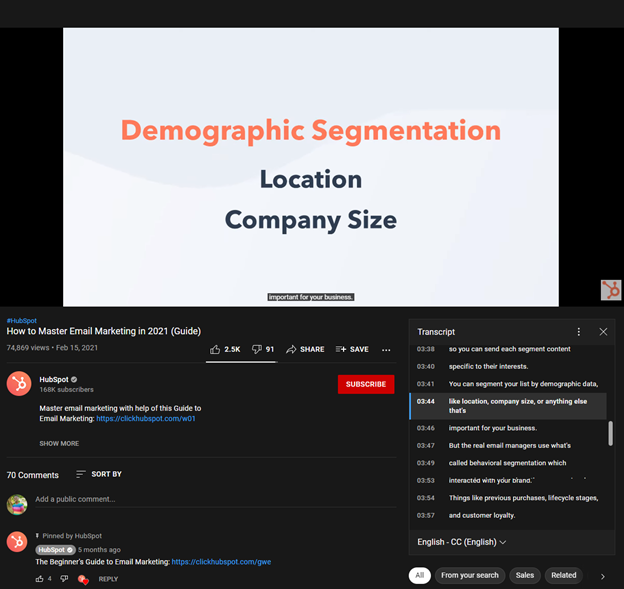 Combined with the timestamp-based chapters, Google can easily separate your video content into "moments" that help them answer specific questions on the SERP. And you will see an uptick in your view count as people enjoy your clip on the Google SERP.

Improve your channel's watch time

Your channel's watch time tells the search engine its value. If people spend time watching your videos, it's a good sign that you're creating good content. As a result, the algorithms rank your content higher in the SERP, resulting in more views. On the other hand, if viewers drop out of your videos, that's a red flag for the algorithms, and they won't rank you in the SERP. So the higher the watch time, the better your channel will do. Think of it as the dwell time of your website. Read on to uncover more tricks to boost your watch time.

Engage with your audience

It's easy to just create great videos, do some SEO to get it on YouTube, and call it quits. What we mean is that people often overlook the fact YouTube is social media and more than just content creation. You need to use your YouTube channel as a platform for social interaction with your target audience. Your YouTube strategy is incomplete if you only post videos and do not encourage comments and discussion.

Truth be told, if you don't encourage interaction on your channel, you're missing out big time. Channels with the best engagement are rewarded on YouTube. The reward program considers on-the-platform metrics like overall time spent on the channel, likes and dislikes, and, most importantly, comments.

The more you get positive engagements, the better off you are. So encourage viewers to engage with your content and try your best to respond to comments. Don't always wait for the audience to initiate the conversation. You can even go on parallel channels or videos and engage with their viewership. This means videos from brands similar to your own.

Encourage viewers to subscribe.

Another good strategy to get more views on YouTube is to push your current viewers to subscribe to your YouTube channel. Inviting viewers to subscribe is a surefire way to ensure that each video asset you create reaches your target audience. As they're subscribed to your channel, YouTube will suggest your new video on the YouTube feed.

An excellent way to do this is to simply ask viewers to subscribe at the start and the end of the video. Chances are you've already heard the phrase, "If you like this video, please give a thumbs up, make sure you subscribe to this channel, and activate the alert notification, so you don't miss out on any of our videos."

Well, this is the best way you can ask viewers to subscribe to your channel. Another good reason you should also get viewers to subscribe is that YouTube also rewards channels with a good amount of subscribers and keeps them on their creator award program.

Create series and organize your YouTube videos into playlists

Creating video series is the best way to create content clusters on YouTube. By this, we mean a series of videos that will help cover an entire topic within every inch of it from top to bottom.

And organizing the videos into playlists is the best way to ensure viewers don't lose their way around your channel.

As viewers play a video embedded in a playlist, YouTube will automatically initiate the next video in that playlist as soon as the current video ends. As a result, a viewer can watch several related videos at the same time. In turn, viewers become more engaged, and the video views increase.

Also, like most content creators, you probably have a wealth of video content on your channel already. You can go through your channel, brainstorm the many videos into related videos and create logical playlists out of them. Viewers will enjoy a seamless experience, and your views will increase accordingly.

Leverage Cards and End Screens Features

These are two YouTube features you can utilize to get more views on your videos. They offer content creators an effective way to share their content on YouTube while giving viewers the best experience possible. Let's start with the cards.

The card feature is the white round button that appears in the upper right corner of the video window as people watch it. This is the same as marketers do with internal linking on their websites, which means that you can embed links to your other videos and invite viewers to view them.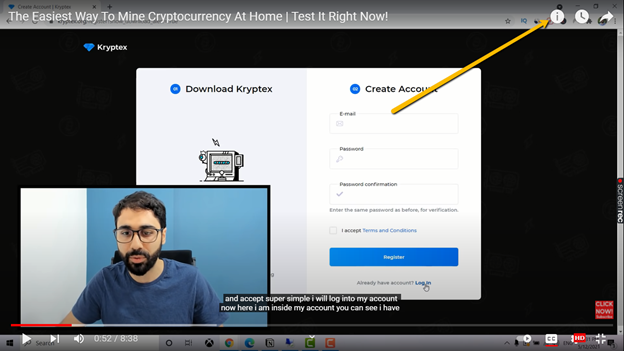 Now, as viewers click, here is what happens.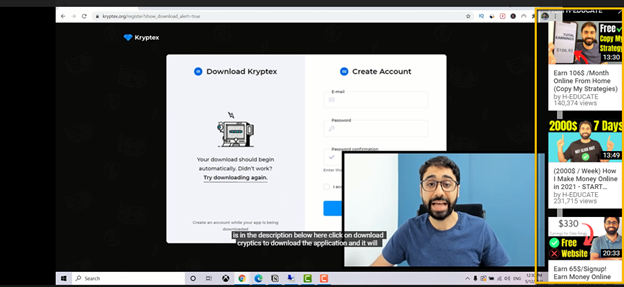 Now for the end screen, you've probably seen them. They are the video suggestions that appear as your video ends. Here is an example from Noah Kagan.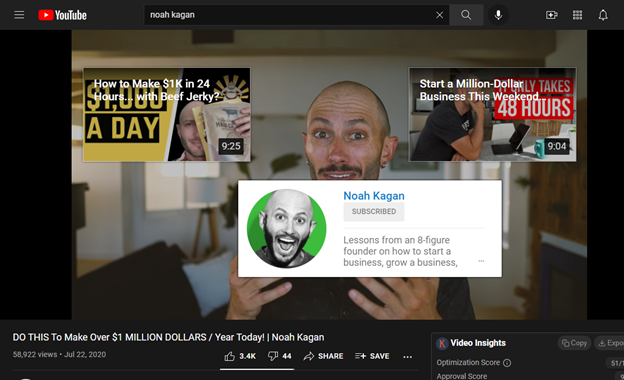 Here again, you get people to watch more of your videos and increase your view count. Also, if you can't tell by the screenshot, you can use this feature to get more people to subscribe to your channel. The features will also improve your channel's overall engagement metrics and watch time as they get the viewers to constantly watch more of your videos.

Wrap up

Video is still dominating the content world, which means YouTube still has the power to bring in fantastic results. The most important, above all strategies and SEO techniques is that companies need to be sure of the value of their content.

Getting videos on the first page is not the most challenging part of the job. Everybody can do it. However, getting your videos ranking only to see your churn rate go up high as viewers bounce is hurtful.

So make sure your videos are GOOD and give yourself all chances by implementing the above-discussed strategies.