WordPress is a top choice for many people who want to set up their websites.
The reason is simple.
You don't need to write a single line of code before you can manage your website on WordPress.
Plus it gives you the flexibility to do more through plugin installation.
However, one aspect that many beginners struggle with is WordPress Site SEO.
If you're helpless on how to boost the SEO of your WordPress site, you're not alone.
I've been in your shoes before and will show you actionable steps you can take to get it done.
Let's get started
What is WordPress?
WordPress as a content management system is of two types: WordPress.com and WordPress.org.
Some beginners who can't distinguish between them often make the wrong choice.
WordPress.org allows you to customize your site anyhow you deem fit.
It's self-hosted and open-source so you're free to install plugins, widgets, and themes. Plus any feature that will boost the performance of your site.
The situation is different with WordPress.com.
It is neither self-hosted nor open source. The storage capacity is limited with no FTP access.
In general, you can't customize your site as you want. Also, it isn't ideal if you care about SEO.
How To Boost The SEO Of Your WordPress Site
Do Away With Irrelevant Plugins
Some plugins are automatically installed once you download and install WordPress.
These plugins most times are irrelevant to what you plan to achieve with your website.
Or that they are doing overlapping functions. Keeping them will bloat your website thereby slowing down your page speed.
Recall that page speed is one of the core web vitals that determine how Google will rank your web page.
The ideal thing is to deactivate and delete plugins that aren't useful. To check for it, log in to your WordPress dashboard.
On the right sidebar, locate Plugins, click on Installed plugins and then identify plugins that are not useful to you. Click on Deactivate if they're activated. Then tap on Delete to remove.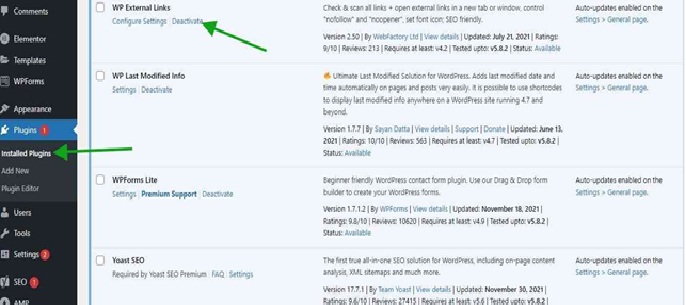 Install SEO Friendly Plugins
As a beginner who doesn't know much about SEO, you need to install SEO-friendly plugins.
These plugins will guide you towards getting your on-page SEO right. Yoast SEO, Image Compressor plugins are the common ones.
For example, Yoast SEO serves as a checklist to ensure that the blog post you are about to publish is SEO optimized.
It guides you on steps to take to improve the readability of your web pages.
The green, orange, and red colors indicate the degree to which you have gotten your SEO right.
But this is not to say that once you turn the Yoast SEO button green, your web page is optimized.
Image Compressor plugins like Smush and TinyPixel are plugins that you can install and activate on your WordPress site.
They compress the size of your images. Also, if you love uploading videos to your WordPress site, consider compressing them with video compressor software before uploading. These will make your web pages to load faster.
Be Mindful Of The WordPress Theme You Install
Installing a WordPress theme comes after choosing a web hosting platform for your site.
There are hundreds of WordPress themes and many come on board daily. Website owners choose and install themes for different purposes.
As a beginner who wants to boost WordPress site SEO, virtual designs and interaction are important. But they're not as important as SEO and that should be your concern.
Not all WordPress themes are SEO-friendly. Some of them contain CSS files that're not optimized, lack schema markups, and optimized header tags.
The ideal thing is to research and identify WordPress themes that are SEO-friendly. Examples of WordPress themes that are SEO-friendly:
Schema
Genesis
Pofo
Sydney
Divi
Identify A Preferable Domain
When setting your preferred domain, you are to choose between non-www and www domain.
The choice you make here depends on the kind of website you plan to run.
If you're setting up a personal website, you don't need the WWW version of your domain.
It would be important if you're a large business expecting a volume of high traffic.
The WWW version gives you access to CNAME the record which helps redirect traffic when you experience failovers.
Be Sure To Change Your Permalink In WordPress
Permalink is the full URL for a web page on your website which contains your domain name and a slug. You must make it SEO-friendly for search engines and users to easily understand it.
Don't make the mistake of allowing your permalink to be on the default setting. The appropriate permalink for your site structure should be /%postname%/
Having a clean URL will impact your SEO positively. It also offers a good user experience to your audience.
To change your permalink structure on WordPress, log in to your dashboard, click on Settings.
Under Settings, you will see Permalink. Tap on Permalink and Common setting options will appear. Choose Postname which is common with many websites. Finally, click on Save to effect the changes you have made.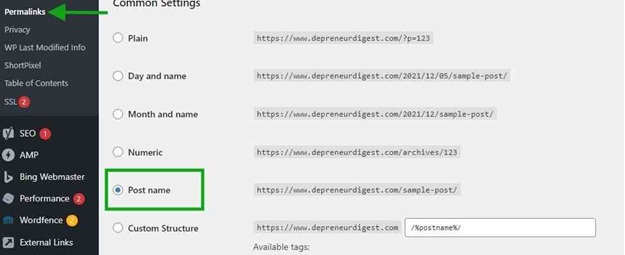 Turn On or Off The Comment Section On WordPress
Comments on your WordPress site can impact your SEO ranking at least from what John Muller, a Google Search Advocate said.
Muller stated that it's advisable not to delete comments made on your WordPress site provided they aren't spammy.
According to him, deleting comments can impact your SEO ranking negatively.
Also, Matt Cutt, Google's head of search spam said that comments with spelling and grammatical errors can impact your ranking. So the ideal thing is to enable comments on your site and use anti-spam plugins to guard against spam comments.
Then you can manually fix all spelling and grammatical errors in a comment before approving it.
To turn on or off comments on WordPress, log in to your dashboard and click on Setting. Under it, select Discuss setting. There you can see different options to set up your comment section.

Enable Search Engine Visibility
No matter how good your content is, search engines won't know about it if your search engine visibility is checked to discourage such.
It's an in-built feature on WordPress that allows search engines to discover the content you have on your site when enabled.
Many WordPress site owners don't know about it until they become worried about their content not ranking on search results.
To check if yours is enabled, log in to your dashboard. On the right sidebar, navigate to Settings. Then locate Reading. Scroll down and you will see Search Engine Visibility.
Ticking the box will discourage search engines from indexing your site while leaving it unchecked means you want search engines to index it. Click on Save Changes when you're done.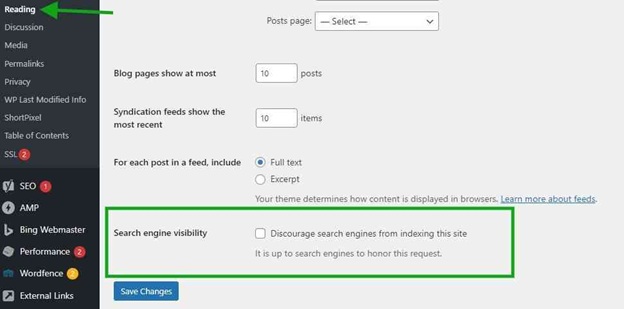 Wrapping Up
Boosting the SEO of your WordPress site isn't difficult. All it takes is for you to know the appropriate steps to take.
I have discussed them with you above and it's up to you login to your WordPress dashboard and begin to take action.
The positive impact of this process will see your rankings improve on search engine results.