Have you ever thought about using social media for growing your dropshipping sales?
No?
Then, I'm afraid you're losing out on a massive chunk of your audience who research and buy products on social media networks.
There's one more drawback of not being a social-savvy dropshipper.
What's that, you ask?
You're losing ground to more savvy dropshippers who use social media to promote their products and stay connected with their customers.
As it is, the dropshipping market is highly competitive and growing at a CAGR of 28.8%. That means you need to harness all customer-facing avenues (including social media) to stay relevant and grow your dropshipping sales.
But how?
To discover that answer, go through this post carefully. I'm going to explain, in detail, how to leverage social media to grow your dropshipping sales in record time.
Let's get started.
3 Best Ways to Use Social Media for Growing Your Dropshipping Sales
As you might know, dropshipping is different from traditional ecommerce. Unlike traditional ecommerce vendors, dropshippers neither maintain inventory nor design/develop products, thanks to dropshipping suppliers. But they handle online store promotion, advertising, and customer support from their end.
Since product promotion and customer service are a big part of dropshipping, they can be accelerated using the power of social media. Here are four ways of doing that. Before that, make sure that you have proper extensions for dropshipping which will help you to take more advantage from the dropshipping.
1. Maintain a Consistent Posting Schedule
If you want to use social media to boost your dropshipping sales, you need to post quality content regularly.
Social media users have a short memory and volatile brand loyalty. They will gravitate towards brands that impress them with great content and a reliable posting schedule.
Moreover, by posting regularly, you have a top-of-mind advantage over less consistent competitors. You become a reliable source of information for your target audience — someone they may turn to when they are ready to purchase.
But if you're a busy dropshipper juggling multiple wholesalers and suppliers, you might find it hard to churn out content at scale to post on different social media platforms. Content creation, scheduling, posting, and tracking can take up loads of your work time if it's all done manually.
The solution?
Use tools to automate your campaigns and maintain a regular posting schedule.
There are tools like BuzzSumo that can suggest content ideas popular among dropshipping brands so that you don't waste time creating content that doesn't get traction.
Tools like Mention can notify you when your audience talks about you or your competitors. Whether your customers are bragging about your products or complaining about missed shipments, you can jump right into the conversation and modulate it as needed.
This way, you can avert a crisis before it blows out of proportion and impacts your dropshipping sales.
Apart from these standalone tools, there are all-in-one tools like MavSocial that can help you manage social media campaigns end to end and promote your online store.
How?
They help you queue content in advance, auto-publish it on different platforms, answer user comments, and track post engagement — all from a single dashboard.
By putting your social media campaigns on auto-pilot, you can keep hustling (even in your sleep) and multiplying your dropshipping sales.
One thing to note...
While it's important to keep up a steady stream of posts on your social media pages, be mindful of user fatigue. Follow the right posting frequency for each channel. For example, brands on Twitter shouldn't post more than 1-2 times a day.
2. Partner with Influencers
Social media influencers enjoy massive goodwill and engagement that can be leveraged to boost your dropshipping sales.
How so?
By virtue of their authentic and relatable content, influencers can help you cut through the online noise and beat the competition. You need to find the right influencer who has genuine followers and a high engagement rate.
They connect you to their highly engaged followers who trust their recommendations without a question.
Moreover, when you collaborate with influencers who are industry experts, your brand reputation and credibility skyrocket. This way, even a new dropshipping business can make inroads in the market and attract potential customers.
But since authenticity is the foundation of influencer marketing, you need to choose influencers wisely. Their niche, values, and audience demographics should match yours to a large extent. Plus, they should have solid experience of working with ecommerce/dropshipping brands.
Now, you can't possibly check each influencer's credentials and brand affinity manually. So, it makes sense to hire a professional influencer service to vet influencers for you. As a result, you can concentrate on your dropshipping ops and let the third party handle influencer marketing for you.
Once you find a perfect influencer for collaboration, have them grow your dropshipping sales by:
Hosting contests and giveaways staking your products.
Writing positive product/brand reviews.
Promoting discount codes and sales.
Spreading the word about your loyalty program.
Want to see an influencer in action?
Busy mom, Jade Roper Tolbert, doubles up as a social media influencer and promotes ecommerce brand FabFitFun through sponsored posts on her Instagram page. She uses viral instagram hashtags to get more engagement on her posts.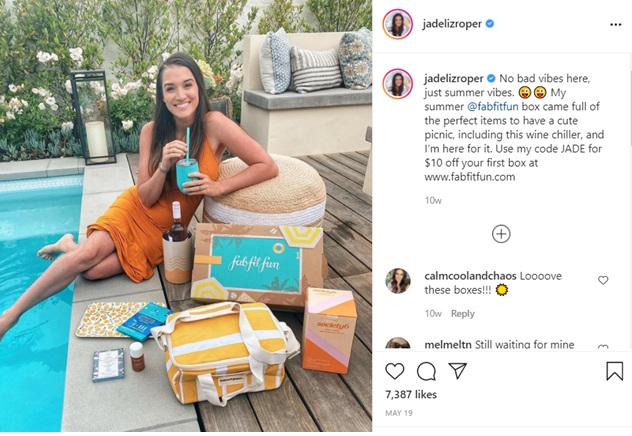 If you plan to leverage influencers to boost your dropshipping sales, remember to compensate them for their services. You can reward them with freebies, a commission on each sale they generate, or a fixed paycheck.
3. Provide Proactive Customer Support
Customer trust is a primary driving force for dropshipping sales. In the impersonal world of ecommerce, if you are able to establish a meaningful connection with your customers, count it as your biggest win.
One of the best ways to build trust with customers is by providing them with prompt and effective customer support.
That's where social media enters the picture.
Social media channels allow you to connect with your customers on a one-to-one basis through comments, groups, and live streaming.
For instance, when a customer needs some product information, they can write a post about it and tag you. If you provide them with an instant response, it can lead to enhanced customer satisfaction and faster conversion.
Also, to address customer complaints and concerns en masse, you can build a self-support group on platforms like Facebook.
In these groups, you can provide personalized service to each customer free of cost. This service can indirectly drive dropshipping sales for you. You can also nurture leads through helpful content and curated offers, pushing them towards conversion.
Ready to Grow Your Dropshipping Sales with Social Media Marketing?
Social media provides ample ways to boost your dropshipping sales. But the three tactics explained above give guaranteed results. So, keep posting engaging content, partner with influencers, and give your customers exemplary customer support.
Do you need more advanced tips to grow your dropshipping sales? Comment your request below. I'll be back with the answers as soon as possible.