Who does not love online shopping?
I think very few people will put their hands up to this question. Mind you, the number of people against online shopping was still a lot before the pandemic. But things changed drastically after Covid hit us all.
People are highly inclined towards online shopping today, which has helped many businesses explore a new dimension- showcasing their products on online platforms. One of the most popular yet easiest ways to promote a business online is by running Google Shopping ads.
If you have an online business, likely, you are already using it. But are you satisfied with the sales you are getting from there?
If not, this blog is for you. In this blog, we talk about 13 such Google Shopping ads strategies trending in 2022 and will definitely help you see a significant surge in your sales.
But for those who are not on the Google Shopping ad boat yet, the next segment is especially for you. Let's learn why it is so crucial for your business to consider Google Shopping ads in the first place.
Without further ado, let's delve into it, shall we?
Why do Google Shopping Ads mean so much for your business?
Businesses can enjoy a wide range of benefits of Google Shopping ads. Let's have a glance at some of the most attractive ones-
Exclusive Display of Products on several Platforms
Google Shopping ads run on multiple platforms. If you opt for this mode of marketing, you will be able to display your product through ads in the following places-


Google search results
Google Shopping tab
Google images
Throughout the Google Display Network, like Gmail, YouTube
Search partner websites of Google
Another advantage you will enjoy with this is an attractive showcase of your products. Google Shopping ads are displayed very attractively in front of potential buyers, which helps a business grab more sales.
Let's have a look at the shopping ads that came up when searching Dinner jackets on Google-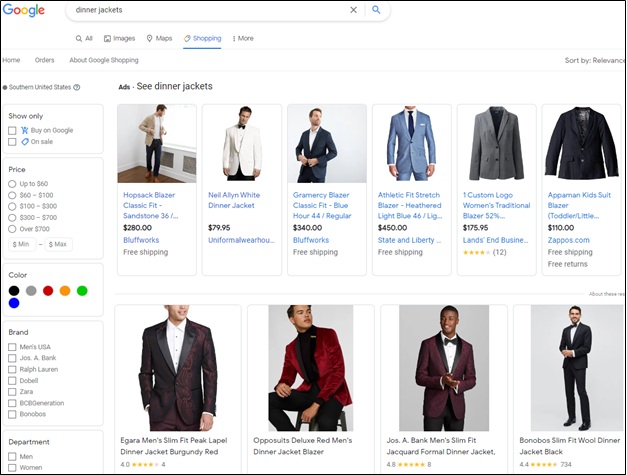 This is what your ads will look like at the first glimpse when someone searches for products related to your business. And the first impression always matters, right?
Moreover, Google Shopping ads are tailored to look great on all kinds of devices. And as most of the prospective buyers today are mobile users, you will be benefited in this regard as well.
Straightforward Setup and Management
The setup, as well as the management of the shopping ads, are pretty straightforward. Even if you are a newbie in this field, you will not feel any hassle going through the overall process.
The most vital task that you have to do is to make an ideal product feed fulfilling all the requirements and submit it to Google Merchant Center for approval. Once it is approved, Google will do the rest, and your Google Shopping ads will start appearing.
Wider Reach to Customers
As we said earlier, Google is undoubtedly the go-to place for most of us whenever we need anything. So, when you choose Google as your means of promotion, you automatically expose yourself in front of a significantly broad customer base.
All these people are highly potential buyers. This is because Google only shows your ads to people who search keywords related to your product and product details. And these people have clear customer intent. This way, Google Shopping Ads will help you get quality traffic to your website.
Increased Sales and Profits
It is needless to point out that your sales are going to skyrocket when you start appearing more on potential leads' search results. And when you make more and more sales, before you know you will start seeing a massive surge in your profits too.
Cost-effective and Increased ROI
Google Shopping ads do not require a business to spend massive amounts of money for promotion. This particular promotional method is highly cost-effective, which is why it is a great way to start business promotion for newcomers.
The returns you receive from investing money in Google Shopping ads are way more than most other promotional techniques. Also, the results that you will receive are quick and effortless.
Easy to Monitor and Analyze
Another essential perk of setting up Google Shopping ads is that they can be monitored constantly. You will not have to wonder whether or not your shopping ads are working as they should. With the help of different tools, you can easily monitor your performance, and at the same time, you can also analyze your shopping ads' performance.
13 Google Shopping Ad Strategies That'll Increase Sales
By now, you have clearly understood that Google Shopping will bring more profits for your business and that running these ads will add significant value to your store.
But merely putting up the ads will not suffice. You have to be strategic about it. You will need to find out and adopt exclusive techniques so that Google Shopping ads help you get the highest number of sales.
Wondering what kind of strategies you need to adopt? Well, that is what we will be discussing in this portion of the blog.
So, let's look at 13 cherry-picked Google Shopping ad strategies that will undoubtedly help you increase your sales!
1. Optimize the Product Feed
The most crucial step that you can take is to ensure a good amount of sales. Your product feed is the ultimate thing that will ascertain the success of your shopping ads. This contains all the essential information about your products- title, description, images, categories, and all of that.
So you can surely understand how much a product feed means for your business. And because of this reason, you need to ensure that the product feeds you create for your business are correctly optimized and that they get approved by Google Merchant Center as quickly as possible.
Now, if you are thinking about what you should do to ensure that, here are a few tips-
Add relevant keywords to your product titles and descriptions to appear more in the searches
Use GTIN numbers
Optimize the product categories
Provide clear and ample pictures
Match the color attributes of your product feed with that of your landing page to avoid any confusion or mismatch
An ideal Google product feed plugin available on the platform that you are using can definitely make your troubles of creating the perfect product feed go away.
2. Optimize the Images
This is one of the most valuable strategies and a very vital thing that you need to do for your shopping ads. The images are literally the first things that anyone is going to see when they first have a glance at your ads. Images attract people, and when you have catchy images, that attracts people even more.
You have to optimize all your images to make your Google Shopping ads much more effective.
How?
Well, there are a few things that you can do for that-
Give a proper title to all the images, preferably with keywords.
Provide Alt text to the images so that even if your images do not load for any reason, the viewers can still understand what the picture was.
Provide high-quality original images with excellent resolution. The images you will provide are not beautification, and people will scrutinize them to understand your products' quality. So you must provide clear images. At the same time, the images must be eye-catching, too, because this is a crucial way to convince people to buy the products.
Try to provide images from every angle. It helps the buyers get a clearer picture of what they intend to buy.
Here is an example of ideal product images for a shopping ad for slippers-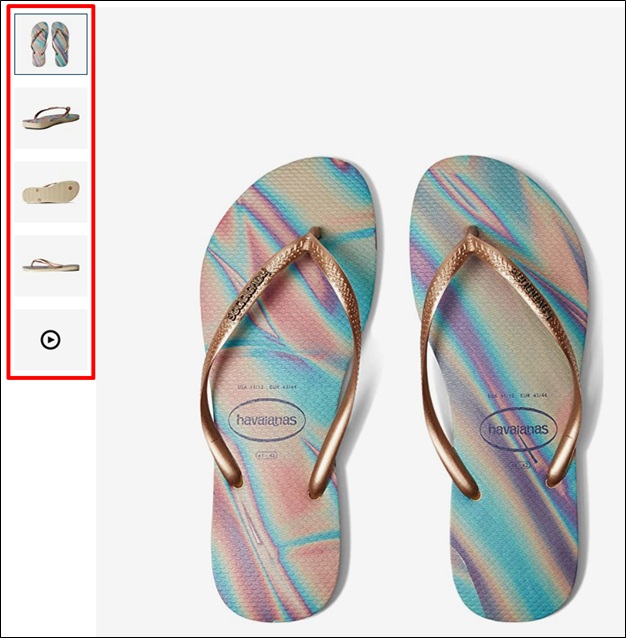 You can see that the image is not at all blurry. Any potential buyer can completely understand what they will be paying for. Besides, the ad provides images of the slippers from all angles. There is even a video of the product.
Don't you think all these are enough to convince a buyer to make the purchase?
Of course, it is!
3. Provide All the Required Attributes
Specific attributes must be put in a shopping ad for it to be an effective one. As a business owner, you have no alternative other than acknowledging all these attributes and ensuring that you have put all these.
Some of the most notable attributes that you must not forget to put are as follows-
Product id
Title of the product
Description of the product
Image of the product
Price of the product
Condition of the product
Availability
Product brand
GTIN
Ensuring all these attributes are there will, in fact, help you get your product feed approved in a flash.
4. Make Different Ad Groups for Products
You might have a thousand products, which are needed to organize in groups to be run as shopping ads. However, you need to be careful and strategic enough while dividing these groups.
Put similar products in one group. You can split the groups based on categories, brands, types, or any other attributes. You just need to ensure that the products in one group are similar for your ads to be more meaningful.
5. Carry Out a Thorough Keyword Optimization
We have already mentioned the significance of keywords for your Google Shopping ads. You are to use relevant keywords in different segments of your ads to match the search queries of potential buyers. This is going to help you in appearing in more and more search results, and that is definitely going to help you obtain more sales.
Now, besides using the most relevant keywords, there is another keyword optimization strategy. That is to use negative keywords.
Wondering what those are?
Well, keywords are meant to bring potential buyers to your business by matching what they are searching on Google. But sometimes, these keywords can be misleading, and misleading keywords bring unwanted or irrelevant visitors to your website.
These visitors do not add much value to your business, and there is very less chance of you making a sale through them. So, you can do negative keyword research, make a list of them, and add them. In this way, Google will understand which terms must not trigger your ads.
6. Optimize the Product Descriptions
Besides putting a good and optimized title, you must also optimize the descriptions of your business's products. These descriptions help the buyers understand your products more, and understanding what you offer helps them decide to buy further.
So, all your products must have all the necessary information related to the products in the description section.
Let's take a look at what an ideal product description looks like-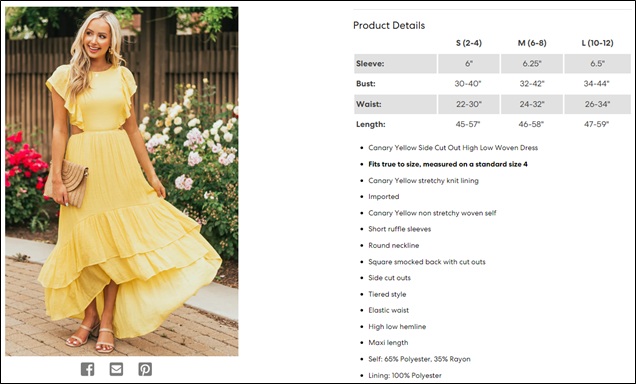 You can see how detailed the product description is for the dress. Besides pointing out all the details related to the material and make of the dress, the buyers can also have a measurement chart. This will take away the trouble of a potential buyer to get the right size in a minute!
7. Update the Pricing Plan When Necessary
The product price is one of the most vital deciding factors for a buyer. That is why you should maintain an ideal pricing strategy for all your products. You already know what your shopping ads are going to look like. Your products will be shown alongside other similar products from other companies.
As all these products have their prices in the ads, the customers can compare the prices from different companies. That is why you need to be strategic enough to decide on the prices of your products.
8. Offer Special Deals and Discounts When Necessary
It is natural to face a little stumble from time to time. You might not get a fixed amount of sales from your business all the time. Whenever you face downtime, you can offer a deal or discounts.
These kinds of offers attract buyers a lot. You do not need to go all the way and offer free products or give a 50% discount on your products. Instead, offer something of value. A bundle offer or a free shipping offer always works!
9. Use the Remarketing Lists for Search Ads
This is a highly effective strategy. Remarketing lists consist of visitors who have visited your website before. Google ads allow you to target these visitors and run your targeted ads in front of them.
This strategy is effective in the sense that the customers you are targeting in this way are already very close to buying your products. For some reason, they did not last time. But a little nudge again has a high possibility that they will make the sale this time.
You can also add similar audience lists to increase sales. The similar audiences are the ones who have similar buying behavior on online platforms. You can differentiate them and make a list to make your targeting more straightforward and effective.
10. Exclude Unpopular and Unprofitable Products
You can run Google Shopping ads for each and every one of your products. But that will not be effective for your business.
There must be products that are more popular than some other ones. You need to identify the unpopular or unprofitable products from your store and exclude them from showing in the ad in front of potential buyers.
The products that do not add much value to your business might even create a negative impact on the buyers retarding your business, So why risk it?
11. Be Relevant to the Ongoing Trends
Attracting potential buyers is one of the primary goals of running a shopping ad. And to make your ads lucrative enough, you must be relevant to the ongoing trends. Your ads must show you are up-to-date with what has been happening worldwide and in the industry.
You can do this by tailoring customized ads on different occasions or offering special offers on these occasions.
12. Monitor and Test your Campaigns
It is utterly crucial that you run A/B tests on your campaigns. Monitoring your campaigns and running these tests will give you a clearer view of how your ads are doing and which of your products have better performance than the others.
Taking other strategic decisions for your business becomes much easier when you run the tests and analyze your shopping campaigns.
13. Provide Social Proof

Adding customer reviews and ratings on your Google Shopping ads help to add social proof of your business. Social proof is really significant for a business, which is why it is a great Google Shopping strategy.
When customers see other customers burning and enjoying your products, they automatically feel confident enough to buy the product themselves. And in this way, your sales will go higher automatically too!
Final Words
Getting all this information together might feel overwhelming. But if you are running shopping ads, likely, you are already doing several of these.
Google Shopping ads strategies mentioned in this blog are pretty easy to set up. But all these are highly potential to bring you the number of sales that you want.
Let us know which of these would work the best for your business!