Everyone wants their email marketing to be the best it can be. Including carefully thought-out copy, relevant links, and stylistic branding all help to make your emails more appealing to recipients. But, as a marketer, how do you know if your emails are succeeding in their job and contributing to your business sales and client leads?
Email marketing metrics present how your emails are performing and the responses they receive. These measure specific numbers relating to your emails, highlighting areas for improvement as well as elements that are hitting your email marketing goals. Using metrics can inform your email marketing lead generation strategies, create specific targets, and track your email growth.
7 Key Marketing Metrics
1. Open Rate
There's no point pouring your energy into great email content if no one even opens it to read what you've written. Working out your email open rate shows you the amount of sent emails that are opened - across all industries, which is around 25% of emails. This reflects whether recipients are responding to your email subject lines and are interested in hearing from your brand.
However, this metric should be understood within the context of other analytics. Few recipients with high engagement who open emails may be more valuable than high open rates but low engagement. Similarly, open rates may depend on inbox settings, with some domains disabling open tracking or only registering emails as opened when the images within it are received too.
2. Bounce Rate
Unfortunately, around 15% of emails never make it to the inbox, and this is measured by the bounce rate. This can be a hard bounce, meaning the email ID or domain does not exist, or a soft bounce, where there are temporary issues with the address. Soft bounces are resolved by servers with time, meaning your emails will arrive in the future. However, high bounce rates suggest it's time to clear out your subscriber lists.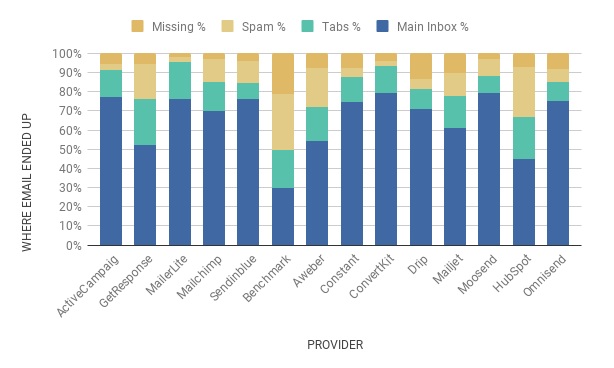 All hard bounce addresses should be removed from your lists, as it skews the demographics of your email recipients and influences other metrics. Integrate double authentication features in your email preferences sign-up process to minimize fake or spam email addresses, requiring confirmation of legitimacy before adding addresses to your lists.
Sign-up processes are also a chance to answer questions such as "What is zero party data?" and show how this data improves your emails.
3. Click-through Rate
Calculated by dividing the number of clicks by total emails, the click-through rate shows how engaging your email campaigns are. A higher CTR shows many of your recipients actively read your emails and follow the included links. Regardless of whether these links are buttons to share content, find out more about products, or link to an offer, all clicks show reader interest.
Using call-to-action text and displaying buttons prominently within your emails improves their visibility. Likewise, using questions in your emails can draw readers into clicking to find the answer. Instead of including all the information, making for a wordy email, add links to questions such as "what is IO domain?" to encourage click through. Experimenting with A/B testing also identifies formats, arrangements, and visuals that make your email subscribers interact.
4. Conversion Rate
Ultimately, the purpose of marketing emails is to increase purchases. The email conversion rate calculates conversions compared to the number of emails sent. For example, if 1000 emails were sent, and 25 people who received one of those emails made purchases, your conversion rate would be 25/1000 = 2.5%. This can show the impact of email deals or offers, identifying which ones work best.
Again, call-to-action text throughout emails can direct readers to product pages or your ecommerce website. Segmenting your email subscribers helps with customer relationship management, allowing you to deliver personalized email offers, making the recipients more inclined towards your recommendations. The more relevant the offers are, the more recipients use them, boosting conversion rates.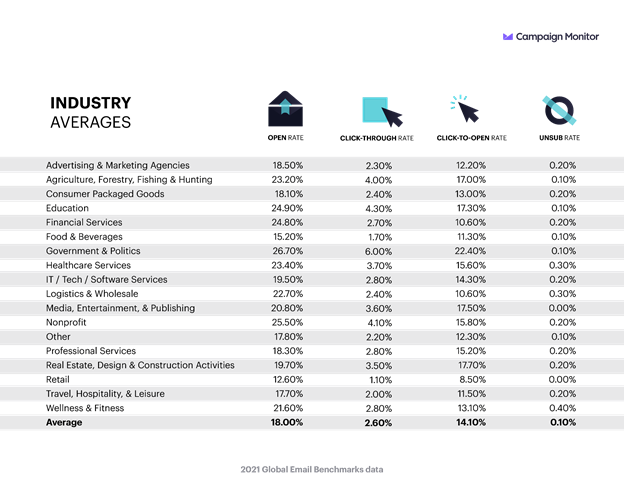 5. List Growth Rate
When people keep subscribing to your emails, you're doing something right. Although this doesn't always translate into conversions, it increases the customer base your business markets to. Alongside this, you should consider your email unsubscribe rate, totaling on average 0.1% of subscribers across all industries. This shows recipient choices to disengage, not including inactive addresses removed in list clearouts.
This metric is easy to measure and, although it can be changeable, should show an increasing number of subscribers over longer periods. Use audience segmentation features to ensure all emails are relevant and of interest to your lists, keeping them engaged and encouraging others to subscribe to your emails. This ensures your marketing is constantly expanding its reach.
6. Engagement Over Time
This metric finds the times of day when your email marketing sees peak engagement. Each business and subscriber list has differing peak engagement times, influenced by the type of email content and how many emails are typically sent. Although Tuesday is generally the best day for email open rates, if promoting a Sunday event, emailing nearer the date may be more effective.
Email analytic tools can be used to identify the best time of day, week, or month to be emailing by monitoring other email metrics, including open and click rates. Engagement over time should influence the emails you send throughout the day. They also highlight key points in the subscriber's journey with your brand when you should email, like subscription anniversaries or after new purchases.
7. Overall ROI


Your return on investment displays the amount of money made in sales regarding the initial amount invested into your email marketing campaigns. This is calculated by subtracting the amount invested from your overall sales, then dividing by the amount invested. So, if you earned £500 from your email conversions after investing £100 in email marketing, this would be (500-100)/100= 400% ROI.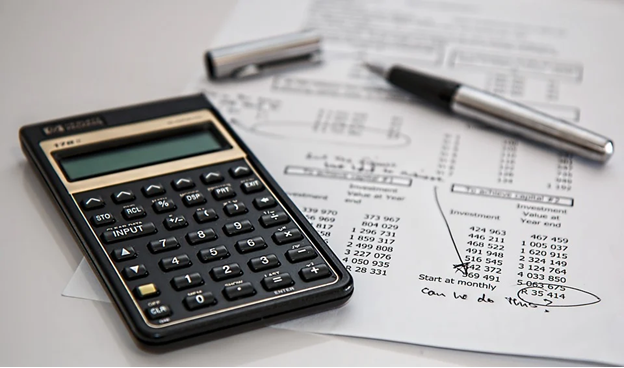 This shows how worthwhile your investment in email marketing is. Improving this metric requires boosting conversions and the average order value of customers that make purchases after receiving your emails. Alternatively, using email marketing automation can reduce the cost of creating and sending email campaigns whilst maintaining the level of recipient conversions.
How Successful Is Your Email Marketing?
Tracking your email marketing metrics is only the beginning - how you use the information can transform your marketing strategy and improve your customer base interactions. Metrics are particularly useful when starting new campaigns, assessing the impact of a custom domain email, or experimenting with format, showing the effect on recipients clearly.
Finding the most relevant marketing metrics to track for your business will differ from those tracked by other brands or even different departments within your own business. Starting with thee metrics listed in this article provides a foundation for your email analytics from which you can identify other useful metrics for your campaigns. Through trial and error, find the crucial metrics for you, helping your business marketing emails to flourish.