If there's one area where chatbots have revolutionized the customer experience, it is eCommerce. This makes sense since chatbots are giving eCommerce businesses the edge they need in today's competitive landscape. The data, too, paints a positive picture:
The common sentiment among 67% of businesses is that chatbots are poised to outrun mobile apps in the next five years.
Approximately 47% of customers are open to shopping for items using a chatbot.
Chatbots can be beneficial for the following areas: customer service (95%), sales and marketing (55%), and order processing (48%).
69% of customers are willing to use chatbots for a specific action.
Clearly, eCommerce chatbots are revolutionizing the way online shoppers are shopping today, making every experience better than the previous one. Let's look at the top-5 applications of eCommerce chatbot today with real-life examples for some serious inspiration.
Top-5 Reasons Why Chatbots Are Giving eCommerce a New Meaning
1. Offers 24x7 Service & Instant Responses
"Over 50% of customers expect a business to be open 24/7."
The era of 'on-demand' service is here. Customers expect instant response from brands, round-the-clock. This is where chatbots come in handy. Take a look at Spring's bot on Facebook Messenger: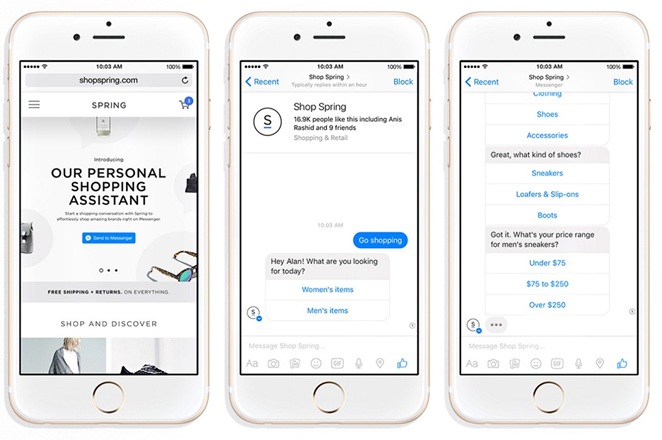 The beauty of this chatbot is that it neatly categorizes and presents predefined options to users who can interact with the bot without much effort (all the customers need to do is select an option). This decision-tree format allows the bot to provide accurate answers without making the conversation go haywire. Customers can expect to get their basic queries resolved with accurate, real-time, and effective information.
This makes the conversation quick and seamless - a big win for eCommerce customers today who are always on the lookout for instant gratification. In addition to this, eCommerce bots are available at the customer's beck-and-call 24x7. These bots don't take sick/casual leaves, nor do they take 'coffee breaks.' They don't tire or get biased when dealing with customers. All in all, with a bot, you can expect non-stop, personalized, and quality service 365 days a year.
2. Aids in Personalizing the Customer Experience and Retaining Customers
Netflix. Amazon. Sephora. Starbucks - all these global brands have upped their stakes (and investments) into driving a personalized, natural, and useful user experience. Sephora's chatbot needs a worthy mention here: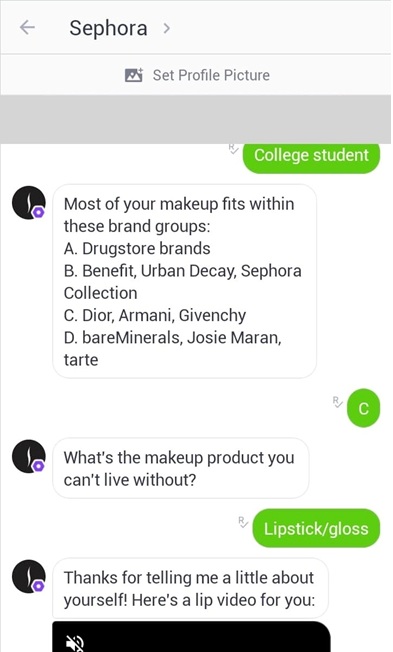 Notice how the brand asks the users relevant questions so that it can offer relevant and customized solutions: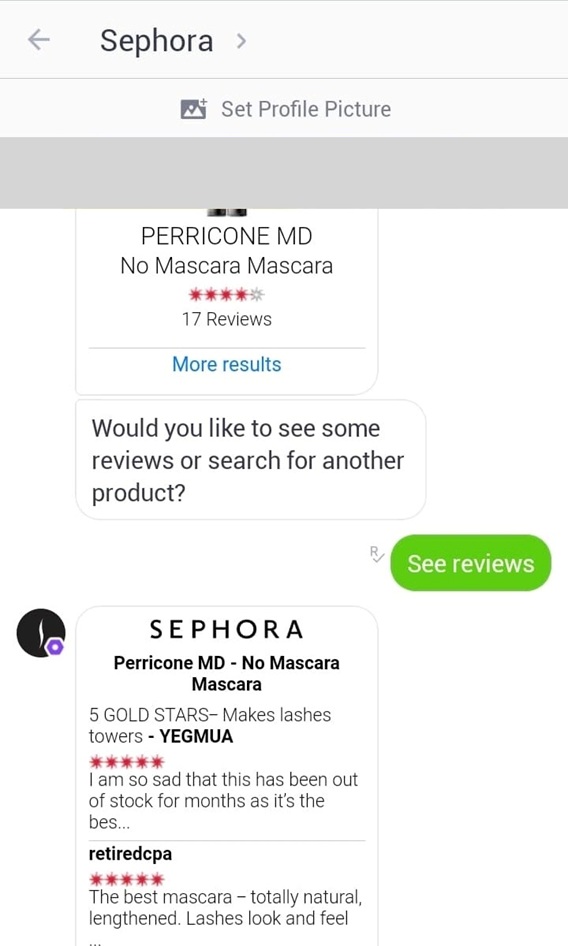 As you can imagine, this greatly enhances the user experience and boosts user engagement. More importantly, the bot helps provide a sense of direction to the users in terms of what to buy, makeup advice, useful "How-to" video tutorials, etc. So, if, as an eCommerce brand, you have a wide variety of products on display, investing in a robust chatbot tool should be your priority. Or else, you run the risk of overwhelming and confusing your customers due to the sheer volume of products available on the eCommerce portal.

3. Helps Capture Leads, Collect Customer Data, and Boost Conversion Rates
As mentioned before, your online customer's habits are changing:
Omnichannel shopping is the new normal: They generally end up using a variety of channels and platforms (think: mobile app, website, social media, physical store, etc.) before they make a purchase.
The online shop should be open 24x7: Thanks to the Internet revolution, customers today shop at odd hours, during public holidays, on weekends, and so on. Basically, they expect eCommerce businesses to be open all-year-round.
Hence, your eCommerce brand needs a handy virtual guide who can assist users when the live agents are offline. Moreover, the bots can capture valuable customer information such as email address and contact details so that the customer reps can get in touch with the customer as soon as possible. How does this help? Basically, every customer query is answered, and no customer goes home 'unheard' or unhappy.
Take a look at ASOS' bot - Enki - which encourages users to subscribe to updates, add items to shortlist, and offers new recommendations at the same time: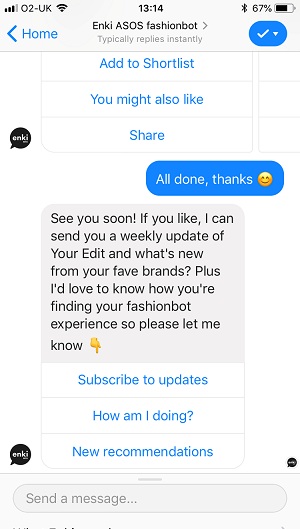 The bot also captures valuable user information such as their likes and dislikes by asking users to send an image of the product they're liking. This data then helps personalize the shopping experience: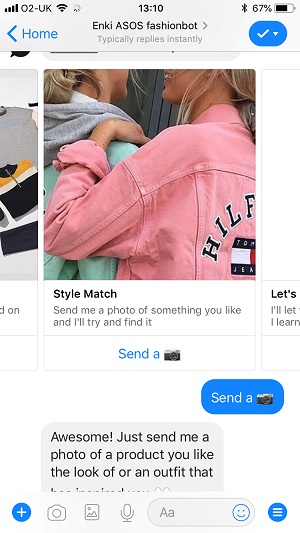 4. Enables Customer Acquisition Through Social Media Platforms
Social eCommerce is exploding. Consider the following statistics:
60% of Instagram users use Instagram to find new products.
30% of online shoppers are willing to make a purchase from social media channels such as Facebook, Pinterest, Instagram, Twitter, or Snapchat.
So, if your eCommerce brand does not have a formidable presence on the right social media channels, you're missing out on a huge chunk of potentially loyal customers. Popular eCommerce brand Zara makes excellent use of the "Instagram checkout" feature to enable a friction-less customer experience. All they have to do is tap on the product tag on the uploaded posts. The users will be able to buy the product without leaving the app, paving the way for unparalleled convenience and speedy transactions. Moreover, Instagram also offers the stored payment information option, which makes the entire shopping experience effort equivalent to a single-click (quite literally):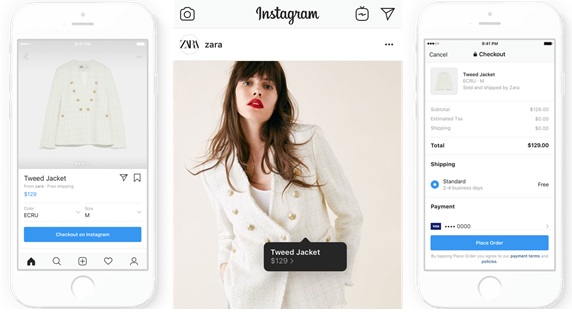 5. Lowers Shopping Cart Abandonment and Boosts Sales
Cart abandonment is a very real challenge for most eCommerce websites. Often times, customers get put off by shipping costs, added delivery charges, additional taxes, etc. and jump ship. This is where chatbots can 'nudge' the users to make a purchase by rolling out a personalized message that acts as a 'friendly reminder' (as shown below):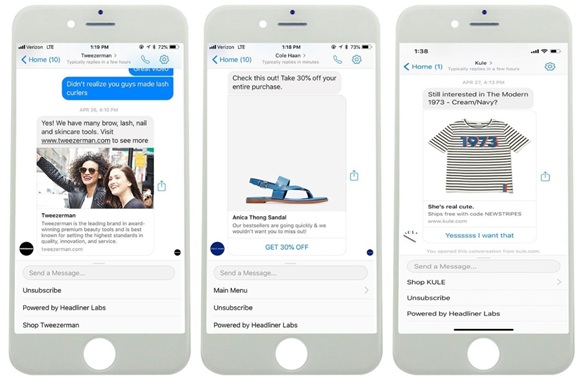 The brand Cole Haan leverages the power of a Facebook Messenger chatbot to motivate the customers to complete the purchase. Here's how this works:
Once the customer adds a product to their cart on the brand's website or abandons the cart, the Cole Haan chatbot automatically gets triggered to send updates via Facebook Messenger.
The brand also sends follow-up emails that could feature additional deals and discounts related to the product.
Moreover, the brand makes sure to send follow-up notifications to customers related to the chosen item, especially if it goes on sale or reaches low stock levels as the chances of the customer buying it on sale or when the stock is low increases exponentially.
Closing Thoughts
eCommerce chatbots are also known as 'conversational bots' today, owing to their dynamic personality and the ability to engage users in such fun, interactive, and informative interactions as we saw above. They're no longer viewed as dull, robotic chatbots that offer one-word answers. In fact, it wouldn't be wrong to say that chatbots are fast-emerging as the lifeblood of eCommerce websites today.
To wrap up, here are the top-5 business- and user-centric advantages of using eCommerce chatbots:
Offers 24x7 service and instant responses to user queries.
Aids in personalizing the customer experience and, thus, helps retain customers.
Helps capture quality leads, collect real-time customer data, and boost conversion rates.
Enables customer acquisition through social media platforms.
Lowers shopping cart abandonment and boosts sales.
So if you wish to amplify your customer acquisition and retention efforts in addition to boosting sales and gaining customer loyalty, you need to hop onto the eCommerce chatbot bandwagon; and the best time to do this was yesterday.
Author's Bio: Srushti Shah is an ambitious, passionate and out of the box thinking woman having vast exposure in Digital Marketing. She is working as a Digital Marketer and Content writer at Acquire. Her key focus is to serve her clients with the latest innovation in her field leading to fast and effective results. Working beyond expectations and delivering the best possible results is her professional motto. Other than work, she loves traveling, exploring new things and spending quality time with family. Reach out to Srushti Shah on Twitter or LinkedIn