Data exists everywhere!
We use data every day — in different forms — to make informed decisions. It could be through counting your steps on a fitness app or tracking the estimated delivery date of your package. In fact, the data volume from internet activity alone is expected to reach an estimated 180 zettabytes by 2025.
Companies use data the same way but on a larger scale. They collect information about their targeted audiences through different sources, such as websites, CRM, and social media. This data is then analyzed and shared across various teams, systems, external partners, and vendors.
With the large volumes of data they handle, organizations need a reliable automation tool to process and analyze the data before use. Data orchestration tools are one of the most important in this process of software procurement.
What is Data Orchestration and Data Pipelines
Data orchestration is an automated process of data pipeline workflow. To break it down, let's understand what goes on in a data pipeline.
Data moves from its raw state to a final form within the pipeline through a series of ETL workflows. ETL stands for Extract-Transform-Load. The ETL process collects data from multiple sources (extracts), cleans and packages the data (transforms), and saves the data to a database or warehouse (loads) where it is ready to be analyzed. Before this, data engineers had to create, schedule, and manually monitor the progress of data pipelines. But with data orchestration, each step in the workflow is automated.

Data orchestration is collecting and organizing siloed data from multiple data storage points and making it accessible and prepared for data analysis tools. With this automation act, businesses can streamline data from numerous sources to make calculated decisions.
The data orchestration pipeline is a game-changer in the data technology environment. The increase in cloud adoption from today's data-driven company culture has pushed the need for companies to embrace data orchestration globally.
Why is Data Orchestration Important
Data orchestration is the solution to the time-consuming management of data, giving organizations a way to keep their stacks connected while data flows smoothly.
"Data orchestration provides the answer to making your data more useful and available. But ultimately, it goes beyond simple data management. In the end, orchestration is about using data to drive actions, to create real business value."
— Steven Hillion, Head of Data at Astronomer
As activities in an organization increase with the expansion of the customer base, it becomes challenging to cope with the high volume of data coming in. One example can be found in marketing. With the increased reliance on customer segmentation for successful campaigns, multiple sources of data can make it difficult to separate your prospects with speed and finesse.
Here's how data orchestration can help:
Disparate data sources. Data orchestration automates the process of gathering and preparing data coming from multiple sources without introducing human error.
Breaks down silos. Many businesses have their data siloed, which can be a location, region, an organization, or a cloud application. Data orchestration breaks down these silos and makes the data accessible to the organization.
Removes data bottlenecks. Data orchestration eliminates the bottlenecks arising from the downtime of analyzing and preparing data due to the automation of this process.
Enforces data governance. The data orchestration tool connects all your data systems across geographical regions with different rules and regulations regarding data privacy. It ensures that the data collected complies with GDPR, CCPA, etc., laws on ethical data gathering.
Gives faster insights. Automating each workflow stage in the data pipeline using data orchestration gives data engineers and analysts more time to draw and perform actionable insights, to enable data-based decision-making.
Provides real-time information. Data can be extracted and processed the moment it is created, giving room for real-time data analysis or data storage.
Scalability. Automation of the workflow helps organizations scale data use through synchronization across data silos.
Monitoring the workflow progress. With data orchestration, the data pipeline is equipped with alerts to identify and amend issues as quickly as they occur.
Best Tools Data Orchestration Tools
Data orchestration tools clean, sort, arrange and publish your data into a data store. When choosing marketing automation tools for your business, two main things come to mind: what they can do and how much they cost.
Let's look at some of the best ETL tools for your business.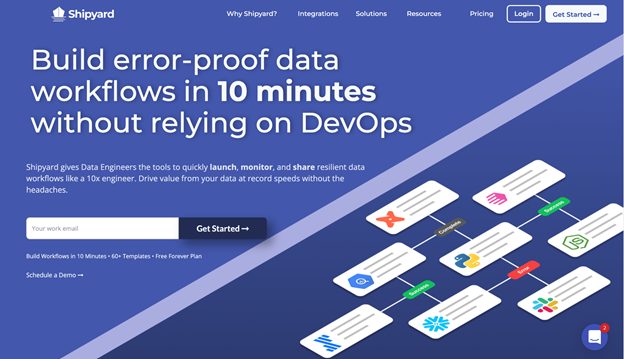 Shipyard is a modern data orchestration platform that helps data engineers connect and automate tools and build reliable data operations. It creates powerful data workflows that extract, transform, and load data from a data warehouse to other tools to automate business processes.
The tool connects data stacks with up to 50+ low-code integrations. It orchestrates work between multiple external systems like Lambda, Cloud Functions, DBT Cloud, and Zapier. With a few simple inputs from these integrations, you can build data pipelines that connect to your data stack in minutes.
Some of Shipyard's key features are:
Built-in notifications and error-handling
Automatic scheduling and on-demand triggers
Share-able, reusable blueprints
Isolated, scaling resources for each solution
Detailed historical logging
Streamlined UI for management
In-depth admin controls and permissions
Pricing:
Shipyard currently offers two plans:
Developer — Free
Team — Starting from $50 per month
2. Luigi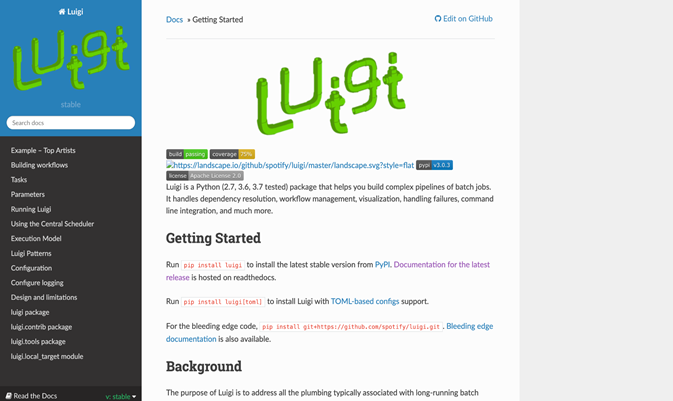 Developed by Spotify, Luigi builds data pipelines in Python and handles dependency resolution, visualization, workflow management, failures, and command line integration. If you need an all-python tool that takes care of workflow management in batch processing, then Luigi is perfect for you.
It's open source and used by famous companies like Stripe, Giphy, and Foursquare. Giphy says they love Luigi for "being a powerful, simple-to-use Python-based task orchestration framework".
Some of its key features are:
Python-based
Task-and-target semantics to define dependencies
Uses a single node for a directed graph and data-structure standard
Light-weight, therefore, requires less time for management
Allows users to define tasks, commands, and conditional paths
Data pipeline visualization
Pricing:
Luigi is an open-source tool, so it's free.
3. Apache Airflow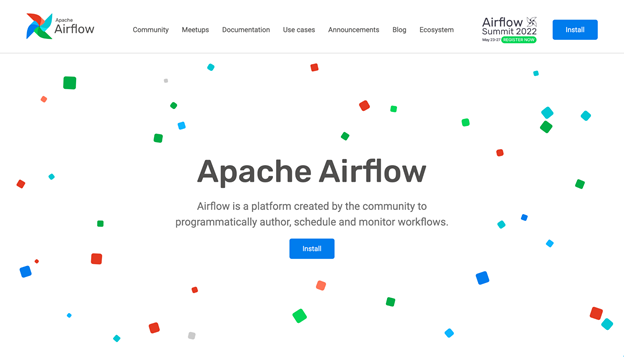 If you're looking to schedule automated workflows through the command line, look no further than Apache Airflow. It's a free and open-source software tool that facilitates workflow development, scheduling, and monitoring.
Most users prefer Apache Airflow because of its open-source community and a large library of pre-built integrations to third-party data processing tools (Example: Apache Spark, Hadoop). The greater flexibility when building workflows is another reason why this is a customer favorite.
Some of its key features are:
Easy to use
Robust integrations with data cloud stacks like AWS, Microsoft Azure
Streamlines UI that monitors, schedules, and manages your workflows
Standard python features allow you to maintain total flexibility when building your workflows
Its latest version, Apache Airflow 2.0, has unique features like smart sensors, Full Rest API, Task Flow API, and some UI/UX improvements.
Pricing:
Free
4. Keboola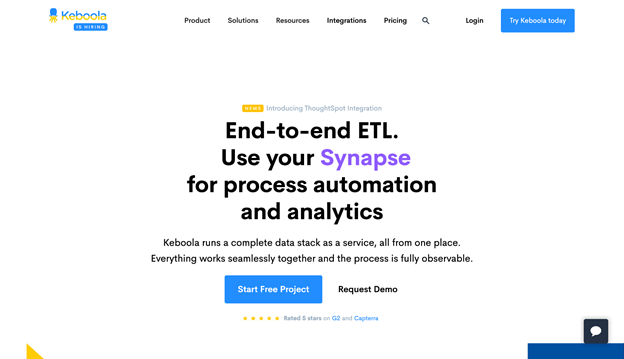 Keboola is a data orchestration tool built for enterprises and managed by a team of highly specialized engineers. It enables teams to focus on collaboration and get insights through automated workflows, collaborative workspaces, and secure experimentation.
The platform is user-friendly, so non-technical people can also easily build their data orchestration pipelines without the need for cloud engineering skills. It has a pay-as-you-go plan that scales with your needs and is integrated with the most commonly used tools.
Some of its key features are:
Runs transformations in Python, SQL, and R
No-code data pipeline automation
Offers various pre-built integrations
Data lineage and version control, so you don't need to switch platforms as your data grows
Pricing:
Keboola currently has two plans:
5. Fivetran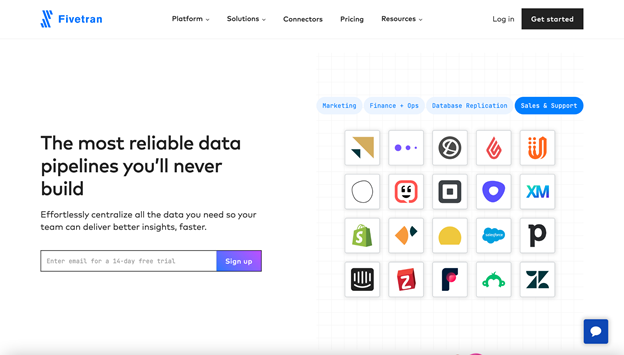 Fivetran has an in-house orchestration system that powers the workflows required to extract and load data safely and efficiently. It enables data orchestration from a single platform with minimal configuration and code. Their easy-to-use platform keeps up with API changes and pulls fresh, rich data in minutes.
The tool is integrated with some of the best data source connectors, which analyze data immediately. Their pipelines automatically and continuously update, freeing you to focus on business insights instead of ETL.
Some of its key features are:
Integrated with DBT scheduling
Includes data lineage graphs to track how data moves and changes from connector to warehouse to BI tool
Supports event data flow data
Alerts and notifications for simplified troubleshooting
Pricing:
Fivetran has flexible price plans where you only pay for what you use:
Starter — $120 per month
Standard Select — $60 per month
Standard — $180 per month
Enterprise — $240 per month
Business Critical — Request a demo
6. Dagster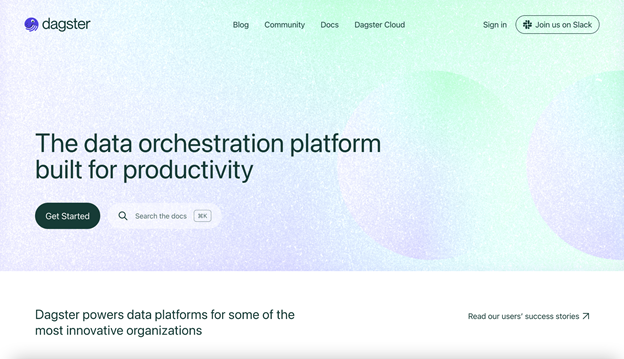 A second-generation data orchestration tool, Dagster can detect and improve data awareness by anticipating the actions triggered by each data type. It aims to enhance data engineers' and analysts' development, testing, and overall collaboration experience. It can also accelerate development, scale your workload with flexible infrastructure, and understand the state of jobs and data with integrated observability.
Despite being a new addition to the market, many companies like VMware, Mapbox, and Doordash trust Dagster for their business's productivity. Mapbox's data software engineer, Ben Pleasonton says, "With Dagster, we've brought a core process that used to take days or weeks of developer time down to 1-2 hours."
Some of its key features are:
Greater fluidity and easy to integrate
Run monitoring
Easy-to-use APIs
DAG-based workflow
Various integration options with popular tools like DBT, Spark, Airflow, and Panda
Pricing:
Dagster is an open-source platform, so it's free.
In conclusion…
Companies are increasingly relying on the best AI marketing tools for a sustainable, forward-thinking business. Leveraging automation has helped them accelerate their business operations, and data orchestration tools specifically have provided them with greater insights to run their business better.
Choosing the right ETL tools for your business largely depends on your existing data infrastructure. While our top picks are some of the best in the world, ensure you research well and select the best one to help your business get the most out of its data.