With the increasing number of cyber attacks on companies, businesses of all sizes are forced to re-assess their cyber security policies required for safeguarding sensitive information related to their business or customers. Cybersecurity comprises of everything ranging from personally identifiable information, personal information, intellectual property along with industry related information. The global connectivity and increase in usage of cloud services have also increased risks associated with data breaches. Online companies need to buy SSL certificate to ensure effective data protection and data privacy enabling a secure exchange of data across networks.

Resolute Technology Solutions, a Managed IT Services Provider In Winnipeg, recommends approaching cybersecurity in layers. The best way to safeguard your data and technology operations is to secure your technology upfront, reinforce with effective security policies, and invest in security awareness training to keep your team from engaging with harmful cyber threats.


Why Cybersecurity is important for enterprises?
The widespread adoption of cloud and mobile technologies have exposed companies to greater threats of cyber-crimes. This has created tremendous pressure on technology companies to respond quickly to the business requirements while maintaining security and privacy of their key data. Cyber security management is not just limited to detection, prevention and mitigating internal security threats, In fact, security teams need to be aware of the latest developments in the threats and know how much their organization is vulnerable to these growing threats and know it's impact on the overall business model.

Average number of targeted attacks in a day on a single web application
Top 10 useful Cybersecurity tips that Users Must know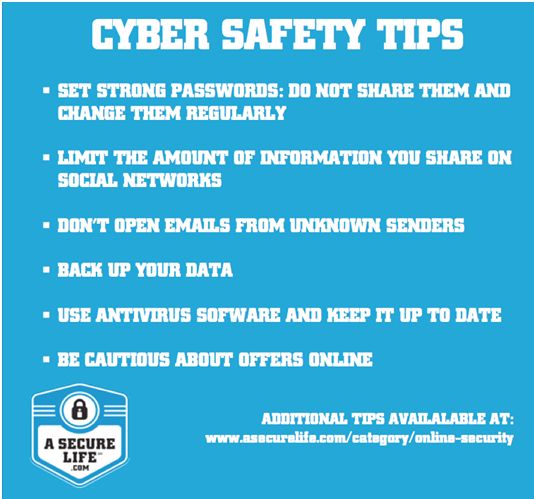 Be wary of hacking attempts
Most of us fail to realize that hackers can target just about anyone, be it individual or an organization, big or small. The main motive behind hacking is to steal personal or financial information which is critical to the survival and existence of the business. It helps to stay on guard and be alert of any hacking possibilities. Cyber attackers do not discriminate while targeting users. Hence, taking necessary precautions such as avoiding clicking on malicious links and not sharing your credentials to unknown people can go a long way in preventing these crimes.
Stay away from phishing scams
Phishing scams have been around for a long time and they allow cybercriminals to make enormous profits. Plus, new phishing techniques continue to increase the threats of cyber crime activities for users and enterprises. It is best to avoid clicking on links which may not come from a legitimate source and always verify the site's security before sharing any of your personal details. Anti-phishing toolbars may be helpful in running checks on the sites and keep tab on phishing sites.
Use strong and secure passwords
Social engineering, brute force attacks, shoulder surfing, malware and manual guessing are some of the key ways used by hackers to crack passwords. Hence, it is recommended to use passwords which are non-predictable and difficult to guess and avoid using same passwords for all accounts. This is because different sites have different levels of security and using the same password everywhere may threaten the security of your website.
Shop across secure sites and networks
Shopping online without checking the authenticity of websites can prove to be disastrous with high possibilities of data leaks and misuse of personal information. It is best to shop on ecommerce sites with SSL encryption that provide a safe and secure checkout experience. Especially, for websites that accept payments, SSL is crucial as it provides authentication to your website and helps reduce the risk of phishing and malware attacks.
Beware of fake friend requests
Social media sites are some of the common targets by hackers as they may attempt to steal your personal information using your profiles. Thus, if you get a connection request from unknown senders, it is best to report such scams to social media platforms. Avoid accepting friend requests from people whom you do not know and use privacy setting to protect your accounts.
Use anti-virus protection
Online security can be enhanced using the anti-malware protection for your systems which scan your computer and helps prevent harmful websites. It is necessary to update your software on a regular basis using the automatic update option. If your operating system has a new update, make sure to install them as quickly as possible.
Update your system software
Computers, tablets, and smartphones can be excellent devices, but they are vulnerable to cyber threats as they contain lots of information about your online activities, personal data along with financial information. Operating systems have certain in-built functions that can help in preventing attacks and most of them provide updates. One of the best ways of protecting your device is by regularly updating your software. Since operating systems helps in managing the functionality of your computer, they can be targeted by hackers and updating your OS can be the best defense mechanism.
Keep your laptop physically safe
Laptops are essential devices required for both personal and business use and as they are portable, they are quite convenient. However, there are security risks associated with laptops and we need to take all necessary precautions to prevent any loss of personal information or data theft. Make sure to have a backup of all the files on your laptop and never store passwords on your laptop.
Do not panic unnecessarily about cyberattacks
Monitor your accounts for any kind of suspicious activities and if you find anything unfamiliar, do not give any of your personal information. Stay aware of the latest cyber threats and be prepared for the situation and do not get anxious under any circumstances.
Clean your device regularly
Keep a check on the apps that you have downloaded and delete unnecessary files that may occupy space. This way your phone will give better performance and reduce the menace of hackers by preventing access to important personal information.
Conclusion
Most of the online businesses are exposed to cyber threats today and they need to chalk out effective strategies to prevent data breaches and hacking activities within their enterprises. On the other hand, individual users need to be wary about sharing any confidential information with unknown companies who may try to steal data and financial information. With sophisticated techniques used by hackers, it's challenging to completely control these cybercrimes, while it's possible to reduce them by using stringent measures. Know your data privacy rights and have knowledge on data breach compensation to protect your business.