Customer onboarding has the most significant impact on your business and your bottom line. This is mainly because it's the very first interaction customers have with your product. And you have to make it memorable to make a lasting impression and compel your customers to stay loyal to your brand.
In this blog, we will discuss customer onboarding challenges, brands with the best onboarding processes, the best tools, and more.
So, let's dive into customer onboarding and how to do it right.
What makes customer onboarding challenging?
Nearly 60% of companies claim they are unsatisfied with their existing customer onboarding experience for their product. This is mainly because the customer onboarding process is too long and painstaking. The customer needs to use the product immediately. Otherwise, they will not follow through with the entire process of onboarding.


8 in 10 customers claim to have deleted an app because they couldn't use it properly. Even if you have made a great product, improper or inadequate training of your customers to use your product features may frustrate them. That would cause your customers to undermine the value of your product. They would think that your product couldn't meet their needs and expectations.
Brands With The Best Onboarding Processes

1. Walmart (Virtual Try-on)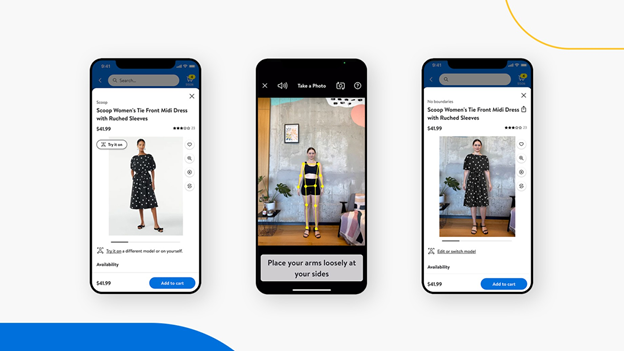 Walmart introduced a virtual try-on feature called "Be Your Own Model," based on Artificial Intelligence. This feature allows you to try on different clothes through the app before making the purchase.

To get started, the app will ask you whether you want to try it on "yourself" or "a model." If you have selected yourself, then all you have to do is take a picture of yourself by propping your device at waist height.

You also need to ensure that your whole body is visible and hold your pose in front of the camera and upload it on the app. The app will only ask you about your height and voilà! You are ready to virtually try-on new clothes. Thus, this new feature provides shoppers with a more personalized shopping experience.

2. Slack (Slackbot)

Slack is definitely one of the most sought-after apps with the best customer onboarding process. Slack features an automated chatbot, namely Slackbot, that assists new users to create their own workspace and even helps in being invited to one. It runs in a pre-configured Slack channel.

So, on your first log-in, Slackbot is there to give you a warm welcome and ask you some basic questions to break the ice. However, it also reminds you that you are talking to a bot, not a human.

The Slackbot also offers tips and guides that can help users gain basic know-how of creating a new channel, uploading and sharing files and docs, sending and receiving messages, and inviting team members and guests to their channel. It's easy to chat with Slackbot as it doesn't overwhelm users with redundant information but only those which would help them get familiarized with the tool.

3. Duolingo (Get Started Without Sign-Up)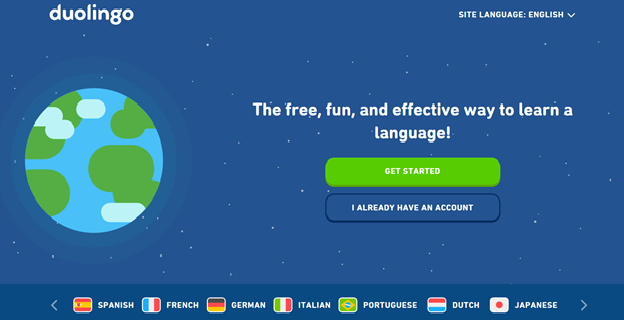 Duolingo stands apart from others when it comes to its customer onboarding process. It doesn't require you to sign up to use its service right away.

Their strategy for customer onboarding is quite unconventional. When you use the app for the first time, it prompts you to commit to a common goal you want to achieve. Then, it asks certain questions to deliver a personalized experience.

There is a progress bar feature that motivates you to complete a lesson, hence, keeping you engaged with the app. Once you start to get to hang off the app, complete a lesson, or try to avail of additional features, it subtly prompts you with a signup.

The customer onboarding process of Duolingo ignites the customers' interest from the start without asking for any information at all. It gives the customer time to familiarize themselves with their product, keeps them engaged with the gamification, and asks them for registration at the very end.
4. Toggl (Product Tutorials)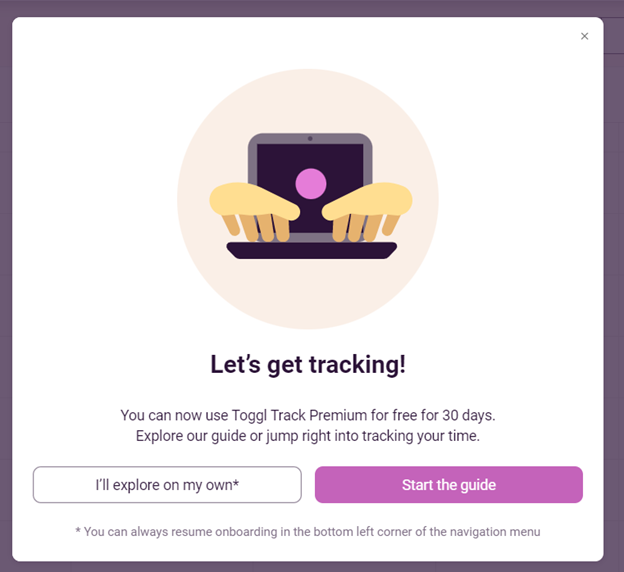 Toggl is a time-tracking tool known for having many features that make the customer onboarding process seamless. When you first log in, it offers two options: start product tutorials in a step-by-step manner or explore the features on your own.

Toggl starts the tutorial with the integrated tooltips that give an overview of how to use the product, set the name of your newly tracked task, and ask you to end tracking your time.

Once you have completed the tutorials, the app will congratulate you for achieving the milestones. It also says there are more steps of learning to go.

The app, while teaching you how to use the product, also gives you control over whether to resume or pause the onboarding process. And the best part is that it allows you to skip the tutorials at any time. So, you are not obligated to finish the tutorial on using their product.
5. RingCentral (In-App Resource Center)

RingCentral, the popular UCaaS provider, has a unique approach to customer onboarding. It has a feature called Resource Center that makes self-service to resources readily available for you, so you can learn how to improve your virtual meeting experience seamlessly.
The Resource Center offers a single platform where the app offers you the following features for a smooth onboarding process;
Get started: It helps you with how-to videos of all features of the RingCentral app. You can learn here the basics like how to schedule meetings, switch devices, send online faxes, and more.


What's new: It's where you can learn all release notes and all the latest features, bug fixes, and improvements of RingCentral.


Help: It's where you can get help by using the Search bar to find topics and questions. It also has a list of step-by-step guides. You can also use the filter option to narrow down your search to specific features—message, video, or phone & SMS.


Feedback: You can submit your feedback, share suggestions and ideas for improvements, and report to fix technical issues.
RingCentral also provides its users with the option to "Join our community" so that they can collaborate and get advice from fellow users. Users can also explore the RingCentral blog to learn a wide range of topics such as conference call etiquette, customer experience trends, and more.
Best customer onboarding tools for businesses
UserPilot

Userpilot is a top-notch customer onboarding tool that doesn't require you to be a coding expert in using it to your advantage. It features an onboarding checklists tool that allows you to create onboarding tasks in an orderly fashion.

When creating an onboarding checklist, you can choose the color that goes with your branding. You can customize the text of different stages of the onboarding process, create tasks, and choose who can actually see your checklist. Finally, you just need to hit "publish," and you're done.

Checklists are a great way to set you up for success. It's a dynamic tool for improving product adoption. The onboarding checklist helps your new customers identify all the key features of your products and services and gain value from them immediately.

InlineManual
Inline Manual is another customer onboarding tool that makes it easy to create personalized walkthroughs. By creating step-by-step guides and product tours, your new customers can learn how to use your products and services effectively.

To get started, you need to install the authoring tool. Then, you can choose the topic you want to add and fill out the required fields, such as title, owner, visibility, privacy, language, and description, to create a walkthrough.

Inline Manual also allows you to add images, GIFs, and videos to make your walkthrough visually appealing. You can also execute different results based on your customer's activity with branching. To deliver an exceptional customer onboarding experience, you can greet your customers by creating a welcome message to thank them for choosing your product.

How to design a successful customer onboarding strategy
1. Sign-up & Login

Your signup process should be as simple as possible for your company to increase conversion rates. When creating a signup form, ask only for essential information and then ask for the secondary information later once they sign up. Furthermore, you also need to deliver a meaningful value on their very first login; that's where the real impression starts to build. You can start by offering guides and tutorials for your customers to get acquainted with your product.

2. Welcome message

Once your customers sign up, the next step is to send a welcome email to delight your customers. This is because when your customers have taken their time to sign up for your product, you should do the same to thank them for their gesture.

3. Automation

Whether it's a welcome email, a product tutorial, or a step-by-step guide, use automation to make your customers acquainted with your product. Moreover, automation saves you time doing all the repetitive tasks manually, which allows you to work on more strategic tasks such as managing business operations.

4. In-app support

Create self-service in-app support for your customers to solve their problems on their own. With this feature, they will get hands-on experience using the product. Moreover, you can incorporate interactive walkthroughs to make this learning experience all the more engaging and even fun. In the end, this will help save your customers' time and your overhead cost of hiring more support staff.

5. Feedback

It's a given that you may experience churn, so always keep a lookout for customer behavior patterns using your product. That way, you will be in a better position to reduce churn or at least know why your customers are leaving. You can initiate a customer offboarding survey to know your customers' grievances about your product. Frequently collect feedback from your customers. You can create an in-app questionnaire when your customers reach a milestone or embed a feedback popup across your user interface. This way, your customers can give feedback whenever they feel like it.

Conclusion

The future of customer onboarding is vast and viable, and of course, competitive. Therefore, you need to ensure that your customer onboarding process is simple as it can be.

The rule of thumb for delivering a seamless onboarding process is to create onboarding tutorials with how-to videos along with a dedicated customer support team. That way, your customers can easily become acquainted with your product and use it over the long haul.

As a result, you will experience more product adoption rates and lower churn rates while increasing customer lifetime value.