When people are continuously assaulted with both online and offline adverts, it's understandable for consumers not to notice your messages amongst thousands of information.
And we all know customer loyalty is the key to sustainable growth and a solid competitive edge over others.
The burning question is: How to earn loyalty from the business's existing customers in practice? And What inspires their loyalty?
In this post, we will get closer to the value around the point reward system and the secrets behind a winning customer loyalty program.
Without further ado, let's dive in!
Point rewards systems: Everything you need to know about

The essence of reward programs

A new approach towards reward programs

In the past, customer rewards used to be widely misunderstood as cheap and short-term promotion devices with no actual value. Still, many people now get the essence of the reward program wrong.

In fact, rewards have the ability to motivate both new and existing customers to purchase a product or service. Only when rewards are designed to be a part of a loyalty program can they create additional long-term benefits.


Customers are not created equal

When you realize the importance of customer loyalty and loyalty programs to your business, you admit the truth that not all your customers are equal.

There will be some who bring superior profits and long-term value for your company and some not. Apparently, those with higher potential and profitability should enjoy adequate benefits.

In return for nurturing relationships with these customers, things you get are that customers will become more loyal and profitable.


Get started with a long-term perspective

Generating customer loyalty can cost a great deal of money if your purpose is to focus on the short-term benefits. A one-time or short-term reward program indeed changes customers' behavior in a certain way when your rewards are compelling enough.

For instance, a promotion can ask people to buy their product to feature a chance at a 2-day & 1-night vacation in a famous tourist spot. In the short run, your business's conversion rate will increase, but in the long run, it's no better off.

It's important to understand that customers are sustainably loyal to a business only when they see long-term benefits in the relationship with your business.



The concept of a point rewards system

A loyalty points program is where you create a unique form of currency for customers to earn and spend at your company. In other words, customers will get points for specific actions you set for your program. At the same time, they can redeem these points for discounts, vouchers or products, etc.

A typical example of this is The North Face - One of the most popular clothing & footwear brands around the world.




3 simple steps to be a member of VIPeak
As you can see in the above image, in The North Face VIPeak:
Customers earn 10 points for every $1 spent at either thenorthface.com or The North Face official stores
5 points for every $1 spent at The North Face outlets
For reward redemption: there are 3 levels corresponding to 3 reward ranks with the value respectively of $20, $25, and $30

3 VIPeak Rewards levels of The North Face
Advantages vs. disadvantage of the point-based loyalty program

Below are the pros and cons of a point program.

Advantages
The most common type of loyalty program which is simple for users to be a member in your business's loyalty program
Come with high flexibility since you can easily adjust the point reward system to suit the business's resources and marketing purposes
Perfect replacement for price discounting promotion while still encouraging repeat purchases
Can be used to reward both customers and employees
Easy to track and analyze the program's effectiveness for any further optimization
Reduce advertising cost for retaining customers
Increase customer lifetime value while boosting the business's revenue
Offer a substantial branding opportunity. For instance, you can incorporate your business logo, brand elements, or slogan into the loyalty card, program name, etc.

In short, any loyalty program gives customers a strong incentive to return. Furthermore, point-based reward programs assist significantly in collecting customer data for different marketing purposes (cross-selling, personalization campaign, and so forth).


Disadvantages
Due to the proliferation of points programs these days, yours might be nothing more than "another points program" in customers' minds
Require ongoing investment in creating compelling redemption options for program success
Require a high currency management capability and a strong point structure to encourage repeat purchases while increasing the profit margin
Have to face the risk of hurting your business's finances
The strategy behind point reward programs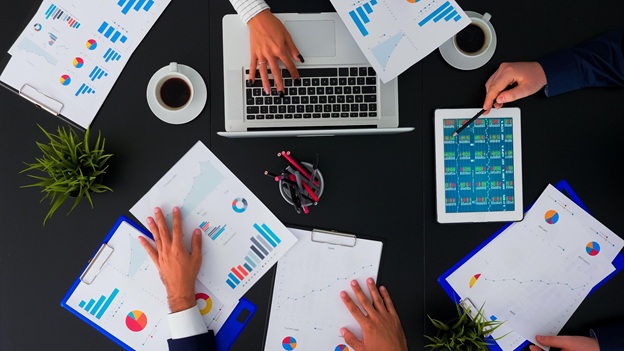 The strategy behind point reward programs
Reward programs don't stand alone. It needs to incorporate a business's overall strategy and capabilities in order to get sustainable growth.
There are various factors to consider when you decide to invest in loyalty programs. It indeed wastes time and effort since not any loyalty strategy works. It's not just about what gift you will reward your customers. Along with that question, you should also think about:
What kind of rewards should you offer customers? (Discounts, physical/ digital rewards, or custom gifts, etc.)
How will you build your reward tires and structure in a way that balances your rewards based on their value?
How will your loyalty program differentiate from others?
How will customers redeem and get your rewards? (Code redemption or shipped to home, etc.)
How to let people know and generate buzz around your loyalty program?
These questions will be a great starting point for you to come up with excellent loyalty program ideas. Just bear in mind that a successful loyalty program always starts from a well-prepared strategy.
5 tips for a successful points rewards system
Incorporate with a tiered reward system
A tiered reward system is when you offer different rewards based on each point milestone a member cross. This multi-tiered structure is helpful in increasing member engagement since it adds a level of exclusivity to the program and making them feel special.
You provide your members with a certain number of milestones to strive for. As a result, members will push their way even higher to achieve their desired rank and redeem more valuable rewards.
Some suggestions to make your tiered reward system exceptional:
Show members their status relative to others in the program to kick off customers' competitive desire for earning more points
Label membership levels in a way that reflects your business's personality while representing the language of the target audience for better brand engagement
Set up automated email campaigns to nurture specific customer groups of each point rank. The goal is to incentivize each to engage more level by highlighting the benefits of higher ranks
Empower your program with customer engagement via gamification. Allow members to earn extra points by completing a series of challenges
Use a eCommerce reward points system to better manage and leverage the power of your loyalty program
Moreover, since the higher levels provide better benefits, these programs make your most loyal customers feel the most valuable. They know that the rewards they receive are not available to everyone.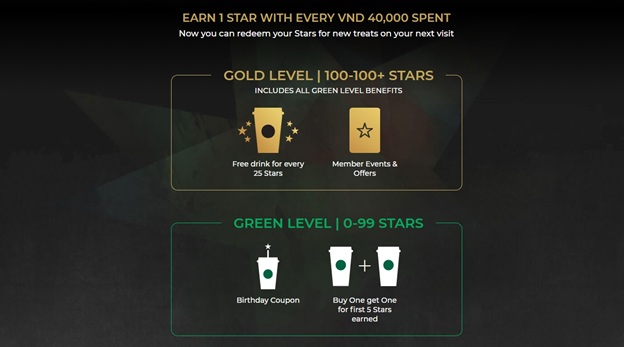 2 tiers in Starbucks rewards program
Starbuck does its best for implementing its point-based loyalty program via 2 main tiers:
The Gold Level (100 - 100+ stars): Free drink for every 25 stars and members events
The Green Level (0 - 99 stars): Birthday coupon, buy one get on for the first 5 stars
Keep your point reward system simple and recognize your VIPs

Your loyalty program is to appreciate customers for their trust in your brands, not to create annoyance due to the unnecessary complexity of point redemption.

It comes as no surprise that your customers refuse to join your loyalty program if they have to go through several steps to sign up or redeem rewards. So keep your redemption process straightforward and easy to understand.

Though it's essential to avoid complexity for your loyalty program, customers are not equal. That is, you need to make the most profitable feel valued. A simple way to do this is to establish a tier system. Those most loyal ones, as a result, get more privileges compared to others.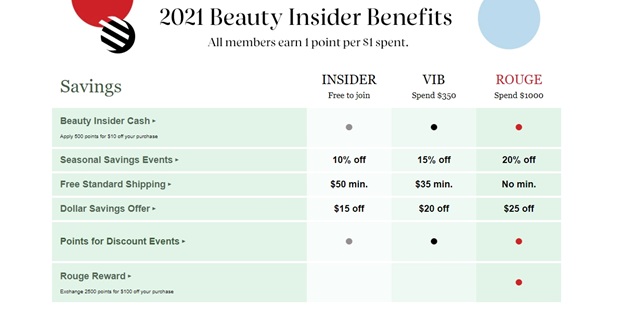 3 ranks with benefits of Sephora's reward system
For example, Sephora - a famous beauty brand, has separated these members into 3 different tires. Obviously, members in the highest tier (Rouge) get privilege benefits compared to 2 left levels.

Priority personalization

Personalization is one of the determining factors that establish an emotional connection with customers. In fact, it's no longer a nice-to-have like in the past, but a need-to-have, instead.

Have you ever wondered why Amazon became one of the most popular eCommerce sites around the world? The secret behind its success is personalization: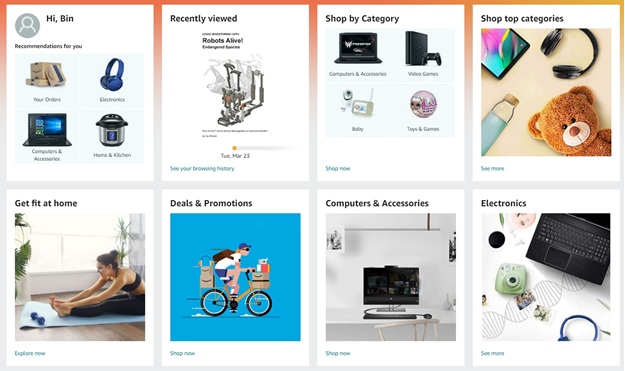 High personalization on the dashboard of Amazon website
Use AI technology and machine learning to understand consumers' behavior (which product they're likely to purchase, for instance), then recommend the same while they're on the site or the next time they log in
Leverage the product recommendations via AI power. Shed light on items relevant to consumers' wants and needs
Deliver a feeling of high personalization to customers by making their homepage to be like specially designed to welcome them for each login time
So how can you personalize your point-based loyalty program?
Launch a mobile loyalty application
Come up with various rewards for customers to redeem with points
Create a personalized dashboard so that customers can check their balance, loyalty level as well as exchange points
Use the loyalty tiers based on collected points to differentiate between more and less engaged customer groups
Focus on the complete customer experience
A company's most loyal customers are also the most profitable ones. Plus, as mentioned above, customers are not equal, and a loyalty program is where you nurture the relationship with that long-term customer group.
Thus, it makes sense for you to treat customers with long-term potential in a unique way compared to others.
In other words, you should focus on offering a heightened user experience for your most loyal supporters via your loyalty program, not just simply a gift card to get free items.
You can create a pack of privilege benefits for those who achieve certain point ranks with, for instance:
Access codes for pre-ordering limited items
Exclusive support via hotline or live chat to quickly address and solve customers' problem
Free expedited shipping in a certain amount of time for most loyalty program members
There're many ways you can do to nurture a long-term relationship with loyal customers. No matter what, try your best to facilitate the repurchase process of customers incorporating various extra benefits.
Make buzz around your reward programs
Even when you create an attractive loyalty program for your customers, it's still hard to succeed without the necessary communication. In other words, customers won't pay attention to your programs unless you announce and promote them on social media or email campaigns, etc.
In the worst case, your point-based rewards program is not only forgotten but also ends up making customers feel less valued. This is a warning sign of failure that no one wants to see.
The solution is to try to keep in touch between your loyalty program and customers. Social media and email are the 2 most effective tools to send your program notifications, thus keeping it engaged with all members.
The bottom line!
No matter how you establish your point rewards system, pay attention to the balance point between your rewards and profit margins. Your end goal is always the same: satisfy, retain and nurture the loyalty of your customers at the lowest possible price.
Finally, all loyal customers, over time, become essential building blocks by buying more, paying premium prices, or bringing in new customers via referrals.