The COVID-19 crisis changed the way we work.
While telecommuting was not uncommon in some parts of the world, the pandemic ensured that it became mainstream globally.
And it seems to be a trend that is here to stay.
But how is remote work impacting productivity?
44% of employers said that remote work had made their employees more productive.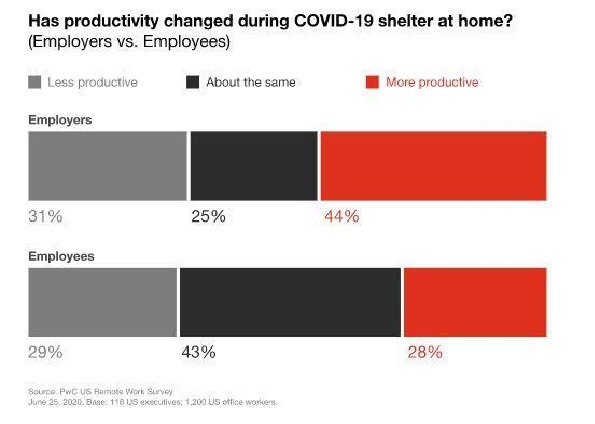 As an employer, that's something you should be happy about.

But take that with a pinch of salt. Remote work brings other challenges, including loneliness, motivation issues, multiple distractions, communication issues, and more.

All of them can bring down your employee morale and affect their productivity.

If you are an effective leader who doesn't want to go down this path, you need to take some precautionary steps.

Here are some strategies that you can incorporate to protect your workforce and keep their productivity level high:

1. Use Advanced Digital Tools

While working on projects, it's important that your team is able to connect, collaborate, and communicate with each other smoothly.

Advanced digital tools can help you with it. Here are some types of tools that can use to make your remote work feel more connected:

Virtual Communication Tools
Virtual communication tools make it easier for your team to share messages with each other in real-time and conduct audio and video meetings.
Some of the most commonly used communication tools include:
Slack
Zoom
Skype
Microsoft Teams
Google Meet
Cisco Webex
GoToMeeting
Most of these tools allow you to conduct with your teammates or send text messages to communicate with them.
Ideally, you should use a combination of complementary tools to provide the best experience for your employees.
Project Management Tools
Coordination is necessary in projects that are handled by different teams. If you want to make sure that your team can plan multiple projects effectively, here are some of the tools you should try:
Basecamp
Trello
Asana
Zoho Projects
Hive
In their own way, all of these tools make it possible to track the status of your projects and plan them in a better way.
Time Tracking Tools
Tools for time tracking can help you figure out how much time you are spending on a particular project. Overall, it can make a big difference to your productivity.
Here are some of the most popular time-tracking tools:
Storage Tools
Cloud-based storage tools make it easy for you to share and access online documents. For this, you can use tools like:
2. Outline Goals and Responsibilities Clearly
You should set short-term as well as long-term goals for all your employees' benefit. Clearly stating what you expect from them ensures that they are aware of their responsibilities.
However, make sure you give them enough freedom to manage the tasks on their own. If you constantly check up on them, it can seem annoying to them.
Micro-management can ultimately lead to a dip in productivity and employee morale.
You should also allow your employees to work flexibly. They should have the freedom to work when they feel the most productive. Consider implementing a 4 day work week as a new method of boosting productivity and you'll see huge results.
It's a simple step but it can make a big difference to productivity.
You should also make sure that employees can check their performance and look for advancement opportunities. For this, you can recommend some self-improvement and time management books to your employees.
3. Show Appreciation For Work Done Well
Remote employees can often feel demotivated because there is a lack of connection with their team.
To boost their morale, make it a point to recognize their accomplishments and reward them for any work that they do well. It will make them feel motivated and seen.
Here are some ways you can show them your appreciation:
Send emails that are personalized
Give a shoutout in a meeting
Create a special platform to celebrate your employees' accomplishments
Give special incentives
Provide extra vacation days
Send a gift hamper
4. Encourage Your Employees to Take Breaks
All work and no play makes Jack a dull boy. Heard the saying? There is a lot of truth to it. If your employees work hard without taking breaks in between, they are likely to burn themselves out.
Ultimately, it will impact their overall productivity level.
To avoid this scenario, it is important to encourage your employees to take a break, play some online jigsaw puzzles, practice hobbies and do other non-work related activities when they have down time.
They will feel better about themselves, and will be more motivated to get the job done, leaving you with more productivity.
5. Invest in Team Building Activities
You should conduct regular check-ins to ensure that your remote team stays connected. In fact, these meetings don't even have to be work-related.
You can discuss non-work related issues as well. In fact, you can encourage your employees to discuss their passions or hobbies.
Alternatively, you can host a "Zoom drinks" party as well where everyone joins a video conference with a drink of their choice. Such informal events can help you in bringing your team feel closer.
6. Follow Up Regularly
While you don't want to be breathing down your employee's necks, you also don't want to get disconnected from them.
Schedule follow-ups regularly so you can be on the same page about the status of different tasks. Using a task management software may also come in handy. Some collaboration tools also have options to add special notes on tasks. Just a quick note can also make a big difference in communicating what is the status of a project.
Ready to Get Started?
With remote work becoming more mainstream, it is your responsibility to ensure that your team's productivity stays on track.
From outlining clear responsibilities and using the right tools to encouraging more breaks, there is a lot you can do to motivate and engage your employees.
For the best results, you should use multiple strategies mentioned above. Experiment to see what works for your remote team.
What are you waiting for? It's time to get started!
Got any questions on how to boost your remote team's productivity? Please feel free to mention them in the comments section.