Social media customer service is the practice of providing customer support on various social channels like Facebook, Twitter, and Instagram — places where they frequently hang out and engage with brands on their own terms.
For instance, a customer who wants to know which colors are available for a product may use Facebook Messenger to easily get in touch with a brand and get a swift, concrete answer.
Nearly 70% of consumers say they have used social media for customer service issues on at least one occasion. What's more, one in three social media users prefers social media customer care service over email or phone.
Thus, besides using social media for marketing your business, you must also leverage social platforms to provide customer service. And to do it right, here are four best practices you (and your customer service team) must swear by.
Be quick to respond
The first golden rule for excellent customer service, no matter the channel, is speed. And on social media, in particular, you need to be supersonic in responding.
Because if a customer reaches out to your business on social, they expect a lightning-fast response — 42% of consumers expect a response within 60 minutes.
But you may not have a big customer service team or one that's working round the clock in shifts. That's okay. Just make sure to post your team's working hours or the duration in which customers can expect a revert. Let them know of other customer service channels if they have an urgent query.
Furthermore, provide links to self-help resources like your knowledge base — one of the many digital transformation examples that prove how far customers and companies have come from traditional and slow means of customer service (like waiting for an available phone agent) to the modern ways of self-service knowledge bases and intelligent chatbots.
Simply put, prioritize quick and courteous responses to your customers reaching out on social media. Even if you can't resolve their problem right away, acknowledging their query and letting them know that your team is working on a resolution can set the right customer expectations.
Adjust your tone of voice
The second golden rule of great customer service, irrespective of the medium, is using the right tone of voice.
That is, besides keeping the conversation positive and transparent, aligning your brand's tone to each individual customer — and the situation at hand — is vital to retain those customers.
You must know how to empathize and tailor your tone based on the way customers voice their issues:
Does the customer use emojis and exclamations? Then you can do the same to make for a more engaging conversation.
Does the customer seem not-so-fluent in your brand's default language? If so, be prudent with the use of slang.
Does the customer sound disgruntled or frustrated? If so, be extra empathetic and use a tone that's friendly, apologetic, and reassuring.
For example, JetBlue does a fine job of tailoring its tone to each individual customer. If the customer is annoyed, they use an understanding and reassuring tone.

If the customer is happy and casual, they match the tone.

And when the customer is straight-up ecstatic, they don't hold their wit back either.

To summarize, having a consistent brand voice is well and good, but be sure to tailor your tone of voice to deliver quality customer service on social media.

Monitor your brand mentions and conversations relevant to your business

Customers are always talking about brands across the social web — on social media channels like Facebook and Twitter, Q&A forums like Quora and Reddit, or business review platforms like Yelp and Trustpilot.

By actively monitoring whether customers are talking about and in what sense, you can leverage those conversations to build positive brand engagement and provide proactive customer service.

However, you can't have your eyes peeled all day at your social feed to check if someone mentioned your brand. Plus, many people will also post messages about your business without tagging your handle.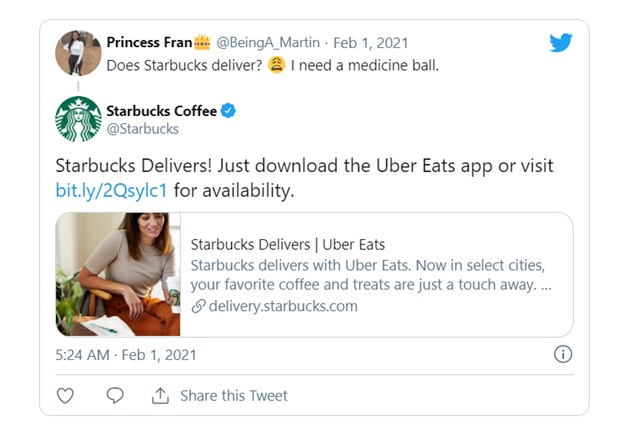 And so, you need a social monitoring tool that tracks your brand mentions (even untagged ones) across the social web and provides actionable insights to improve your social media customer service strategy.

This way, you can respond to customers who have an issue or are simply talking about your products or services — even if they didn't reach out to you.

Understand when to move the conversation to private

Not every customer concern can be resolved right there and then. For example, you might need private information like their email address, phone number, or password which cant' be shared publicly on a social platform.

Also, platforms like Twitter don't allow lengthy replies, and to provide a detailed response, you may be better off taking things over to private chat or email. You may also want to avoid many back and forth public replies for complex issues.

When you respond via a DM on Facebook, Instagram, or Twitter, make sure to add a comment like "Hey <first name>! Please check your DMs" so the customer knows where to look for your response. This way, other users can also see you reached out privately to resolve the concern in a timely way.

Moreover, make sure the agent who's responding provides their full name, designation, and contact information.

And once the issue is resolved, return to the post or thread and thank the customer for reaching out. This ends the interaction on a positive note, which is visible to everyone.

Over to you

Today, a well-defined and executed social media customer service strategy is more than a mere good-to-have.

Put these best practices into action and be available to tackle customer concerns and questions on their preferred channel. That's how you'll build stronger customer relationships that translate into greater customer lifetime value and positive word of mouth.