Integrating social media into your content strategy is a no-brainer. But with the search industry always abuzz on whether social media influences Search Engine Optimization (SEO) or not, you'd be confused.
Just to be clear, yes, social SEO can influence your website's SEO. However, the connection between the two is not as direct as most people would like it to be.
In this article, we'll discuss everything there is to know about social SEO and how it can benefit your business.
What Is Social SEO?
Social Search Engine Optimization (SEO) refers to how a brand's activities on social media can influence its website's traffic and rankings on search engines. For example, when your social media post goes viral, does that make your website or the page linked in the post rank higher on Google?
There's no doubt that social media is beneficial to brands. However, the correlation between social SEO, social signals, and SEO is confusing, to say the least. Just do a quick search on whether social media signals are a ranking factor on Google, and you'll get mixed signals.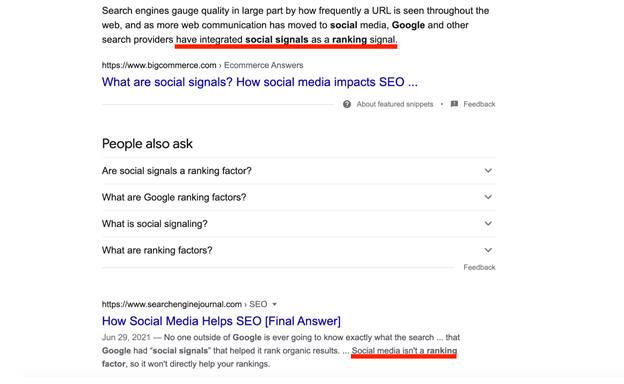 Google itself doesn't provide a clear roadmap on this. But with that said, a good portion of digital marketing strategists and SEO company would agree that social signals impact search rankings to some degree. It might not be direct, but it's there.
Below, we'll discuss some key benefits you get when you integrate social media into your SEO strategy:
Top 5 Key Benefits Of Social SEO
Data by WorldOMeter shows that almost five million sites are published in a day. With this kind of volume, standing out gets more challenging by the day. But with the right content marketing strategy and medium, you can still improve your chances. Here's how social SEO can help:
1. Boosts Online Brand Authority
One of the best ways to build your brand authority which can help your SEO is to establish trust with your audience. Businesses can take advantage of social media as an extension of customer service to foster and nurture that trust.
A great way of doing this is by swiftly responding to comments, questions, and private messages regularly. Additionally, you can boost your brand authority by creating good social media content that is relevant to your audience and engaging. If you engage people enough, other publications with online authority may take notice and create content around your content, thereby boosting your online authority.
Check out this example from Skittles. The brand used social media to apologize–in a humorous way—to customers for having removed from the market their lime flavor.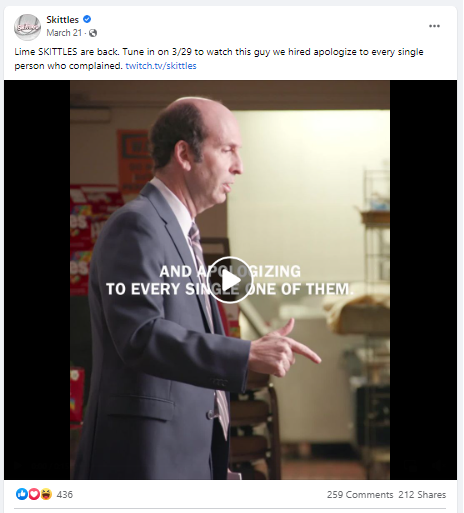 That garnered quite the attention.
So, many publications, including Fast Company, a monthly American business magazine, took up the topic and wrote articles about the apology, further legitimizing Skittles as a brand online: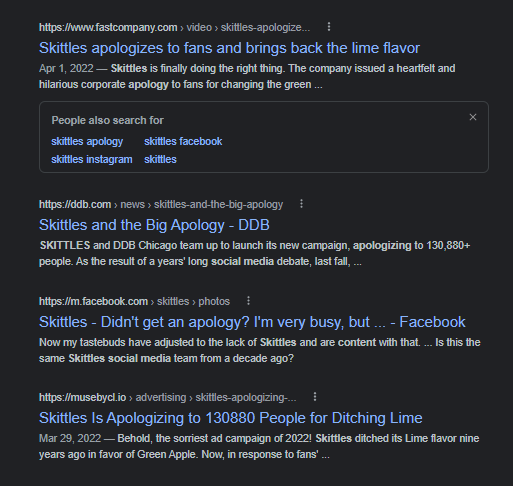 Social media channels are a direct line of communication to your customer base and are the perfect venue to engage them. That presents an incredible opportunity you can use to boost your brand authority metrics in your line of business. Also, one way of getting more attention to your brand is to hold virtual events that are in line with your target audience and have topics related to your industry so your brand leverages its recognition in the market.
2. Increases Traffic to Your Site
You can also use social media to help drive traffic to your website. If you get enough traffic, your ranking in SERPs can improve.
For example, travel blogger Adventurous Kate wrote a blog post that recounted her ordeal after getting shipwrecked in Indonesia. The content generated a lot of exposure on social media and even became viral.
The result was that many websites ended up covering the story, too. Instead of just mentioning Adventurous Kate in their articles, they also linked to her blog: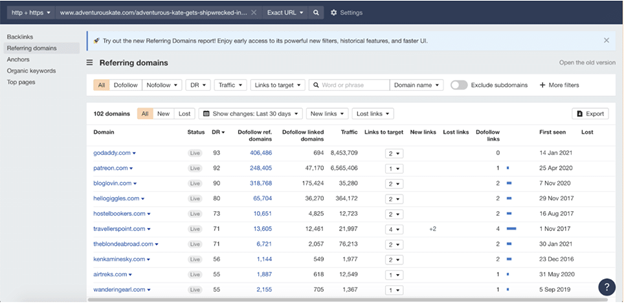 Those who read these articles on any of these sites could easily click on the links and read the original Adventurous Kate story on her own website. That would mean they'd spend time on the travel website. According to Semrush's study, both time spent on site and total referring domains are ranking factors. In other words, they directly influence how your website ranks in SERPs.
You don't have to get shipwrecked to go viral on social media and generate the social signals necessary for generating high-quality backlinks. Just work on generating fresh content ideas and creating content that will resonate with your audience. We'll talk about how you can create this content a little later.
Additionally, you'll need to invest in online courses on social media marketing to learn about the different best practices on the various social platforms. Not everything you do on Facebook, for instance, will work on Twitter. Writing long captions on Facebook, for instance, is allowed. That is something you shouldn't do on Twitter.
3. Improves Your Brand Visibility in SERPs
In a social campaign study by Hootsuite, articles with social promotion showed a positive correlation between their social engagements and their rank in Google search results.
Social shares may or may not directly affect the web page's position on search listings, but Google pulls out social media posts on search results. Social media profiles often appear on the top results in the search listings for brands.
For instance, in a simple search for Zoho on Google, the company's social accounts are in the top position in search results. Zoho's Twitter, LinkedIn, and Facebook social profiles appeared on the 2nd, 4th and 5th search positions, respectively.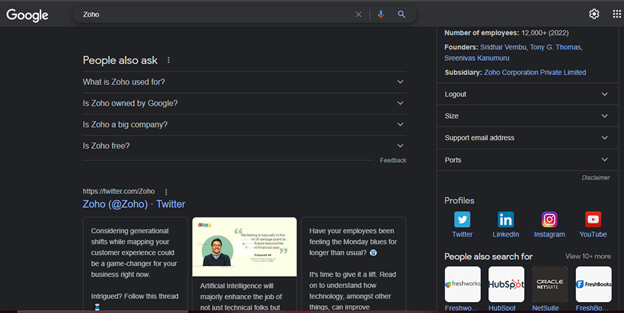 Therefore, you must optimize your social media profiles correctly. Write a good bio showing what your business does and add a link to your company's website. It would also help if you could get your account verified. Finally, be active on social media to ensure any posts appearing on the SERPs are recent and relevant.
The key takeaway is that social profiles showing up on Google searches can help increase your visibility on the SERPs.
4. Increases Branded Searches
Branded searches refer to search queries that see a user searching for something that includes a brand name. So, for example, instead of typing the word "jeans," they type the word "Levi's men's jeans" instead.
As more people perform these branded searches, let's say, for example, Levi's men's jeans, the Google algorithm starts to associate the brand (Levi's) with those products/services (men's jeans). So, when someone types only the words "men's jeans" in the Google search field, that company's website (Levi's) also appears in search results: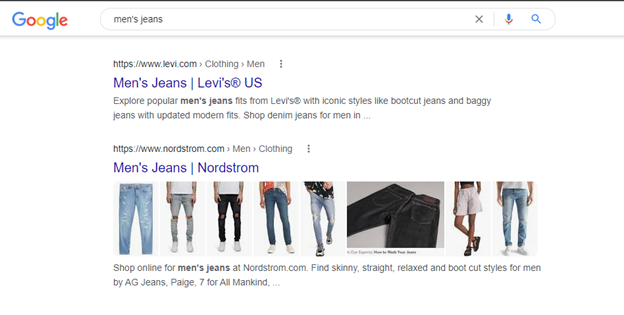 Many SEO experts report this correlation. Here are some comments by Brian Dean from Backlinko on an SEO post:

To leverage social SEO, ensure you have an active presence everywhere, including on social media. So when people start looking for products, they could use your brand name while searching for the products you have to offer.
However, note that the effects of branded searches will take time to reflect on your website's rankings. Whether it's SEO for SaaS businesses or small businesses, after all, SEO is still a long-term game. But that doesn't mean the boost in your SEO won't happen.
5. Helps You Create Ranking Content
You can also use social media to create content that will rank in SERPs. How? By leveraging the audience data you find on social media platforms.
Your keyword research helps you identify SEO keywords to create ranking content. These SEO keywords are words typically used by searchers when looking for something on Google. Since these are words searchers typically use, it follows you may also find these same words in the posts that they create on social media.
In other words, if you look on social media, you may actually get some ideas on what keywords to aim for in creating your content. You can later use a keyword research tool to check the keyword search volume and verify.
Keywords aren't the only thing you can get from your audience on social media. You can also determine their interests, wants, and needs. That can help you craft content that caters to them. If it caters to them, your content will most likely be read.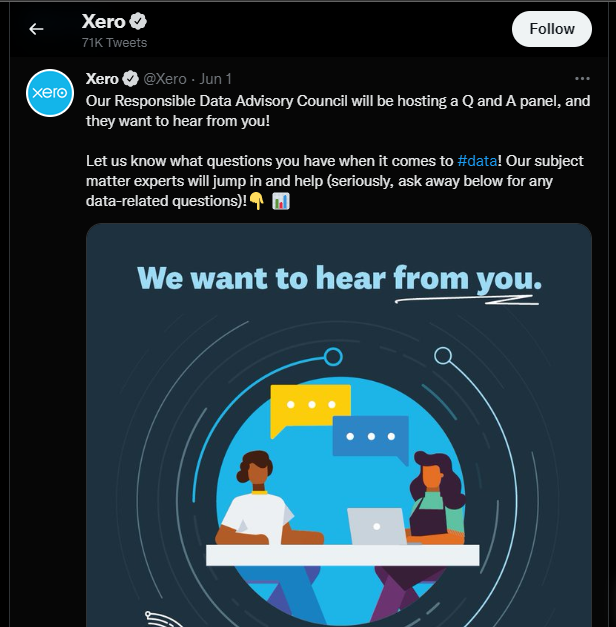 Scouring social media for information is one way to know these things. Another way to get to know your audience is to use social media listening tools or interact with them directly.
Xero, a cloud-based accounting software platform, uses social media to interact with its target audience frequently. Notice from their social media posts that they actively try to engage and understand their client's needs.
Whether through polls, replying to comments, or using social listening tools, take full advantage of social platforms to know your customers better. Quality content is key to your search engine ranking and Search Engine Optimization.
In Closing
Social media signals are not direct ranking factors, but that doesn't mean businesses should no longer pay attention to social media. Social media, after all, can help your SEO in many ways.
As we've seen in this article, you can boost your brand's authority and increase website traffic with the proper use of these social platforms. You can also optimize your visibility in SERPs and increase your branded searches. Finally, you can also use social media to find the data you need to help you create ranking content.
Business owners stand to benefit from social SEO. All they have to do is know how to leverage it.