Social media is a significant way to create communication and generate leads throughout the online community. It also has an impact on the global marketplace. If you are a WordPress user with active social media platforms, you should consider displaying your social feeds, reviews, and chat widgets on your website. Here WordPress plugin comes in place to fill up the gap.
Integrating quality social media plugins can do that. There are many robust plugins available in the market with plenty of benefits. Among them, WP Social Ninja is one of the most useful social media plugins for your WordPress websites. This plugin has dynamic features to expand your online game.
This hands-on review blog will explore WP Social Ninja's benefits, key features, functionality, and setup process. Along with this, we will also discuss its pricing and customer support. Let's determine whether WP Social Ninja is your best social media plugin or not!
What is a WordPress social media plugin?
A WordPress social media plugin is a software application. That can be installed on a WordPress website to integrate social platforms. These plugins authorize website owners to display social feeds, reviews, testimonials, notification popups, shoppable Instagram feeds, and other social media-related features on the websites.
Overall, a WordPress social media plugin can help website owners increase sales and promote their social media content, ultimately driving more traffic to their site.
Why do you need a social media plugin for your WordPress website
A social media plugin is what you need if you run an online business, have a personal blog, or want an effortless way to demonstrate your digital footprints.
It's significant because the plugin enables website owners to link many social media networks to their WordPress websites, like Facebook, Twitter, YouTube, Instagram, and other well-known social media widgets. Here are four benefits behind why your WordPress website requires a social media plugin.
Easy customization
Social media plugin is highly customizable to fit the social media needs of your business. You can change the colour, design, and format of how posts are displayed and other related aspects.
You can control low-rated reviews and will provide users with filtering options while preventing malicious content. In fact, you have the option to pick which platforms to display on your website. Social media plugins for WordPress websites enable you to provide these options.
Boost sales
Social media plugins offer the opportunity to market your businesses. The primary intention of social media plugins is to attract new customers.
Adding social widgets to a website can increase awareness and generate sales. Consider a scenario when a visitor wishes to try your goods while exploring your website.
Immediately, your social media posts show in the social feed, where each new follower might start receiving a 50% flat discount code. The visitor will follow your business on social media, buy your product and recommend it to others too.
Increase social engagement
Displaying social media platforms on your website promotes user engagement. Because your audience has already spent time on different social media, so if you demonstrate your social media content, you can generate a lead and create engagement. Users are naturally more engaged on social platforms and are more willing to engage with businesses there.
Improve user experience
WordPress Social media widgets can improve the user experience. The plugin can give the authority to the site visitors to interact with your social profiles without leaving the website. In fact, this makes it easy for individuals to follow you on social channels and interact with your users.
WP Social Ninja review: Features and Overview
WP Social Ninja is a lightweight plugin for WordPress websites designed to enhance sales and improve brand presence. It has various features. To clarify, we will take a deep look at the features and overview of WP Social Ninja.
Social Feeds
The Social Feed option of WP Social Ninja has some diverse capabilities. You can filter and manage content and also display these feeds on your WordPress websites. WP Social Ninja offers 4+ Social Feeds; Twitter, YouTube, Instagram, and Facebook.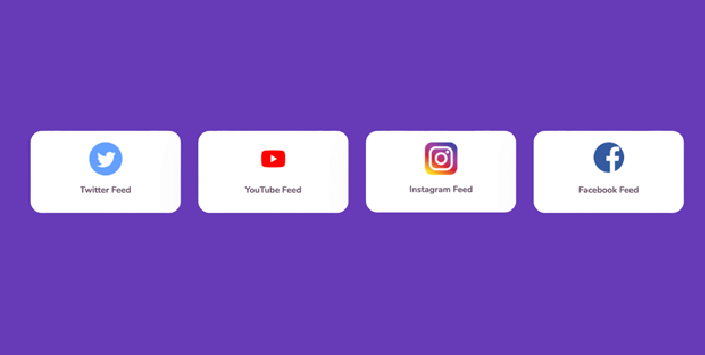 The Social Feed option of WP Social Ninja is the most powerful feature that can influence your site visitors. It also enables website owners to show social media content on any webpage to grab the users' attention. Not only that, but users can also set the layouts and other customization options before displaying the social proof.
Social Reviews
With 9+ review widgets WP Social Ninja has a rich social review section. Most popular social platforms like Google reviews, Yelp reviews, AliExpress reviews, Airbnb reviews, and many other social reviews can easily be displayed on any WordPress website with WP Social Ninja and these widgets are fully responsive.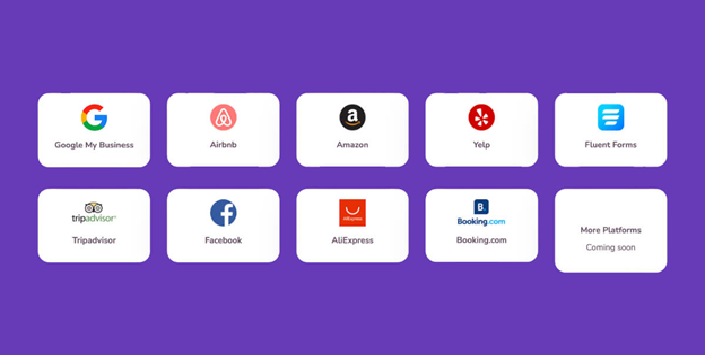 The Social Review section's adaptability is one of its best features. Grid, Slider, Masonry, and Badge layout formats are available for users. In addition, they also offer other diverse options for the review section, like altering the header, fonts, and colours to match the brand's identity.
Social Chat Widgets
If you're looking to advance user support and conversions on your business, WP Social Ninja Social Chat widgets can be a game changer. This plugin integrates 15+ social platforms with popular messaging apps like Facebook Messenger, WhatsApp, Telegram, and others.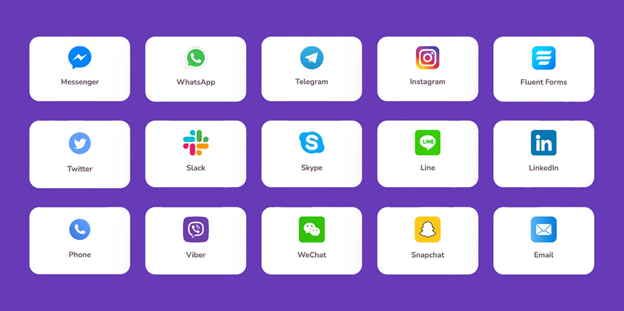 One of the best things about WP Social Ninja is, it is easy to use. You can choose from various chat box styles and colours and decide where and when the widget appears on your site. By all means, WP Social Ninja chat widget is a must-have for any small business owner looking to improve their customer support.
Testimonial
Testimonials are a great way to expand your credibility and the positive experiences that people have had with your business.
Using WP Social Ninja, you can easily create a form for customers to submit testimonials and display them on your website in various ways. Its advanced features have specified WP Social Ninja more than other testimonial plugins.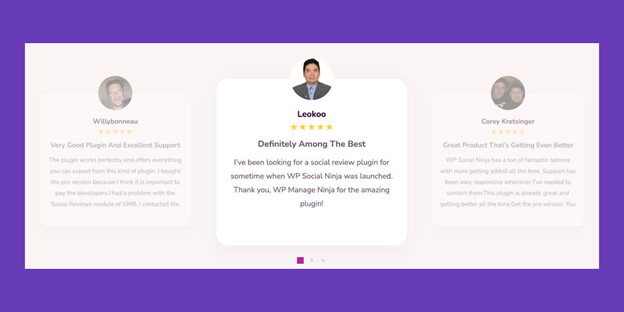 With this social tool, you can add personalized information, photo or a business logo. You can make your testimonial more personal and visually appealing. Altogether, it's an excellent choice for any business showcasing positive customer feedback.
Notification Popup
WP Social Ninja has a customizable Notification Popup option. It offers personalized options with various colours, fonts, and images to complement the website's visual identity. So it gets more attention and converts visitors into potential customers.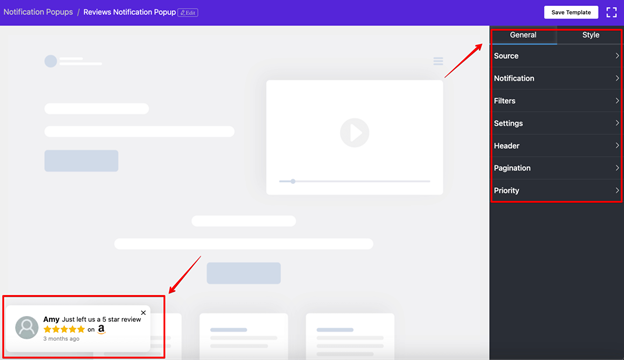 Overall, WPSN's Notification Popup is a powerful feature for website owners who wish to boost positive customer reviews. The configuration is simple and easy to display.
Shoppable Feeds
Transform your Instagram business profile into a powerful selling machine with WP Social Ninja's shoppable Instagram feed! This innovative solution seamlessly integrates your online store with your Instagram account. It can make things more accessible than ever for your visitors to shop for your products directly from your feed.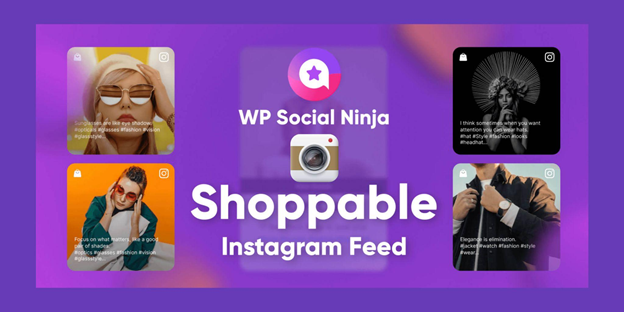 WP Social Ninja's shoppable Instagram feed automatically syncs with your online feed, ensuring your followers can access the latest products.
Fluent Forms integration
WP Social Ninja is a robust WordPress plugin that helps users automate their social media marketing. With Fluent Forms integration, WP Social Ninja is even more powerful than before.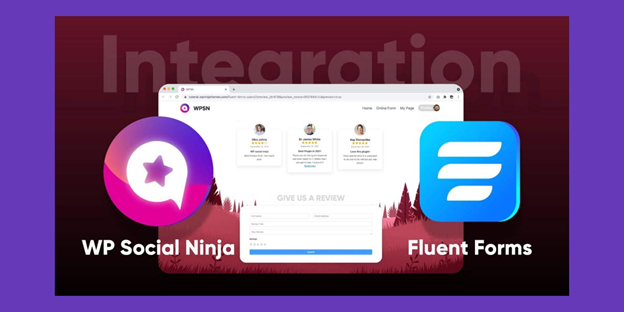 Fluent Forms is an easy-to-use form builder that lets website owners make custom forms quickly. The integration of Fluent Forms and WP Social Ninja allows website owners to collect reviews using custom forms and display custom Fluent Forms Reviews as testimonials.
Page Builders
WP Social Ninja offers a custom-style editor option for social feeds and reviews. With the help of Page Builders, anyone can easily change your brand's outlook and give it a dynamic vibration.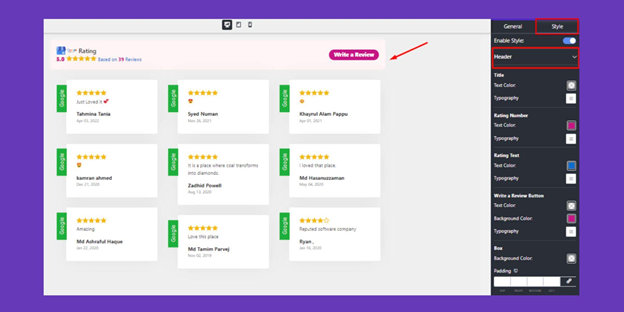 WPSN has three dynamic page builders: Elementor Page Builders, Oxygen Page Builders, and Beaver Page Builders. You can easily display your feeds or reviews using any of them, then select the templates and set the styling options.
How to display social proof with WP Social Ninja?
Whether you manage a small business or corporation, putting up social media content can help you build a solid online presence and get more people to interact. You can easily demonstrate your social media widgets with the help of WP Social Ninja. The activation is easy for first-time users.
To clarify, WP Social Ninja has published a top-notch video tutorial about the WPSN user guide. Here are also the simple written steps to display social proof with WP Social Ninja:
Install and activate the WP Social Ninja plugin
Select your social media accounts from 29+ options
Connect and configure with your dedicated social media platforms
Configure and customize your settings from the dashboard
Click the save button
Copy the shortcode and paste it to a specific page to display
Now content is ready to display
Customer reviews about WP Social Ninja
Before buying, you may be interested in the experiences of other users who have used WP Social Ninja. Especially get an idea about the pros/cons of the product from actual users is a superb way to know more about the business.
Check out the review from a genuine user of WP Social Ninja and get a clear picture of the plugin.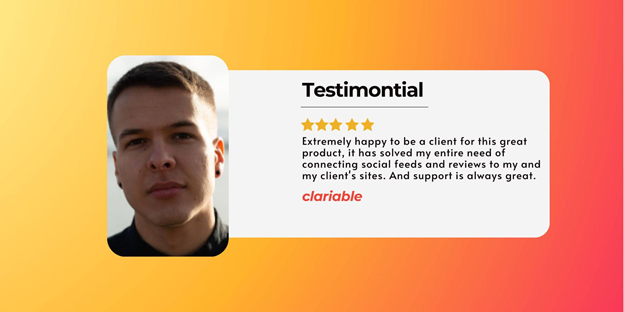 WP Social Ninja's customer satisfaction score is 100, that's why all the reviews for WP Social Ninja are five stars. These reviews will help you decide whether WP Social Ninja is the right plugin for your WordPress site or not!
Pricing and support
WP Social Ninja is a feature-rich plugin for the social media marketing ecosystem. The price is one of the best parts to consider when choosing this plugin. In particular, this part can give you an overview of the pricing and support system.
WP Social Ninja pricing plan
WP Social Ninja has two plans: Free and Pro. The Free version has 4+ social feeds, 2+ reviews, and 1+ chat widget options. There you will find limited customization options. The pro version has three separate pricing plans for WP Social Ninja.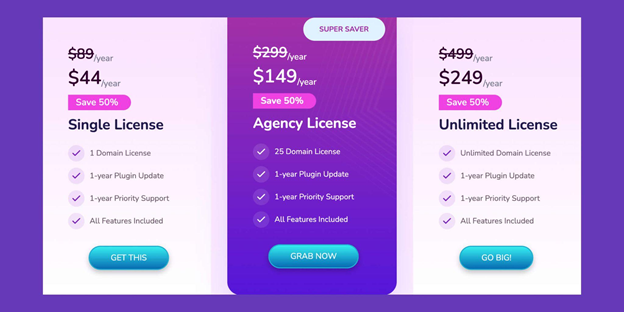 WP Social Ninja Pro version has more advanced features, such as 4+ social feeds with advanced customization options, 9+ Social reviews, 15+ Chat widgets, a Shoppable Instagram feed, Notification Popup, Testimonials, and priority support.
Single License: $44/Year
Agency License: $149/Year
Unlimited License: $249/Year
The pricing plan makes it a budget-friendly option for small business owners who want to improve their brand marketing. For more information, you can look deeply at WP Social Ninja's Free vs. Pro comparison blog to get a clear idea.
WP Social Ninja priority support
WP Social Ninja offers prompt support for its customers. Check out the documentation library for more details.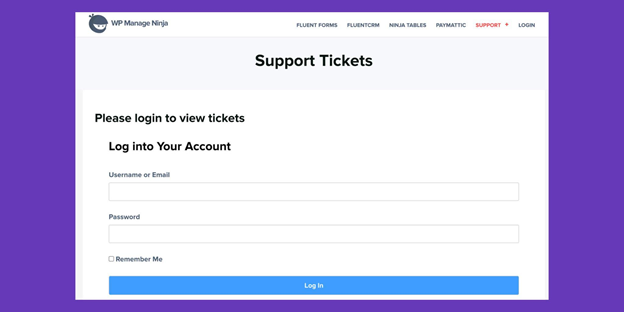 In addition, the plugin's usage and frequent social media issues are documented extensively in the blog section. On the community support forum, users of WP Social Ninja can talk to one another to get answers. WP Social Ninja Pro also offers 24/7 priority support. Users can get more timely and intelligent help from the support engineers.
Final Words
WP Social Ninja is must recommended for small businesses looking to improve their social media marketing. Overall, it is a multi-purpose, user-friendly, and flexible tool for your business.
Its features and interface make it easy to showcase social content and connect with your audience. If you want to add social media widgets to your website, WP Social Ninja is among the best and easiest options for users at a reasonable price too.