When setting up an online store, choosing the right platform for your business is the most crucial decision. If you are in search of an eCommerce platform that allows you to unleash the full potential of your online store, then WooCommerce and Magento are great options for you.
Woocommerce and Magento are the two most well-known eCommerce platforms and store builders, but both operate separately. It takes a lot of technical skills, and it also depends on the plans you have for the future growth of your business.
This article will help you understand the major differences between Woocommerce and Magento. Here, I will compare WooCommerce vs. Magento - their key features, performance, security, price, and even product management.
Let's get started.
WooCommerce and Magento - A Brief Overview
Both WooCommerce and Magento are open-source systems, which can be developed by everyone in the community. Let's go through a brief overview of both the solutions.
Woocommerce: User-friendly and Flexible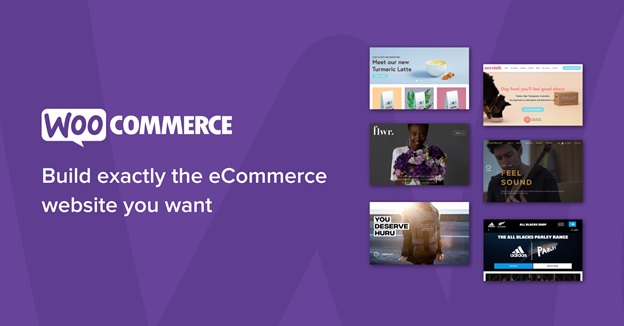 In simple words, WooCommerce is an open-source eCommerce plugin created for WordPress. It is built for both small and large sized online merchants who are running popular content management systems.

The eCommerce platform was launched on September 27, 2011. It is a wildly popular plugin for various reasons. WooCommerce is WordPress-ready, scalable, and the base plugin is completely free.

And according to a recent development stat, WooCommerce is downloaded over 5 million times and assists millions of users across the globe. So, you know it is trusted and robust.

Magento: A scalable solution for developing businesses
Similar to WooCommerce, Magento is also an open-source eCommerce platform that is written in PHP. The platform's first release was made available on March 31, 2008.

And it is used on over 250,000 websites, which is far from how many sites run WooCommerce. But, it is still a gigantic amount.

WooCommerce vs Magento: Comparison of Main Features

Take an in-depth look at the core comparison of these two eCommerce giants: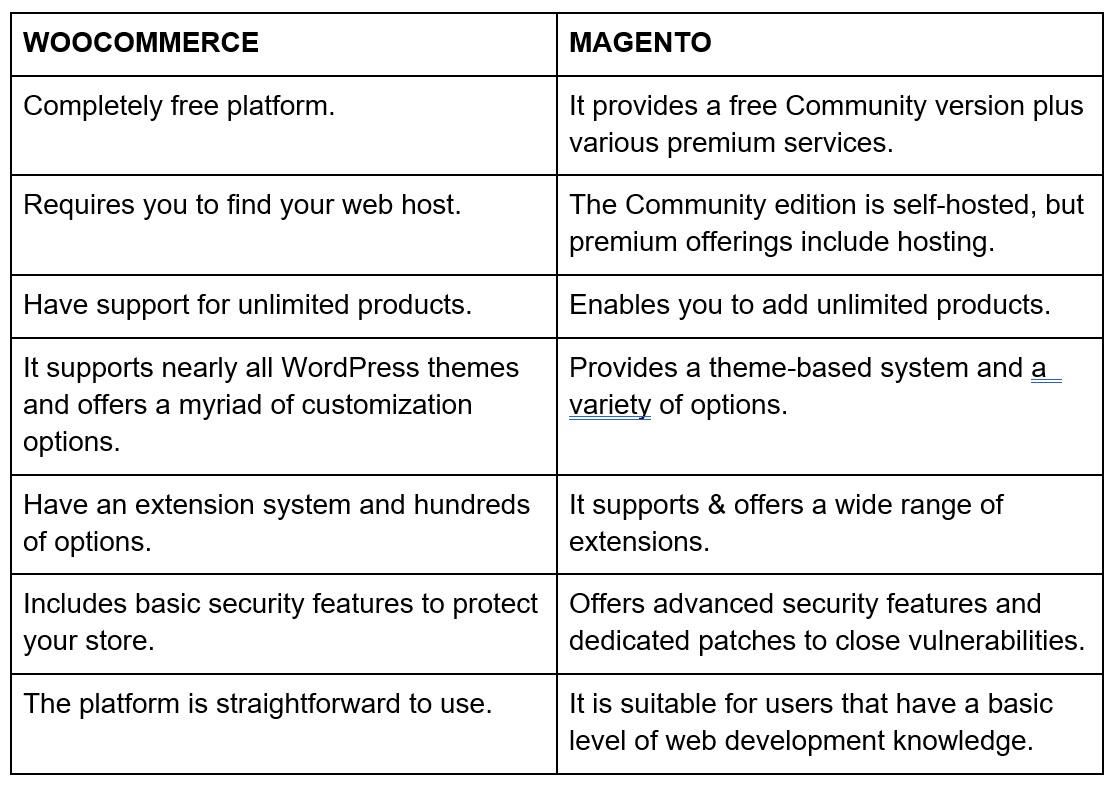 What WooCommerce has to offer?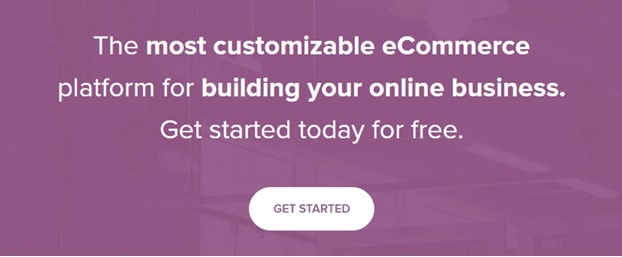 WooCommerce is generally the first thing that comes to one's mind when thinking about an online store. This is especially true if they are already using WordPress.

The plugin offers you everything that you need to build an online store. Through the use of its extension, the platform can help you to know the level you want.

Key features of WooCommerce include:
The extension system is huge and is built using the WordPress plugin format.
Supports an unlimited number of products.
There are dozens of free themes available or it integrates into almost every WordPress theme, free or paid.
You can use almost any payment processor with the use of extensions.
Pros:
If you have any experience with WordPress, it is easy to pick up.
Apart from your web hosting expenses, setting up a store is free.
Extensive documentation is available to its users. Also, if you have any additional query, you can contact the team behind the project.
Integrates with Google Analytics using extensions.
SSL support is included, but you need to get your certificate.

What Magento has to offer?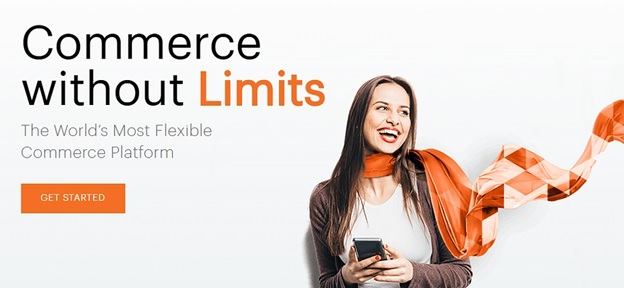 Probably the biggest difference between WooCommerce vs.Magento is that WooCommerce is more efficient for each user and allows you to appropriately scale while Magento is geared towards companies.

Magento provides the free community version, however it shines with the enterprise version of the product. We will use the free community version for this comparison.

Key features of Magento include:
The platform has its own theme & layout system.
APIs required for proper use connect to any third-party platform.
Supports unlimited products, so you can add as many as you want.
The admin interface is intuitive, even if it is more complex.
Pros:
Shopkeepers can quickly check out. Also, guest checkout is turned on by default.
It is designed for scalability. Magento should have no problem handling large stores unless your host can manage them.
Integrates with PayPal, Authorize.Net, and Braintree.

Winner: Magento


WooCommerce vs Magento: Pricing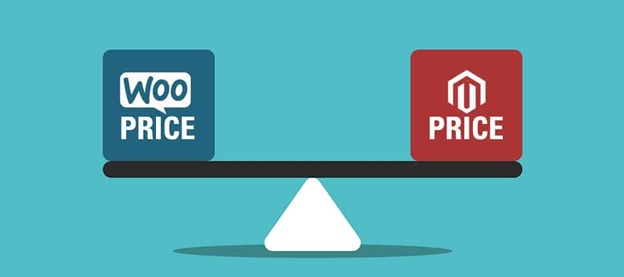 Pricing is a crucial factor when choosing between Magento vs. WooCommerce. Both Magento and WooCommerce are open source whose native code can be easily modified and improved as per your needs.

WooCommerce is a great option for beginner-level stores and after a short time, you will feel that it is limited in its capabilities. If you opt for WooCommerce to provide more features for your store, you may end up paying more of that cost. You can hire woocommerce developers in India at affordable rates if you are a beginner and need assistance in your estore.

Conversely, you can download the Magento 2 free version, which makes it a great option for most merchants who do not have a huge budget with all the basic functionalities.

Although, merchants will also have to purchase a hosting solution for Magento which costs $ 1- $ 200 per month but I am pretty sure that you will be satisfied with this fee due to its benefits.

Winner: Depends on your business needs


WooCommerce vs Magento: Security Comparison
According to a recent study, over 30,000 sites are hacked every day, so keeping your website safe is a challenging and important task for any other store owner.

Because your eCommerce website includes customer information as well as payment details. Hence, optimal security should be a top priority.

Both WooCommerce and Magento let you implement many security measures, but mostly through an extension and manual process.

Most of the security plugins for WordPress apply to WooCommerce sites. This means you can easily add the strongest protection available with very little effort. In fact, even updates to security plugins can be easily set to automatic.

However, compared to WooCommerce, Magento provides stronger security for the online store with Magento patches frequently released. It's the latest free security scan tool that helps to monitor your website, update malware patches, and detect unauthorized access.

In addition, you can easily add Magento 2 security extensions to better protect your online store.

Winner: Magento


Magento vs WooCommerce: Speed And Performance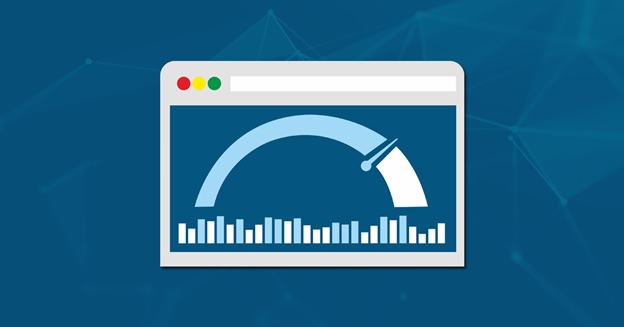 Loading time is a great thing for any website, but double for eCommerce. If your website takes too long to load or feels lethargic, some people will quit, take their money with them.

When it comes to performance, it is complicated to find out which solution is the overall winner. Basically, the performance of your e-store will depend a lot on you and how you handle things when it comes to set up and content.

The speed and performance of the website depend on many factors, such as whether your Magento web hosting provider and your posted images are optimized.

Additionally, the modules and extensions you use also affect the speed and performance of the eCommerce site. Overall, this round is a tie as you and your hosting provider are important factors that determine the performance of the store.


Woocommerce vs Magento: Extensions And Plugins

An ecommerce platform has its limitations. This is where extensions come in to cater to the needs of advanced and custom businesses.

Fortunately, users of both ecommerce platforms can use thousands of extensions/plugins to enhance the functions on their site. Both Magento and WooCommerce meet all issues through third-party plugins.

While the enterprise plan integrates many premium functions, Community Edition users can be assured when purchasing extensions from the Magento Marketplace for out-of-the-box features.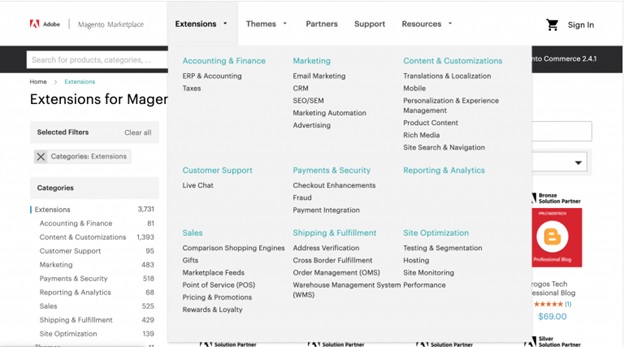 Similarly, WooCommerce also has an extension store that gathers hundreds of plugins for all your logistic, technical, and marketing needs.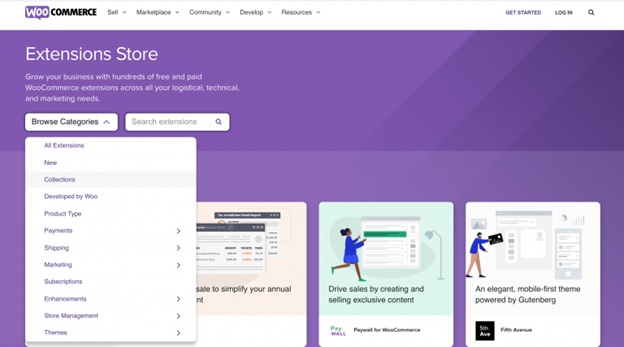 Winner: Magento


Woocommerce vs Magento: Product Management

If you are looking for the suitable eCommerce store, good product management is likely to be on your list of priorities. WooCommerce provides a no-nonsense approach to product management, with options for both physical and digital products.

Setting up new items is remarkably simple, especially if you are already familiar with WordPress. In addition, you can always expand on the functionality of the platform by using extensions such as product add-ons.

Conversely, Magento offers many features that WooCommerce lacks without buying additional extensions. For instance, it supports grouped items, product reviews, advanced pricing rules, wish lists, and product personalization.

Winner: Magento

Woocommerce vs Magento: Ease of use

One of the most vital considerations while selecting your eCommerce platform is the ease of use. Most online store owners do not have enough technical and coding knowledge, so they prefer ecommerce platforms that are easy to use and convenient.

When you'll get started with Magento, its sheer learning curve can make you feel complicated. To make the most of the platform's potential, you need to learn at least some code and technical terms.

Magento has a ton of useful features and functions available, but it requires professional users to do the necessary configurations.

Moreover, WooCommerce comes with a simpler installation process than Magento. Even a non-technical person can set up and run an online store without too much effort.

Winner: WooCommerce


Woocommerce vs Magento: Support

Both Magento and WooCommerce have a huge community of users around the world who support store owners when they run into problems.

Magento support varies greatly between versions. And Magento Community users can only seek help from official documents and communities in their entirety.

However, businesses using Magento Enterprise are offered official full support via email or live support.

Like Magento Community Edition, WooCommerce users will not experience any official support aside from sources such as WooCommerce Docs, WooCommerce Blogs, WordPress Support Forums, and more.

Winner: Magento

Here's a quick comparison of both the eCommerce platforms, take a quick look at them: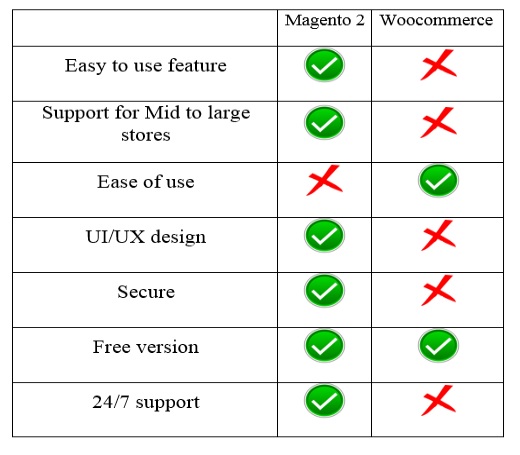 Magento vs WooCommerce: Who wins the battle?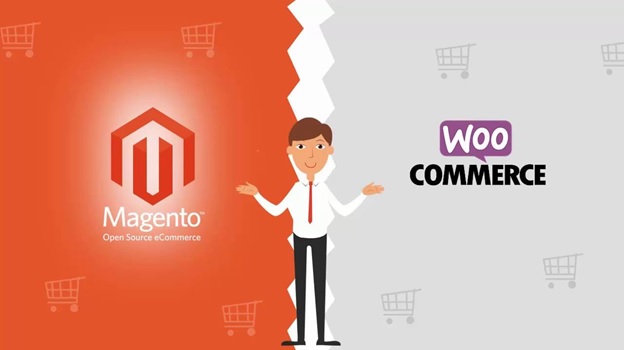 Above is a detailed comparison between WooCommerce and Magento. To be honest, each platform comes with its strengths and weaknesses. WooCommerce is a more user-friendly platform, whereas Magento is popular for its powerful extensions.

If you want to start a small online business with high performance and easy of use, then WooCommerce can be more suitable. Conversely, if you plan to make your business a global brand, Magento is the best option for you.

To decide which eCommerce platform is better, you can contact the top eCommerce development company in India. I am confident that they will surely assist you in making informed decisions.

Hopefully, this guide will help you in choosing the most suitable eCommerce platform for your business. If you have any query then do share your opinion in the comment section!