Startups and entrepreneurs find it attractive to outsource software development projects to a company in another country instead of hiring developers in the same country where they do business.
The reason behind this is that they get access to worldwide experts, cost-efficient solutions, quick turnaround time, quality products, etc.
However, not all countries are created equal in terms of outsourcing software development projects. When you're looking to outsource your project, it's important to choose your partner wisely so that you can get the right resources at the right price and maintain strong communication throughout the process. You also need to ensure that the software developers keep confidentiality of your project and hand you the IP rights, so that you can claim a patent over the software later on.
This list of the top 10 countries to outsource your software development project will help you make the right choice.
Let's Go!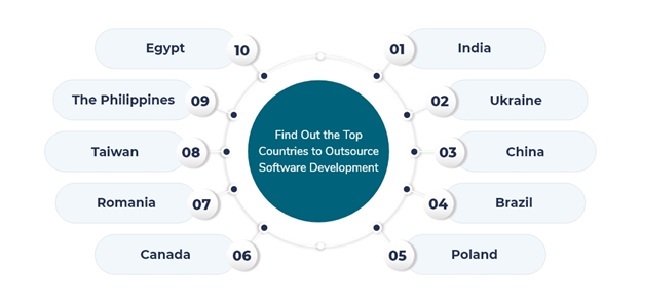 1. India

With a population of 1.2 billion, India is the most populous country in the world. It is also one of the fastest-growing economies, with 8% GDP growth per year. India is ranked 37th in the World Bank's Ease of Doing Business index, which makes it a great choice for small- and medium-sized enterprises to outsource their software development project.

These factors create an ideal environment for outsourcing software development because there are so many talented developers and engineers who are willing to work for less than their US counterparts.

While you should research this decision thoroughly before committing to any firm, it's worth noting that US companies that outsource their work save 30-40% off their total costs.

For these reasons and more, India continues to be one of the top countries for outsourcing software development. You can hire Indian app developers to create robust software products.

2. Ukraine

Ukraine has a population of 44.4 million and a GDP of $156 billion, making it one of the largest economies in Eastern Europe. It is one of the affordable places to outsource software development.

Ukraine is ranked 23rd in the World Bank's Ease of Doing Business index, which measures business regulations and their impacts on small- and medium-sized enterprises. Ukraine is highly educated, with an average gross tertiary enrollment ratio of 39 percent, as well as a literacy rate of 99 percent (both are among the highest in the world).

These factors combine to make Ukraine an ideal place for outsourcing software development. As Ukraine continues to evolve into a prosperous country with great potential, so will its ability to provide top-quality software development services at competitive prices. To take advantage of Ukraine's thriving software development industry, consider hiring an offshore development team from Ukraine to access their skilled talent pool and cost-effective services.


3. China

It is no surprise that China is one of the leading nations to provide outsourcing software development. It is the second-largest economy in the world and has a well-trained and educated workforce. For those looking for cost efficiency, China should be your top choice.

It's also a great place to outsource projects with tight deadlines. But don't expect high-quality work because it can take time to find skilled developers.

Also, there are labor shortages due to an aging population and a low birth rate. Many Chinese companies lack the expertise needed to compete with other Asian nations like India.

4. Brazil

Brazil is one of the best countries in the world for outsourced software development. The work ethic of Brazilian software developers is unmatched, and they are able to handle projects with complex requirements very quickly.

Brazil offers some of the most highly-skilled programmers in the world who produce code that has a better ratio of quality vs. cost than other countries on this list. In terms of general cultural compatibility, this is also an ideal choice.


5. Poland

Poland is a great country to outsource software development. The cost of living and wages are fairly low, but the quality of life is high. Poland has a very educated labor force, with the majority of people having at least an undergraduate degree.

Poland also has a large number of young adults who are well-versed in emerging technologies such as Java and . NET. They have historically been able to speak multiple languages and communicate effectively with their international clients.

Additionally, many Polish universities offer degrees in computer science and IT which means there is plenty of skilled talent for you to choose from when outsourcing your software development needs.

6. Canada

Canada has been a popular destination for outsourcing software development for many years. Canada has the most skilled software engineers in the world, and its diverse economy also makes it an ideal place for companies looking to outsource their tech needs. The country specializes in sectors like ecommerce, automotive manufacturing, and food processing, which all have high demand but limited domestic talent pools.

7. Romania

Romania is a good choice for outsourcing software development for a few reasons. The first is its proximity to Western Europe. This means that it's easy for companies in the UK, France, Germany, and other Western European countries to contact Romanian developers without incurring too much of a time difference.
The second reason is Romania's tech talent pool, which includes qualified engineers and programmers who are familiar with the latest technologies. Thirdly, the cost of living in Romania is low compared with other nearby countries like Hungary or Ukraine.

Finally, Eastern Europe has experienced less economic turbulence than many other regions around the world.

8. Taiwan

Taiwan is an excellent option for outsourcing software development because its software developers are highly skilled and have good English-speaking skills. It also offers very competitive rates.

If you want high-quality work, then this is the place to look. You will get more bang for your buck in Taiwan than anywhere else in Asia. You can expect the average hourly rate to be around $30 per hour, with deadlines that are generally shorter than in other countries in Asia. Moreover, they produce higher quality work overall, so it may be worth it if you are looking for top-notch software solutions.

9. The Philippines

With a population of over 100 million people and an English-speaking workforce, the Philippines is a great option for outsourcing. The country has become a hub for IT services and call centers, with many companies choosing it as their offshore operations center. Filipinos also have a reputation for being hardworking and diligent, making them perfect for software development work.

Since more and more businesses are moving towards cloud computing technologies like CRM (Customer Relationship Management), ERP (Enterprise Resource Planning), and SaaS (Software as a Service) in order to remain competitive and meet customer demands, software development companies in the nation offer all of these services.

10. Egypt

Egypt is a growing market for outsourcing software development. In the past few years, there has been a 110% increase in the hiring of IT professionals by enterprises and startups.

This growth is due to the country's high educational standards, cost-effective labor rates, and highly talented workforce. If you are also looking to hire dedicated developers from India, you can contact any top-notch software development company in Egypt.

Summing Up!

So this is the list of top ten countries to outsource software development projects. All the nations are great for outsourcing your IT needs. However, India has something unique to offer.

The nation has great cultural compatibility, good government support, and highly skilled software engineers and is also known for delivering quality software products with tight deadlines. So, if you want to outsource your software development project, it's worth contacting any top-notch offshore software development company in India and getting your project completed.