Search Engine Optimization is the bedrock of digital marketing. About 61% of marketers claim that improving SEO and maintaining a robust online presence is their foremost priority (Hubspot State of Marketing). As if we may guess, you might be too.
But what if we told you that you can do even better than just website SEO? What if there is a certain hosting service that improves your SEO from the get-go?
Yes! The way that it works is that the hosting provider will run your website on unique C-blocks of IP addresses. In fact, we have 10 popular web hosting services that will not just help your website run better but rank better too.
Note: No ranking implied whatsoever.
12. Cloudways

Unlike most hosting providers, Cloudways follows a unique approach to providing managed services to its customers. By partnering with one of the leading top cloud providers like DigitalOcean, AWS, Vultur, Google Cloud, and Linode, the company offers you a fully managed hosting solution so you can build your website without any worry.

Highly optimized for performance, SEO-friendly framework, and affordable cloud rates, Cloudways hosting options come with tons of goodies like Free SSL, site migration, a powerful dashboard, scalable packages, and ease of convenience.

Their WordPress hosting option is rated as the best in the industry, followed by WooCommerce, Magento, and PHP options. And that's not all, Cloudways also offers region-wise hosting options that is if your target audience is in the UK, you can signup for Cloudways Managed Hosting in UK.

Plans and Features


Depending on the cloud service you pick, you can avail of cloud hosting for as low as $12/mo. The hosting package comes with 1GB of RAM, 1 Core Processor, 25 GB of storage, and 1TB of bandwidth. The goodies include Free SSL, Free migrations, unlimited application install, automated backups, and more.
The second plan comes with 2GB of Ram, 1 Core Processor, 50GB Storage, and 2TB bandwidth costing at $26/mo.
The third plan is best for WooCommerce businesses or those websites that are looking forward to some extensive workload.
Clocking the Ram at 4Gb with 2 Core Processors, 80GB storage, and 4TB of Bandwidth - starting at $50/mo.
And finally, the best of them all, the $96/mo plan comes with 8 GB of RAM, 4 Core Processors, 160GB of Storage, and 5TB of Bandwidth. And the list doesn't stop here, this option comes with SSH, SFTP Access, Optimized with Advanced Caches, and Auto Healing regular security patching.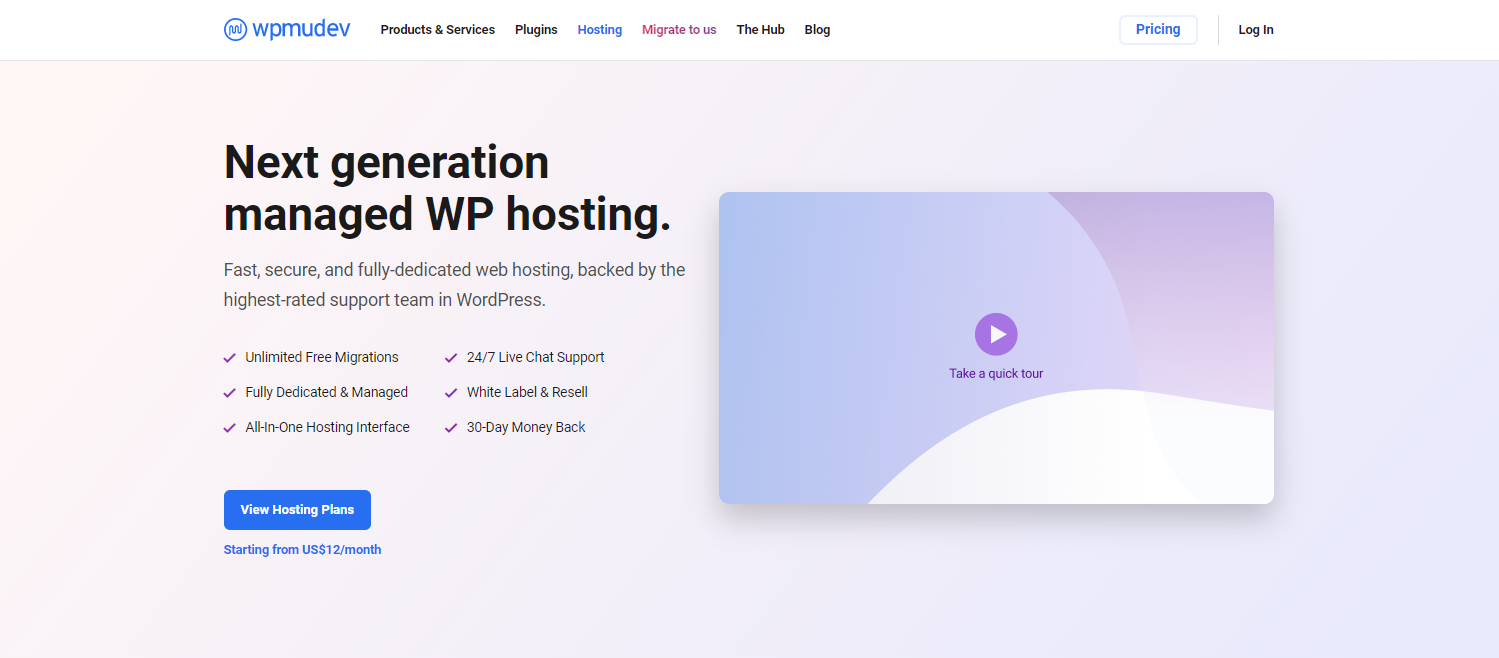 WPMU DEV is one of the fastest WordPress web hosting platforms for web developers and designers. It offers hassle-free site management as WPMU DEV's site management hub allows users to build, monitor, optimize, manage, update, and backup unlimited WordPress sites from a unified dashboard. The web hosting platform also makes client management easy. It has a fully-integrated client billing system that can be utilized to set up recurring subscriptions and build a branded client portal.

WPMU DEV is robust, reliable, and feature-packed, and it offers a wide range of flexible and affordable hosting plans. It is known for its high-quality plugins and top-notch WordPress support.

The best part of WPMU DEV is that its hosting plans are compartmentalized and use dedicated resources, ensuring site speed and security. Specific hosting plans allow you to relish free email accounts, Web Application Firewall (WAF), SSL certificates, and migration assistance. Users also can enjoy developer-friendly tools such as one-click staging and easy SFTP/SSH access. It also offers cloning and templates, file and DNS management, and site analytics.

Hosting Plans and Features


The Bronze Hosting Plan costs per site $12/Month, and you can leverage a dedicated memory of 1 GB. The other features include one vCPU, 25 GB storage, 1 TB bandwidth, and an estimated 20K/month visit. This plan is suitable for you if you run small blogs or a non-complex statics site.


The Silver plan is best suited for a site with a growing number of visitors. The plan costs US$30/Month & offers you 2 GB memory, and the additional features you can leverage here are two vCPUs, 25 GB storage, 2.5 TB bandwidth, 25 GB storage & 50K/Month estimated visits.


Gold Hosting Plan tailored for E-commerce and Membership sites, price tier is $60/Mo, and it offers 8 GB memory & 4 vCPUs, 60 GB storage, 10 TB bandwidth you can expect 100K/Month.


The Platinum plan is suitable for running a Complex E-Commerce site, or you can choose the hosting plan if you have a WP Multisite with dozens of sites. The plan costs $120/Month. You can further get 16 GB memory, six vCPUs, 155 GB storage, 20 TB bandwidth, and an estimated 250K/month visit.


For the Large & Complex sites with heavy traffic, you can choose from the plans:


Uranium with the cost per site is $250/Mo, 32 GB memory, eight vCPUs, 640 GB storage, 25 TB bandwidth & the estimated traffic of 400K/Month.


Based on the requirement, you can choose the Titanium, which costs $500/Month, 64 GB memory, 16 vCPUs, 640 GB storage, and 30 TB bandwidth with estimated 1M/month traffic.


The Palladium plan costs $800/Month. In addition, the benefits you leverage in Palladium include 96 GB of dedicated memory, 20 vCPUs, 640 GB storage, 35 TB bandwidth & 1.5M/Month estimated traffic.


Rhodium Plan's price is $1000/Month & the storage offers are similar to Palladium & Iridium, i.e., 640 GB. The additional benefits you can leverage with the plan are 24 vCPUs, 40 TB bandwidth & 2M/Month.


Iridium plan cost per site is $1500/Month. Iridium plan offers 192 GB dedicated memory, 32 vCPUs, 45 TB bandwidth & 3M/Moth estimated traffic.

The web hosting platform offers unlimited free migrations. However, going by the user reviews, the cons are there; you may witness glitches sometime, and systems are running into unexpected errors. It disrupts the momentum when you are working on a project, but the support is good, and you can avail a quick resolution. If you are seeking automation and an increased number of payment gateways, they may not now soothe your needs. Also, the email account storage is small, but overall, WPMU Dev has a great knowledge base, and their customer support is premium.


GoDaddy has been catering to businesses and entrepreneurs since the beginning. If you go to their Buisness Hosting tiers, you'll find that GoDaddy prefers VPS servers for hosting.

VPS servers offer the most flexibility when it comes to comparison. It is also referred to by many as having your own personal computer in the cloud space meaning more control.

The best things about GoDaddy's VPS servers is that you get ease of use, dedicated resources, and total isolation from other websites on the server. Plus, upgrading your plan is just one simple click.


Plans and Features
The Launch Plan costs $19.99/mo and offers 60 GB SSD storage, 2 GB RAM, a single-core CPU, unlimited traffic and websites and SSL security. You can get a lot of basic projects going.


The Enchance Plan costs $34.99/mo and offers 90 GB storage, 4 GB RAM, and a dual-core CPU (so almost twice as previous) and everything else stays the same. Suitable for eCommerce venues.

Then the Grown Plan costs $44.99/mo with 120 GB storage, 6 GB RAM, and a triple-core CPU and everything else as before. Preferred for high-traffic Magento websites.

The last plan, Expand costs $59.99/mo and comes with 150 GB storage, 8 GB RAM, and a quad-core CPU. Suitable for more resource hungry websites.

To go over some of the cons, we'd say the renewal rates could be a tad expensive given if your budget is limited and apart from resources, there isn't a lot of variation in plans. But regardless, you get GoDaddy's premium customer support services as well.
HostGator comes from India and perhaps that explains the affordable pricing. The developers filled it up with niche features that could better your site's performance. You can choose from Linux, Windows, Opensource and best drupal hosting.

24/7 customer support, 99.9% uptime guarantee, and a 45-day money-back commitment is a given but what's more, is that you get their custom security features like CodeGuard and SiteLock along with SSL certificates.

With so many options to choose from, we'd recommend HostGator's WordPress hosting service due to its easy optimization and optimal resources.


Plans and Features

The Starter Plan costs $5.95/month and offers 1 site installation, 100,000 visitor limit, an SSL certificate, free domain (both of which come with every plan), and 1 GB backup space which is enough for a basic site.

The Standard Plan costs $7.95/month and you get 2 sites, a 200,000 visitor limit, and 2 GB backup storage. It may not sound much but any mid-level project is a must go.


Then the Business Plan comes at $9.95/month and offers 3 websites, 500,000 visitor limit, and 3 GB backup limit. For a business plan, it doesn't sound like a deal-breaker but it comes with the proficiency you need.


Just like GoDaddy, Inmotion has many offices across the US and experienced professionals who have received internal training to provide you with the utmost technical support. Inmotion only does Linus and Unix hosting because they're rightfully experts at it.

Along with tier 1 ISP providers with failsafe backups, Inmotion's data centers are PCI compliant and comes with Smart Routing technology with DDoS protection for 99.9% uptime.

Also, Inmotion offers a ready-to-go WordPress site in 2 days for $99. You can specify what you want and then an expert will design it accordingly with business email and full support for phones and tablets.

Inmotion has high-performance Dedicated Hosting that comes with cPanel/WHM, SSD storage, multi-layer defense, seamless updates, and Xeon processors which is perfect for SEO.


Plans and Features
The Essential Plan has an Intel Xeon E3-1246 (3.5 GHz, 4 cores 8 threads), 16 GB DDR3 RAM, 1TB SSD, 6 TB bandwidth, and 5 free IPs for $139.99/month. The features here could get you way well over basic demands

The Advanced Plan comes with an Intel Xeon E2134 (4 core 8 threads), 32 GB DDR3 RAM, 1TB SSD, 10TB bandwidth, 10 free IPs, and also they let you select the data center location at the price of $189.99/month

The Elite Plan offers an Intel Xeon E-2136 (6 cores 12 threads), 64 GB DDR4 RAM, 2 x 1TB SSDs (one for OS and one secondary), 12TB bandwidth, 15 free IPs, and choice for data center location


Inmotion certainly isn't for the budget-conscious but when you take a broader, the quality to price ratio is incomparable. There is also the option to customize a plan for your needs or you could check out their ultra-tier plans here.
A2Hosting holds 8th position on our best web hosting based on uptime and response time with a 99.953% uptime status and that is marginally faster than the competition. A2Hosting is in many ways identical to GreenGeeks (which will be discussed later).

Although, the only difference between the 2 could be brought down to price and the website builder. A2Hosting also has a domain registrar, which isn't exactly the best but they also offer domain transfers to get your site shifted easily.

You get a lot of options in hosting like WordPress, Shared, Reseller, VPS, and Dedicated but the Shared hosting plans are what work best for SEO heavy websites.


Plans and Features

GreenGeeks tends to come up on a lot of our lists and it's not because we have some sort of bias for it. It's just that in a lot of ways, GreenGeeks is a perfect combination of affordability and features with an eco-friendly front.

If that doesn't convince you, they have 40,000+ customers and have hosted over 50,000 websites since being in the business for 12 years. They have servers in Chicago, Phoenix, Montreal, and Amsterdam with efficient Intel Xeon Processors.

You can choose from Shared, WordPress, VPS, and Reseller hosting services. But again, Shared hosting here works the best for SEO due to its developer friendly tools and e-commerce capabilities. The only downside could be that the plans are too homogenous in features.

Plans and Features

The Lite Plan can handle...anything really. You get 1 Website, Unlimited SSD Storage, Unlimited Bandwidth, Unlimited Email Accounts, LSCache, CDN, etc. But it comes with lower processing power. The price is $2.95/month.

The Pro Plan is pretty much the same as the Lite Plan, comes with the same set of features, but offer 2X processing power that could use all those features more efficiently. It costs $5.95/month.


The Premium Plan which costs $11.95/month, is again, the same as the Lite Plan, but comes with 4X worth of processing power which is the highest you can go with shared hosting here.



The high priest of e-commerce itself. WordPress is unquestionably the biggest thing on the internet. From the average joe to the mega corporations, everyone can learn to use it without any of that elvish coding knowledge.
BUT using WordPress alone doesn't guarantee you better rankings. What you get is a better framework to implement your SEO strategy. WP's arsenal of plugins like YoastSEO, W3 Total Cache, Smush, etc. make SEO a breeze.
Now, the hosting part is a bit tricky to explain but in a nutshell: WordPress does not follow the traditional sense of a hosting service pattern because it inherently is a Content Management System but offers hosting services as an value-added extension.
Plans and Features
The Personal Plan costs $5/month and offers 6 GB for storage, JetPack Essential Features, an SSL Certificate, dozens of free themes, a free domain for one year, etc. That might not sound much but as the name goes, it could power your 'personal' website hassle-free.
The Premium Plan comes at $8/month and offers 13 GB for Storage, Live Chat Support, Unlimited Premium Themes, Advanced Design Customization, Payments Gateway, etc. It's obvious that you can get a lot more out of this plan.
The Business Plan costs $25/month and comes with 200 GB for Storage, 24/7 Priority Support, Automated Backups, SFTP and Database Access, etc. This is plan is clearly aimed at mid-high level corporations that can't function with Wordpress ads.
The eCommerce Plan costs $45/month and offers pretty much the same bundle of features as the Business Plan but it unlocks advanced eCommerce features like Payment Option in 60+ Countries, eCommerce Marketing Tools, etc.
Our recent blogger survey revealed that WPX is quite a popular service, even though we hadn't ever heard about it before. What's more is that it has some of the best web hosting security in the form of WebARX and unlimited migrations.
We have a WPX Hosting Review that goes into much more detail. But in a nutshell: WPX can perfectly manage your WordPress for you with great features while being a little on the expensive side but backs a lot of experience behind its back.
Plans and Features
The Business Plan is an odd one to start with, it offers 5 Websites, 10 GB SSD, 100 GB Bandwidth, and WPX's Custom Cloud CDN at the price of $20.83/month.
The Professional Plan costs $41.58/month, you get 15 Websites, 20 GB SSD, 200 GB Bandwidth, and WPX Cloud CDN. The storage capacity with these plans might look less but they implement more quality overall.
The Elite Plan comes with 35 Websites, 40 GB SSD, Unlimited Bandwidth, and WPX Cloud CDN. So if bandwidth was something holding you back then this can give you the headroom.
HostPapa on the surface might appear quite generic but it is quite popular among the industry experts. It has servers in Toronto, Canada, Los Angeles, Amsterdam, California, and Luttenberg.

For variety in hosting, they have Shared, Managed Shared Hosting, WordPress Hosting, VPS Hosting, Reseller and even a separate eCommerce Hosting tier. Our preferred choice of hosting here would be Shared.

But there's a catch with 2 things here: Unmetered Bandwidth here is limited to how much resources you consume and the Unlimited Storage can't be used for archiving personal files.


Plans and Features
The Starter Plan gives you 2 Websites, 100 GB SSD, Unmetered Bandwidth, Free Domain Registration, and essential features like Free Website Transfer, cPanel, Let's Encrypt SSL, etc. which you can check out here, for the price of $3.95/month


The Business Plan comes with Unlimited Websites, Unlimited SSD, Unmetered Bandwidth, Free Domain Registration, the essential features, and advanced features like Unlimited Email Accounts, 2X CPU Power, etc. again at the price of $3.95/month

The Business Pro Plan comes with everything from the above and Performance Enhancements like Fast Servers, 4X CPU Resources, etc. AND Security Enhancements like SiteLock Detect, Automated Website Backup, etc. at the price of $12.95/month



Wix was the first time when WordPress started to look over its shoulder. You see, Wix doesn't fall in the same line as something like SquareSpace which is aimed at the average joe to drag-n-drop the entire website.

Wix is an Editor, an open development platform, an ADI, and a business management and promotion platform. But much like WordPress, it gives you a great space to implement a cohesive strategy with the right tools and plugins.

There's 2 tiers for hosting: Website and Business & eCommerce. The latter in our opinion is far better suited for SEO even though one can opt for the former suiting their budget.

Plans and Features

The Business Plan costs $20/month and offers Unlimited Bandwidth, 20 GB Storage, Google Analytics, Accept Online Payments and much more

The Business Unlimited costs $25/month and offers the same but elevated features like the storage is bumped up to 35 GB Storage

The Business VIP costs $35/month and mentions the same set of features as above but with more storage and better privileges
BlueHost is our recurring favorite here at hostingpill. Why? It offers quality under the right price, the customer support is great, go-to choice for a lot of WordPress users, simple to use, WP Pro for managed WordPress, and the list goes on.

In our regularly updated BlueHost Review, we keep adding new stuff to the service. A service that has grown exponentially in a short period of time. BlueHost also packs some of the best WordPress experts in the business.

But if WordPress isn't your thing then they offer 3 options for hosting: Shared, Dedicated, and VPS. For SEO, again, Shared here will work just fine.

Plans and Features
The Basic Plan has the right beginner features with 1 Website, 50 GB SSD, SSL Certificate, Unmetered Bandwidth, 1 Domain, etc. with Standard Processing Power for the price of $3.95/month
The Plus Plan has Unlimited Websites, Unlimited SSD, Unlimited Bandwidth, Unlimited Domains, Unlimited Parked Domains, a Spam Expert and a lot more Unlimited stuff for the price of $5.95/month
The Choice Plan is pretty similar to the Plus Plan but has a few additional features like Domain Privacy & Protection and Site Backup for 1 Year at the price of $6.95/month
The Pro Plan is again quite similar to the Choice Plan with exception of a Dedicated IP, 2 Spam Experts, and a High Performance Server for the price of $13.95/month

Conclusion
The conclusion is simple: You need to choose the one option that fits best with your budget and priority. If at any point you feel stuck, remember that every option mentioned above has a money-back period where you can recover your investment.

So the most you'll be losing is probably time. Also, keep in mind that a lot of hosting services keep their introductory prices and revision prices separate which could end up hurting you in the long run.

And if you need any more help with SEO then you can check out our list of the Best SEO Marketing Tools for some help. If you found the article helpful then be sure to leave a comment and let us know your thoughts.

Author Bio: I'm Chris Wagner, Head of Content @HostingPill. I regularly write about Hosting, Web servers and WordPress. I have more than 9 years Industry experience.