The E-commerce industry, especially after the COVID-19 pandemic, has gained a lot of popularity. It has been the talk of the town lately, especially among millennials and zoomers. It became an utmost need majorly during the pandemic since all the stores were sealed shut for more than five months. Industries across the world faced the major wrath of it and incurred losses during this span, but all the e-commerce industries stood firm like a windmill with their online stores on the mark. Despite the sudden transformations in the market, online retail companies did surprisingly well and were in demand more than ever.
With its constant need and demand these days, the graph of the growth of e-commerce industries has constantly been increasing upwards. Countries all over the world are witnessing the requirement of technology and are experiencing digital transformation in the 21st century. People these days are choosing to shop conveniently, which is why it has become crucial for organizations to have a presence online in order to sell their products. Shopping online has become a daily routine for them because of which they are shifting from good old retail store shopping to virtual shopping. Statistics determine that by 2040, almost 95% of purchases will be made online.
E-commerce has stood high since its emergence to deliver quality products and services to its consumers and meet their demands at a fast pace anywhere, anytime.
What Is E-commerce
Electronic commerce, more commonly known as E-commerce, is the process of buying and selling goods and services virtually from an online platform on the internet. It deals with virtual, plastic, and hard cash. Online shopping can either be done either through websites or through mobile applications. It is mostly connected with the selling of physical products online more than services.
It is available in a lot of models and not just in B2C. One of its types is B2B. B2B transactions happen when one business sells either its products or services to another business. The companies that deal with providing virtual human resource facilities sell their hr management software solution as part of their B2B transactions. This B2B deal mostly happens online, just like shopping for other retailer goods online.
E-commerce Trends In 2021
Let us now have a look into the trends that are changing the face of the industry-
Convenient Buying
Businesses have seen an enormous change in customers' buying behavior in the last year. They all chose safety and convenience and opted for shopping online rather than going to stores to make their purchase due to the increasing fear of the Covid-19 pandemic. Because of the same reason, companies have started selling their products on the web. For example, Reliance launched its grocery shopping app called JioMart to provide necessary goods to its customers.
E-commerce is also gaining a lot of popularity because of its ability to attract targeted consumers and cater to their needs and wants individually. This, apart from convenience, has also become a way of attaining user satisfaction.
Sustainable Buying
Millennials who stand against animal cruelty and promote veganism are now switching to more sustainable and green methods of buying and purchase products that are vegan, be it cosmetics or foods. With the current conditions of climate change on our planet, more and more customers are appreciating online methods of shopping and those who promote eco-friendly products. Modern-day purchasers not only want to feel good about making use of green products but also play their part in saving the planet. If you would like to show your customers that you care about the planet, try offsetting your carbon emissions, or support an environmental charity during one of the climate awareness days throughout the year.
Virtual Shopping Over Physical
Before buying something, people these days usually search for and about it in order to get honest reviews on whether the purchase is worthy or not. Gen Z has gotten so used to the idea of buying online that they are sure to buy it on the web rather than going to a store for the same. By opting for eCommerce, companies can expand their horizons and grow the size of their target market. An increase in the usage of mobile phones and technology will mark the rise in the demand for online buying in the coming years.
Faster And Better Payment Modes
Safe and secure payment while making online purchases is the most crucial part of it. With the rising demands of online financial services in every business sector, a lot of people started using digital modes of payment, which was also followed by the increased use of cryptocurrencies such as bitcoin. This also was the reason why many firms like Paytm and Amazon launched their own virtual cash. Now that digital money is in a lot of demand, consumers are expecting online companies to integrate their payment methods since they are more comfortable with making virtual transactions rather than physical ones.
Enhancing Customized Shopping Experience
Consumers value those sellers who provide their undivided attention to them when they are purchasing products from them and deliver the goods and services that cater to their needs and wants. Customized shopping is the pathway to complete consumer satisfaction, and online shopping is the means to traveling that road. Organizations should learn to adapt to this new trend and provide buyers with a rich shopping experience by offering personalization at every stage of interactions in order to gain their loyalty for a lifetime business. Using such methods to improve their experience on your website will make them feel more valued.
Social Media's Intervention
The use of selling products on social media platforms has become the new cool. Apps like Instagram and Facebook make use of targeted ads and surveys so as to curate our shopping experiences for us. The demand for purchasing virtually will mark the rise in selling goods via social media platforms. Social media plays a massive role in impulse buying. In order to reach their target customers, organizations can start selling their products on social media to reach bigger targets since almost everyone has a social media presence these days.
AI, AR, And VR
Organizations that are willing to enhance their customers' shopping experiences using all the latest technologies and provide them quality goods should do so by installing AI, AR, and VR technologies on their websites and mobile applications. For example, Lenskart, when buying frames, offers live AI face testing for the same, which helps users choose the best-suited frame without regret. They should make use of other features, too, like live chatbots to answer their queries instantly, FAQs, etc. It is advisable for companies to invest in these technological trends because it will not only help improve consumers' buying behavior and earn their loyalty but will also help the businesses make target-based marketing strategies based on customers' purchasing patterns.
Faster Delivery Options
Just like Domino's, Zomato, and other food delivery industries provide their buyers with faster delivery options. Giants like Amazon have also started providing two-day delivery services to their prime membership users. Other companies will also make use of this trend in the upcoming years. Other facilities like real-time shipment tracking, COD availability, etc., will be used by logistics and courier firms as their demand starts to grow. This will help them deliver their products in any corner of the country, provide all the customers with common user satisfaction and experience, and increase their revenues.
Talking of revenues, the studies of Statista show an increasing peak in the eCommerce shares among all the other retail for the years 2015-2024, which can be seen in the image below.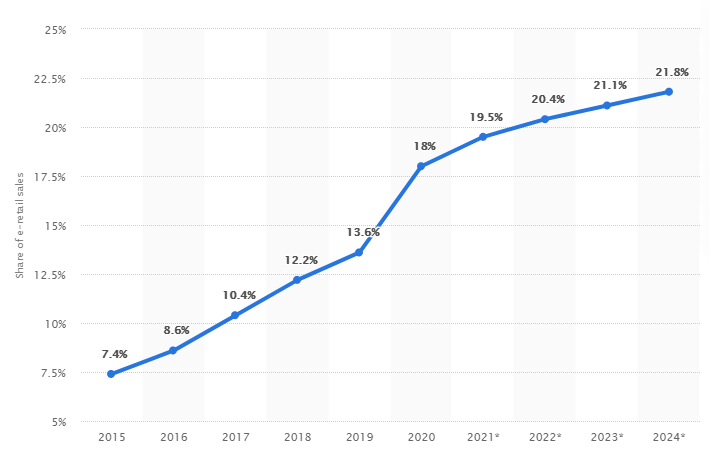 All Automated App Requirements
The continuous changes happening in the technological world are pushing eCommerce organizations to go fully automated. This includes the updates the buyers will receive, emails, texts, and offers. Everything will be generated and sent automatically to them, promoting faster communication. In simple terms, consumers want the companies to accept the transformation as soon as possible. Apps like Uber are allowing their users to make auto-generated calls to drivers on the app without having to display their number to them. This gives users privacy and the safety they wish for their personal data on the app.
Subscription Services
Although some of these online stores like Amazon, Flipkart, etc., have made this trend a pretty common one among their customers, many others are yet to use it. Subscription services offer free and faster delivery, early access to sales, and 24/7 discounts. This gives users a chance to buy less expensive quality products that are less time-efficient. Subscriptions make it easier for eCommerce firms to track their users' tastes and preferences that make regular purchases online. Doing this will allow companies to plan and adapt to their sales accurately and make better business decisions based on the market study.
Ending It
Looking at the current situation, businesses really need to ensure customer satisfaction along with their safety, which can also be offered online with greater quality and enhanced experience. The E-commerce sector is on the running to grow remarkably by integrating with digital transformation as the years pass because of its ability to provide solutions that cater to consumers' needs. The trends mentioned above are the means to add to their experience while doing business with them.