According to a recent McKinsey & Company report, the SaaS market is expected to grow to nearly $200 billion by 2024.
Time marches and technology evolves. Gone are the days when all business operations required manual intervention. Being a part of a technologically advanced business era, Automation is no more a buzzword, but a necessity for businesses to succeed.
And when we talk about the automation of business processes, ''Software as a service'' SaaS needs no introduction. Any business that wants to make the most out of technology and favors cost-effective solutions for their IT needs, opts for SaaS tools to automate processes.
Like any SaaS consultant will tell you, Investing in the best-suited SaaS tools can not only remove any kind of friction from work and user flow but also give businesses a competitive edge. Thus, if you haven't thought of a SaaS stack for your business, you are missing out on a lot of tech advancements that can take your business to the next level.
Now before we learn about the must-have SaaS tools to create your business SaaS stack, let's look at some important insights about SaaS tools and their perks.
An Introduction to SaaS Tools
Software as a service (SaaS) tool in simpler terms is a software distribution model in which a software provider hosts their software applications on the cloud and makes the copy of that software available to end-users over the internet while charging a fixed subscription fee. These tools are easily accessible on any device's web browser with an active internet connection and don't require any physical installation.
Moving on, let's look at some key features and benefits of SaaS tools along with some key SaaS terms that you should know.
Benefits of using SaaS tools for Business
Easy to access, use and maintain
Lower cost associated
Continuous Functional Improvements
Highly Scalable & Flexible
No Hardware Investments
Enormous System compatibility
Key Features of SaaS Tools
Remote Access: The most useful feature of SaaS tools is that they are easily accessible on any device with just a few clicks and taps, the only requirement is an active internet connection.
Subscription-based Payment: SaaS tools are the most cost-effective way of automating business processes. As with most SaaS tools you only have to pay for what you use, billing is done on a monthly, quarterly, or yearly basis based on what feature you choose to utilize.
Easy to implement and use: SaaS tools don't require any physical setup or much time to get started with the software. All it takes is easy signup, subscription, and you are all set to start leveraging the respective SaaS tool.
Highly Scalable: The best part of having a SaaS tool is that with the continuous functionality advancements the software keeps on improving. And as your business grows you'll always have an upgrading option.
Security: Any business irrespective of its size prioritizes the security of its data first, and with SaaS tools, security is ensured with encryption and restricted user access.
Common SaaS Terms you should know
Vertical SaaS: SaaS solutions render a target to a specific industry only. This software is created specifically for a particular industry catering to their needs, goals, and pain points. For example, Guidewire software, a SaaS tool that specifically caters to the Insurance business.
Horizontal SaaS: SaaS solutions that are intended to cater to the benefit of people across different industries with varied needs and end targets. For example, Slack - a communication software that can be used by anybody irrespective of their industry.
Packaged SaaS: SaaS product that is designed for certain business goals and processes. For example, Salesforce is an all-in-one CRM software.
Collaborative SaaS: SaaS tools that help teams collaboratively work together without hassle. For example, Basecamp is a renowned project management tool.
Now that you have a fair idea of SaaS tools, let's get on to exploring the must-have SaaS tools for your business according to the business processes.
Must-have SaaS Tools in 2021
Project Management SaaS Tool
Businesses often juggle with multiple clients, projects, and tasks. Managing and catering to multiple clients and projects single-handedly at some point and time can lead to a lack of team collaboration, missed deadlines, chaos, and disorganization, which certainly is not acceptable for any business that aims to succeed.
Especially with the work from the home era setting its pace, working remotely, and collaborating with the team has become a hassle. Often due to lack of management and collaboration, deadlines are missed, work is hampered and all it leads to is a lost client and negative reputation.
Having an all-in-one project management tool that can streamline the management and collaboration processes for multiple projects can be an asset that yields commendable customer experience.
Benefits of Project Management Tool:
Efficient Resource Planning
Project Planning and forecasting
Improved Team Collaboration
Enhanced Productivity
Improved Planning, scheduling, and risk mitigation
With that said, you might have an idea of what exactly is a project management tool and how it can benefit a business. Now moving forward let's look into the best project management tools that you can utilize and streamline the management of multiple projects and tasks.
1. Basecamp
With 3.5 Million accounts and 22 years of service, Basecamp is a renowned project management tool. The reason behind Basecamp ruling the project management realm is that basecamp centralizes all the processes making it easy for every individual in the organization to look, understand and play their part in each project.
Having a centralized way of communicating, keeping files, handling project approvals, deadlines, feedback, and streamlining projects is all it takes to cater to multiple project clients while offering them a greater experience working with you.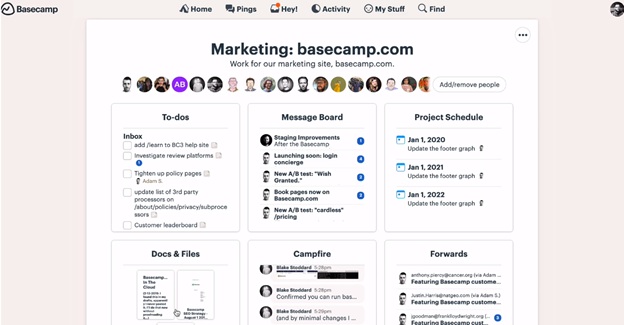 Features:
Easy to manage
Responsive Interface - can be accessed on the Web, Android, or iOS
Effective team collaboration with employee tags
Centralized approvals and feedbacks
Easier project communication with group chats
Message boards, schedulers, To-do lists
Secure and effortless document sharing
Free 30-day trial
Pricing: $99/Month
2. Zoho Projects

Another well-known project management tool is Zoho Projects. Similar to basecamp, Zoho projects streamline business processes right from project planning up to the execution of the project.

Catering to all the needs of a business, Zoho projects play a major role in planning multiple project activities, assigning work, managing balanced resources, and collaborating with the team members.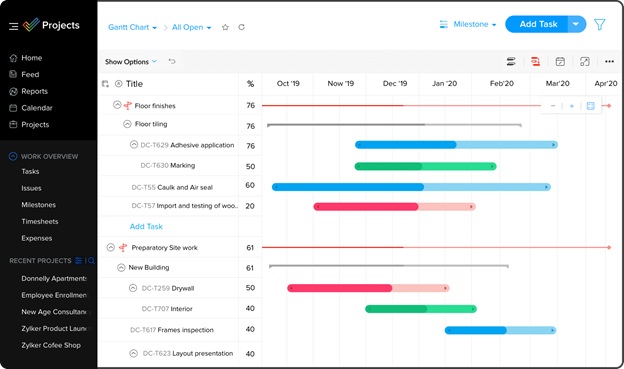 Features:
Impressive UI
Task Automation & Management
Project Time Tracking
Effective Team Collaboration
Gantt Charts and Reports
Project Administration & Tracking
Responsive Online Software
Easier Integrations
Pricing: $10 per user/Month
3. Narrato Workspace
Narrato Workspace is a content creation and workflow management tool that helps streamline your content creation process. The software provides a powerful content editor that offers suggestions for improving content quality. Collaboration on content tasks is also very convenient, with the entire team coming together on the platform.

Assigning tasks, organizing content projects under folders, tracking task status and delivering projects to clients on the platform are simple too. The "Client" user role on the platform lets you share work with clients and gather feedback, which can be quite useful for content and web design agencies.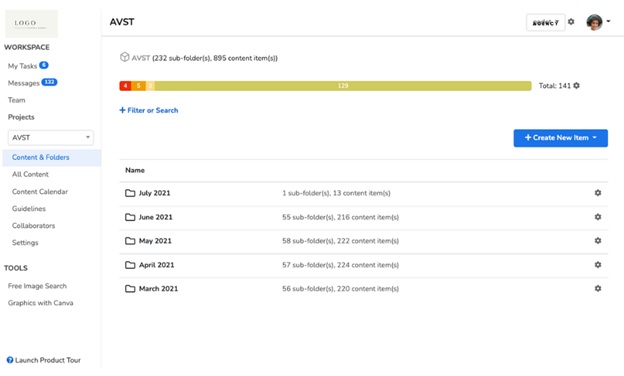 Features:
Grammar and readability suggestions + AI assisted writing
Customizable content templates
Guidelines repository for reusable project guidelines
Folders, content calendar and Kanban boards for organizing/ tracking projects
Customized roles and access for managing team members, freelancers and other stakeholders
In-line comments on tasks and messaging on platform for easy collaboration
Publicly shareable links and WordPress publishing for easy content delivery
Pricing: Presently, you can create a free account and try out the platform at no cost for 6 months.
4. ProofHub

ProofHub is an all-in-one project management and team communication solution for teams of all sizes in a variety of industries. It assists project managers in breaking down complicated projects into small, achievable tasks and subtasks. You can create and assign tasks, set estimated time, track progress, and work with other team members easily in one location.




Create custom fields, check your workflow in multiple views, chat with individuals or groups, conduct real-time discussions, save and proof digital files using the proofing tool, review project reports, and much more. ProofHub is a simple, cost-efficient, and effective project management tool.

Features
Effective task management with start and due dates
Efficient team collaboration features like discussion boards and notes
Easy to use Custom fields to sort and manage information
Robust Time tracker
Online proofing to streamline reviewal process
In-built chat application
Kanban boards and Gantt charts
Detailed Project reports
White labeling

Pricing: $89 per month (Flat price)


5. Scribe

Scribe is blazing a trail in process documentation. The tool automatically creates step-by-step guides by simply capturing your screen, key strokes, and clicks. As you develop new practices and build your tech stack, enable your workforce to learn any process in a matter of seconds.

To use the tool, create an account and add the browser extension (desktop apps are available for pro and up). To create a document, simply click Record and conduct business as usual. Scribe will develop your how-to guide, complete with written instructions and screenshots.

Lead your growing team, and easily expand into remote and hybrid options. You can access and share Scribe from anywhere with a quick link or embed. This can be used for internal or customer support. It really is that quick and has never been so easy.


Features:
Automatically generated step-by-step guides
Customizable text, steps, and images
One-click sharing
Easy embed in any knowledge base
Auto-redaction for sensitive information
Enterprise-grade security and controls
Browser extension and desktop app


Pricing: Free (Basic), $29 (Pro), and customizable (Ent) per user/month
CRM - Sales Automation SaaS Tool
CRM (Customer Relationship Management) is a system intended to streamline and improve the relationship and coordination with businesses' existing customers, help find new prospects, and retain the former customers.
A CRM SaaS tool in simpler words encompasses all the activities, strategies, and technologies to cater, communicate and manage both the existing as well as the potential customers.
Benefits of CRM SaaS Tool:
Improved Customer Relations
Increased Customer Revenues
Maximized Productivity and organizational performance
Better Informational Communication
Efficient Analytical Documentation and reporting
Now that you have an idea of what a CRM is and how helpful it can be for your business, let's move on to explore the best CRM SaaS Tools available for businesses to leverage.
1. Salesforce
When it comes to CRM, salesforce is a renowned name. It offers a centralized platform to streamline, organize and manage marketing, sales and customer support.
Salesforce enables businesses to target different audiences, with the help of smart automation intended to cater to every lead and customer activity, while also helping internal teams work collaboratively while delivering consistent results in the best interest of customers.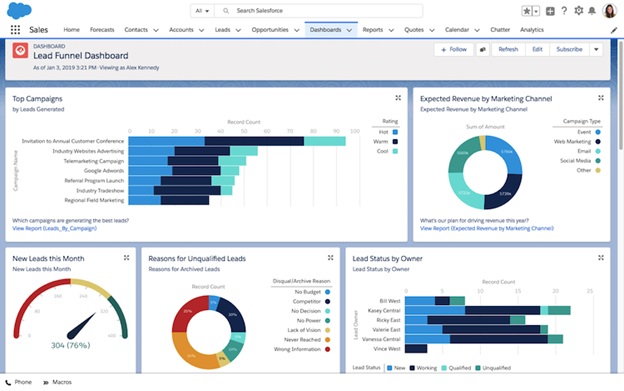 Features:
Intuitive UI/UX
Robust and flexible security architecture
AI-augmented analytics
Enterprise-level collaboration
Intelligent search feature
Metadata Architecture
Pricing: $25 per user/month to $300 per user/month
2. Zendesk Sell

Another well-known CRM SaaS tool is Zendesk. Similar to Salesforce, Zendesk also offers an intuitive centralized platform to manage and nurture every lead prospect that you want to cater to.

Zendesk Sell is well-equipped with robust sales prospecting functionality that intends to leverage an untapped market of over 200 million professionals. Businesses irrespective of their sizes prefer Zendesk Sell to identify prospects and nurture the lead until it becomes a customer.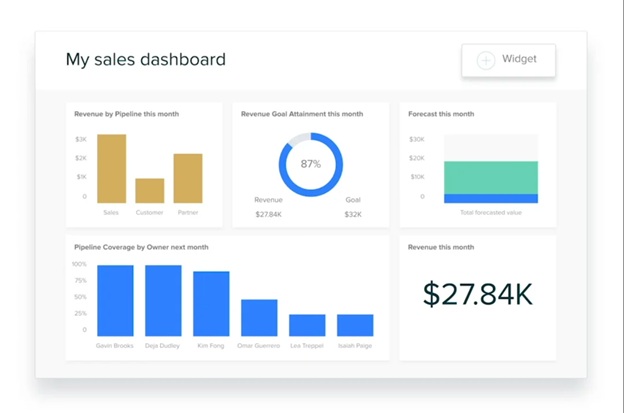 Features:
Email tracking and automation
Sales dashboard and reporting
Responsive CRM with Intuitive UI
Automatic dialer with text capability
Out-of-the-box integrations and analytics
Contact and Lead management, discovery, and verification
Pricing: $99 per user/month (Billed Annually)
Marketing Automation SaaS Tool
Now that we have done learning about sales automation tools, the next important automation tool that needs consideration is the Marketing Automation tool.
Marketing Automation Tool primarily is intended to centralize the various marketing activities including emails, blogs, social media, web pages, etc, and deliver the right content, at the right time, to the right customers, in turn nurturing their trust for the brand. Investing in a competent marketing automation tool can help businesses focus on what matters, i.e., an overall marketing plan and lead generation.
Benefits of Marketing Automation Tool:
Balanced Resource Allocation
Save Time & Effort
Improved Customer experience
Increased Productivity
Multi-channel campaign management
Increase ROI
Automated Detailed Reports
Improved customer retention
Moving forward, let's look at the best marketing automation tools that you can leverage for your business.
1. Marketo
Marketo is the best-in-class automation software available for businesses to generate, nurture and grow leads.
Owned by Adobe, Marketo is a renowned SaaS tool built to help businesses automate and manage their marketing engagements and workflows.
Marketo empowers businesses to engage the right customer by leveraging rich behavioral data of potential customers, build and scale the best-suited brand marketing campaign and finally paving way for business opportunities and an uplifting customer experience.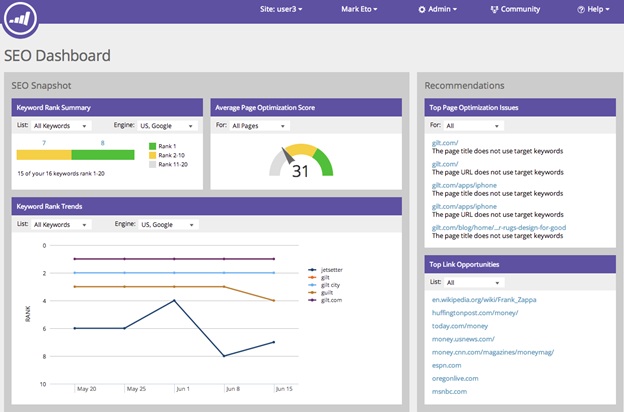 Features:
Identifying, Nurturing & Managing Leads
Bi-directional CRM Integration
Email & Consumer Marketing
Web Activity tracking
Marketing Calendar
Campaign Dashboards and Reporting
Save Time, Costs, & Efforts
Increased Productivity
Pricing: starts at $1,195/month
2. Eloqua

Known as Oracle Eloqua Marketing Automation Tool, this is another renowned name when Marketing automation is concerned. Primarily Eloqua helps in strategizing and implementing closed-loop marketing and sales activities while managing cross-channel B2B marketing campaigns.

This centralized platform leads to seamless nurturing of leads across each stage of the buying process with competent campaign design, advanced lead scoring, real-time analytical data, and integrated sales tools.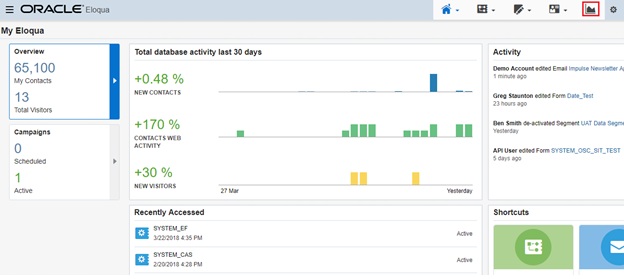 Features:
Dynamic Campaigns
Real-time activity tracking
Increased productivity
AI-enabled Lead management
Seamless Revenue analysis
Compatible workflow
Pricing: starts at $2000/month
Business Communication SaaS Tool
When we talk about business communication, numerous aspects come into consideration. First of all, business communication can be vertical and horizontal. When we say vertical, it means internal lateral communication between the employees and superiors. Whereas horizontal communication is the communication between employees and teams.
Transparent communication in an organization can lead to a much-streamlined workflow and collaboration between teams as well as individuals. Especially in the work from home era, organizations must maintain an effective channel of communication to continue business functioning without any hassle. And this is why business communication tools have seen an increase in demand.
Benefits of Business Communication Tool:
Real-time communication
Productive meetings and conversations
Improved employee engagement
Easy data sharing
Effortless task Management
Increased productivity
In today's time, business communication tools need no introduction. So, let's get to explore the best business communication tools that are available for businesses.
1. Slack

It is a renowned business communication SaaS tool with more than 12 million daily active users and around 7,50,000 organizations leveraging this enormous communication tool.

The primary aim of Slack is to cut down the hustle of communicating through longer mail trails by offering a synchronized platform for the entire organization to communicate, share files, plan projects, have discussions, and maintain a track record of tasks and strategies.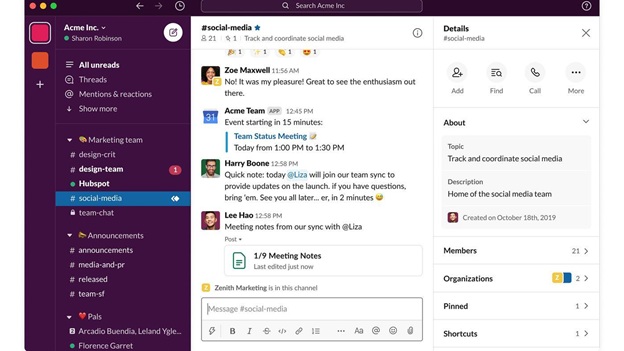 Features:
Messaging, Voice & Video calls
Organized channels for specific conversations
Can Pin messages and links to channels
Easy Access, Management, and tracking of documents
Advanced search options
To-do list and notes facility
Streamlining your sidebar
Subscribing to RSS feeds
Robust reminders and navigations
Pricing: Free to $12.50per active user, per month (billed annually)
2. Flock

Flock is one of the best business communication tools that enable seamless communication between superiors and associates.

Flock offers a robust online platform that works on all devices and OS, and acts as a virtual workplace enabling direct messaging, group messaging using smart channels, voice, and video calls, screen sharing, file sharing, etc.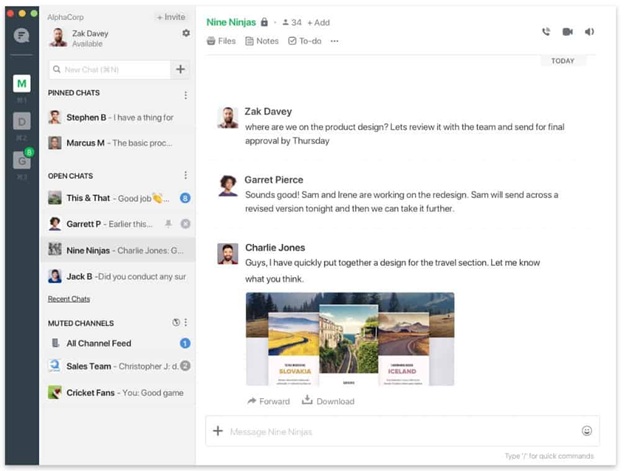 Features:
Direct messaging & Video conferencing
Integrated search & Guest Users
File sharing & To-dos
Reminders, Text & Voice Notes
Light & Dark mode theme
Multiple App integrations
Pricing: Free to $4 per licensed user/month
SaaS-based Workforce Management Platform

HR departments often find themselves overloaded with a huge set of employee-related responsibilities, which increases with employee strength. Moreover, in this highly competitive era, it is crucial to effectively administer all the workforce activities to give them the best experience.

Handling it alone with manual practices becomes more time-consuming and tedious work to perform, which proved to be more mind-numbing in the remote working environment. This approach brings nothing more than chaos, inefficiency, unproductivity, high cost, data manipulation, data inaccuracy, and burden to HR managers.
A unified human resource management tool streamlines all the daily tasks and gives freedom from the spreadsheet-based workflow to all the companies. Also, this automated solution is preferable for the tech-savvy workforce to perform their work in this digitally evolving era.
Benefits of Human Resource Management Software:
Reduces paperwork
Improvises employee management
Boosts communication
Streamlines administrative tasks
Centralizes all the critical data
Generates error-free results
Let's now move forward and look at the highly used Human Resource management tools to adopt in your business to build a more empowering and effective workplace.
1. factoHR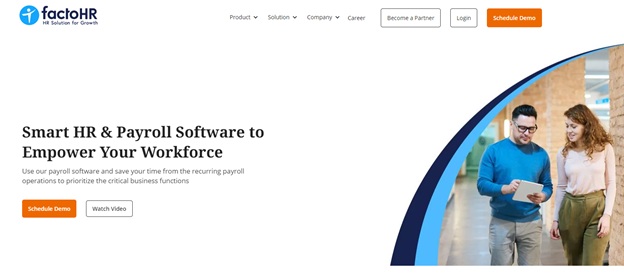 factoHR is a famed identity in providing cloud-based human resource management solutions to small, medium, and large-sized companies for automating their daily HR operations with its simplified solutions.
It is a perfect plug-n-play, mobile-first solution for every company seeking assistance in handling the overall HR tasks. Beginning from recruitment to FnF (Full and Final) settlement, every stage is handled well and more effectively with this solution. Companies can better administrate talent management, enhance employee engagement and productivity, ensure compliance management, and many more with this SaaS tool.
Its easy and quick implementation functionality in a budget-effective manner makes this solution usable for 1500+ companies with 1.5 million employees onboard.
Features:
Simplified dashboard functionality
Hierarchical & configurable approval workflow
Assisted by separate mobile application
ESS portal for employees
Performs mood analysis to keep employees engaged
A single source of truth for your data
Detailed report generation capabilities
Provides analytical insights
Pricing: Starting at $40.80/month
2. Keka
Keka is an employee centric SaaS platform that combines HR, payroll, ATS and performance management in a single suite of tools. With Keka's robust platform companies can seamlessly manage human resources processes.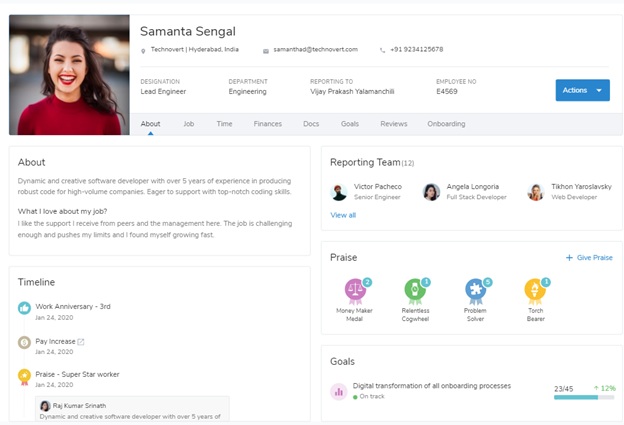 Features:
Payroll Management
Performance Management
Project Management
Recruitment Management
Reimbursement Management
Shift Management
Attendance management
Bonus, Loan & Advances Management
Document Management
Email Integration
Pricing - Starting at $ 94/ month
Social Media Automation SaaS Tool

Now that we've looked into the SaaS solutions for 4 main pillars of the business i.e. Project Management, Sales, Marketing, and Communication, it's time to explore SaaS solutions for the fifth most important aspect of a business - Social Media.

It is no news that Social Media Marketing is one of the most important parts of any business's marketing strategy. And being time-consuming, Social Media Automation has become one of the integral parts of business processes. No marketer prefers to spare time every day to post content on different social media channels, and that is when they choose to opt for social media automation tools that make their content creation and sharing a seamless experience.

Benefits of Social Media Automation Tool:
Saves Time & effort
Improved Engagement
Increased online presence
Real-time Analytics
Increased brand reputation
The best social media automation tools that you can leverage are:
1. HootSuite
The most renowned social media automation tool is HootSuite. Being an incredibly useful social media tool, Hootsuite enables marketers to syndicate as much content as they wish to share with their audience.
With advanced scheduling features, businesses and marketers can leverage this platform to share content, read responses, schedule messages, view statistics, and a lot more.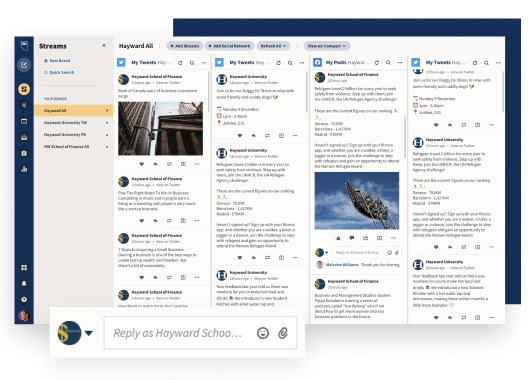 Features:
Content Scheduling
Content sharing across all major social platforms
Insightful Analytics
Social Media Listening
Team collaboration
Pricing: $17 per user/Month to $610/Month
2. SocialPilot

SocialPilot is one of the best websites like Hootsuite that any business can leverage. SocialPilot offers businesses a seamless social media marketing journey that results in a greater ROI and brand recognition by empowering them with competent features that help them plan and implement their marketing strategy without hassle.

Along with social media automation and social media calendar, SocialPilot offers two unparalleled features: the in-built content curation tool and the White label solution. SocialPilot's content curation tool helps you maintain the constant flow of relevant yet engaging content while with their White label solution, a business can personalize the experience they want to offer to their client. They can also market SocialPilot as their own social media software creating a flow of extra income.


Features:
Content Curation
Social Media Scheduling across all major social media channels
Social Media calendar
Bulk Scheduling
RSS Feed
Real-time Analytics
Detailed Quantification of Social Media initiatives
Personalized dashboards and emails
Team & Client Collaboration
Pricing: $30/Month to $130/Month
Accounting SaaS Tool
Accounting is a crucial aspect of every business irrespective of its size or industry. Every business requires accurate data analysis. Investing in having a centralized SaaS tool that will help manage finances has become a common practice.
These accounting tools can range from being simple single-entry programs used for storing individual records, to more advanced accounting systems that enable business owners to effectively track finances, have detailed reports, and mitigate risks.
Benefits of Accounting SaaS Tool:
Cost Saving
Optimized business financial operations
Easy to use
Secured Database
Automated record-keeping
Simplified tax compliance
Seamless expense management
Moving forward, let's look at the best accounting SaaS tools you can utilize for the benefit of your business.
1. QuickBooks

With more than 7 million active users across the globe, Quickbooks is the #1 accounting software for businesses. A centralized platform where all of the business accounting data can be organized, sales can be tracked, invoices can be created and shared, finances can be tracked and planned. What else does a business need?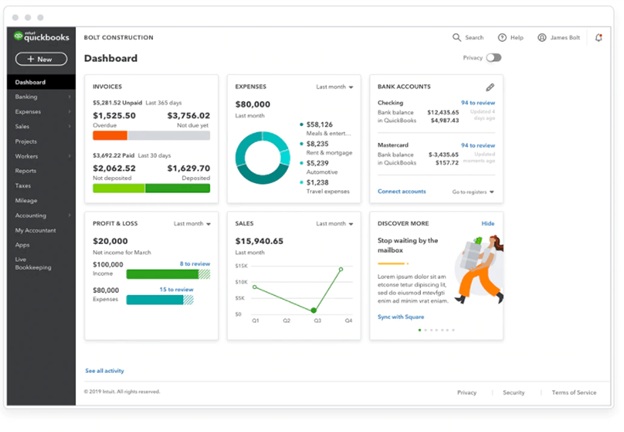 Features:
Cloud Accounting
Invoicing
Online Banking
Accounting Reports
Cash Flow Management
Time Tracking
Accounting Reports
Data Security
Automatic Backups
Pricing: $12/Month to $90/Month
2. FreshBooks

Another efficient accounting software is FreshBooks with over 24 million users across the globe. Enabling businesses to experience seamless billing and tracking expenses this software is one of the most preferred account Saas tools.

One of the best features of FreshBooks is payment schedule time tracking. This one-of-a-kind platform enables businesses to set reminders for the unpaid invoices and keep a track of all the missed payments along with a detailed account of specifics.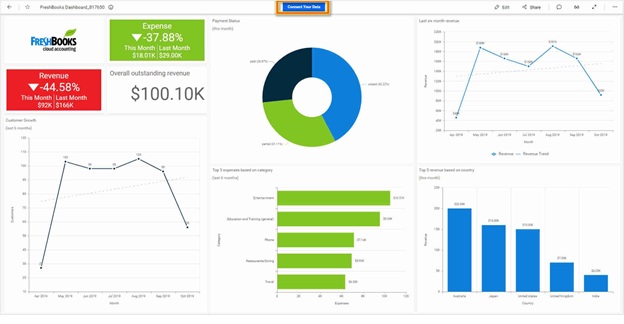 Features:
Invoices
Payment Reminders
Personalized invoicing
Multi-currency billing
Automatic Tax calculations
Expense Tracking
Pricing: $7/Month to $25/Month
SEO SaaS Tool
Search engine optimization is no more a buzzword. Businesses today invest in SEO aiming to increase brand visibility and to attract new customers. Utilizing a SaaS Tool to automate business's SEO is one of the smartest ways to pave the way for results and ROI.
Benefits of using SEO SaaS Tool
Attract quality traffic to your website.
Enhance conversion rate.
Generate quality backlinks.
Establish brand awareness.
Drive traffic to website
Improves website loading speed.
One of the best SEO SaaS Tool that you can leverage is:
It is an all-in-one SEO platform. Get a full SEO analysis report on your website to develop the best SEO strategy and, as a result, improve your search engine visibility. You can easily analyze and fix SEO mistakes with Sitechecker's practical tips. Site validation gives you a complete picture of all the SEO flaws of your site. Once you recognize them and fix them, you will have a chance to improve and increase your site's ranking in search engines.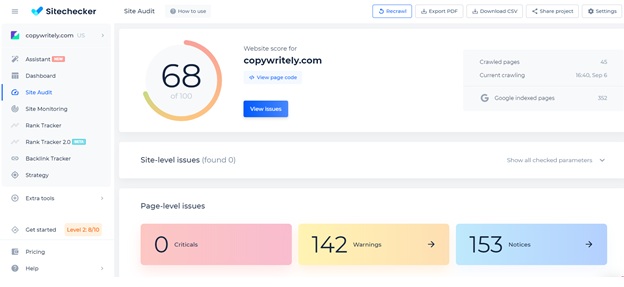 Features:
Site Audit
Site Monitoring
Rank Tracker
Backlink Tracker
SEO Chrome Extension
Pricing: $23/Month to $79/Month
Bottom Line

We are a part of an extremely competitive business era, where a business can become big overnight and hit a rough patch the other day.

Staying well-versed with the advancements, trends, and updates is a necessity and time is the most precious commodity. Businesses are trying their best to level up with the industry leaders and among such cut-throat competition, if you are still investing time and resources in business operations that can be automated, then you're certainly losing the pace.

Do not overthink, now that you know what all business processes can be automated. Upgrade yourself to a SaaS stack and see how your business thrives through the competition.