The global Software-as-a-Service market will be valued at $307.3 Billion by 2026. With several SaaS companies fighting to leverage the huge market — competition in any niche is unavoidable. But, there is a direct correlation between poor customer service and a loss of 67% of users.
This means that standing out from the rest in such a highly competitive market requires you to deliver quality customer service consistently.
But how can your SaaS firm assure a hassle-free sales and customer retention equilibrium?
The answer is — SaaS customer support.
What is SaaS Customer Support
Customer support for SaaS includes any action taken to help users achieve their desired results while using the software. Ideally, it should overcome software challenges and simplify the same for users.
Customer support includes live chat, chatbot, email, user communities, leveraging customer service software like Hiver, providing phone call assistance, etc. It involves quickly addressing customer queries and helping them get the best out of your SaaS product.
Improving your customer service for SaaS requires you to strategize your activities in these key customer service channels that ultimately help enhance the customer experience.
Here are some tips to get you started in the right direction.
#1. Emphasize your self-service options
A report suggests that 81% of customers want self-service options while only 15% are highly satisfied with the current self-service options. You can tap in this area.
Self-service for SaaS would include creating an updated frequently asked questions (FAQ) page, a self-help knowledge base with how-to guides and videos,a website chatbot that answers basic queries, etc. Such resources help by shortening the turnaround time and providing faster resolution.
Leverage a comprehensive knowledge management system like Document360 that integrates with Google Analytics to help identify search terms your customers frequently use to get the information they need. Also, your support team can contribute with recurring queries, addressing any latest bug, etc., to collectively address those with self-service.
For instance, Vimeo's help center on their website provides a precise structure to aid users in finding the information they need.
#2. Customer feedback to improve your product
A consistent customer support service helps the product development team to continually roll out new features and implement UI changes by providing immediate feedback. Top SaaS customer support service includes going beyond the binary answers on whether they like the product.
Instead, try getting the reasons for their dissatisfaction as that is the only way to improve aspects that don't work. This involves sending emails, getting on a call, sending surveys, etc.
Collect quantitative data to identify your user's most pressing requirements and issues by leveraging different feedback methods mentioned below:
Customer Effort Score (CES) after a customer support interaction
Customer Satisfaction Score (CSAT) during product use
Net Promoter Score (NPS) for users who have used your product for a while
Involve social media listening as a proactive feedback method
Another aspect to include in your SaaS customer support service includes being pervasive in connecting with your customers. This means offering multiple support channels.
#3. Multiple options for customer support
Your SaaS customers may find it difficult to reach you for fast, effective customer service. It may take a lot of time, especially for first-time users. For instance, if a new customer needs live chat support, they might need to go to the contact us page to find the live chat button.
Therefore, it is best to offer multiple options for customer support — reaching out from the product itself is one way. And, if customers are on a website, provide chat options for immediate assistance. If possible, offer direct calling options within business hours.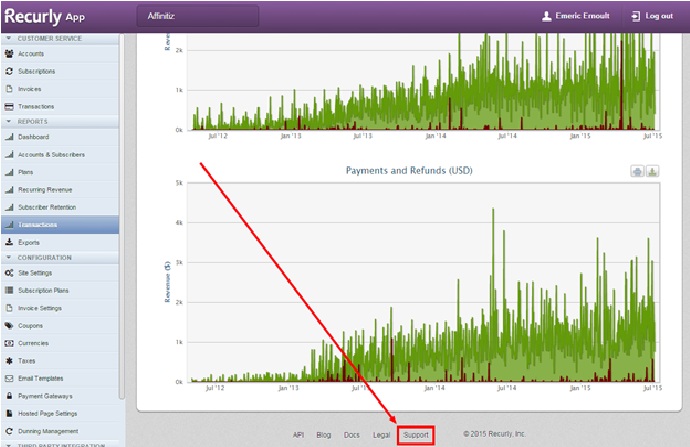 This example shows how Recurly shows a "Support" option within the software UI for customers to connect with the customer support team. A user simply needs to click, and they will have a list of available help channels at a single, convenient spot.
A customer may have a different expectation for how quickly they will hear back from you depending on the channel they use to contact you. For instance, they expect a faster response to a social media message than a support ticket or email.
This highlights the need to include self-service and omnichannel customer service into your SaaS's customer support model. Use a frequently asked questions (FAQ) website, chatbot, or online knowledge base to divert some queries from your help desk crew if clients are dissatisfied with lengthy wait/response time.
#4. Offer your team with necessary tools
Your SaaS business may need a range of customer service technologies like chat, knowledge base, customer service, etc. When your business grows, you will be catering to a larger number of users, necessitating the need for robust customer service tools to drive efficiency.
In all, the tools will help support the team in the following ways:
Support agents can access and validate profiles for most customers to provide customized help.
An online resolution needs remote access to consumers' devices. For this, they may need multiple screens to refer to the troubleshooting steps and perform the same at the customer's end.
Users need faster resolution. Therefore, powerful systems coupled with smooth customer service software are necessary.
Access to social listening software can go a long way in providing timely service to customers.
Even when building a FAQ forum, the most basic form of customer service, you need tools — a knowledge management system and technical documentation software like Robohelp, MadCap Flare, etc.
Wrapping up
The best customer service takes care of users throughout the SaaS product's lifecycle. Following the tips mentioned above can help deliver the same, compelling customers to keep renewing their subscription to your product.
Outstanding customer service in the SaaS space helps nurture relationships that increase customer satisfaction and brand loyalty, with customers promoting your product to others in their network.