Gartner's report suggests that the global Robotic Process Automation (RPA) revenue is expected to touch $1.89 billion in 2021. The growth of RPA will be a result of decreased dependencies on human resources for menial tasks during the pandemic.
Today, there are numerous RPA tools in the market. Every tool performs specific tasks. RPA bot tools enable developers to create bots for several different purposes. Companies can use the best RPA tools to automate accounts payable, data extraction, data entry, and more.
However, there are different types of RPA tools. Some are used for productivity while some are used for increasing accuracy in data.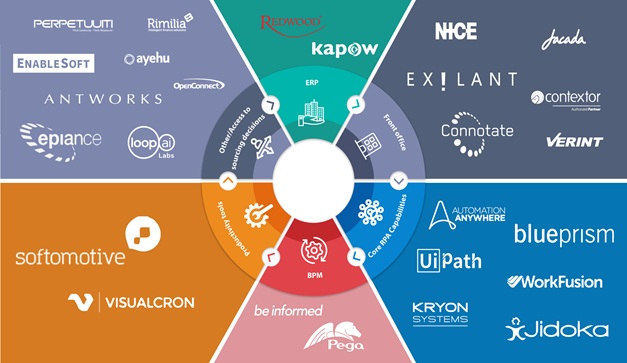 Most companies use tools that provide core RPA capabilities. These include RPA tools like Automation Anywhere, UiPath, and BluePrism - the top three in the industry. These tools enable developers to build bots for several industries and multiple use cases.

But which tool is the best for you? This article will look at the best examples of RPA tools that companies can use in 2021 to develop productive RPA bots. The different RPA tools mentioned below are used by companies to streamline their operations and automate mundane, repetitive tasks.

Read more: 7 Step Guide of RPA implementation for Enterprise Digital Transformation
Top 7 Best Robotic Process Automation (RPA) Tools in 2021


An RPA consultant can work with any tool, provided he or she has the right training. But there are a few of them that stand out due to their ease of use.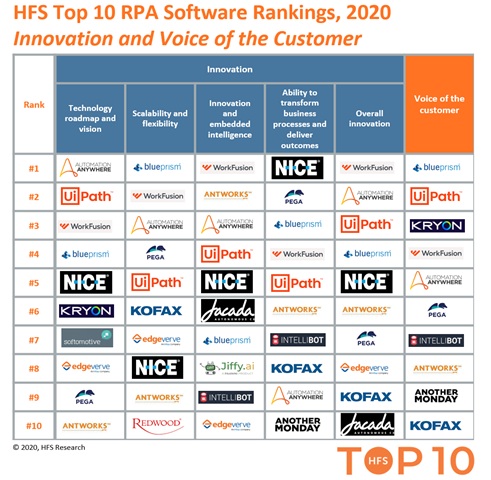 Following is a list of RPA tools in the market that most companies use to deploy RPA bots -

1.UiPath

Undoubtedly, the leader in the Robotic Process Automation services market is UiPath with a 27.1% market share, according to IDC. As one of the best RPA tools, UiPath is user-friendly and can easily be implemented by non-developers.

The tool provides both mobile and web support, ensuring that the bots can be triggered in any environment. Citrix renders assistance to UiPath, which speeds up the process of automation.

UiPath offers 3x to 4x faster bot deployment than other RPA tools. It continuously expands its traditional RPA capabilities to offer better automation services.


2. Automation Anywhere

In the RPA market, Automation Anywhere is second on the charts with a staggering 19.4% market share, according to a leading analyst firm. It helps to automate end-to-end business processes.

The company offers a web-based and cloud-native intelligent automation platform. It has more than 1,000 pre-built automation solutions for different use cases. The platform has deployed over 2.4 million bots with 2,000+ partners across the globe.

The software delivers customized RPA solutions that increase productivity and reduce human interface.

3. BluePrism

Quite possibly one of the leading RPA tools, BluePrism is trusted by hundreds of companies to build their virtual workforce. The process of designing a bot involves visual representation, similar to that of a drag and drop interface.

BluePrism works perfectly fine for both startups and large enterprises due to its coherent nature. It enables rapid execution and secure development of RPA bots. It has a 10.1% market share in the RPA tools industry.

The RPA solution offers a multi-environment, dynamic deployment model to companies for efficiency and high productivity.

4. Kryon

The platform offers hybrid, attended, and unattended automation solutions. The unattended solution offered by Kryon enables companies to trigger bots and get the work done without any human intervention.

Kryon offers a process discovery component, which enables developers to see what operations are being done daily. The blend of attended and unattended automation, called hybrid, is enabling companies to creatively integrate bots.

The clarity that Kryon provides is unmatched. Bots built with Kryon perform each task with greater accuracy and efficiency.


5. Pega

Widely popular for its business process management, Pega Systems is based on a framework for predictive analytics and business rule management. There's no data stored in the database but in the memory.

Pega Systems only offers cloud-based solutions. Companies can delegate their tasks to simple laptops or employees with this RPA tool. There's a feature for actionable information, which automatically detects processes that need automation.

The platform offers a comprehensive understanding of how the work is performed. It simplifies the processes and ensures all work is done on time.

6. NICE

The RPA tool for Nice Systems is named NEVA - Nice Employee Virtual Assistant. The primary purpose of NEVA is to help employees perform routine tasks with ease. Companies can also draw conclusions from high-level analytics using structured and unstructured data.

The tool is mostly used by back-office workers, finance, and the HR department. There's both attended and unattended automation. The solution offers on-site and cloud integration. However, most companies prefer its cloud offerings.

The biggest advantage of NEVA is that it offers advanced analytics. It focuses on automating high-value operations and making the best use of capital.

7. Contextor

Contextor is perfect for workstations. The software is mostly used in front office tasks. It provides complete customer views, online assistance, and data sharing. There's hybrid virtualization environment support using Citrix and RDP.

Developers can automate real-time functions to ensure the right sequencing of assignments. The bots can collect contextual information so that the quality can be improved in the later processes.

The unit also observes the procedures that the workstation carries out. Contextor is one of the best RPA solutions that companies can use for simple automation.

Checkout 11 RPA Use Cases in Different Industries you Ought to Know

Summing Up

RPA services are booming. Companies need automation tools that can help achieve efficiencies so that their workforce can focus on more important tasks. The above list of off-the-shelf and open-source RPA tools enables companies to automate their repetitive tasks and build a virtual workforce.

BoTree Technologies is a leading software development company that can help build bots for streamlining operations and automating mundane tasks.