Project management is the alpha and omega of your business development. The better you can set up your workflow, the more you'll succeed at the outcome. But the truth is, unless you're a solopreneur, the project doesn't revolve around you only. You're just one element in a more complex chain that consists of other team members, executives, and clients.
It's not enough to keep things in order for yourself and call it a day. As a project manager, you must streamline the processes for everyone else on your team.
Are your teammates stuck in the maze of countless tasks, with new stuff showing up every single day? Are they moving in the opposite direction because project updates don't reach them in time? Is there no decent communication on your team, which causes a lot of misunderstandings and slows down the process? To handle these and other setbacks, you need project management software.
You've probably heard the names like Trello, Asana, and Wrike or even used some of these tools. But there's actually a much wider choice on the market. At the moment, Capterra has 1,375 items in the category of project management software and employee time tracking. And imagine how many other developers haven't added their products to this business directory yet…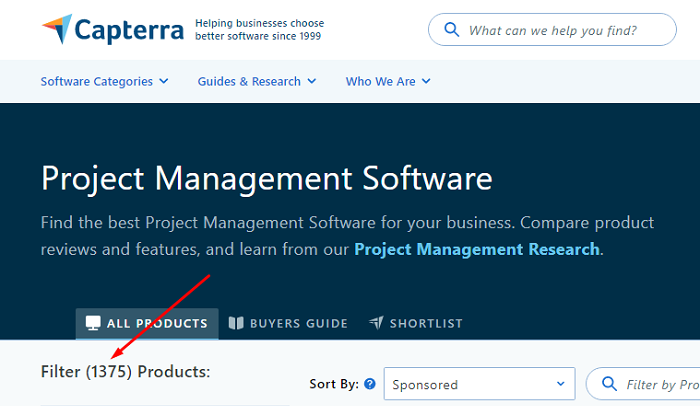 If you're open to trying a new tool with its own sophisticated features and flexible pricing plans, you're in the right place. Check out the best project management software that will help you become a better PM in 2022.

Geekbot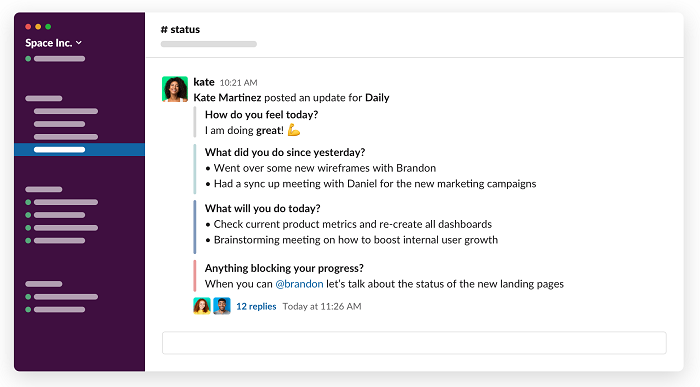 Geekbot is a go-to tool that enables easy, effective, and transparent collaboration with all of its tricks and turns. The main goal of Geekbot is to automate routine tasks like running standups, conducting surveys, polls, reporting, and everything in between. It takes like a minute to add it to Slack or MS Teams but can save hours every day.

Having to complete a few tasks here and re-do a few more there, you can easily forget about something important on your agenda. That's why Geekbot lets you set friendly reminders for yourself and your teammates. Due to the support of local time zones, they'll receive such reminders during working hours, not past midnight.

You never know what's on your teammate's mind until it's too late and they send you a leave notice. Powered by AI algorithms, Geekbot can give you more insights than your intuition does. It analyzes natural language responses to keep you up on everything happening on your project - people's mood, topics discussed, achievements, blockers, timeframes, anything. For convenience, this information is illustrated on a Team Happiness graph, Sankey diagrams, and Gantt charts.

To track engagement on your team, you can check a participation overview. It reveals who's involved the most, based on their reporting activity, and who's procrastinating. The bot also prompts the latter to catch up with the others by submitting their reports.


Float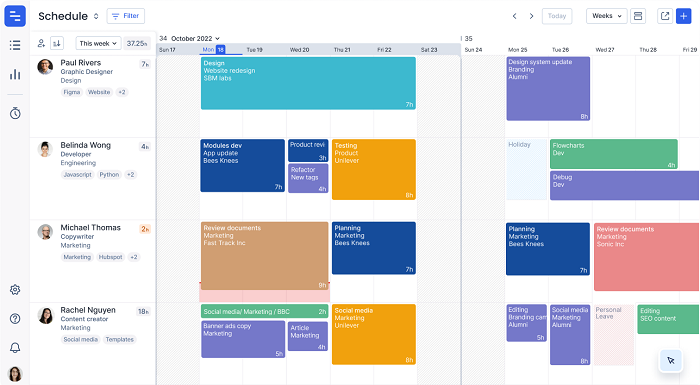 Float is a resource management software for taking a people-first approach to project planning. It brings together your team members, projects, and all of their variables like availability, skills tracking, budgets, billable rates, and more, so that you have one single source of truth to plan and assign your work.

While project management tools are great for organizing and collaborating on tasks, resource management software like Float ensures that you schedule workloads based on your team's actual capacity.

Float can give you a centralized view of your team's time so that everyone knows who's working on what, when, and from where. With real-time project tracking, you'll get live insights that will help to assign the best person for the job (based on their skill set and capacity), balance shared workloads, monitor utilization rates across your team, and forecast your capacity for future projects and hiring needs.

Plan ahead with project planning features like phases, milestones, and linked tasks. Manage everyone's availability in one place with work hours, time off, and synced calendar events. Customize workflows that fit your team with flexible permissions to specify who can see, edit, and approve what. Add time tracking to monitor your budget spend (billable hours worked) in real time and to plan your future projects for optimal profitability.

The team at Float provides 24 hour support, with an impressive average response time of under 30 minutes.


Office Timeline Pro+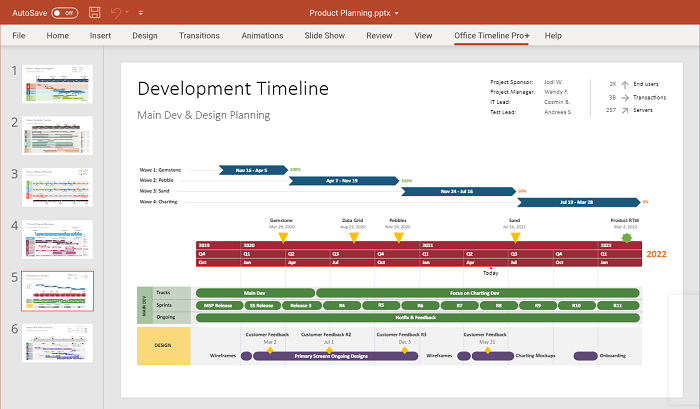 Office Timeline Pro+ is the right software for reporting on your project management efforts to teammates, executives, or clients. It is an intuitive PowerPoint add-in that will quickly turn any complicated project data into visually appealing and easy-to-understand timeline slides.

Just import your project or program plan from your favorite PM tool (Microsoft Project, Excel, Smartsheet, or Wrike), and the add-in will automatically transform it into a PowerPoint timeline, roadmap, or multi-level swimlane. Whenever the data in your source file changes, you can refresh your slide at the click of a button to reflect the most relevant progress. To visualize schedules of long-term projects, you can add up to three timescales to a single timeline.

As for functionality, Office Timeline Pro+ comes with a rich set of features to add, edit, duplicate, or even hide swimlanes and sub-swimlanes. The higher-ups are usually too busy to go through loads of data, so you'll have an opportunity to show them what matters only. Thanks to a drag-and-drop functionality, it'll be easy to do all the rearrangements and updates across your projects.

To make sure the look and feel of your slides match your brand identity, the tool provides a bunch of styling options. With their help, you'll be able to set colors, fonts, and shapes in line with your corporate style.

SwiftEnterprise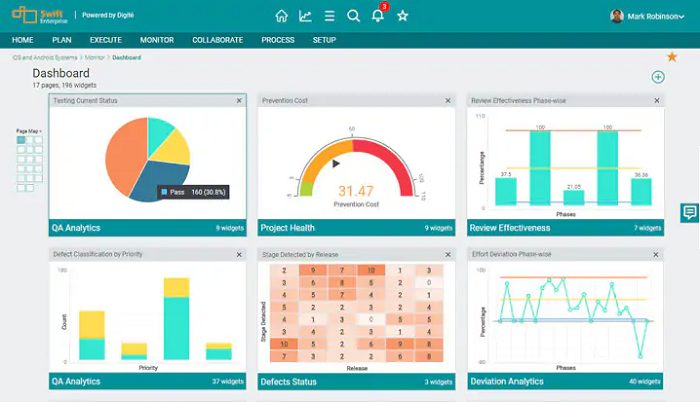 SwiftEnterprise is an Agile project/work management platform based on a visual, multi-board hierarchy of programs and projects. It runs a user-friendly STaRT system to help you handle all your tasks. You can plan, schedule, reschedule, and automate repetitive tasks, making all the necessary updates along the way.

SwiftEnterprise provides timesheets in two views: one for logging time against work items and another for approving or rejecting timesheets submitted. The document management module can take good care of all the data in your workspace. Everyone on your team will have access to the latest versions of your docs and easily manage them with review, sharing, and approval options.

Resource availability reports can help you distribute the workload among your team equally. Due to the integrated database of skills, you'll identify the right person for a certain task and have realistic expectations of your team in total.

When the workflow starts, a lot of issues usually show up out of the blue. For effective project execution, SwiftEnterprise can let you manage issues and report on their status, due date, and resolution method to other teammates or stakeholders. The same goes for risks. You'll be able to identify, assess, and mitigate them before they affect your work progress.


Striven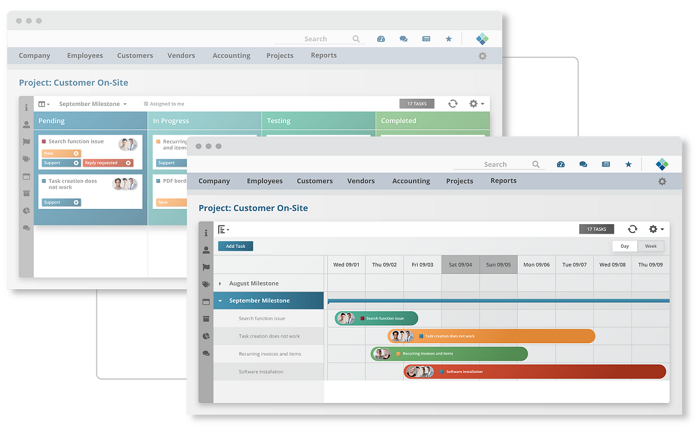 Striven is a cloud-based, all-in-one business management software system that will set you free from the chaos of jumping between many different apps. Its full-featured dashboard can cover all your needs in one place:
set a project budget, deadlines, and keypoints;
create tasks with detailed descriptions, doc attachments or links;
collect e-signatures on important documents
categorize tasks with smart labels;
manage the task flow with a drag-and-drop functionality;
enable alerts for new tasks and those with close deadlines;
set private access to some tasks and share permission with pertinent employees only
turn emails into tasks automatically
It can be a challenge to organize team meetings, especially if you have remote workers from different parts of the world. Striven's built-in calendar will help you identify and solve conflicting timeframes to arrange a meeting when everyone is available.
Special focus is put on assessing project profitability. With detailed reports, you'll be able to analyze what brings profit and how that aligns with the time invested. When it comes to the project showcase, there's a wide choice of Kanban boards, Gantt charts, and other ways that your project data can be viewed. Besides viewing the entire project, you can also zero in on any specific part by date, task type, or by assigned employee.
Effective collaboration between you and your clients is another strong point of Striven. It lets you share project access with them so that they can keep an eye on the progress and status of every task and assignment. By making your work transparent, the trust your client has placed in your business will increase, and in turn will help leave them more satisfied than ever.
Whenever there's any kind of status update on a project or task, your clients will be notified to make sure everyone is on the same page. If you aren't, they can send a change order for you to update project milestones and costs according to their requirements.
Bottom Line
As you can see, each project management software listed here provides its own gimmicks to play with and see how they can help you streamline your processes.
No matter which tool you're going to try, you'll have an opportunity to set your workspace in order, improve communication on your team, boost profits, and save a lot of time. With data visualization, you'll also find it easy-breezy to track each project aspect and never miss a thing.
With such a wide choice, most likely you'll find the best project management software for your specific needs. If you know about any other cool tools for PMs, feel free to drop a comment under this post.